Workplace Inspiration
Alternative Desk Ideas You Can Choose for Your Office Setup

Autonomous
|
Feb 8, 2022
2,576 Views
Traditional desks are always the safest option when it comes to building a standard workstation. However, they often leave a lot to be desired.
Your desk doesn't have to be so plain and boring. You can choose many computer desk alternatives and turn your workspace into a place where your ideas can flow, and you can exploit your creativity as much as possible.
Here we present you with some alternative desk ideas you can take into account if you'd like to renovate your current workstation and make it more appealing for tastes.
The following non-traditional office desk ideas include desk alternatives for small spaces and other options you can choose to refresh your current workstation setup.
It's also worth noting that traditions often comply with the basic functions and may not be suitable for you due to their height, which is typically between 29" and 31". If that's the case, you can opt for alternative desks for your workstation, such as a standing desk.
1.  Standing Desks
Standing desks are an excellent choice if you're constantly dealing with low back pain and similar physical complaints while you're working. These desks allow you to alternate between sitting and standing, allowing you to feel relief from being seated in the same position for prolonged periods and maximizing your productivity.
Thus, if you'd like to ditch the chair and start working while standing, one of the best options you can choose is the SmartDesk Pro. Alternatively, you can opt for the SmartDesk Core if you'd like a desk alternative for small space.
SmartDesk Pro
This office standing desk is big enough for you to fit all your peripherals nicely. Plus, you will be able to adjust its height between 26.2" and 52".
It has four programmable settings available, which makes it quite easy to find your preferred settings even if you're new to standing desks. It has a total weight capacity of 310lbs, ensuring that all your equipment fits nicely on its surface without damaging it.
SmartDesk Core
This home standing desk comes with some of the features available in the SmartDesk Pro but is adapted for home-usage. You can adjust its height from 29.4" to 48", and it also has four programmable settings available.
The weight capacity is slightly reduced, but it's still capable of lifting 265lbs with ease. It is an excellent option if you'd like to forget about your back pain for a while and also turn your workstation into a more creative space.
2.  Standing Desk Converters
Standing desk converters are a good alternative to standing desks if you'd like something more affordable yet functional. There are different options in the market, and all of them come with diverse features.
Perhaps the most advantageous aspect of a standing desk converter is that, as a non-traditional office desk option, they can be used as desk alternatives idea for small spaces.
Here we have some of the best options you can choose, even if you're on a budget:
Standing desk converter by Mount-It!
This standing desk converter can work as a monitor or laptop mount as well. It is also quite easy to use and comes with diverse adjustability options. This is a manual standing desk converter.
The gas spring arms will allow you to switch from sitting to standing within a few moments. It's possible to adjust its height up to 19.9", based on your preferred options. This alternative desk is large enough to fit two displays if you own a two-monitor setup.
Electric monitor riser by Mount-It!
If you'd like to turn your workstation into an automatized sit-to-stand workstation, this motorized standing desk converter will do a perfect job. It may seem small, but it actually has enough space for your laptop and all the peripherals you need for your work. Additionally, it includes a monitor riser that allows you to rotate and tilt to convenience.
You can adjust the height of this standing desk converter from 1.75" to 20.75". It also comes with cable management and a slot for tablets and smartphones, allowing you to keep your workstation as organized as possible.
3.  L-shape Desks
L-shape desks are also an excellent option for a modern home office desk. These desks grant you twice the space available while allowing you to maximize the space usage in the room. There are multiple options available in the market, and some of them include standing desk features.
SmartDesk Corner
Robust, spacious and elegant are some of the adjectives that best describe the SmartDesk Corner. This white office desk has a large surface available, which, combined with a weight capacity of 400lbs, makes it the perfect option for people with heavy setups.
Besides that, the SmartDesk Corner integrates the best of standing desks. You can adjust it from 29.4" to 48", allowing you to alternate between sitting and standing. It is certainly one of the best alternative desks if you'd like to give a different approach to your workstation.
4.   Hidden Desks
Here is the last idea of alternative desks in the list. Hidden desks can work pretty much anywhere. These desks are an excellent way of maximizing space usage, allowing you to keep it hidden from sight but still as functional as possible. Some options you can take into account include the following:
Desk in a closet

– If you'd like to truly draw the line between your work and your personal life, you can choose to build a desk inside the closet. This way, you can "hide it" every time you're done with your responsibilities.

Under the stairs

– If you know how to implement them, a desk hidden beneath the stairs can work perfectly. You can also include a few storage options, such as drawers and such, based on your available space.
Hidden desks can work pretty much anywhere if you have enough creativity, even with some of the options mentioned above. It is all about thinking about what could be better for you and your availability.
Video ads for product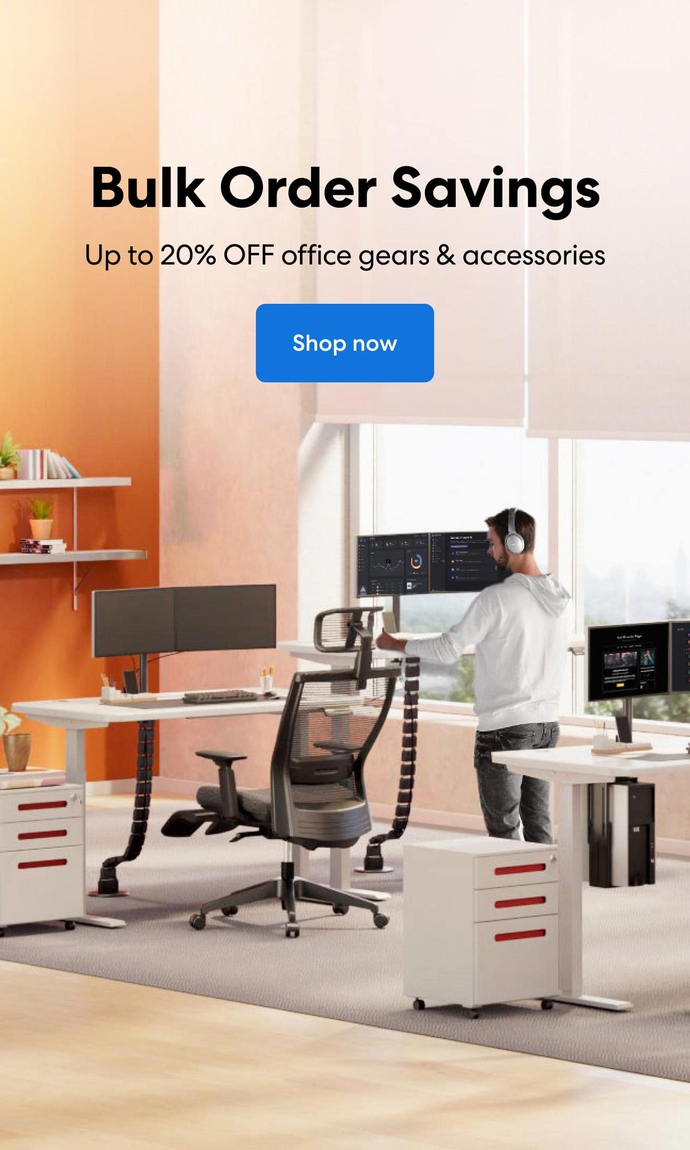 Subcribe newsletter and get $100 OFF.
Receive product updates, special offers, ergo tips, and inspiration form our team.