Productivity
Amazing Office Notice Board Decoration Ideas For Your Team

Autonomous
|
Nov 10, 2021
3,221 Views
An office notice board has an important role as it improves communication among team members. Since everything around us is changing, we must come up with ideas that can modernize our approach towards office notice boards. There can be many office notice board decoration ideas that are attractive and can promote a connection among team members. For your convenience, we have compiled a list of a few of them below.
Decoration ideas for the office notice board of your team
·  An office board that changes with seasons
You must ask your team members, which are the seasons that they most look forward to. For instance, if your teammates like winter, you can select a winter theme for your office notice board. Use your creativity to make something unique. In this office notice board, you can include important things like office safety tips.
·  Getting a fabric background
When you are thinking about office notice board ideas, go for fabric backgrounds. They can be anything like flannel or denim. You can change them easily without causing any kind of damage.
Before you execute your plan into action, you have to first measure the fabric that needs to be cut. This will reduce wastage, and you can save it for your other office projects. You can add employees incentives ideas against your fabric background.
·  Monthly, weekly, and bi-weekly calendar
You can further go for a monthly, weekly, and bi-weekly calendar as your office notice board design. Here you can chart out staff birthdays, meetings, milestones, as well as upcoming deadlines. It will promote the importance of organizational culture. And it will make your employees have a structural approach.
·  Highlighting the employee of the month
In the office notice board, you can draw attention to the employee of the month. It will encourage that employee and offer them rewards to work better in the future. In addition, your other team members will also perceive it as a source of information. Hence, you will have all of them working together for their goals.
·  Highlighting accolades and news
Your office notice board decoration can highlight important news as well as accolades. This will help you recognize and appreciate the work of your team members. It will help them know the importance of teamwork. And it will help them build a stronger bond of trust.
·  Buzz board
The buzz board can be a unique idea for your office notice board decoration. It will be a fun thing for your team members to look forward to. There you can include something buzzworthy and new each week.
It will change constantly. For instance, here, you can put teamwork quotes for the workplace. As a result, your team will get their weekly dose of motivation from the official board.
This will be a notice board for office use. So, your team members can participate in making it together. They can make it with an eraser and some colorful chalks.
·  HR board
The HR board is something where the HR department will post all the important information that they want to share. This is perfect for team goal setting. Therefore, the different teams can learn about the various regulations, and they can change their working policies. Even teams within the office can make such boards to ensure that all of their members are up to date with the latest information.
·  Adding questions and answers
You can make a board where your team members will come up with all their queries or questions that need to be addressed. It will enable the team leader to know about the interests of their employees. And they can address each of these questions to clear away their doubts. As a result, it will make the members of the teamwork more efficient.
·  All you need to know board
All you need to know about the board that will help you find and get access to all the information that you will ever need. Therefore, this board will cover all the necessary details. This board will look different in different parts of the same office, as per the information that is put up. Thus, it will cover all the information that everyone can take a glimpse at before they enter their office.
·  Clipboard decoration
We all used clipboards during exams. As adults, we can always find them lying around in the dusty corners of our storeroom. Why not put them to good use? Every one of your team members can bring one to your office to alter the decoration of your office notice board.
You can use the clipboards and place them hanging on a wall. Then you can paste some square-shaped colorful chart papers on them. In these clipboards, you and your team members can put up information regarding upcoming events. Moreover, the colors of the notice board will make your office look more vibrant.
·  Photo frame board
Like clipboards, all of us also have photo frames that we may have received as gifts. However, since we all do not use them, we can take them to make a photo frame board. With old photo frames, your notice board will get a vintage and classic look. You can include all the necessary details over them.
Conclusion
Office notice boards can be fun and creative when you put some thought into decorating them. You can do this in several different and unique ways. This can make your office members work as a team. After you have put up the notice board, your team members will be proud of their work.
In addition, an office notice board can help people approach their work efficiently. This is because it helps them remain organized. And it will enable them to stay focused on their goals.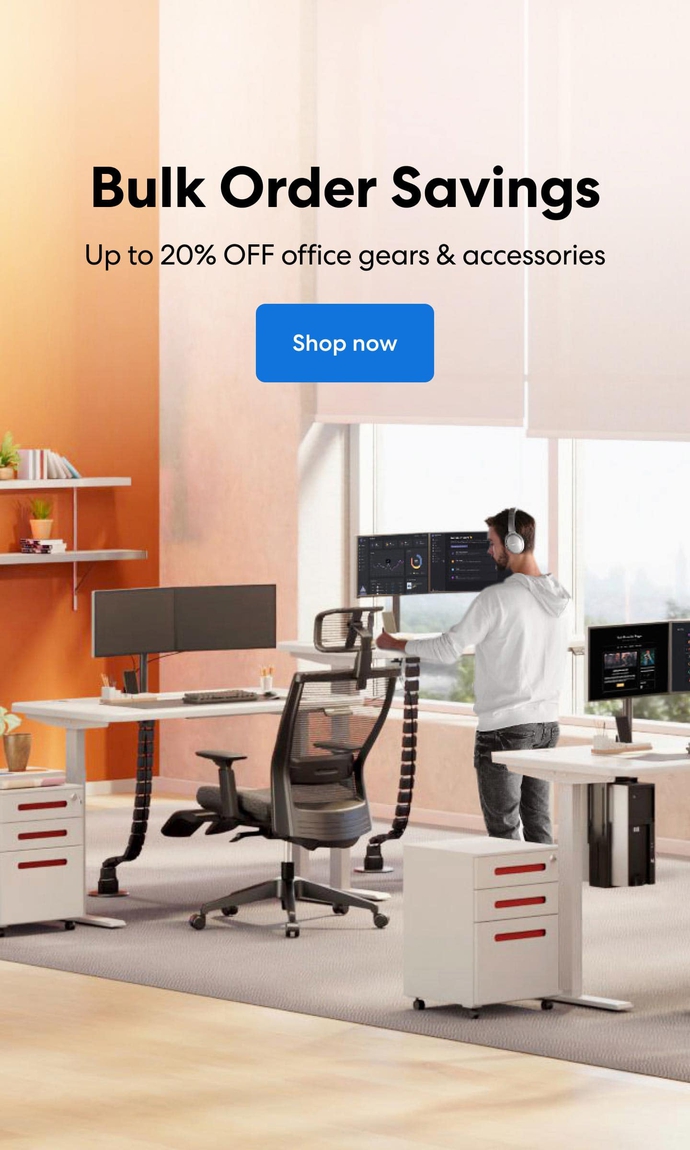 Subcribe newsletter and get $100 OFF.
Receive product updates, special offers, ergo tips, and inspiration form our team.