A home office furniture set goes hand in hand with a remote workspace, though you probably have not even considered getting yourself one. When you look at an office space, you probably see it as individual items, as opposed to a set of interconnected components. 
When you sit and begin to get some work done, you are feeding into the way the different elements come together, but you may not necessarily take the time to think about this.  
So, that's what everything here is about. The intention is to bring the idea of an office chair and desk set to light and consider why it may be a good idea for you to invest in one. However, it doesn't stop there. 
Have you heard of Autonomous before? If you have, then you are very much familiar with the strides the brand has made in the traditional and remote workspaces. On that note, you may be more familiar with the more popular products, such as the ErgoChair and SmartDesk lines.
Beyond those, there are a host of office desk accessories that improve your quality of life when you work. So, today you are getting the whole package! Not only do you get to understand why a home office furniture set is a good investment, but you also get an outline of some of the best accessories you could hope for. 
Note that this list is not exhaustive by any means. The Lexon wireless power bank, ergonomic wrist rest, and cork desk pad are examples of outstanding items that may not be featured below, but they are worth a second look to take your office experience to the next level. 
Finally, you get an overview of the Autonomous employee purchase program that can help you to acquire a standing desk and an office chair at the expense and with the blessing of your employer. How does all that sound so far? 
Why Should You Buy an Office Furniture Set from a Single Brand?
This is a very good question and answering it well is likely going to lead you to change your perspective where a computer desk and chair set is concerned. Cars can be used to detail this one well, even if you may not be too big on knowing about vehicles and their components. 
A couple of basic principles is all it should take to get this one across. So, imagine that you drive a Mitsubishi Lancer. This car functions on a series of parts. There's the engine, the brakes, the transmission, the starter, the air filter, etc. 
Some parts are built to last forever, while others are built to be changed during maintenance time or when damaged. That's the important thing in our example. Imagine that the engine goes bad, for example.  
It's not beyond the realm of possibility that you could use an engine from a different generation of Mitsubishi, or a different vehicle entirely. However, you may find that some changes need to be made for the vehicle to accommodate it. Even with those changes made, there are possibly compatibility challenges down the road that lead to a less than optimal experience. 
However, should you replace the engine with another genuine version of the same type, it becomes more of a plug-and-play scenario and things work as well as they're intended to. 
What's the lesson here? If a single manufacturer creates a series of related products, it is very unlikely that there are any external replacements to any of those products that are going to work better with that series. 
So, take the Autonomous ErgoChair and SmartDesk for example. No one is saying you cannot swap out the desk or a chair for another model from another manufacturer. However, you are going to find that the way the designs are created makes for a much smoother and supportive experience when they are brought together in a single office space.  
If you apply this concept in other areas of life, especially where you may be purchasing electronic components, you would be surprised how much hassle you can save yourself by aiming for optimal compatibility. 
Home Office Furniture Set from Autonomous
Now, it's time to look at some of the elements that would make up your home office desk and chair combo from Autonomous. Even if the space you intend to use is completely bare now, you're guaranteed to find all the puzzle pieces you need to furnish your workspace and make it convenient to use. 
SmartDesk
Have you ever used a smart home standing desk before in your home office furniture set? If you never have, then meet one of the greatest pieces of furniture that has ever graced your workspace. The Autonomous SmartDesk line is a series of adjustable standing desks with slight variations depending on the application that you want it for. 
First, there is the Autonomous SmartDesk Core, which is probably the one that you want if you're getting it for your home office. The tabletop is quite spacious by default, but you can kick things up even further by purchasing the extra-large option. 
It's highly adjustable and works using an electric dual-motor system that is conducive to smooth and quiet ascending and descending. The build quality is super sturdy, featuring an SPCC steel frame complemented by high-quality MDF wood for the top.  
Memory presets are also included, which help you to get back to your favorite heights without having to continuously adjust to search for them again. 
The SmartDesk Pro is the next step up in the series, and it essentially takes this SmartDesk Core and improves on a couple of its offerings. Most notably, there is the height adjustment range increase that makes the unit suitable for a larger variety of users. This model is intended to be placed in traditional offices, but you are free to use it in your home if you'd like. 
Finally, there's the SmartDesk Corner, which is an L-shaped model designed to help you take advantage of corner real estate. The short and long sides of the "L" are removable and interchangeable, so you can position it however you feel like it. The weight capacity is greater than the previous models, and it uses a triple-motor system for even more powerful and efficient height adjustment. 
If you are more of a DIY type, you can also get the Autonomous standing desk frame, which gives you all the frame-based features of the SmartDesk Core/Pro models, but you would need to figure out the tabletop. 
ErgoChair
So, you've heard about the desks. What about the chairs in the home office furniture set that are supposed to form a part of the equation? While it is true that standing desks are meant for health reasons since sitting consistently is unhealthy, standing consistently is not much better. If nothing else, you may find yourself with quite a bit of joint pain and general discomfort from doing so. That's why we need an ergonomic computer desk and chair set.
The human body requires motion, which is why the best way to use a standing desk is to implement sit-stand sessions where you alternate between your seated and standing positions. Of course, what's being discussed here is on the seated end of the fence. 
The ErgoChair line starts with the ErgoChair Core that features a headrest, adjustable height, a mesh backrest, as well as a couple of other ergonomic features. It's the most affordable of the ErgoChair variations and should be well suited to most basic needs.
If you want to take things up a bit, then there is the ErgoChair Pro that brings in an even greater array of ergonomic features. Here, you have multidirectional armrest adjustment, seat tilt, adjustable lumbar support, as well as quite a few other improvements over the core experience. One of these is the seating pad, which is incredibly comfortable. 
Additionally, whether you have a traditional office aesthetic or even a standout color, you are likely going to be able to choose an ErgoChair Pro color that fits in very well. 
Finally, there is the outstanding Autonomous ErgoChair Plus that offers the definitive seating experience. It features a frameless design, which always allows for maximum mobility. It is highly adjustable, breathable, functional, and you'd be hard-pressed to find a better companion for any of the SmartDesk variations. 
Now, your home office furniture set is starting to come together very nicely. Let's consider a home office desk and chair from Autonomous in your checklist!
Monitor Arm
You should consider this product in your home office furniture set As indicated before, what Autonomous has to offer goes beyond desks and chairs, though they form the fundamental puzzle pieces of your home office. Here, you are getting a monitor arm that can support single and dual-screen setups. Why would you need a monitor arm?  
Monitors tend to come with a stand that can support them effectively, but as far as the adjustment is concerned, you may find that you have a bit of a challenge. Additionally, the stand bases tend to consume some of your desktop real estate. This is where a monitor arm comes into the mix. 
Instead of using the stand, these arms are locked in place on the back of your screens, and it suspends them in the air. For stability, you affix it to the back of your computer desk. Suddenly, the space under your monitors is fair game. 
Since the arms offer dynamic movement, you can easily adjust your monitor horizontally or vertically. Additionally, you can rotate your screens to take advantage of portrait layouts, as opposed to the traditional landscape one. 
Filing Cabinet
Besides the office furniture combo, a storage item is also necessary in your working space. Depending on what you do, a filing cabinet can either be incredibly convenient, moderately usable, or not usable at all. This entry isn't for those who are doing everything fully electronically and may probably have a minimalist desk setup. 
Naturally, you wouldn't need a filing cabinet if you have nothing to put in it. However, for everyone who doesn't fall into that category and who may want a convenient cabinet to fit well under your SmartDesk, here you go!  
It's designed with three drawers (one of which is the combined size of the other two), lockable drawers and wheels, and customizable dividers. The build quality is solid steel, and it can handle a weight capacity of up to 275 pounds. 
Feel free to choose your standard grey, or opt for something a little more unique, such as baby blue or evergreen. 
Anti-fatigue Mat
This item cannot be missed in your home office furniture set. When you are using a standing desk, you are highly susceptible to strains and stiffness from all the little movements you may unconsciously make. The anti-fatigue mat is here to take all of that away, regardless of how long you stand. 
There's a very gentle 2-inch incline, so it doesn't feel awkward to stand on. Additionally, it's tear-resistant, anti-slip, and abrasion-resistant. If you're a vegan, then don't get turned off, as vegan leather is used here. 
The maximum weight load is 330 pounds, which should be more than enough for most office workers. 
Autonomous Employee Purchase Program
Let's find out what is the employee purchase program from Autonomous. You are going to love this part, as it could save quite a bit of money. So, you've heard about all this office furniture, and you're interested in getting an office chair and desk set. Provided your employer is willing, getting the equipment could be more convenient and less costly than you may think. 
Once a company is enrolled, employees can then access its portal with their email addresses and select items, like office furniture combo, to be ordered. An HR or other manager then approves or declines the requests. 
The firm pays for anything that is approved, and Autonomous delivers it directly to you. Of course, the prices are heavily discounted. How is that for a deal? 
Final Remarks
Hopefully, the days of looking at your office furniture and accessories as independent pieces are over. Now, you know that a home office furniture set is a much better idea since getting everything from the same brand is way more conducive to compatibility and smooth operation. 
What better way to explore that concept than by going through Autonomous' catalog of some of the top furniture and accessory options offered? Though it was said before, remember that this list is not exhaustive, so you may want to browse the full catalog on your own to see what you can get to revolutionize your office space. 
If your employer allows it, you can also take advantage of the employee purchase programs for both discounts and convenience.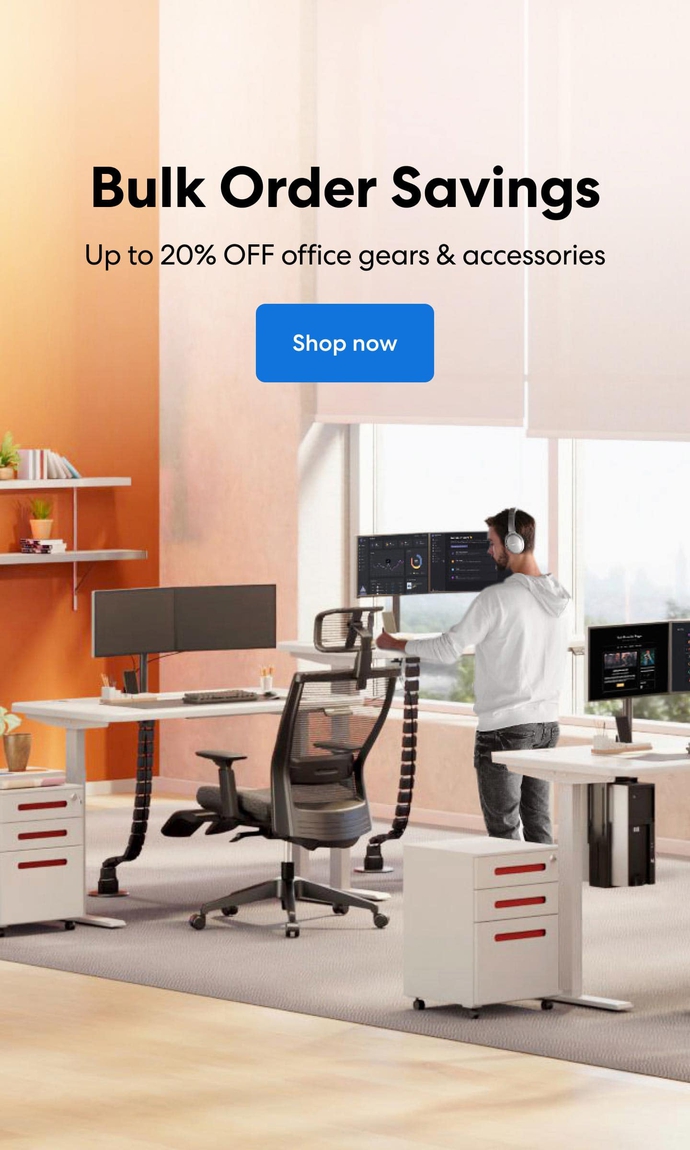 Subcribe newsletter and get $100 OFF.
Receive product updates, special offers, ergo tips, and inspiration form our team.