Workplace Inspiration
Backyard Accessory Dwelling Units: Explanation and Building Guide

Autonomous
|
Aug 24, 2022
2,015 Views
Building backyard ADUs was an old concept that's recently taking a fresh new take. Decades ago, people had a secondary home on their property where parents and renters lived. It was a way of adding space to the land without necessarily altering or adding to the house. 
Ideally, the prefabricated ADUs were installed in your backyard or lot area. It, however, depended on the guidelines of a particular area's zoning, ordinance, and building code. If you're interested in building prefab accessory dwelling units, this comprehensive guide is what you need; it outlines everything to know regarding ADUs.  
What Are Accessory Dwelling Units?
Backyard ADUs are secondary living units located on the same property as the primary living units. Usually, the backyard dwelling unit is smaller than the primary living unit. This highly malleable concept goes by other popular terms, including a guesthouse, backyard cottage, mother-in-law suite, or cottage house. 
They also include everything from separate buildings to detached ADUs and attached ADUs. The word "dwelling" in prefabricated accessory dwelling units is what describes these tiny houses. The units are authorized, built, then approved with the aim of habitation. When secondary units haven't been approved for habitation, they're not backyard accessory dwelling units.
Why You Should Build a Backyard Accessory Dwelling Unit
An ADU in a backyard solves various widespread issues concerning population and housing. It takes the approach of filling in and not spreading out, a popular trend in the housing sector. The backyard ADU has various benefits for property owners, which is why it has become a lucrative venture.  
Backyard ADU's can House Your Aging Parent
Many people build prefab accessory dwelling units for their aging parents. It's an excellent way to keep them close but still give them their privacy. With an ADU in a backyard, the seniors may feel like they're still living an independent life. 
The backyard dwelling unit allows you to design the tiny house with various assistive living items that'll help your parent's lives become much easier, like wheelchair ramps, plus easy access to the bathroom and the kitchen, 
Older Kids Can Move in a Backyard ADU Instead of Moving Out
Building a wooden pod for a garden where your older kids can stay is becoming a popular choice. Desperate times call for desperate measures; the cost of living is relatively high, and young professionals are looking for affordable housing that'll somehow reduce this cost. 
With a prefabricated ADU, the kids will have an independent, private life without throwing down money on rent. You'll keep your loved ones close, but not too close.
ADUs in a Backyard Make a Great Guest House
Most people consider building a soundproof sleeping pod to house their family and friends when they come to visit. Building a guest house in the backyard is an excellent idea if you have substantial savings, enough space, and a smaller primary house that can't fit guests when they visit. 
The visiting family or friends can stay without feeling as if they're invading your privacy or overstaying their welcome. Moreover, it gives a peaceful escape when they've had too much time with their loved ones. 
Backyard ADUs Provide Passive Income
Everyone is looking to make extra bucks these days, from renting a treehouse or a childhood bedroom to a converted cargo trailer. Building a StudioPod in the backyard is another excellent way to jump on this trend. Turning an ADU into a rental space can help you make extra money to offset some bills.
Whether you want to list it as an Airbnb or make it a long-term leasing investment, creating a rental property out of your prefabricated accessory dwelling units is a nice investment.
Prefab Accessory Dwelling Units Increase Property Value Sustainability
Most property owners build a backyard dwelling unit to increase the value of their property. It can really pay off when you want to sell your property. Research shows that a backyard office pod can increase your property's value by 20-30% in resale. Other reports show some going for as much as 35% above the normal listing.
Working from home is becoming a new trend and has seen people looking out to rent small spaces. This has made backyard accessory dwelling units hot commodities for Realtors.                     
How Much Does an Accessory Dwelling Unit Cost?
Providing a one-size-fit backyard ADU cost is not possible. The total cost of this project usually depends on where you live, landscape issues on your land, what services you'll hire out, and what tasks you'll handle yourself. In addition to this, the size and design you opt for will also affect the backyard ADU cost. 
The price ranges from $50,000 to $400,000. An excellent way to determine how much it'll cost to build a privacy pod in your backyard is to look at similar backyard ADUs you're trying to build. You can check out local builders in your area, online listing of similar projects, or ask friends about the costs they incurred while building a home work pod.
It's important to note that accessory dwelling units refer to many types of houses. A backyard cottage may require a different budget than a converted garage. Look at the project you're trying to build and talk to your builder to get the project's estimate.
Minimal Options to Consider
Keep it simple stupid. The saying hits loud and clear for a reason. With setting up any backyard accessory dwelling unit, you'll want to avoid the headache of contractors, permits, and construction issues at all cost. Time and money is precious and you're going to want to move into your new baby as soon as possible. Each component of the Autonomous WorkPod Lite comes fully prefabricated for swift assembly.
Think of it like lego blocks for big kids. Complete assembly and installation only takes a couple of days and the best part? You don't need any permits! Take advantage of the optional add-on assembly service, then kick back and relax while the pros do what they do best.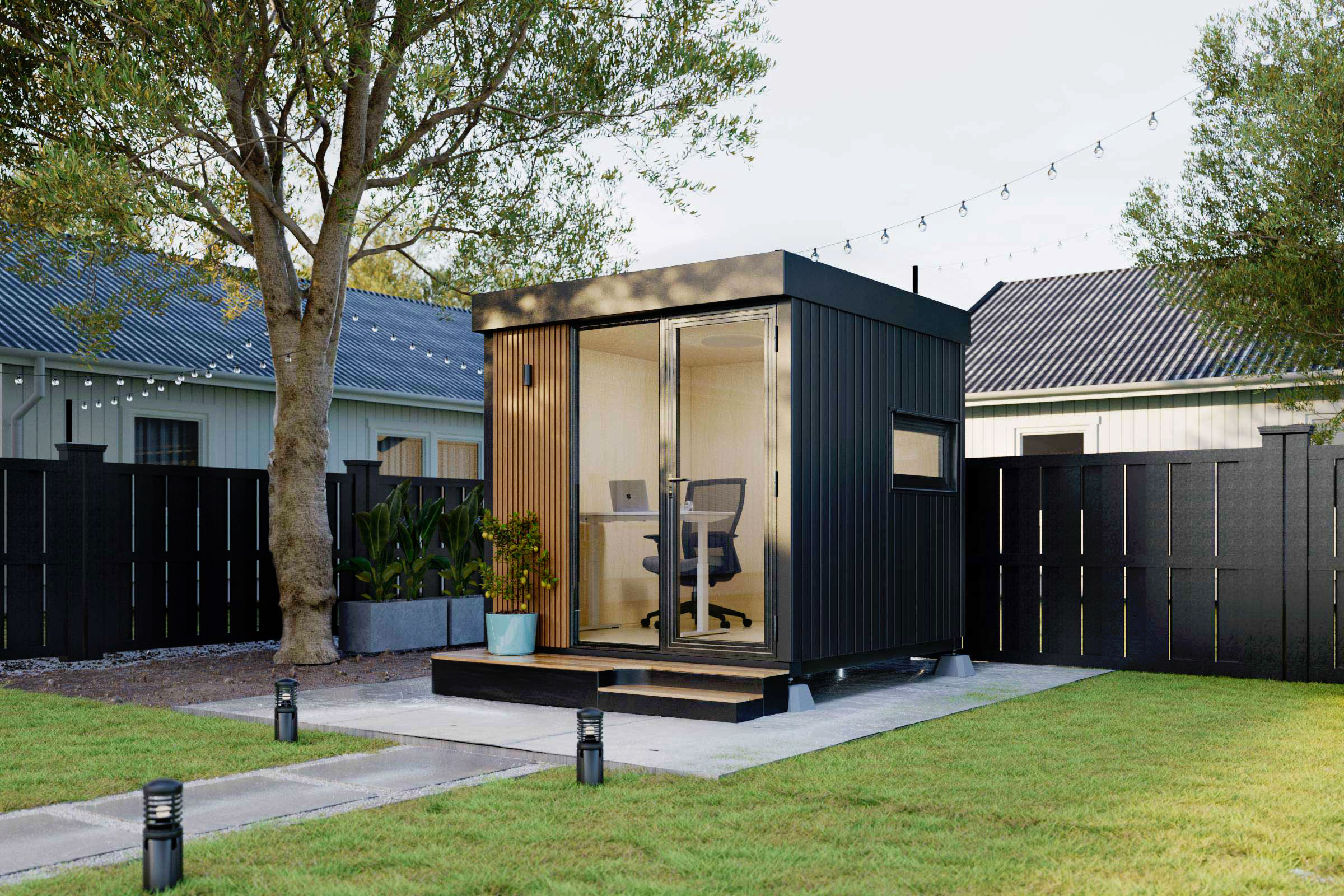 Dimension
8.7 W x 8.12 L x 9.3 H inches
Material
Window and door: powder-coated aluminum, 5/16-inch tempered glass
Siding: plywood 1/2-inch, steel frame, honeycomb paper, plywood 3/8-inch, bitume, housewrap, vinyl siding
Roof: metal roofing
Floor: plywood
Balcony and Pedestal: steel frame and wood plastic composite
Pedestal
24 W x 103 L x 9 H inches
Electrical devices
RCB, Wall outlet, Ceiling light switch, Ceiling light, Wall light, Ethernet wall port, 66ft power cable with 2 connectors
Weight capacity
2.3 tons (including Pod body)
Floorspace
80 square feet
Ceiling height
7.3-inch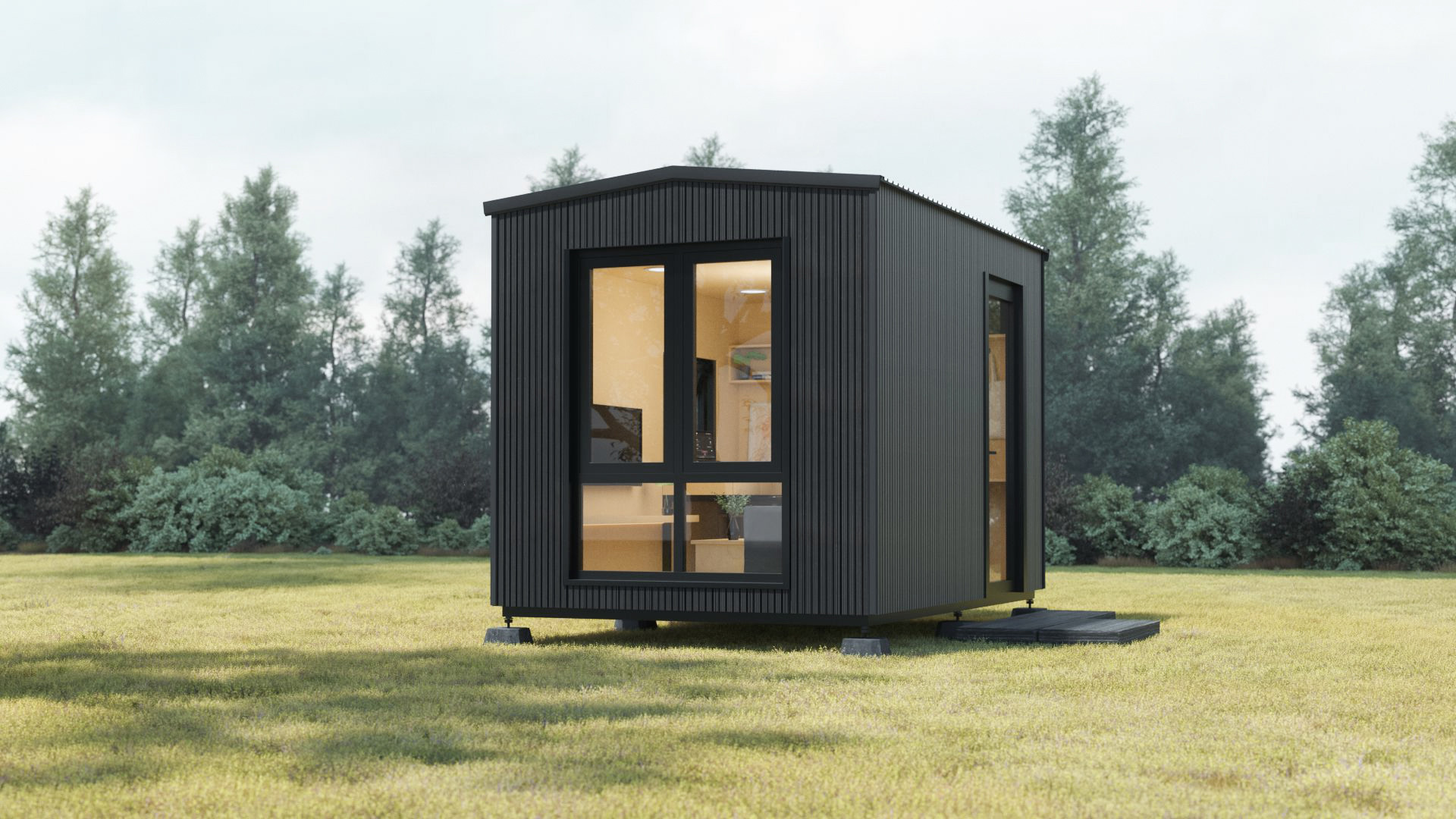 Dimension
8'4"W x 12'6"L x 9'10"H
Floorspace
105 square feet
Ceiling height
7'3"
Weight capacity
2.9 tons
Pedestal
18"W x 43"L x 7"
Window & door material
Powder-coated aluminum,  5/16" tempered glass
Material
Siding: plywood 1/2", steel frame, honeycomb paper, plywood 3/8", bitume, housewrap, vinyl siding
Roof: roof shingles
Floor: plywood
Pedestal: steel frame & wood plastic composite
Electrical devices
RCB, Wall outlet, Ceiling light switch, Ceiling light, Ventilator switch, Ventilator, Ethernet wall port, 66ft power cable with 2 connectors
Include
Optional: Cabinet, Desk, Small & Big Bookshelf, TV Shelf, Foldable Sofa Table, Convertible Sofa Bed. Always included: Electrical Cabinet
Power input
Maximum voltage : 110V AC (US standard)
Maximum current : 25A
Maximum power dissipation : 2750W
Tips for a Smooth ADU Building Process
After determining what you're trying to build and talking to your builder, you'll still need to consider some factors to ensure a smooth ADU building process. Here are some tips to consider when building. 
Connect with a Local ADU Building Company
Trying to build a backyard dwelling unit on your own is the fastest way to make the project last longer and cost more. You have to be careful when it comes to details, which can brew potential mistakes if you've never carried out this project before. It's therefore important to have an expert's input regarding certain aspects of the project like zoning, building codes, and installing heating and cooling systems, among other complicated things.
Checking the Feasibility of Your Property Landscape
It's important first to determine if the landscape you're trying to build the backyard ADU on can handle it. Many experts can help you to undertake a landscape analysis process to determine if the ADU will fit on your land. The experts will also assess issues that may make the price skyrocket. This pre-analysis will help you determine if the project is worth the investment. 
Attain All Regulatory Permits to Make the Project Legal
Getting all legal formalities for backyard dwelling units can be dicey. Various states have rules concerning zoning and building codes that guide all traditional dwellings, plus additional regulations for detached dwellings. Every project may need a permit to make it legal. An experienced builder can assist you in reading between the lines of your city's building laws and take you through all the permit processes.
Assign a Mailing Address to Your Backyard Dwelling Units
Most states require ADUs to have their mailing address independent from the primary living units. The reason for this is in case of fire hazards and other emergencies where they'll need to figure out your exact location. Moreover, it helps you avoid any mix-ups in the mail when you rent out the space. Therefore, contact your respective jurisdiction's mapping and property management division to help you set up a new address. 
How Do I Get Electricity, Water, HVAC, and Sewage Service to My ADU?
Prefabricated backyard ADU requires you to have basic utilities like electricity, water, sewage, heating, and cooling, as stated in the building code laws. Here's how you get all these utilities into your backyard dwelling unit. 
Wiring Electricity in Your Backyard Dwelling Unit
You can get electricity into your prefab accessory dwelling unit in various ways. They include: 
Giving your

backyard accessory dwelling unit its power source 

Powering the prefab accessory dwelling unit with solar panels

You can power the backyard ADU with a generator 

Connecting your backyard dwelling unit to the primary residence source 
Partnering with a professional will help you determine the right route to take in your situation.
Installing a Heating and Cooling System into Your Backyard Dwelling Unit
You'll also need to install a heating and cooling system for maximum comfort and efficiency. The best way of heating and cooling your tiny house is through the following means; ductless and mini split pumps. They're easy installation processes, and you can pretty much do it yourself with a DIY kit. 
Setting up a Sewer Service for an ADU in a Backyard
Usually, most states allow you to tap into the city's sewer line and the primary living unit, then connect it to the ADU. The cost of sewer service installation will depend on where the ADU is situated in relation to the primary living unit. Moreover, those with the backyard ADU in remote areas or on wheels will need to find another alternative option.  
Sometimes connecting the ADU sewer line to the primary residence unit may not work; in this case, you'll need to install a sewer line system.
Adding Water Systems to Your Backyard Dwelling Unit
This is the easiest utility to set up. The process is similar to how you'll set up the sewer line. You can connect the water system to the main line of the primary living unit- which is the easiest and most cost-effective option for getting water into your backyard dwelling unit, especially if the backyard accessory dwelling unit is stationary and in a permanent location. 
If you're in a remote location or want the backyard ADU to become mobile, they'll need an alternative water system. They can easily set up a water tank. Tanks will work well for ADUs without a bathroom, like a studio pod or an office.  
It's important to talk to your builder in such circumstances as they'll help you to determine which suitable method will work well for your particular situation. 
Additional Items You Can Add to Your Backyard Dwelling Unit
With many options to choose from in terms of appliances, it can get confusing on the best items to choose to match the model you went for. Investing in sleek and high-end appliances can add value to the backyard accessory dwelling unit. There are three aspects you need to consider, including: 
Small footprint: Most tiny houses have limited space; it's, therefore, imperative to get creative and buy items that won't take up much space.

Energy efficiency: Conserve natural energy to reduce energy bills with eco-friendly small house appliances. 

High-tech appliances: Any list of tiny home appliances should look to embrace the best technology. This will make living in the backyard ADU simpler and energy efficient.
Prefabricated ADU Appliances List: What Do You Need?
It's easy to get over your head when choosing items you require in the backyard dwelling unit. Considering limited space, it's always wise to start with the essentials. Here's a short list of must-have appliances for a prefab backyard accessory dwelling unit. 
Workstations: If you're solely getting a working pod as a backyard ADU, you'll need ergonomic sets of desks and chairs to help you work exceptionally. An excellent standing desk and an ergonomic chair will ensure a complete work setup that promotes a healthy working environment. 
You can easily set up two to three workstations for you and your colleagues. An Autonomous Online shop can help you stack up your backyard office pod with office essentials like an ergonomic chair and standing desk of different designs to match the decor you're going for. 
If the backyard dwelling unit is meant for home living, then these essentials will come in handy: 
Stackable washers and dryers: Make use of your vertical space and get appliances that can fit vertically.

Refrigerator: A refrigerator is an important appliance in the kitchen area. Ensure you go for compact options.

Compact kitchen stoves: You'll be able to cook whatever you want in the tiny kitchen when you get compact kitchen stoves.

Tankless hot water heaters: They're efficient and take up minimum space. You're guaranteed a hot shower with them on board.
Conclusion
You'll enjoy various benefits when you consider building a backyard dwelling unit, from increased property value to a source of passive income. However, you'll need to factor in certain aspects to get the best outcome. Talk to a builder today to walk you through the process.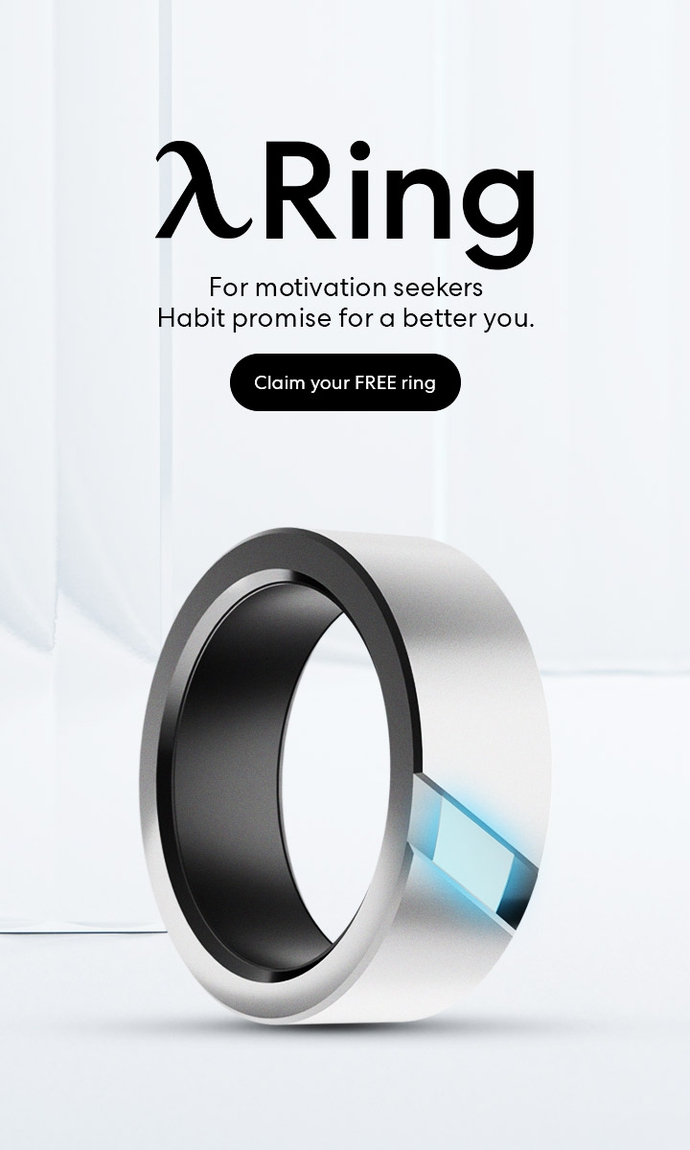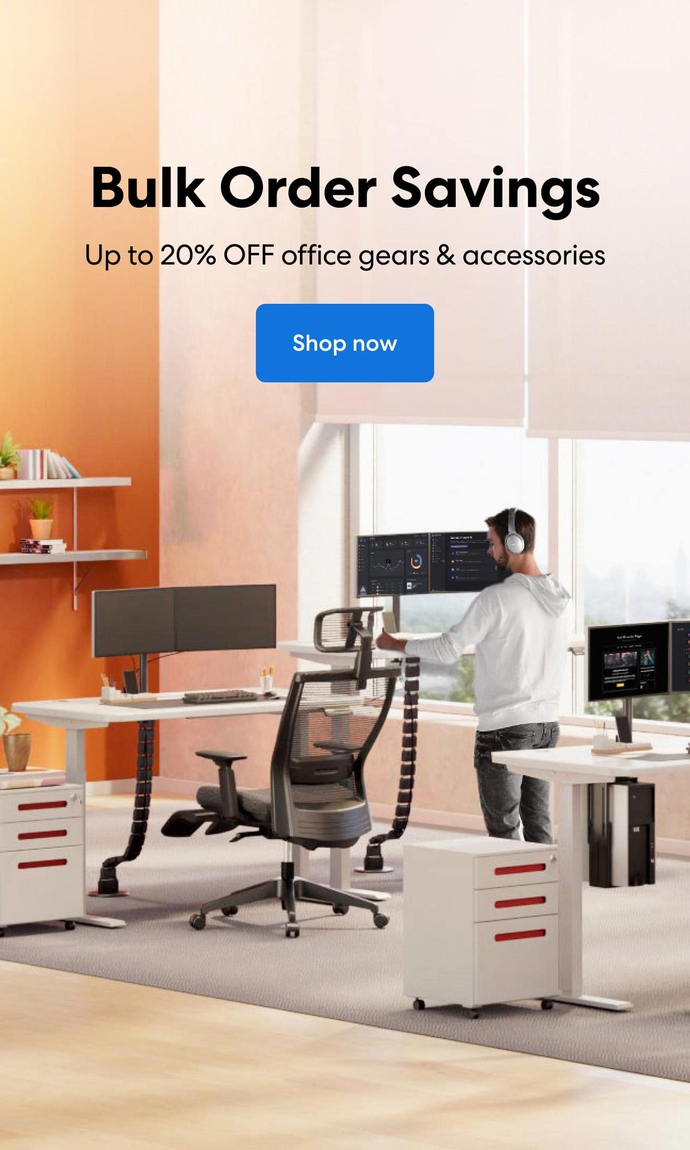 Subcribe newsletter and get $100 OFF.
Receive product updates, special offers, ergo tips, and inspiration form our team.