Anyone who has ever worked a job in an office knows how important having the right desk is. It's important to pick the right size for space it's intended for, the right shape for the person working at it, and the right size for the work that is intended to be performed on its surface.
Sometimes, it just so happens that the workspace you use isn't the best one to suit your needs. At Autonomous, we understand exactly how important all of these factors are when it comes to a desk. We also know how exciting Autonomous Black Friday Deals can be, which is why we're offering one of our own. Our Black Friday standing desk deals are incredible, to say the least.
What is a Standing Desk?
You may find yourself wondering what a standing desk is. You wouldn't be alone in wondering. The rise of the popularity of the standing desk has only taken place over the last few years, even though they have been around for longer than that.
A standing desk is, as its name suggests, a desk that allows you to work comfortably from a standing position, and there are many reasons to use one.
Some standing desks are manually adjustable, but some, like the ones here at Autonomous, is fully automatic and can be adjusted to the perfect height as easily as pushing a button.
Health benefits of using a Standing Desk
There are many health benefits related to using a standing desk which can be bought on black friday standing desk occasions, such as the potential for lowering the risk of weight gain, the possibility of lowering high blood sugar levels, and they may even help reduce the risk of heart disease.
Sitting for too long, sitting with poor posture, or a combination of the two can lead to back pain and discomfort. The use of a standing desk can help to alleviate some of that pain by encouraging good posture and movement while standing.
These are just a few of the health and wellbeing benefits that can come from the regular use of a standing desk like the ones we have available during our adjustable desk sale. For more information about the uses and benefits of using our SmartDesks, feel free to visit our website.
All of these health benefits are why we are offering this outstanding standing desk deal. The potential benefits of using a standing desk are too good to pass up. This adjustable desk sale isn't just for those working from an office, though.
Why is an Autonomous Standing Desk a Good Choice for Black Friday deal?
With 2020 leading to a rise of people working from a home office, getting an Autonomous desk black friday as well as black friday standing desk is also something remote workers can get excited for. Working from a coffee table desk or cramming yourself into any space available is hard when working from home is already tough enough. It might be time to treat yourself to a functional standing desk with our Black Friday deals.
We're not just talking about run of the mill, manually adjustable desks during this standing desk deal, either.
We have incredible electric standing desk deals. Our SmartDesk frames are engineered to be anti-rust and are designed to withstand 50,000 adjustments up, down, and anywhere in between.
With just one press of a button, our SmartDesks can adjust to full height, even under 300 pounds of weight, in 20 seconds.
You can even pre-program the SmartDesk to four different heights so you can adjust easily to the exact size you need.
At Autonomous, we have standing desks in just about every shape and sort that could ever be needed. We make use of wood desktops in a stunning array of colors and finishes to blend seamlessly into your workspace in the office or at home, and they come in two different sizes to accommodate your specific needs.
The SmartDesk has both BIFMA (Business and Institutional Furniture Manufacturer's Association) and EMC (Electromagnetic Compatibility) certifications so you can be certain that these desks are safe to use.
With such a variety in our standing desks, you won't have to worry about a lack of choices during our Black Friday standing desk deals.
1. SmartDesk 2 Home Office & Premium
If you're looking for something simple for your home or office, try the SmartDesk 2 - Home Office. This fully automatic and fully adjustable standing desk is perfect for laptop or desktop users alike.
SmartDesk 2 - Home Office discount from $379 to $349 for Black Friday
If something with more height range is on your radar, look into the SmartDesk 2 Premium. It provides a wider range of heights in order to be properly suited for any user to be more productive during their workday. Make it the best computer desk deal this Black Friday from Autonomous.
SmartDesk 2 Premium discount from $449 to $419 for Black Friday
2. L-Shaped Standing Desk
For those of you needing a little extra in the way of surface area, there is the L-Shaped SmartDesk. While its height can still be adjusted to exactly where you need it, it also provides additional surface space for users who may have multiple monitors or like to spread out while they work. This is the best L-Shaped Office Desk deal Black Friday you should consider.
L-Shaped SmartDesk discount from $739 to $709 for Black Friday
3. Art Desk - Curved Standing Desk
Anyone looking to get a little creative with their work surface should consider the SmartDesk - Art Desk. This desk also boasts four different height pre-settings so that you won't have to slow down for even a moment while you're busy creating something wonderful.
ArtDesk discount from $519 to $499 for Black Friday

4. Double Desk - Standing Desk for Coworkers
Sharing a work area or collaborating with someone else on a regular basis? We have a SmartDesk for that too! Our SmartDesk - Double Desk has two connected work surfaces that can be adjusted independently so that the person on either side of the desk can work standing or sitting without both parties having to agree on sitting or standing.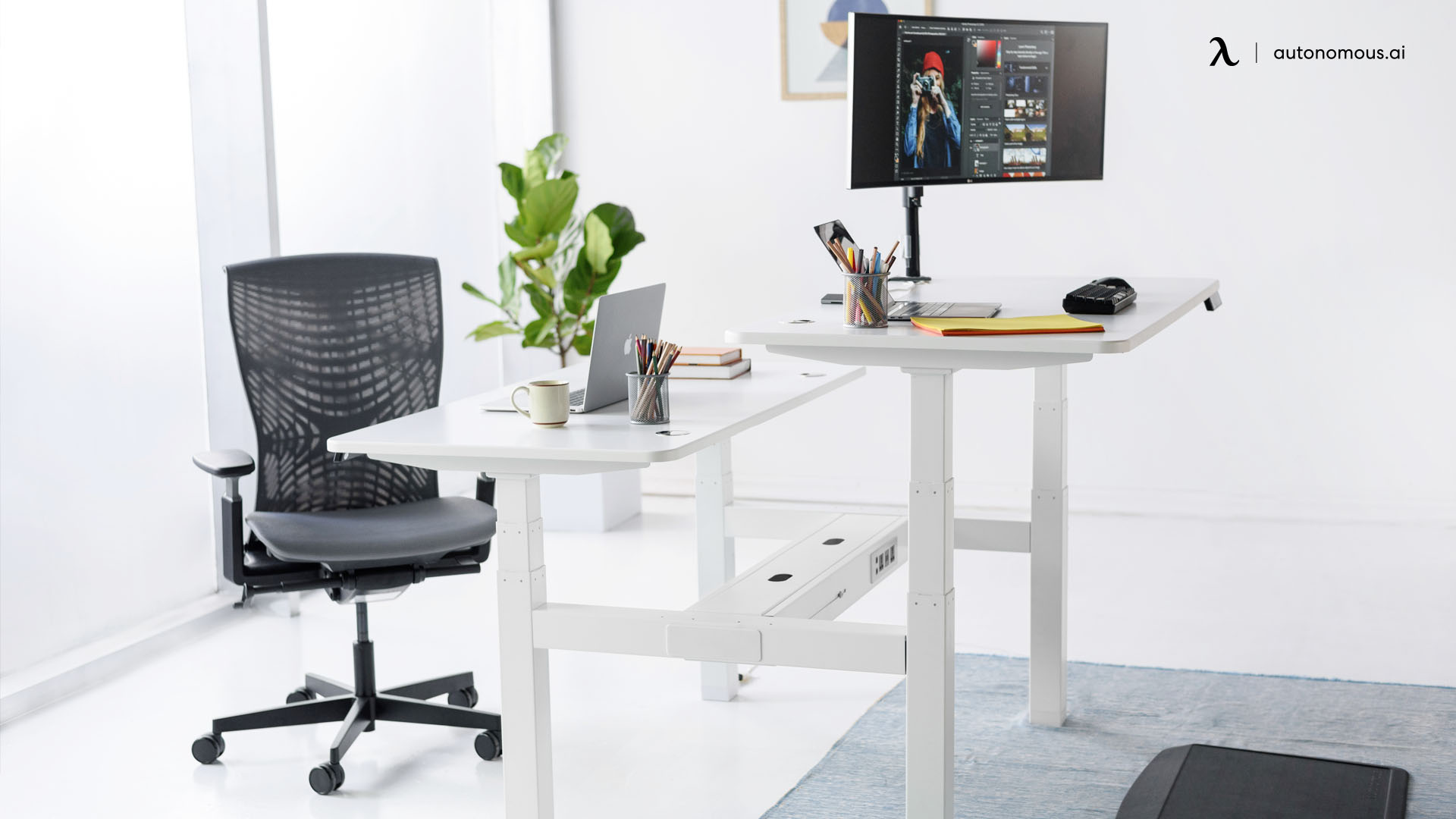 5. DIY Standing Desk Kit
If none of these options still sound like they would be right for you, we also have our Smart Desk DIY Kit. You control the height, the size, the shape, the material, and the quality of the desktop, while still having the peace of mind knowing that our high-quality frame and technology are responsible for lifting and lowering it.
DIY Standing Desk Kit discount from $319 to $269 for Black Friday
6. Brand new SmartDesk 4
If none of these incredible desks seem like they're right for you, we have one last ace up our sleeve that might convince you that a standing desk is suitable for you.
The SmartDesk 4 is revolutionizing the already revolutionary concept of a standing desk. This SmartDesk features an app that you can use to take control of your desk as well as your daily routine. With the app, you can:
· Adjust the height of the desk
· Pre-set heights you wish to have remembered
· Lock the desk in place
· Schedule specific times for sitting and for standing
· Access and follow videos that show you exercises to do at your standing desk to keep you energized
· Shop Online
· Manage your orders
· Get notified about the latest SmartDesk deals
The SmartDesk 4 promises to change the way you think about standing desks forever.
Tips for Using your Black Friday Standing Desk from Autonomous
Once you have decided which of the amazing SmartDesks you plan to invest in during our Black Friday standing desk deal, it's time to learn how to use it to its best advantage, so you get the most out of your new SmartDesk.
1. Create an interval between sitting and standing
To start, you should create intervals between sitting and standing. Going from one extreme, like sitting, to another, like standing all at once, can be a shock to your body and cause discomfort or mild injury. Particularly if you have become accustomed to sitting full-time, it's best to work your way up to standing for long intervals.
Even after you've gotten used to using your desk in a standing position, it's still wise to alternate between sitting down and standing up.
2. Move or do exercises at your desk
Try to remember to move while using your standing desk. Staying too long in one attitude is counterproductive to the original point of purchasing your standing desk. Make sure to take short breaks to walk a few steps, stretch or even do some simple exercises in order to stay active.
If you absolutely can't step away or you're on a roll with your productivity and aren't in a good place to stop, try to do some small stretches or tiny movements in place while continuing to work.
3. Take breaks
Taking breaks is a good habit to develop concerning using your standing desk. Just as it's a good idea to give your eyes a break from the computer screen, it's also a good idea to give your body a break from standing.
4. Learn to stand and sit in correct posture
It's important to learn how to stand correctly. Just as sitting with bad posture can cause pain, so, can standing with bad posture. Be sure to stand straight rather than hunching or leaning. Ensuring that your desk is positioned at the correct height can help standing with good posture be a natural thing. Ideally, your work surface would be at a level that allows you to see your monitor without having to lean on your desk or hunch over it.
5. Use a flow board or an anti-fatigue mat
Placing something beneath your feet is another smart way to use your standing desk. Try products specially created for the purpose like a flow board or an anti-fatigue mat to relieve some of the efforts your feet and legs are now taking on. When you stand up to take the weight off your neck, back, and bottom, that weight has to go somewhere. In this case, it's your feet. Be kind to them, and make sure to give them something soft to stand on.
6. Other tips
Also important with using a standing desk is not to forget how to sit down. Just because you're standing more now is no excuse to get sloppy with the way you sit. This is something that many standing desk users tend to overlook. Half the benefit of using a standing desk is using it properly when seated as well as standing.
Make sure your arms are supported and that the chair you are using supports you where you need it. The height of the chair and the height of your desktop should be as such that you can easily perform your duties without hunching your back and shoulders to be able to see.
Conclusion
For more detailed information about how to properly use Autonomous' standing desks to or Autonomous desk Black Friday get the greatest benefit from them, you can find more information at our site.
Our standing desk Black Friday deals can't be beaten for a product that has so much potential to improve your posture, your health, and your productivity.
If you have an interest in any of our electric standing desk deals, make sure you visit us to get an Autonomous desk this Black Friday!
Get exclusive rewards
for your first Autonomous blog subscription.

WRITTEN BYAutonomous
We build office products to help you work smarter.
Coming at You Live from Autonomous' Social Media!
Please fill the information below.
Thank you!