Workplace Inspiration
Color Scheme for Office Interior with the Best Combination

Autonomous
|
Nov 3, 2021
4,256 Views
Choosing the right color scheme for the office interior is vital when you have to design your office. Although the color combination might look something too subtle, it indirectly impacts your mood; thus, it affects your productivity. We know that most of you think that choosing a fancy office or stylizing your office only means that you are flaunting your money.
However, the real reason behind choosing a specific office color scheme or a certain type of office wall décor is something else. The right office design colors can set up an aura at your workplace. This aura depends upon the color that you plan to choose. It can give a wide range of effects to your room that varies from warm interior office color schemes to activate and energize your team to cool colors to create a calmer work environment.
Office space color schemes can have a profound effect on your productivity by making your workspace more welcoming as it affects the space and the people who are in it.
Knowing all that, we know that you must be intrigued to know about some example office color scheme ideas that can help you have your desired work experience. That's why we have shared the details and significance of some of them below to give you a better idea. Therefore, without any delay, let's get to those examples. 
Some Examples for Office Color Scheme Ideas in Combination with Office Furniture
The following color schemes for office interiors will help you understand the basic idea behind the color tone's effect on your mood and productivity in general. 
Green Color with Wooden Office Furniture
A pale tone of green can set a calm and relaxing work environment in your office. When coupled with wooden office furniture, it can create a more aesthetic and serene atmosphere in your office. The darkness or lightness of tone can help you add warmth or coolness to your office environment, so you may think of taking a darker tone of green to have a warmer environment. It's a perfect color scheme for office interiors.
Blue Color with White Office Furniture
Blue is one of the coolest colors on our color scheme ideas. You may think of painting your walls light blue and adding modern ergonomic furniture to your office. Typically, a white standing desk would give a more aesthetic look to your office and help you maintain minimalism.
This color scheme for office interiors is better for the rooms that have a better illumination as it is known to enhance the brightness and liveliness of your office environment, helping you build a calm and user-friendly environment. 
Teal Color with Black Office Furniture
If you are confused between green and blue, teal would be the ideal color scheme for your office. This color is a combination of blue and green colors that can help you live a calmer and lighter look to your office. Offices with such a color combination often look more elegant and unique than any other color combination in our examples.
If you couple it with a wooden standing desk and a black ergonomic office chair, it will look unique. However, you may think of going all black in terms of your office furniture to create a better impression. 
Simple White Office Wall Décor and Furniture
Often office workers like a calmer and lighter office environment. In that regard, you can consider going all white. In such a combination, you need white standing desks and office chairs. You may think of adding some photo frames that have a white-colored theme to create homogeneity in color throughout your office. Such an office will not only look aesthetic, but it will help you keep up with the modern minimalist office setup. 
Classic Grey Color with Wooden Office Furniture
The classic grey is basically a darker shade of grey color for those office workers who wish to create a more active and energetic environment. Although grey color has a calm effect, its darker shade can help you boost productivity.
In order to ensure that you maintain a sense of calm nature coupled with positive energy set by the color combination, think of adding a wooden standing desk and office furniture to give your office a balanced look. You can also think of adding a few aesthetic wooden office décor pieces. 
Brown Wall Color with Wooden Office Furniture
The combination of brown wall color with office furniture is one of the warmer-toned color schemes for office furniture setup. Being a warm color, this office space color scheme can energize you and promote you to do more tasks. Therefore, it is better to have it in those offices where you have a greater workload and want more individual effort to complete tasks. 
 Pastel Yellow Walls and White Office Furniture
This is one of the interesting office interior design color schemes. Pastel yellow walls and white office furniture come on more of a lighter side of your office furniture color combination. Therefore, it is better for workspaces where teams are more dependent on teamwork and require a calmer environment to maintain friendliness. This paint color and office furniture combination will also be great for home offices or places where you have to do lighter tasks and maintain a calmer work environment. 
White Walls and Black-and-White Office Furniture
White walls and black-and-white office furniture are our list's last most aesthetic paint color and office furniture combinations. Here, you may think of adding a black and white office chair and a white standing desk to give a unique look to your office. Having some related office décor that goes well with this color combination would make your office stand out among ordinary offices. 
Wrapping It Up
We hope that all our above-mentioned examples of color schemes for office furniture will give you some idea of how to plan an ideal office setup with the best paint color and office furniture combination to boost your productivity. So. Go ahead and redesign your office today by making the relevant changes.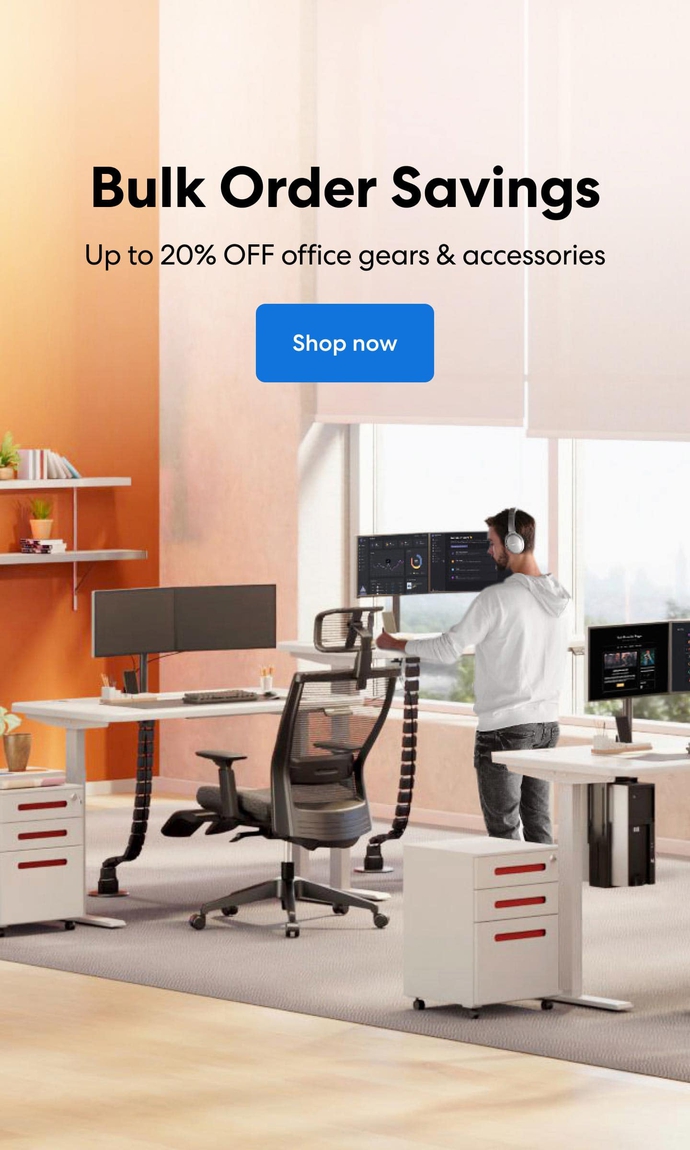 Subcribe newsletter and get $100 OFF.
Receive product updates, special offers, ergo tips, and inspiration form our team.