A gaming chair and table are necessary to enjoy your playtime sessions as much as possible. There is no surprise that the gaming industry is one of the largest in the world today, and its dedicated fan base is likely only going to grow larger. 
While some prefer handheld and mobile games, others elect to play on a console or PC. The latter set needs top-tier gaming furniture, and once the money is available, do not expect any compromise on quality. 
The PC players, in particular, are known for their incredible game room layouts. If you need a PC gaming desk and chair, it may be more feasible for you to get the two together, instead of making separate purchases. 
So, if you had your heart set on a standing gaming desk as your first buy, you may want to hold off since you can add a top candidate for best ergonomic chair to your shopping cart. 
The pieces of hardware that make up the computer desk chair combo must be compatible and complementary. For example, you would not want to buy an extremely high chair for a low desk. 
However, you could use a home office standing desk with just about any chair, since the adjustability can compensate for the natural difference in height. So, what do you think about getting some solid recommendations ahead of your decision to buy an ergonomic chair and a gaming desk? 
Below is a collection of six potential options you can consider when selecting a gaming desk and chair bundle. These are tried and tested, and the first two entries are even sold together by default. You are guaranteed fun times ahead, should you choose to follow the expert advice here. 
Best Gaming Chair and Tables Combo For Your Consideration
1. Autonomous SmartDesk Core and ErgoChair Pro
Here is the first gaming chair and table combo for you. Now, you've stepped into the electric standing desk world for the first time. As was the case with the two entries above, you are getting two units here that were designed to work seamlessly with each other. The difference, however, makes for a more impressive combination. 
If you were to separate the combo elements for the previous entries, they would make for solid choices on their own. However, these two Autonomous designs were created to be top-tier standalone products. Their individual design choices make them complement each other incredibly well and create a gaming chair and desk combo worthy of the industry professionals. 
Why not start things off with the SmartDesk Core for your gaming chair and desk combo? As the name implies, it is Autonomous' core experience for home offices and gaming needs. You have a height-adjustable design that goes anywhere between 29.4 and 48 inches. This is complemented by four programmable settings that allow you to return to optimal and desired heights in a pinch.
The weight capacity of this standing gaming desk is 265 pounds, which should be more than enough for any gaming equipment. It's important to note that even as a load approaches this capacity limit, the stability and adjustability functions show no change. 
If you have a host of equipment and want even more than the already ample desktop real estate, you can choose the extra-large option instead, which should exceed your expectations.
The design consists of high-quality MDF wood, and it is backed by a steel frame. An electric dual-motor powers the lift mechanism, and it is as quiet as it is efficient. You could say that the sweet icing on this well-refined cake is the multi-year warranty that you get. 
As far as customization goes, this is the best it has gotten on the list of gaming desk with chair so far. Your frame can be white, black, or gray. However, your tabletop has a range of 18 options including standard colors, such as white or black, as well as patterns such as the well-designed Koi Pond and Stress Me Not art styles. 
So, you could choose to have a completely white gaming desk, or you can get as crazy as you would like with your design. The comfort is just as incredible as the aesthetic, which is not a surprise considering you're dealing with a company focused on ergonomic excellence.
As far as the chair goes, it also has customization options, considering there are six colors to choose from that span standard and non-standard visuals. Stability is the order of the day, as you can modify your armrest position, headrest position, backrest, seat tilt tension, and even your seat height. 
The recline motion offered is smooth, with five lockable positions to enjoy. You get tremendous lumbar support and a weight limit of 300 pounds. The woven black mesh keeps you cool, and the materials used are 100% earth friendly. 
How's that for a gaming chair and table combination? 
2. Autonomous SmartDesk Pro and ErgoChair Plus
The previous gaming desk and chair bundle option gave you a look at what an Autonomous combo has to offer, and this one takes things a step further. Meet the ErgoChair Plus and the SmartDesk Pro. Both these products are superior versions of the corresponding hardware reviewed in the previous entry. So, it is not unreasonable to expect an even better gaming experience here. 
Starting with the desk, the higher end of the adjustment spectrum has been increased to 52 inches. You still get a dual motor here, but the underlying technology has been upgraded for even greater speed and even quieter operation. 
Your load capacity has been increased to 310 pounds, and you can choose from natural wood or classic finishes. Again, regular, and extra-large tabletop sizes are available, depending on the amount of desk real estate you need.
The ErgoChair Plus is Autonomous' most dynamic chair, which is designed around the principle of complete mobility. There are six colors for you to choose from, each featuring a design that offers 10 times the durability of your standard chair. Again, earth-friendly materials form the unit's composition. 
You are dealing with an impressively unique design that employs frameless construction to yield unhindered movement for your gaming sessions. When you get excited, don't expect the chair to limit your celebrations. This computer desk chair combo is perfect for you.
It still manages to be incredibly sturdy with its adaptive spinal support mechanism. Finally, you are getting a five-year warranty on this chair that can support up to 300 pounds. 
If you thought the prior entry offered the definitive gaming experience, you may want to check this PC gaming desk and chair out first. 
3. Autonomous SmartDesk Pro and Vertagear SL4000
Based on the information provided in the prior entry, you are quite familiar with what the SmartDesk Pro has to offer. The Vertagear SL4000 gaming chair, however, is uncharted territory here. 
This design is fully adjustable and inspired by motorsports. Such a combination tends to translate seamlessly to the world of gaming. Comfort is at the center of the design here, as there is great detail and focus on neck and back health. 
Your color options include several pairings including black and blue, green and white, black and red, and black and white. 
The lumber and neck support areas are padded, but these are removable at your behest. Tilt tension is present and adjustable, with a lock system in place. Enjoy up to 140 degrees of recline and a max load of 330 pounds. 
While the unit was not designed by Autonomous, it does pair incredibly well with one of the best standing desks to make an ideal gaming chair and table set for every purchaser on the market. 
4. Autonomous SmartDesk Corner and ErgoChair Pro
Of course, there is no need to go over the marvel that is the ErgoChair Pro. The SmartDesk Corner is intended for you to capitalize on what is usually lost corner space. 
The L-shaped gaming desk offers twice the space of the traditional Autonomous SmartDesk models, with greater stability, durability, and power. A triple motor sits at the center of the design here, making for efficient lifting and lowering while being the quietest design yet. 
The weight capacity is a staggering 400 pounds, which gamers are very unlikely to use up. There are four programmable settings present, allowing you to return to any heights that you enjoy. 
For those who have empty corner spaces and enjoy multi-screen setups, this is the gaming desk and chair bundle for you. 
5. Homall Racing Leather Swivel Chair and Z-shaped Desk
The other gaming chair and desk combo is at the Homall store. You may not be too familiar with the brand, but it provides solid office and gaming furniture at an incredibly affordable cost. If you have any doubts, imagine being able to snag a 43-inch desk and a gaming chair for less than $200. 
It sounds impossible, but that's what you're getting here. Note that it's not a standing desk, but it's specially designed for the chair that accompanies it, so you should have nothing to worry about. If you were to look at these pieces individually, they would each have a unique flair, but combining them is something out of this world.
The tabletop in this gaming desk and chair bundle supports up to a 40-inch monitor that tends to be more than enough for most gamers. It also has a convenient cup holder, which is awesome considering the way some players love to have a drink close by. There is also a controller stand and a headphone hook, and these inclusions go even further to make it blatantly obvious that this design was intended for the most passionate of the gaming community. 
Don't think that the build quality is cheap either, as the materials are durable, and the choice of a Z-shaped leg design contributes to the overall stability. 
Your chair has a 360-degree swivel with multi-directional wheels. Additionally, you can recline up to 150 degrees and take advantage of a rocking function. 
While you only have a single color to choose from, it's neutral and should complement just about any office space. The desktop is completely black, and there are red accents along the Z-shaped legs. The chair, on the other hand, is an eye-catching combination of black and white. 
Neutral colors such as these gaming desk with chair go with most room designs, and once yours is not anything too out of the ordinary, you should have nothing to worry about. 
6. TangKula Gaming Desk and Chair Set
TangKula has a superior design to the previous entry in several ways. The first thing to mention is that there is even greater aesthetic compatibility with various office spaces. Instead of a single color, you have your pick from four different options. These are white, blue, grey, and red. The desk is always black, so your choices don't impact it much. However, your chair consists of a similar mixed pattern to the Homall design. It's the secondary color here that you can modify to fit your needs. 
The table in this computer desk chair combo has an additional layer atop it that elevates your screen stand. However, it plays more than a supportive role, since there are electrical outlets present to provide power and a hole to yield better cable management. A cup holder and earphone hook make a return here, bringing the level of convenience that gamers need. 
You get a tabletop that is extremely spacious, giving you ample room for all your peripherals. Under the desk, there is a low shelf that is specifically dedicated to give your system unit a place to stay. Of course, having it elevated tends to promote better airflow, and just in case there is flooding or any low-level disaster, you can keep the brain of your PC safe. 
While standing desks provide a better range, the 33.5-inch height that this model offers is often deemed as one of the most optimal in the gaming world. The comfort is reinforced by the chair's lumbar support, and it even has a massage function to help you relax. 
Your desktop is very strongly built, taking advantage of MDF wood that is wear-resistant. The X-shaped footing is made of premium steel, which means it is going to be holding up for a long time to come. 
The manufacturer markets the design as being one of the most convenient to gamers out there. The idea was to build a gaming desk with a chair that puts all your accessories at arm's length. You even have a chair pocket that was designed to accommodate power banks if needed.  
Note that the two elements of this gaming chair and table combo are shipped separately, so don't be alarmed if you get one before the other. 
Final Remarks
Managing to land a computer desk chair combo is a huge win in the gaming world. Pay close attention to the features highlighted across the six combos covered above to make the most optimal choice.
Video ads for product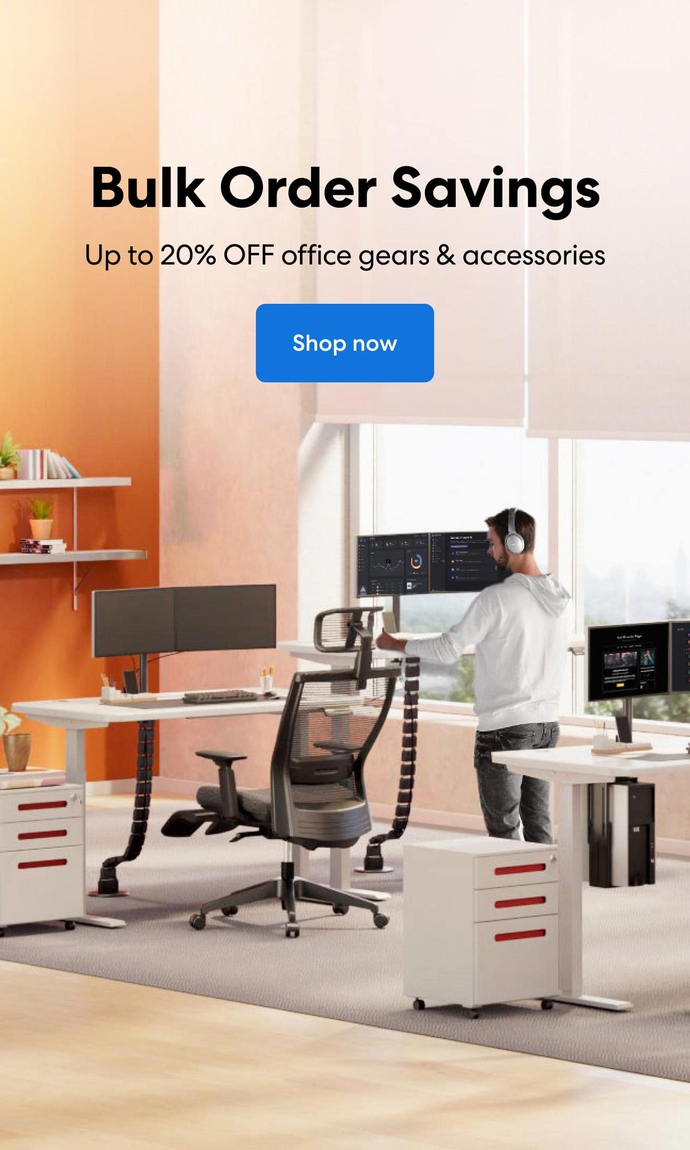 Subcribe newsletter and get $100 OFF.
Receive product updates, special offers, ergo tips, and inspiration form our team.