Best office chair under £200 for home is what you are looking for. Well luckily we have what we think is the best home office chair yet. It's a home office chair that will support you through your best and worst days. The ErgoChair 2 gives you the support you need for when you need it most.
Some difficulties when building a home office
Building a home office can be a challenge. You want to have all the best features but you have to do all the research yourself. You have to find the best office desk, the best office accessories and the best office chair and to make sure that they'll contribute to environment that will help you work productively and healthily from home. When we get to a company office, everything is laid out for us and we usually make do with what we've got. You have the structure and facilities of any other normal office environment and usually plenty of colleagues around to give you the feel and structure of work. Yet building your own home office affords you the privilege of constructing your own workstyle, choosing your chairs and desks, starting from scratch to design and decide how you work best. Autonomous products are perfect for anyone looking for the best home office furniture to optimise their productivity: desks, chairs, stools and monitor arms. All of our products are designed with health and productivity in mind.
It's minimal aesthetic allows you to keep a tidy mind when putting your head down to get through your workload. Our ErgoStool (under £200) allows you to experiment with active sitting so that you can engage and workout your core muscles while you work. The circular base allows you to try out a range of movements and improve your posture from a comfortable cushioned base. Our monitor arms allow you to keep your monitors at an optimal height and distance to prevent eye, neck and back strain whilst or anti-fatigue mat encourages a healthy stance on posture whilst standing on its light incline. You can even try out our office bike as a way to burn calories through some light exercise without leaving your desk. In other words, we've thought about it. We're dedicated to building products that enhance everyone's experience of the office.
Our best office chair for home under £200 is the best choice for you
Our dedication to this pursuit makes us a well informed judge of office furniture for your home office and we wouldn't settle for anything less than the best - that includes our office chair. Our ErgoChair 2 office chair is designed to give you the best support in your home office. We now how central our chairs our to our working lives. Even as many of us have begun to transition to work styles which involve standing, active sitting or other activities, we always need the best chair to ground us when we are ready to sit back down. So with this one, we've really thought of everything.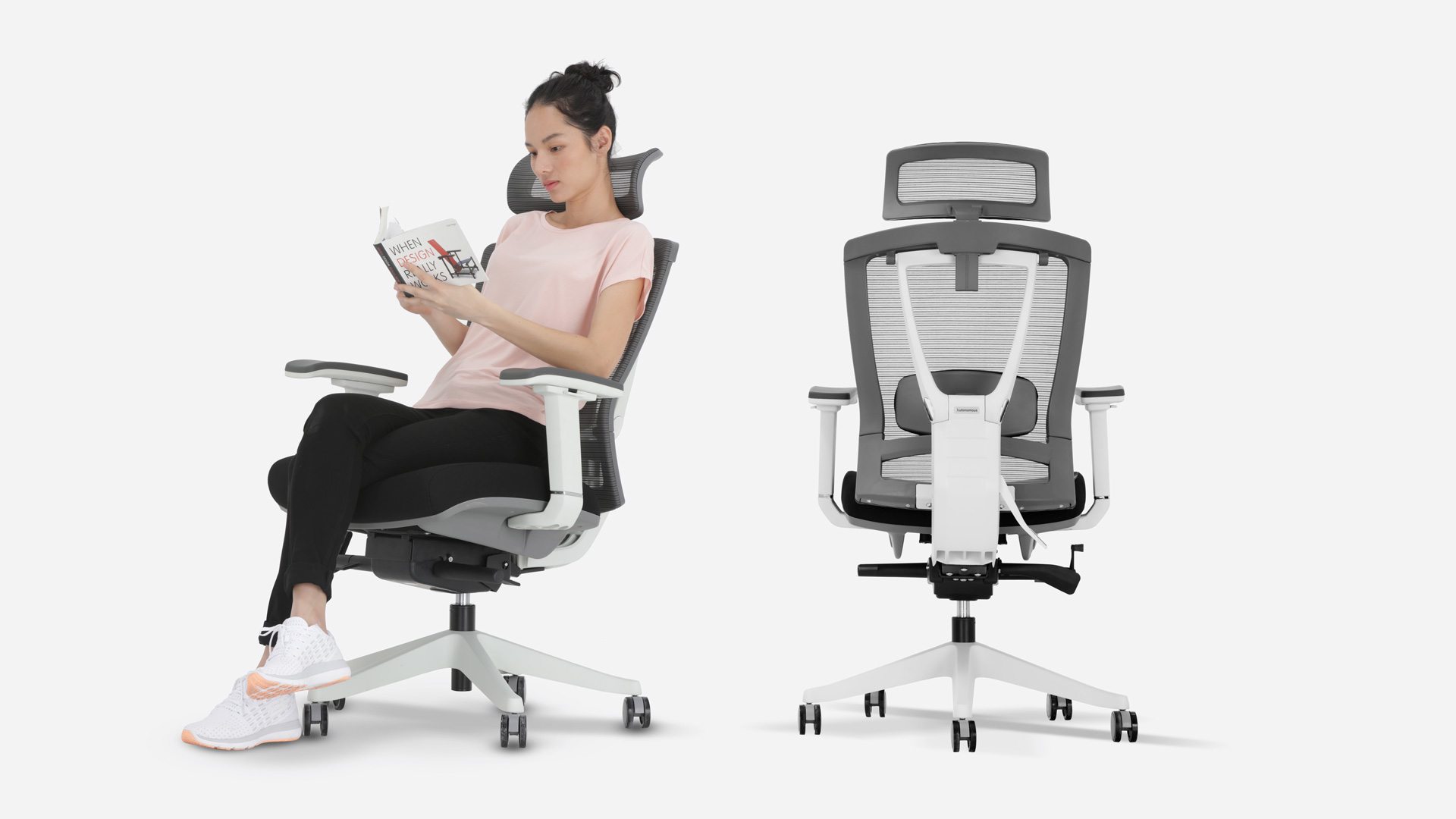 For a start, our ErgoChair 2 is an ergonomic office chair. Ergonomics is about tailoring products for efficiency and comfort in the work environment. Ergonomics have been increasingly popular in offices across the globe as more and more people strive to create work environments that accommodate their bodies and personal needs. Our ErgoChair 2 does just that. Every detail of the ErgoChair 2 is designed to give you the best office chair for your home or work office.
The Korean mesh fabric is both firm and aerated, giving you stable yet flexible support without restricting the airflow. Pulled over the entire seat, this fabric is particularly suited to the back of the seat where your back spends most of the day. We searched the world for the best fabric for your home office chair and this is what we found.
What makes us different from other office chair manufacturers
Designed in Italy
We were equally thorough with our tilt tension mechanism. Designed in Italy the tilt tension is the best mechanical design for the lever of your office chair and you and your home office will see why. The tilt tension mechanism allows you to alter the position of the chair in all directions. Not only can you alter the angle of the seat back - from an upright position to a resting reclined position - you can also alter the position of the seat forward and backward to make sure you have the best support from every angle. If you want to get into a productive workflow, you can keep the seat back upright and move the seat backwards. At this angle you will have full support of your back neck and head. Alternatively, if you want to relax towards the end of the day, you can recline the seat all the way back and push the seat position forward allowing you to lie back and relax your core muscles. Of course, in between the two extremes are a spectrum of alternate sitting positions suitable to different work modes throughout your working day.
Best office chair with lumbar support
To make sure you have the best possible support while in any seated position we came up with a couple of additional features to make our office chair stand out from the rest as the best option for your home office. With adjustable lumbar support, a small cushion at the back of the seat moves with you throughout the day to give you that essential support for your lower back. Again, if you are seated in an upright position, simply push the lumbar support to the lowest position. If you move into a reclined position, the lumbar support can move with you to make sure your back always has that extra support. Our other additions are a custom and adjustable head rest and adjustable arm rests. When we mean the best support possible - we mean it.
Perfect blend of comfort and productivity
With these adjustments you can tailor your office chair to the best combination to suit your needs when you're working from home. We think that's what makes the best office chair for any company or home office chair. You can never go wrong with a fully adaptable chair. If you find it isn't working for you on any particular day, you can try out any number of other positions and combinations. In fact, with Autonomous you can build an entire office of office furniture tailored to your needs. We think it's the best way to get your home office to that perfect blend of comfort and productivity - sink into your chair without sinking into the sedentary.
We've even got a range of great colours to match to your taste. If you think red is the best colour to get your creative juices flowing from home - we have the office chair for that in red apple. If you think blue is the best colour to keep you calm and focused at home - we have our baby blue office chair. If you think green is the touch of nature to best keep you in healthy spirits - we've got the perfect evergreen office chair for your home. If you want to keep your home office minimal and clean, look no further than our black/gray office chair - you know best.
A 30 day free trial period
We understand that you might be selective about the furniture for your home office. We understand that you need to get it right as you build your own space. That's why we provide a 30 day free trial period. Within the first 30 days of your purchase you can return your office chair for a full refund. That means you can give the chair a test drive in your own to see if it's the best thing for your home office free of charge. Equally if you fall in love with it, you can be sure it will be in your home for years with our 5 year warranty policy. If you're based in the US, order today and it will be with you in 3-5 working days.
Looking for the best office chair for your home office? We can't always know what is right for you, or what will help to make your home office the best environment for you to work in - whether it's an ergonomic chair, adjustable desk or range of convenient accessories. However, we can offer you adjustable office furniture and office chairs so that you can tailor your home office to your personal needs and adapt them as they change and evolve. We guessed that a tailored office chair is just about as close as it gets to the best office chair that we can offer any home office. With our furniture you can take autonomy over your furniture, your space and your work life not just while you are building your home office but as it changes and develops over time. Only by having an office chair which suits your changing needs can you have and office chair that works best for you at all parts of your own personal home office.
Office Chair Exercises To Make You Unbelievably Healthier and More Productive
Sort by

Top comments

This week

This month
Best office chair under £200 for home - A 30 day free trial