A new employee is engaged from the moment they walk through your door. However, sometimes it even starts before they walk in. A list of employee onboarding packages ideas is of the utmost importance to conduct a successful onboarding process.
A new hire welcome kit also called an employee welcome package or an employee onboarding kit, is effectively a new hire welcome package. New hires are meant to feel appreciated and like part of the team, and nothing works better than a welcome package.
The employee welcome package may seem like a non-essential aspect of the employee onboarding process, but it is essential. The new employee kit greatly influences how new hires perceive your company.
Providing a fantastic new hire package demonstrates your commitment to your employees and desire for a positive employee experience. Also, new hires feel more comfortable, engaged, and happy on their first day. As a result, such displays are crucial to demonstrating and promoting a company's culture.
List of Onboarding Package Ideas
Breaking the ice
Create an epic welcome for your new employees with an employee perks program. This suggestion provides all of the treats, icebreaker questions, and accessories employees need to prepare themselves for a fun and bonding hour (or two or three). Additionally, they will love that they can enjoy happy hour anywhere they choose, not just at the local bar.
Tech kits
This kit in the onboarding packages has everything, including those little things people don't even consider, like a microfiber cloth for keeping all the screens clean. The power bank looks great, the earbuds let them focus, and the bag lets them carry their gear to and from work. Your recipients will love the way their power bank looks, the earbuds allow them to focus, and the bag allows them to carry their tech to and from work.
Office supplies
When you provide the essentials for a working day, you say "welcome." Office supplies are a necessary part of an employee welcome kit. When these items are included in the new hire's welcome kit, it eliminates the need to seek them out separately.
In the course of his daily work-life, an employee might require a wide range of office supplies. These items in the onboarding packages are referred to as "necessities," and their absence can dramatically impact how easy it is to do a job. To make life easier for a new employee, here is a quick list of office supplies to get: notepads, pencils, post-Its, planners, business cards, folders, desk cleaning supplies, staplers, etc.
Personal copy of the employee handbook
You would probably have informed them verbally as an HR, but it is questionable whether they recall it. This is why they have a handbook. In an employee handbook, the organization's policies and procedures are outlined in detail. The employee handbook is included in the new hires' welcome kit to familiarize them with the company's expectations and how it operates.
The fun employee handbook showcases the company culture's fun side, while an employee handbook emphasizes rules and regulations. An employee handbook that displays the uniqueness and excitement of the company culture is the idea behind the fun employee handbook.
Equipment
Nowadays, technology is a necessity for every job and also should be included in your onboarding packages. You need to know the password for your desktop, keyboard, mouse, or (most importantly) your Wi-Fi connection. Provide your new hires with the equipment, applications, and guidance they need to do their jobs effectively. Ensure that the workstation has the necessary permissions and programs before allowing them to access it.
Office furniture upgrade
You can even upgrade the office furniture they use by purchasing the items they need. No doubt, it would be a big expense, but it will help to work better and last in the long run. Several stores now offer special pricing on the bulk office furniture purchases made at their stores. Typical purchases would include an ergonomic office chair, height adjustable home standing desk, high-end lighting options and other tools that enhance workplace comfort. 
Autonomous EPP & Bulk Order Program
Office standing desks promote health, productivity, and vigor while combating the effects of sedentary lifestyles while encouraging focus and motivation. The health of your back is directly correlated with the health of the other parts of your body. Ergonomically designed office chairs combine functionality and aesthetics. Their simplicity and timeless appeal make them a great choice for lumbar, neck, arm, and leg support. Anybody can find comfort in our ergonomic office chairs, no matter where you sit.
Purchase Program for Employees
Using the Autonomous Employee Purchase Program, you can create a comfortable, productive work environment for professional teams with onboarding packages. At present, you can save up to 10% on Autonomous products purchased through the employer purchase program. Provide what your employees need to fulfill their work expectations and show them that you care about them. Smaller businesses might find this program more suitable when it comes to implementing employee perks and boosting team wellness and productivity throughout the organization.
Pricing that is more competitive
Take advantage of the latest products and promotions to save money.
Service enhancements
Having an extended free trial and warranty gives you more peace of mind.
Your company should be charged for it
You can choose what you want, and your manager will contact you.
Employee Purchase Program: What does it Entail?
Using an Autonomous online e-store that's personalized to your company, we make it easy for all of your organization's members to access company benefits when they need them. So, how to use Autonomous EPP?
Invite your colleagues
We have a full selection of standing desks and ergonomic chairs for them to choose from.
Decline or approve orders
You don't have to worry about receipts or reimbursements with direct payments for equipment requests.
We'll take care of it
Everything from shipping to aftercare will be handled directly by us.
Video ads for product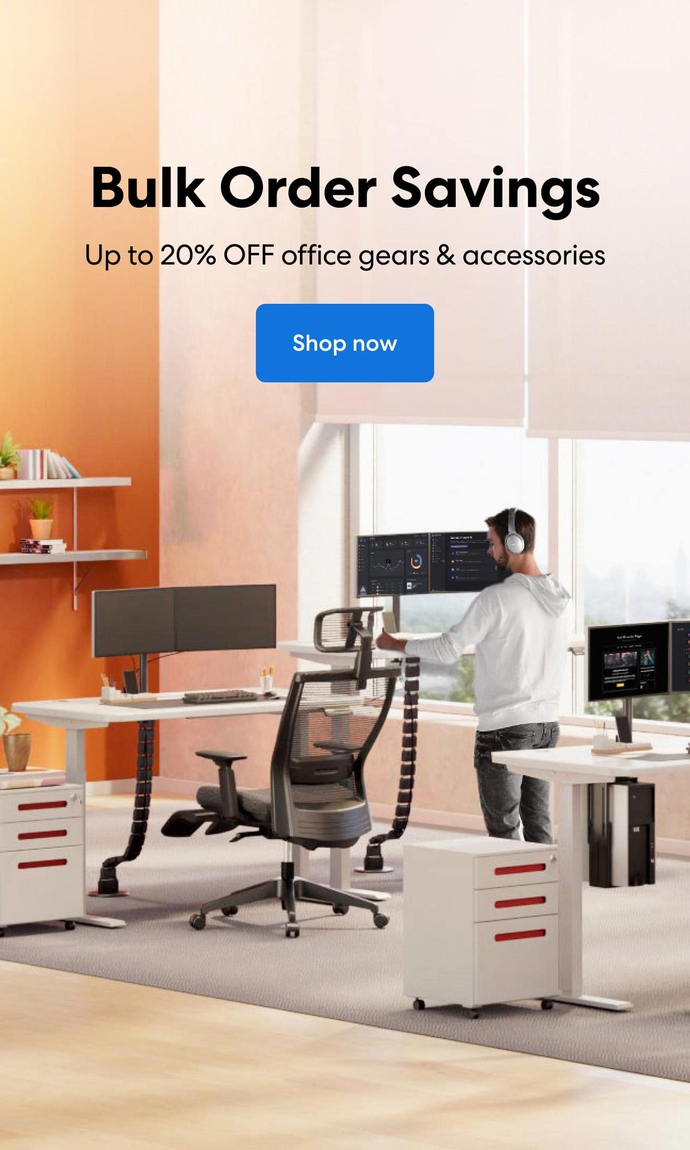 Subcribe newsletter and get $100 OFF.
Receive product updates, special offers, ergo tips, and inspiration form our team.