Smart Products
Best Standing Desk Legs in the UK (Top Choices)
6,087 Views
Do you think creating your desk is very complicated? Well, you should try customizing your comfort desk. This will help you get the much-needed healthy balance of sitting and standing throughout hard long working days.
The electronic desk helps you attain ergonomic height while encouraging healthy moments. The solid standing desk legs in the UK keep your desk frame very stable and make it certain that they will last for a long time. So, if you are thinking of getting your motorized standing desk legs then, we have listed the best standing desk legs in the UK for you to make your comfort desk. These smart desks help you to shift your position according to your convenience!
Why Do You Need A Standing Desk Frame?
Working long hours in the office makes you sit for a longer time causing ill effects on your health. Therefore, it is quite necessary to buy a standing desk in the UK for your home or workplace. Some of the important benefits of choosing your standing desk frame UK are as follows.
More legroom and flexibility to add a bike

Clever

cable management system

Sit or stand reminder system for a healthy you

Let's you customize the desk according to your comfort and needs

Smooth Operations
1. Autonomous Smart Desk Frame
Understanding all your needs and comfort, Autonomous SmartDesk Frame Kit has made just the perfect standing desk frame for you. The frame is highly economically durable and has all the features to help you customize your comfort desk. Plus, this frame meets the safety standard of BIFMA and UL.
This Autonomous standing desk base in the UK is equipped with an effective motor, allowing you to shift positions at your own pace. Moreover, you can assemble the standing in a very short time, as you will receive a DIY standing desk kit in the UK. Additionally, the desk has lift capacity around 300-330lbs heavy equipment approximately.
2. Vivo Standing Desk Frame
This is one of the most minimal standing desk frames in the UK that you will find with many beautiful functions. It offers a height-adjustable feature that helps in shifting from sitting to standing position very smoothly.
It has a powerful, smooth single motor lift system and a lift speed of 1.5 per second. Additionally, it offers functions like an alarm to help you remember basic things in your everyday life. Furthermore, it is very durable, as it can hold weight up to 176 lbs keeping all your essentials safe.
3. FEZIBO- Electric Stand-Up Desk Frame
This durable and stylish hardwood frame by FEZIBO is a perfect fit for your cozy house. It has a simple-looking frame available with standing desk legs in the UK in black and white to match with your interiors. You can adjust its length by a single touch button to match your task and mood.
The frame is very durable and is made of heavy steel to bear the load of 176lbs. On top of that, it is super easy to assemble, and you will receive tools with it. You can also enjoy features like height preset in this modern home office desk.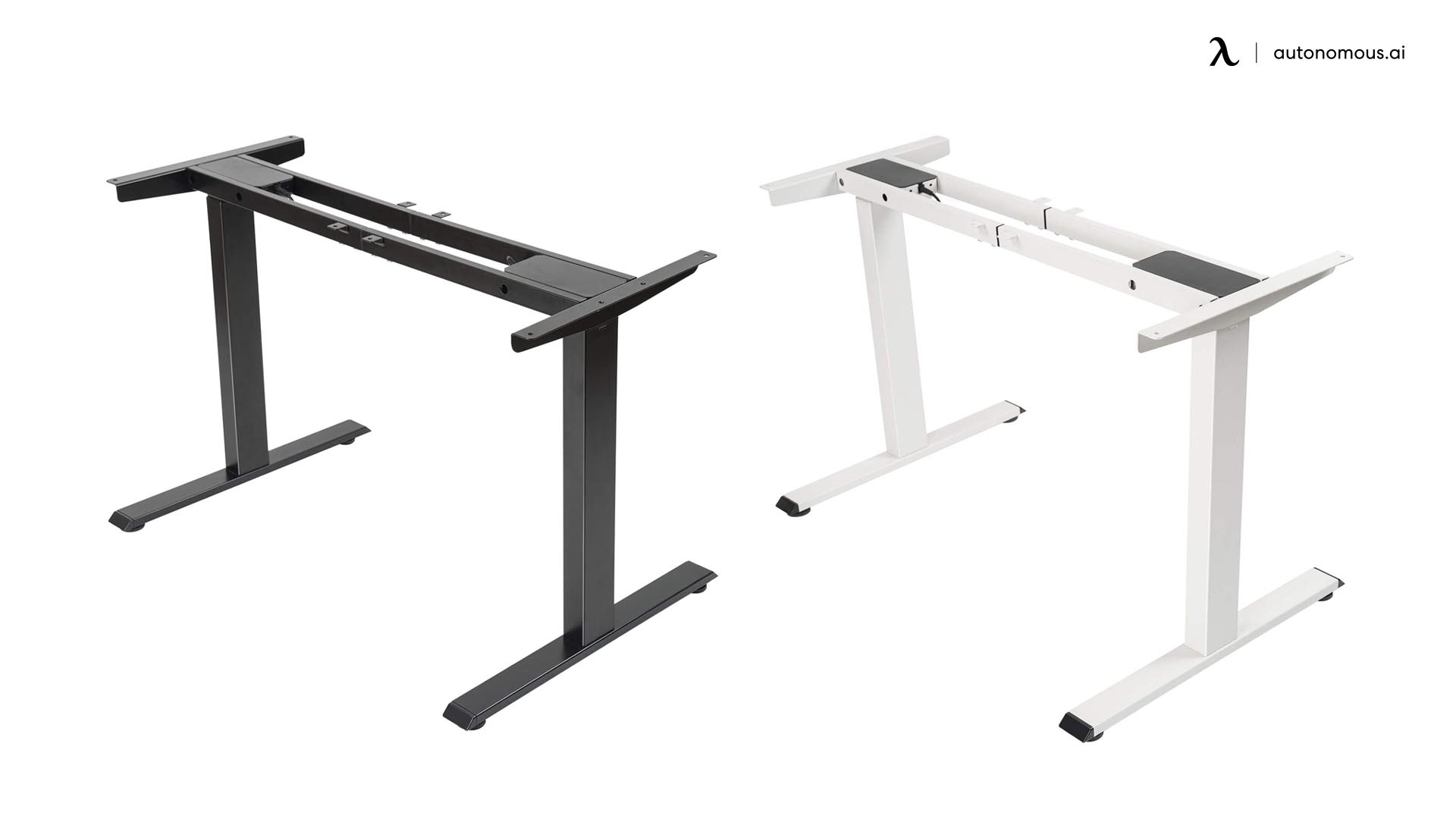 4. AIMEZO- High-Tech Desk Frame
This office standing desk frame comes with 4 automatic memory smart keyboards. It is a cost-effective, simple looking desk frame, perfect for your home and as well office. Additionally, you can enjoy after-sale service with this desk frame.
This electric adjustable standing allows your workplace to elevate to an ergonomic height. Furthermore, it offers three levels of the frame, offering you more options to choose from. Being highly durable, it can hold a load of 100 kg of equipment.
5. V2 – A Desk From UPLIFT
Using a desk should be effortless and fun. The standing desk frame in the UK from UPLIFT is well known for their stability, safety, and reliability. It is one of the unique workings.
It comes with multifunctional and beautiful features. The Diy standing desk V2 frame is a perfect fit for all of you who enjoy the latest technologies. This desk lets you fulfill all your dreams, customizing a high-tech desk frame, as it offers four different types of keypads. You can pick one of the keypads according to your usage and comfort.
6. Jarvis Frame
If you want a standing table frame, this Jarvis frame is one of the perfect options as it offers all – from stability to style. The base frame is designed to hold 158 kgs - a perfect base for all your heavy-weight equipment.
The desk is perfect for your home office, to hold your big monitors and all the other necessary equipment. The base has adjustable desk legs in the UK with a motor, which works very fast and quietly, bringing you more comfort. Plus, putting the desk together is easy.
7. Vigor- Heavy Duty Desk Base Frame
It's a powerhouse with one of the best and quickest frames, as the name suggests. If you are looking for an L-desk, this is the perfect option for you. It is the only DIY that provides both the versions two and three legs and a standing desk base in the UK.
This super-strong desk is rated to hold the weight of 180lbs per leg but it can lift 490lbs smoothly. This super durable, high-tech desk comes with a five-year warranty. This the go-to frame if you are looking to use heavy applications.

Summing up
It is quite necessary to have strong adjustable desk legs in the UK for a standing desk, to ensure more durability. Similarly, it is imperative to have a strong frame for your standing desk. A standing desk is beneficial for your health and helps you be more productive.
Although it is a struggle to choose the best standing desk legs in the UK it is also quite necessary. Choosing the right base frame is as important as adding the right spice for your recipe. Even one wrong factor will sabotage your hard work, so choose wisely.
Keep up with Autonomous news
Stay informed, stay inspired with our new blogs.
WRITTEN BYAutonomous
We build office products to help you work smarter.