A standing desk can help relieve aches and pains caused by sitting all day, no matter where you work. Though one of the standing desk mat benefits is to reduce back pressure, it can also cause some strain to your feet, knees, and legs if you stand for long periods. An ergonomic anti-fatigue mat for back pain becomes useful since it allows you to stand comfortably for longer.
A home office is a place where creativity can flow and where you can get down to business, whether you work from home or have carved out a room for something you love, like crafting, reading, or writing. It isn't always this way, though. According to the most enthusiastic reviewers, we have rounded up the best standing desk mats you can purchase online today. We also have many of the best anti-fatigue mats for standing desk options on the Autonomous site if you missed a step and want a standing desk, from standing desk converters to the most attractive office anti-fatigue mat to ease back pain to expert recommendations.
You probably already know how difficult it might be to stand still for an extended period if you have worked on a sit-stand computer workstation or spent some time cooking. We're huge advocates of utilizing ergonomic anti-fatigue mats in our living spaces. However, deciding which designs are truly worth the price can be challenging as so many wonderful alternatives are available.
These mats offer several advantages for daily living because spending considerable time on your feet might negatively affect your overall musculoskeletal health. Anti-fatigue mats for standing desks are intended to relieve the strain that extended standing places on the feet and the body. Many mats offer padding, while others have textured or uneven surfaces that may be used to stimulate and energize the feet.
If enhancing the condition of your joints is vital to you, placing one or 2 anti-fatigue mats in locations such as the region underneath your computer workstation, besides your bed, or directly in front of your basin may have a huge impact. The following types of anti-fatigue mats have been compiled after we examined a number of them.
You may remain standing at your sit-stand workstation for three times as long a day when you use a decent anti-fatigue mat. However, choosing the ideal ergonomically designed standing anti-fatigue mat for your standing workstation might be challenging. They are available in various shapes, hues, and build qualities.
Office anti-fatigue mats range from fragile household kitchen and bath mats made for brief periods of barefoot usage to robust commercial-grade items made for all-day use on a desk job, wearing boots, or even high heels. We advise narrowing your quest to the later portion of the spectrum because your efficiency and wellness are as important as the ergo-dynamics of such a dynamic desk.
1. Autonomous Standing Desk Mat
This technique encourages micromovements to reduce possible stiffness or strain. This applies to the amount of time you spend at your desk. TheAutonomous standing anti-fatigue mats support your back's pelvic and lumbar areas, keeping your spine at angles that relieve back pain scientifically.
As a result, they help you maintain a healthy standing posture, keeping you energized while working. It's one of the best anti-fatigue mats for back pain because the 2-inch rise and sloped surface of these automatic foot fatigue mats help massage your instep to relieve foot pain. When you wear heels to work, they are especially effective at alleviating the strain!
Feel the benefits of both the incline and decline by rotating the Autonomous anti-fatigue mat throughout the day. Micro-movements enhance productivity at your standing desk, keeping you active and energized.
Moreover, this Autonomous standing desk mat massages your feet while you stand. It features an SBR anti-slip payer to prevent you from tripping, along with polyurethane, PVC leather, and PVC leather. It measures 33 inches by 20 inches by two inches and can support the whole body.
2. Porvata Ergonomic Anti-fatigue Mat
Using anti-fatigue mats while standing helps reduce stress. While standing at your standing desk, this company has designed the Porvata anti-fatigue mat with unique patterns that engage your feet and your body. Give yourself a healthier work environment today. It allows me to use my standing desk ten times more each day and is amazingly comfortable. If you regret your current standing mat purchase, we highly recommend it!
3. ErgoFoam Adjustable Footrest
All day long, you will enjoy firm, comfortable support from the ErgoFoam adjustable footrest at your desk. Chiropractic offices in the United States recommend only ErgoFoam footrests. Keeping your feet cool and dry all day is our premium mesh cover's goal. In addition, it's pet-friendly and easy to clean, unlike most fabric footrests.
We provide optimal ergonomic support with our high-density ErgoFoam instead of "pure memory foam" footrests that flatten during use. By turning over your ErgoFoam, you can use it as a rocker, which improves circulation. If you have shorter legs, would you prefer a footrest that is taller? You can adjust the ErgoFoam footrest for maximum comfort by adding or removing inches or pairing it with the best office chair for lower back pain for under $300.
4. FinerCrafts Anti-Fatigue Mat
The FinerCrafts anti-fatigue mat checks all the boxes our professionals advised us to consider and are thick, strong, and non-slip. Additionally, it is stain-resistant, simple to maintain, and offered in various colors and dimensions, each of which is a wonderful extra that elevates this already excellent deal. Since this mat is composed of high-density memory polyurethane, it will cushion your feet as you walk upon it. This one can be easily sourced through the FinerCrafts store online.
5. FENGE Standing Desk Anti-Fatigue Mat
This standing mat can be used with assurance because it is composed of a durable material that won't warp over time. It is incredibly straightforward to wipe it down with a moist towel if there are spills. The FENGE Standing Desk Anti Fatigue Mat is appropriate for individuals who must stand more often. You may utilize it at your computer desk, workplace, kitchen, lounge area, or under the counters. It may be placed wherever you need to use it. This one can be easily sourced through the FENGE store online.
6. burotic Flat Anti-Fatigue Mat: Made in Canada
Long periods spent standing on a particularly tough or soft surface might strain your feet, back, and weight-bearing bones. Working out on this mat will lower your chance of injury or potential health issues and assist you in preserving your energy throughout working sessions. You could stand at your workstation for extended periods while working thanks to the burotic flat Anti-Fatigue Mat. Your body will reward you for using this convenient mat, which is made to ease tension from your tailbone and knees. This one can be easily sourced through the Burotic store online.
7. Anti-Fatigue Kitchen Mat from KitchenClouds
This floor mat is half the price of our top recommendation, yet it offers so many benefits that we would still suggest it even if the cost weren't a factor. This mat, made of dense polyurethane foam, is robust, plush, and comfortable. It's a fantastic choice for kitchens or common areas since it's waterproof and simple to clean. The mat will prevent sliding and stumbling thanks to its non-slip base and beveled corners. The mat is available in three distinct sizes with four different colors: the cherry on top.
8. Mat with Ergodriven Topo Comfort
Unlike the other anti-fatigue floor mats on our checklist, this mat is distinctive-looking. Because it has been created especially for standing workstations, your feet will have a comfy area to rest while you concentrate on your tasks for a few hours. While most anti-fatigue mats are rectangular, this one features rounded corners, upward-sloping borders, and a center that encourages standing up and moving around.
9. Original WellnessMats Portable Mat
This ergonomic anti-fatigue mat seems to have an ADA-compliant no-trip slimming effect, a non-slip surface, and a non-slip base. This versatile mat would be a wonderful addition to just about any house. But its integrated handles are precisely what distinguishes it. The mat is incredibly portable thanks to this uncommon characteristic, making it simple to carry to and from work, into and out of the storeroom, or just about your house.
10. Anti-Fatigue Kangaroo Mat
This ergonomic anti-fatigue mat is truly waterproof, unlike many other mats, which we also suggest for other reasons. You will not need to sacrifice flexibility to acquire the desired resistance properties because the mat is sturdy, comforting, and simple to clean. This ergonomic anti-fatigue mat is 0.75 inches deep, similar to many other anti-fatigue mats on our list. The high-density foam gives it a remarkably comfortable and supportive sensation underneath.
11. Workfit Standing Desk Mat from Ergotron
You may anticipate that this standing mat will retail for more than other foam-core alternatives, probably in the $60–$70 bracket, due to its superior quality padding on the interior, medium-grade urethane coating on top, as well as a crumbly foam surface exposing the floor. Suppose you need a good quality, commercial-grade ergonomic anti-fatigue mat for high-density areas. In that case, this sustainable material is perfect since it is oil, dirt, and slip-resistant even while wet.
12. Office Chair for Back Pain
Poor posture at your desk can restrict your breathing and cause you to become suffocated? Ergonomic chairs designed for Autonomous focus on providing lumbar support, spine protection, and comfortability.
This helps prevent back and neck pain and prevent blood circulation issues. It is impossible to breathe deeply when you have a restricted diaphragm. It is possible to suffer a compromised oxygen supply if you do not take full, deep breaths.
As a result, thought process and ability to solve problems become impaired, as does your fatigue. The most popular items in our chair collection comprise the ErgoChair Pro, the Pro+, and the Recline variants, which provide ergonomic support that keeps you alert and prepared for work. Check out our website to see more on the ErgoChair office chair for back pain.
13. New Life Bio-Foam Mat from GelPRo
This high-traffic area ergonomic anti-fatigue mat from GelProNewLife Bio-Foam is a highly durable product. Regardless of how many shoes walk across its polyurethane foam, it always springs back.
It may be more expensive than other mats, but it is more comfortable and durable than others. It prevents discomfort and fatigue from standing for long periods by suspending your body. Moreover, its surface is abrasion- and puncture-resistant, which increases its longevity. It also has non-slip bottoms and beveled edges to prevent tripping.
14. Premium Anti-fatigue mat from Gorilla Grip
With this multipurpose ergonomic anti-fatigue mat, you can use it at your standing desk or wherever you find yourself on your feet – even at the kitchen sink. It might be a very basic anti-fatigue mat, but it's got the best online reviews, especially from those who are dealing with back pain.
It's thick, cushioned, springy, easy to clean, and materials that won't break down over time. It is not too expensive with a price of under $40 either! This ultra-thick cushion is designed for all-day comfort with three-quarter-inch thick premium-grade foam.
This cushion is soft and supportive, providing comfort for tired feet and ankles. This high-density foam mat features a durable backing that won't wear out over time. Perfect for bare feet, boots, and paws, this mat will not break down or compress over time.
Video ads for product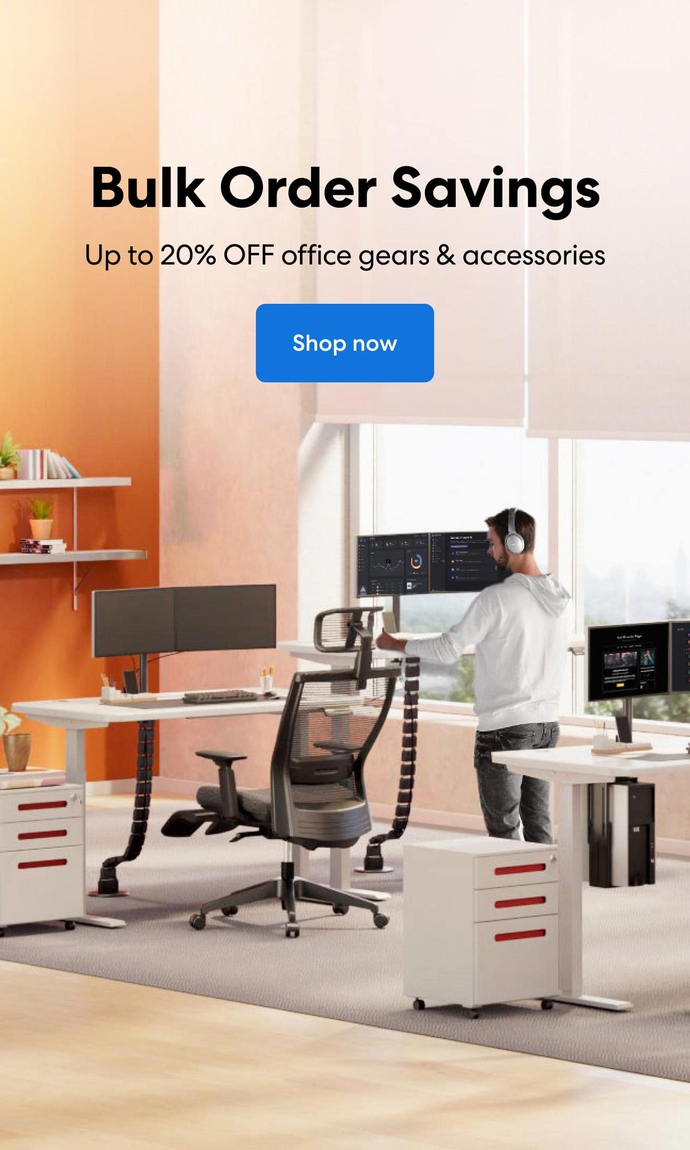 Subcribe newsletter and get $100 OFF.
Receive product updates, special offers, ergo tips, and inspiration form our team.