Smart Products
Best Tall Computer Desk to Buy in 2023
1,175 Views
Indeed, a standing desk doesn't work for everyone. Ever since the concept of home standing desks has stirred the market, there have been a lot of purchases owing to the numerous benefits of having a standing desk. But when it comes to tall users, some standing desks don't suffice. Most of the standing desks in the market reach the maximum height of 44 inches or so, which means people who are blessed with a height greater than 6 feet are less likely to reach the ergonomic position of working while studying.
This also means that such users need a tall computer desk to work and operate easily. The right desks for tall people reach as much as 48 inches less or more. This is an optimal maximum range for a desk to classify as an office desk for a tall person. Since high computer desks are harder to find, we have made a list of the top ergonomic desks for a tall person in 2022.
Best Tall Computer Desk for Tall People
1. SmartDesk Corner
SmartDesk Corner is a modern L-shaped standing desk from Autonomous. This desk is specially made for a range of people from petite to taller. The desk has a height capacity of 29 inches to 48 inches, and you can easily adjust the height with just a push of a button. With over 4 programmable settings. The desk comes with a dual motor operation. The weight capacity offered by the smart desk corner is around 400 pounds which means it is highly suitable for dual and triple monitor screens.
2. SmartDesk Pro
This office standing desk, SmartDesk Pro from Autonomous, is a cheaper alternative to the desk mentioned above. The desk has a height range of 26 to 52 inches, making it suitable for the extra high crowd and pretty shorter people. The upgraded electric motor operates at a noise level of 40db, so this desk won't be in any way a distraction in your office.
Meeting the perfect desk height standard for taller people, the SmartDesk Pro offers a weight capacity of 310 pounds and can host XL desktop options as well. The natural wood top provides a fine finish to the surface, and the solid steel frame also ensures durability.
3. Fezibo Height Adjustable Desk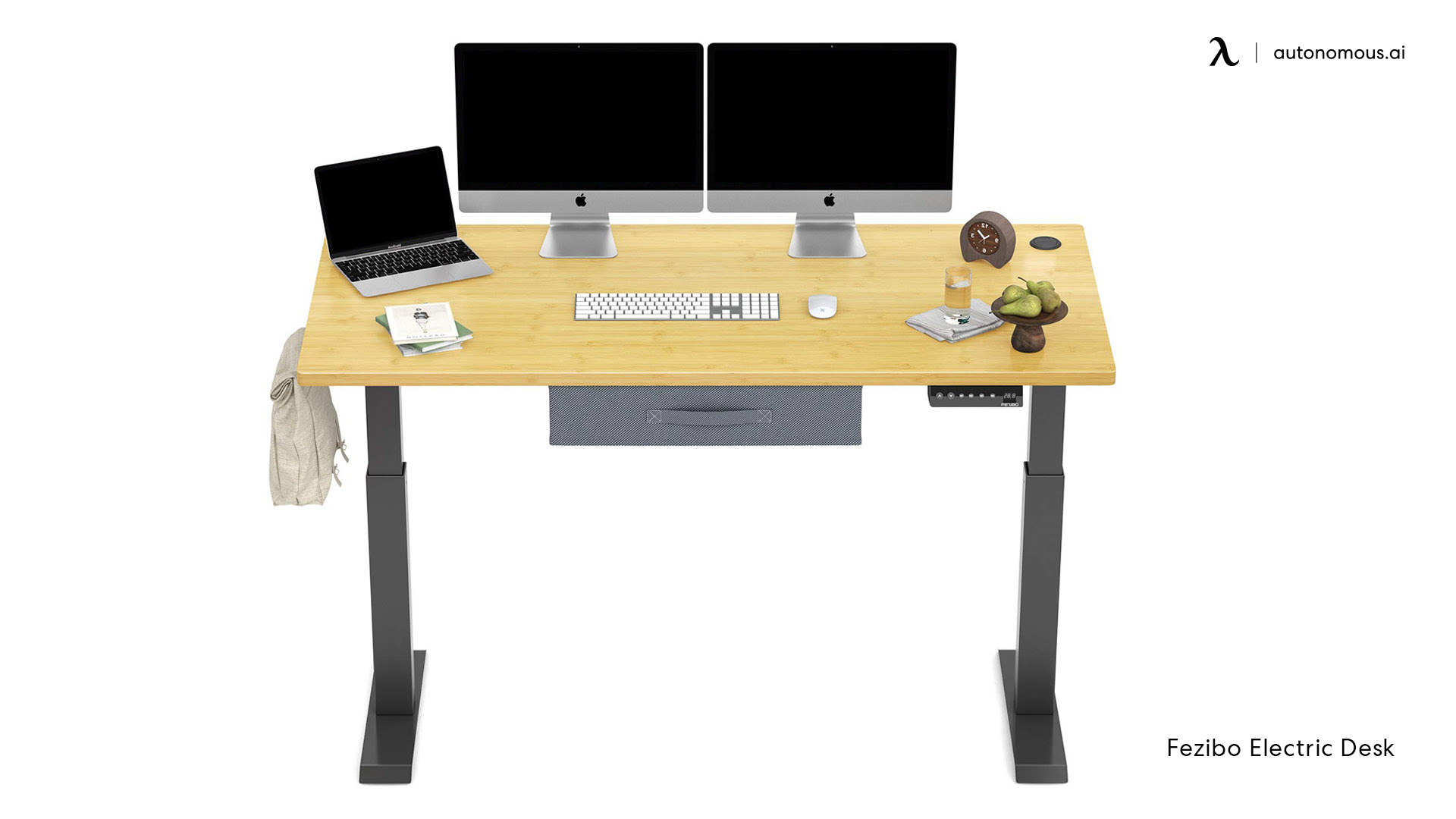 Height changing desks are ideal for tall people because they allow them to control and manage their height while working. The Fezibo height adjustable desk is truly a quality piece for a pretty reasonable price. The desk height reaches 47 inches. Thus it suits all the people till and under 6 feet and 5 inches. The desk also has a dual-motor system and a weight capacity of 176 pounds.
4. Away Computer Standing Desk
The Away computer standing desk is one of the cheapest options you will find for shorter people. The desk is available in two sizes, 31 inches and 39 inches. The desk is suitable for taller people with a maximum height of 50 inches, but the only limitation is the manual height adjustment, which is why the desk is one of the cheapest options you will find in the market.
5. Vivo Height Adjustable Desk
With a manual hand crank system, this tall computer desk is robust and height-adjustable. It changes in height from 30.2 to 50 inches. It's strong and can hold up to 154 pounds. It's also available in two lengths: 24 inches and 60 inches, as well as a variety of colors. Finally, it is backed by a three-year warranty.
6. Mr. Ironstone Standing Desk
If you're looking for a tall computer desk in a budget-friendly price range, the Mr. Ironstone standing desk with height adjustable might be worth considering. Unlike an electric standing desk, which raises the height using motors, this standing desk allows for manual height adjustment via a screw system.
You'll need to release the two operational screws on the desk's legs and adjust them to your chosen height, which ranges from 27.9" to 42.5". This might be a tough way to adjust the height, but it also lowers the overall cost of the desk.
7. Monarch Metal Office Desk
The monarch metal office desk will turn heads or two because of its unique design. We also love this tall computer desk's smart, ergonomic, yet spacious construction. The sleek modern design makes a workplace look classy, and the large wood surface ensures you have enough space to work and accessorize the desk easily.
The desk brings organization into your life with storage options on both sides. This computer desk is ideal for an office or home with a modern interior and décor due to its minimalist design and elegant appearance.
How to Choose the Best Tall Computer Desks?
Using a sitting desk height chart, understanding and reviewing the maximum height, and learning about other features are some practices we observe when choosing the perfect standing desk. But the problem arises due to the tones of ever-growing options in the market that confuse buyers even more. Here is a brief buying guide on choosing the best work desk for tall people.
Height
For tall people, height is the most important consideration. Since switching between sitting and standing while working is associated with health and productivity, a desk should suffice both positions ergonomically. Make sure the desk you are choosing offers a maximum height of at least 48 inches.
Weight Capacity
This one depends on the end-use. Some people use a desk for just writing or notebook purposes, while others might opt for gaming and similar needs. Either way, one should keep the maximum load they will put on a desk in mind. This will help them opt for a product that doesn't break or fall Right away.
Motor Type
There are two types of motors in a height-adjustable desk, manual and electric. Electric desks are easy to operate and are more precise, manual. On the other hand, they are cheaper, but they usually aren't too on point and are tough to operate.
Secondly, motors are widely used in adjustable height workstations. As a result, when they're turned on, they normally clatter. Some models pick up a lot of noise, while others pick up a lot less. The good news is that most decks don't make much noise. As a result, keep noise levels in mind while selecting a standing desk.
Keep up with Autonomous news
Stay informed, stay inspired with our new blogs.
WRITTEN BYAutonomous
We build office products to help you work smarter.