The need for the right accessories in the workplace has grown and increased ever since the concept of the modern workplace is growing. Today's modern organization is different from old ones in many ways, but most importantly, it is unique because it offers perks and improved employee satisfaction – an integral tool of the growth of a business.
It is safe to say that without proper accessories, a business cannot perform to the fullest because employees' efficiency is contained within the limits. From choosing the right chair to combining it with the proper desk, focusing on proper storage options, opting for neatest organization ideas, investing in office lighting ideas, and learning about ergonomics – everything plays a vital role in making your employees more productive.
When it comes to finding the best lighting options in the workplace, there are many creative, affordable, expensive, and unique ideas that you can come across. From best floor lamps to the brightest desk lamps, the market is saturated with office lamps to provide ample productive energy.
One similar option that you would find in modern workplaces is the Logan floor lamp. Logan floor ramp reviews are promising and form a major reason many people are inclined towards this product.
Logan Floor Lamp Review
Even though a metal floor lamp is a common choice, the Brightech floor lamp reviews can help you decide whether or not to buy this product for the right amount of lighting efficiency in your workstation. The great thing about Brightech lamp review is that you can easily decide to purchase your home office, too, considering the features offered by this product.
Appearance
Wouldn't you love a black and gold floor lamp in your home office? The great thing about this color of Brightech lamp is that not only is it suitable and sophisticated enough for a home office setup, but it also suits well to a living room décor. The gold color complements the grace, whereas the black is there to add a touch of darkness. Secondly, this lamp is also available in another color which is the entire black body.
The black lamp is the right choice for people who are going for a black office theme or are more inclined towards a black bedroom setup. Hence, it is safe to say this lamp from Brightech is modern and unique in its way.
Style
The neutral linen lampshade is specifically made for up-class and sophisticated settings. The Logan floor lamp is specially made to add an exquisite look of fashion. The theme around which the whole idea is centered is the urban mid-century theme.
Energy
Let's move to the next feature in the Logan floor lamp review. The energy consumption rated with this product is also very low, which is a plus point. Since electricity bills spiking up during your late-night reading adventures is the reason why we read in unsafe light intensity. Well, with the energy and intensity level of a Logan LED lamp, you can achieve the perfect level of light without spiking up the electricity bill.
The Brightech Indoor room lamp offers a 9.5 Watt, 800-lumen energy-saving LED bulb, so you'll never have to change a bulb. Its 3,000K soft white light is pleasing, and it outlasts energy-consuming other forms of halogen bulbs, or incandescent bulbs because it is LED. With Logan, you can enjoy a lower bill. Note that the bulb is not dimmable, which could be a deal-breaker for some, but the light level is managed properly.
Operation
The Brightech lamp has another quality which is ease of operation. The on-off pedal switch is easy to control without bending over. You can use your foot to turn off the lamp then go back to bed. Other than complex or behind the bed control switch, the foot pedal is a unique take aimed to provide maximum user-friendliness. The LED floor lamp reviews for Brightech applaud this feature especially.
Warranty
Getting a warranty for big products is common but achieving perks like a warranty is a score. Logan gives you a three-year warranty on the lighting LED lamp. This warranty applies to any defect that occurs within the first three years of purchase. You can ask for the renewal or new parts if something stops working or ends up being defective.
Functionality
What is its functionality? Let's find out in this section of the Logan floor lamp review. This is an excellent and modern floor lamp to place over a sectional in the living room or family room. The low 1.5 inches marble base fits nicely beneath your couch, and the adjustable arc can be telescoped up to 44 inches from the pole. For reading, crocheting, and other pastimes, use the overhead light. The 14 inches x 11 inches strong base prevents wobbling, making it safe to use around children and dogs. The 76-inch maximum height fills spaces in areas with high ceilings.
Assembly
The packaging of the Brightech lamp is a plus feature of this product. The lamp comes properly packed with all the assembly tools you will need. A reviewer claims the lamp to be very easy to join as it takes no more than 20 minutes to achieve the finished product. Another great (yet not great for all) feature of this product is the heavy base. The base is heavy, so it does not move easily. This feature supports the arch feature, so the lamp doesn't topple over.
Technology Compatibility
To turn on/off smart outlets that are Alexa, Google Home Assistant, or Apple Home Kit equipped, use the Alexa, Google Home Assistant, or Apple Home Kit app. (A smart outlet is required, which is available separately.) The lovely linen cylindrical lampshade on this standing lamp spans 19 inches in diameter and 22 inches in height. Because the lampshade opens at the top and bottom, it can be used as an uplight and a downlight.
Need of Proper Light for Maximum Efficiency
Proper lighting makes all work duties easier, whether in an industrial or office setting. Approximately 85 percent of information is received through the sense of sight. Appropriate illumination, free of glare and shadows, can reduce eye fatigue and headaches while also boosting the visibility of moving machinery and other safety risks in the workplace.
In addition, good illumination minimizes the risk of mishaps and injuries caused by improper ability to focus. Furthermore, adequate lighting is critical since it can affect the mood of those in the room and how they react to the environment.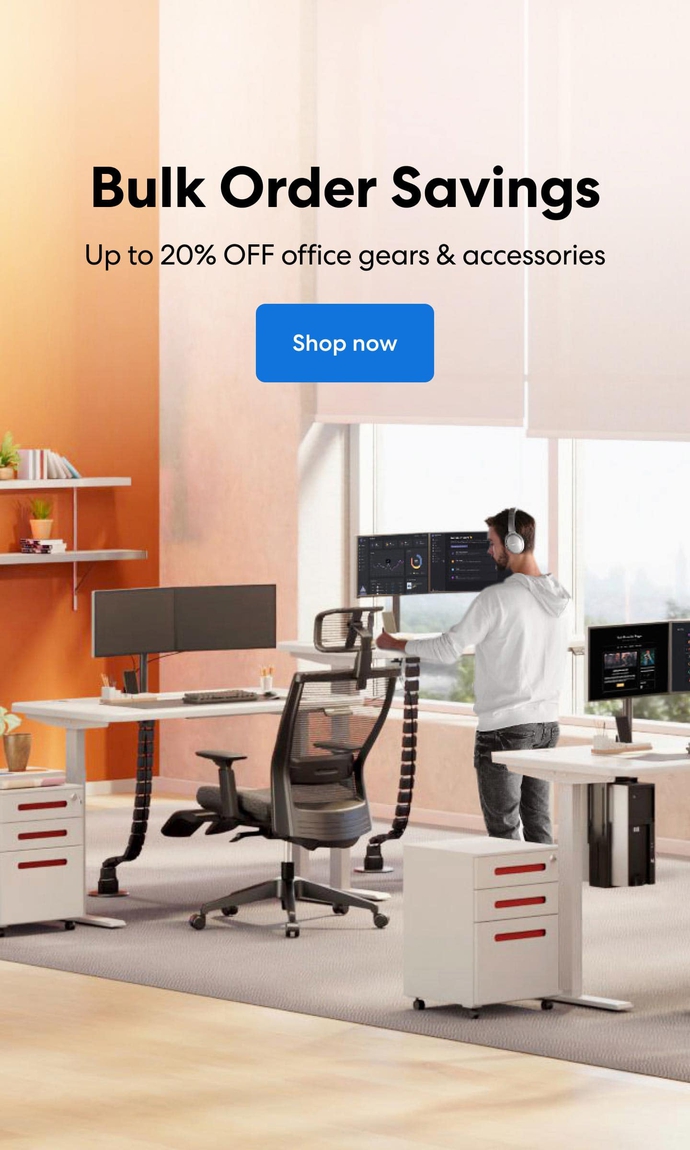 Subcribe newsletter and get $100 OFF.
Receive product updates, special offers, ergo tips, and inspiration form our team.