Hybrid office technology helps workplaces to become more modernized and equipped with better tools. Setting up a hybrid workplace has many challenges, but with the right approach and utilization of proper hybrid work technology, you can reap the benefits of a hybrid work arrangement.
There are many kinds of software and hybrid office tools that aid an organization. From hot-desking software, office hoteling software, and many other systems, each organization must use some management tools to ensure their workplace doesn't fall apart. This article will discuss how to build a model hybrid workplace with the help of new office technology and make the most of practices like hoteling office space and hot-desking. 
Need of Technology to Build a Hybrid Workplace
Remote work cannot stand or even thrive without technology. A hybrid workplace is a combination of both in-house and remote employees. No matter what type of hybrid work arrangement you adopt, there is a need for reliable technology tools.
If you have been learning about the pros and cons of hot desking, then you might be scared of making this kind of change in the workplace. A hybrid work model can fall apart easily, but it can thrive on delivering better productivity and greater employee satisfaction if done and managed well.
How to Build a Hybrid Workplace with Management Technology
Are you in search of a reliable option to manage a hybrid workforce? Setting up a hybrid workforce with suitable hybrid office technology, dealing with all the challenges, and bringing employees on board is one thing but managing a hybrid work environment is another big challenge that doesn't take a seat back for a while.
Employees face all kinds of hurdles in a hybrid work arrangement, and it is the management's responsibility to make sure no employee is feeling left out or experiencing work burnout. This is where management tools and relevant technology can come in handy. Here are some must-have tools for a hybrid workplace to be managed skillfully.
Meeting Spaces
Teams may work seamlessly and effortlessly in hybrid office technology like conference rooms equipped with Zoom and Teams, regardless of where their colleagues are situated. In a workplace where geography is no longer a constant, this is becoming increasingly essential.
While Zoom Rooms were the most widely used and one of the most popular hybrid office conferencing solutions, there are other hybrid solutions for virtual and physical conferencing. There are a few key considerations to address when selecting a hybrid virtual meeting platform:
How many connections can the conference room accommodate? Is it possible to hold many meetings at the same time?

Is there any moderating functionality in the virtual meeting space?

How are these virtual meeting rooms kept secure and private? Is the information shared in these areas encrypted?

Ease of use: Can you utilize the platform to call someone at any time?
Virtual Office
Setting up a virtual office in a hybrid workplace is essential. Since the concept of a physical office for remote workers is no longer applied, a virtual office brings professionalism to the workplace. While text messages, text-based chat rooms, and emails may achieve a lot, nothing surpasses sitting in front of each other to discuss points.
If face-to-face meetings aren't an option, virtual conference rooms are the next best thing - and look at the advantages! Companies may connect with a larger pool of talent and potential clients by having a robust and trustworthy virtual meeting place. This also eliminates the need to have local talent, and organizations can reap the benefits of talent from different parts of the world.
Whiteboards
Remember those large physical whiteboards during the meetings where every concept was explained in detail? Not all of us were sleeping off the meeting. Whiteboards are an integral part of a meeting that help explain all the concepts in detail, and we all have realized how understanding and taking up new challenges have been hard ever since we shifted to work from home routine.
Meeting tools or hybrid office technology help participants, whether virtually or physically, to connect online and share screens. They also allow the collection of various documents online and start screens. The benefit of using whiteboard software is that it provides quick feedback, and even remote employees can feel being present in real-time. The great thing about such systems is that they can also be connected to other tools and offer customized solutions.
Receptionists
Since hybrid work models allow workers to work from home, it may not be necessary to pay a receptionist to answer phones and greet visitors every day. On the other hand, receptionists play an important part in the operations of many businesses since they are the first point of contact for interacting with workers, arranging meetings, and much more.
As a result, an office without a receptionist not only falls apart but is also much unorganized. Imagine your meetings clashing just because no one arranged them for you? Now you need a receptionist. Thankfully you can now get a virtual receptionist. On-demand administrative chores are handled by a qualified, high-quality customer support expert.
Virtual receptionists may work for numerous organizations at the same time. This provides businesses with a flexible, on-demand administrative solution. In addition, companies generally only pay for the hours the receptionist works on their account.
Virtual Private Networks
If you set up a hybrid workplace without dealing with the cybersecurity challenge first, this could be the biggest fault you make this year. Internet security is one of the most significant problems linked with hybrid workplace culture. When a company's operations occur in a single physical location, internet security is straightforward: there are just one (or maybe multiple) networks to safeguard. Typically, a company-managed firewall and VPN are sufficient to complete the task.
But in a hybrid workplace, there is no guarantee about security, and there are many leaks as you would consider loopholes in the data collection and management. In addition, the home network of each employee might be an area of risk. And who knows when one could choose to work in a crowded café. As a result, it's critical to ensure that each employee has the tools or hybrid office technology they need to protect corporate data.
It is also important to educate employees about maintaining privacy and having safe networks in the workplace. Consider speaking with a security professional who can offer you a complete security strategy for your hybrid workplace if securing your company's data is a top priority.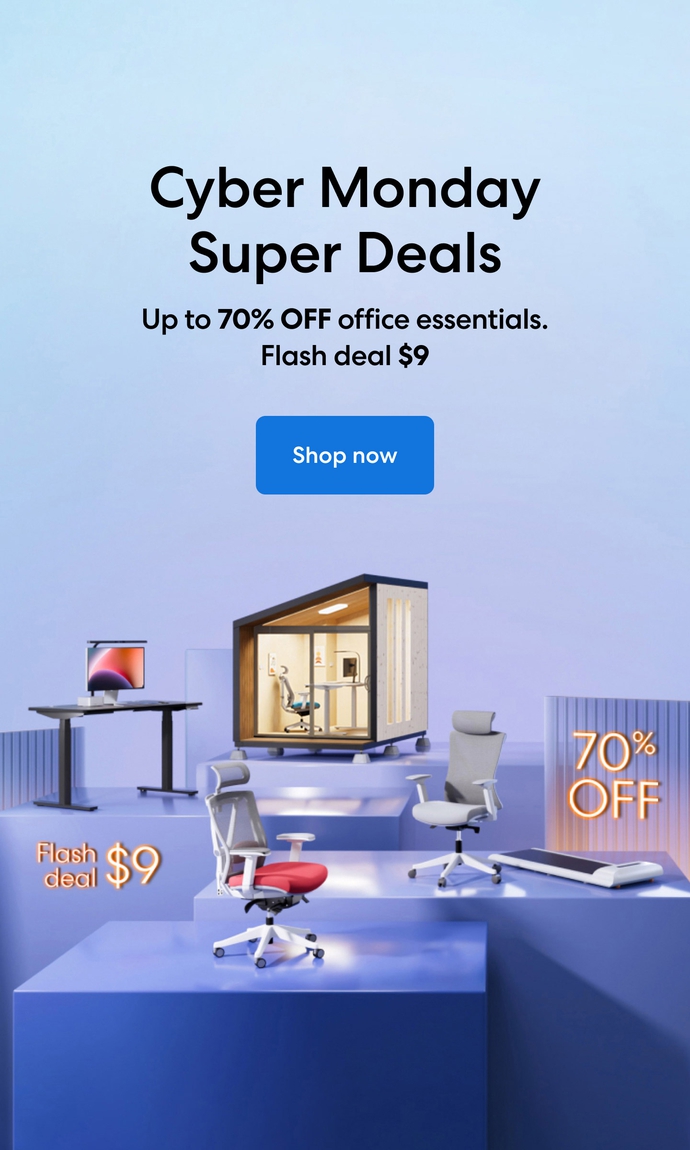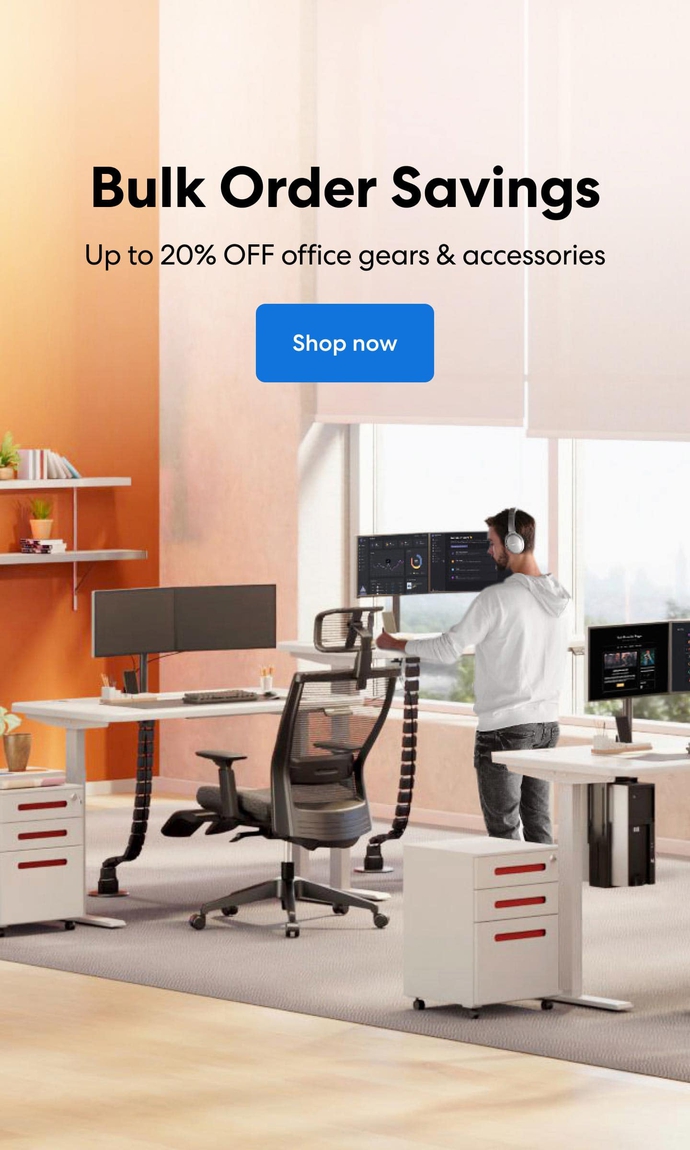 Subcribe newsletter and get $100 OFF.
Receive product updates, special offers, ergo tips, and inspiration form our team.