Smart Products
Business Office Furniture with Desks, Chairs & Accessories 2023

Autonomous
|
Mar 9, 2022
1,443 Views
Business office furniture is required for many purposes and can help make a work environment more ergonomic. Ergonomics is important because it considers the specific stresses caused by sitting for extended periods.  
Modular office furniture can be helpful in a modern office where more than one employee shares a space. It all depends on what you want to achieve in your workspace and its size per square foot. Please remember that it is crucial to plan out your office before investing in new furniture; it can save you a ton of time and money.  
This article discusses why office equipment is essential for any office workstation and highlights how executive office furniture can spice up your workspace. Without further ado, let's begin this piece. 
Furniture Help Make Office Look Spacious
There are some cases where furniture can take up too much space, but it can also make the area look more spacious if arranged intelligently. If you want to reduce the clutter of small furniture pieces, including multi-functional furniture would be the best idea. These products make life easier and give workers the space they require to perform at their optimum.  
A desk can serve as a mini filing cabinet, a shelf can function as a tabletop, or a storage chest can act as a coffee table. The less equipment you have in the office and the more adaptable the products are, the better your well-being. 
If you wish to create a larger space in your remote or work office, you could place more significant pieces of furniture against the walls to maximize space. That will make and open up pathways and areas, allowing your employees to move around freely. It is crucial to do this, especially in office workstations such as call centers or software development firms.  
Another way to bring inspiration and productivity into the office is by unblocking windows and providing an unhindered view of the office, giving it a feeling of spaciousness. Open and transparent office furniture is excellent for office space with glass walls overlooking the cityscape; this style gives off an open and airy feel. 
Next, we want to chat about collaboration through innovative office furniture.  
Business Office Furniture Promotes Collaboration
In traditional workspaces, the standard setup is individual workstations and walled cubicles. It's an old-fashioned way of working that is why the new shared office space environment has been adopted by tech firms worldwide.  
Big companies such as Facebook, Instagram, Twitter use equipment like the SmartDesk Pro in their office spaces. The above desk is a height-adjustable desk that is electronically controlled, meaning you can raise or lower the table with the press of a button. It can support up to 350 lbs and pairs perfectly with the ErgoChair Pro, a futuristic ergonomic masterpiece from Autonomous.  
Purchasing a table like the SmartDesk Pro and its chair counterpart can make your workspaces more open and comfortable, leading to better interaction between employees. This open office setting also gives staff and managers a sense of level ground when approaching each other.  
You need to look for sets of modular office furniture that do not block the field of view but still provide ergonomics to the office environment. When employees feel independence and consistency, they work more efficiently and form tightly knit groups and social connections.  
When employees collaborate, it allows them to develop revolutionary business ideas and marketing strategies.  
Business Office Furniture Promotes Employee Wellness
Your employee's well-being will drastically increase when given the correct equipment and modular office furniture to work with. Being creative and adding marble tops to your office, getting a popcorn machine, adding a healthy juice beverage dispenser, or creating a chill office workstation is a great way to show employees that you care.  
Ensure that you have sufficient drawers and that your shelves are in arm's reach so that you don't hurt yourself stretching for a file. You can also store glasses, utensils, and other valuable items that employees may require for an office party or celebration. 
Some drawers can be used to store energy bars, oats, and other healthy food items. You can even include a large bottle of vitamin C and over-the-counter medicines in a particular spot in the office that is easy to access.  
Start by placing these drawers or shelves near corridor walls and the room's entrance if you have enough space. That will make them easily accessible for anyone who needs them.  
Another thing to consider is the chill space employees will be using when taking time out from work. The critical point here is to promote regular periods of relaxation, which helps boost workers' productivity. 
Allowing staff to take short breaks and giving them a space to feel comfortable will increase their performance and resilience. 
Business Office Furniture Promotes Workplace Interactions
We need to look at interactions between employees, and every person comes into the office workstation or office. Again, this can be made possible by modern office furniture that promotes a casual and open work setting, such as chill-out equipment like a reclining office chair. 
A great way to improve your social health and network is by interacting with more employees other than your seatmates. It can pave the way for increasing an employee's status within a company and also help them build confidence. 
More and more companies and businesses recognize the need to redesign and change the office environment to improve employee relationships and experience, plus break down the hierarchical structure.  
The executive office furniture structure and setting play an essential role in realizing this new direction being used by business organizations. Chairs and desks are given a contemporary look and made more open to keep up with a relaxed workspace. You can create a more welcoming style in the office spaces of high-level officers or department heads with the above furniture. 
Office furniture also plays an integral role in the lunch or pantry area. Ideally, a long table will get this done if you want to make mingling and friendly chats over lunch a thing.  
Using a uniform set arrangement of furniture within the lunchroom and pantry gives your employees a feeling of uniformity. There are no exclusive tables or spaces, so employees and bosses get to sit across from each other and share the same area.  
When adopting this typical setup, healthier interactions between leaders, superiors, and employees are promoted. Using social items shows other office staff they are also valuable and cared for.  
Utility and maintenance workers can interact with staff more without waiting for the end of the shift to perform their job. With an open and common lunch space, they are given the impression of a warm environment where they can also have a munch alongside bosses and other employees.  
It would help if you considered what you would require to redesign your office space. Now it is time to speak about some of the equipment that should be used to create a more spacious and ergonomic office workstation.
Business Office Furniture for Your Ergonomic Office
1. Autonomous ErgoChair Core
The ErgoChair Core is the most basic model of an ergonomic office chair, but that doesn't mean that it lacks features. 
Using the above chair, you can get relief from back pain because of its adjustable and movable backrest. It is designed to move with you, so your spine's natural curvature is always supported. 
What's great about this business office furniture is that it won't cost you an arm or a leg if you want to purchase it. If you want a super comfortable and uniquely ergonomic chair, you can't go wrong with this excellent product from Autonomous. 
You will receive a two-year warranty and excellent customer service when you buy this product. 
2. Autonomous ErgoChair Plus
The ErgoChair Plus is the epitome of ergonomic excellence and is a meticulously manufactured piece of equipment. When you purchase this chair from Autonomous, you get a fully adjustable piece of furniture, including headrest, armrests, backrest, and height adjustment. 
Talk about height adjustment; it is handled pneumatically and can raise to over 28 inches at the pull of the lever. If you want a chair that adapts to your movement and is the most dynamic in the Autonomous range, look no further than this incredible piece of office furniture.  
3. Monitor Arm
Adding a monitor arm is one of the best and easiest ways to free up space in your home or office. By elevating a monitor above the desk, you can free up worktop space and allow yourself to store more stationery on the table or even another screen.  
This product from Autonomous is a specifically designed arm that you can use to position your monitor in the perfect location no matter where your desk is situated. You can move your screen to different angles so that you never have limited availability.  
4. DeltaHub Carpio Wrist Rest
The DeltaHub Carpio wrist rest is a contoured silicone pad engineered to improve your wrist's position during gameplay and work. Extended mouse use can lead to strain on the wrist and ultimately carpal tunnel syndrome or other ergonomic ailments of the hands. 
This product glides with your mouse and helps to reduce wrist injury by offering an exceptional amount of support. What's great about this wrist rest is that it is designed by physicians and can fit easily into your pocket. 
5. SmartDesk Pro
The SmartDesk Pro is a remarkably designed executive office furniture that can be used for both sitting and standing. It has a programmable remote control system attached to whisper motors that raise and lower the table. 
If you are worried about stability, you can rest easy knowing that the solid steel leg keeps the worktop secure. Another great thing about this table is that it comes with a fantastic five-year manufacturer warranty, meaning if any moving part breaks within that period, you can call customer service to resolve the issue.
6. SmartDesk Corner
This is an essential business office furniture for the corner workspace. Suppose you have a large office or your work requires that you use more than two monitors, investing in a corner standing desk could be the best solution. The SmartDesk Corner is a clever piece of office equipment that allows you to adjust its height via four programmable buttons. 
What's great about this desk is that it has a solid worktop that allows you to store up to four monitors on it. Upgraded electric whisper-silent dual motors adjust the height, and it has a weight-bearing capacity of 340 lbs.  
You can't go wrong with this carefully designed business office furniture from Autonomous.  
7. Magnetic Desk Organizer
There is nothing worse than having a messy desk as not only does it look unappealing but also fills your mind with mental clutter. If you want something modern and functional, you should look no further than this magnetic desk organizer from Autonomous.  
It has a customizable patented design that can maximize any desktop organization. The best thing about this office furniture set is that it is made from high-quality materials that last you a lifetime.  
Autonomous Employee and Businesses Purchases Program
Autonomous is a company that cares about making ergonomic office equipment affordable to everyone. The company's products are featured in large tech firms worldwide and are trusted for comfort and reliability.  
You can save up to 10% if you purchase with your business's name, and if you are using a cryptocurrency such as Solana to buy any chairs or desk, you could save up to 25%. That means a lot of cash could be left in your pocket after performing your office upgrades.  
If you want to buy an ergonomic office chair or a standing desk for home office, one of the best companies to buy one from is Autonomous.  
Conclusion
No matter your work arrangements, if you sit at a desk daily, you understand the importance of quality business office furniture. It can make your place look stylish plus modern and brings a level of comfort that you need when working for long hours.  
With the extensive list of products in this article, we hope that we have given you some ideas on maximizing your office space. You can combine multiple items to create a workspace that flows better, enhancing the productivity of your workforce.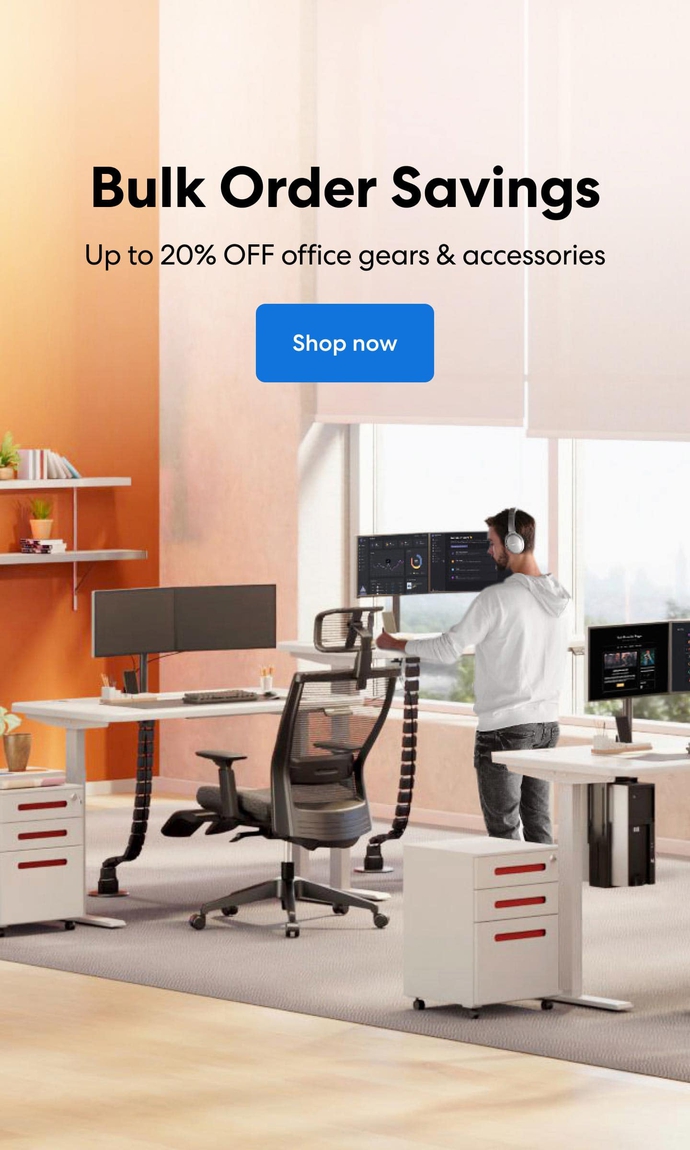 Subcribe newsletter and get $100 OFF.
Receive product updates, special offers, ergo tips, and inspiration form our team.