Buying a wood and metal desk is probably one of the best choices you can make if you're assembling your workspace. However, many people don't understand this, and if you do, you might need a list of the top options on the market. This guide offers everything you should keep in mind before making your purchase, including some high-quality alternatives you can choose. 
Why a High-quality Desk Is Essential
When you are an office worker, there are several things you might understand. You probably know you need an ergonomic chair to be able to work for several hours without suffering from back, neck, and leg pain; and you might also be aware of the fact that you need proper lighting to avoid eye strain and headaches. 
However, many people overlook the fact that they need to buy a high-quality desk as well. Even though tables are as important as other items in your office, for some reason, workers tend to buy cheap ones instead of putting some effort into finding the ideal one to fit their needs. 
A metal and wood computer desk can completely change your workdays, particularly if you spend some time trying to choose the best one. Even though getting a high-quality table might seem like something unimportant, it's as essential as having the perfect chair. 
Having a high-quality wood and metal office desk means you can organize all your items and office supplies without ever worrying about needing extra space. At the same time, it allows you to safely put your technological devices (computer, tablet, keyboard, etc.) on top of it, which is essential when you're an office worker. 
Why You Should Get a Wood and Metal Desk
If you understand the importance of having a high-quality office desk, you might think that there is no difference between models when it comes to the materials. However, this is not the case. Getting a metal desk with a wood top is one of the best choices you can make. 
When you buy a metal desk, you're getting a sturdy item. In other words, you can safely place your computer and know that the desk will never lose balance or wobble under the weight of your devices. 
Additionally, wood and metal desks usually last a long time. Therefore, you're guaranteeing that the money you're investing now is useful on a long-term basis. 
Metal desks are convenient, then, but what about getting one with a wood top? Since there are many other options, you should examine each material you can get before buying your item.  
Even though there are numerous alternatives, buying a metal desk that has a wood top is often one of the top options you can go for. These metal and wood computer desks are both beautiful and sturdy, which means you get the best of both worlds. 
Purchasing a wooden desk that has a wood top guarantees that the model you're buying is sturdy and lasts a long time. Many models have beautiful finishes, so they can catch people's eyes when they go past your office space. You can steal everyone's attention with a beautiful desk! 
Metal and Wood Desks List
You deserve an office standing desk that's high-quality and beautiful. Thus, you probably need a wood and metal desk that can combine sturdy materials with a top design to enhance the aesthetics of your office. The following options are the best ones on the market: 
1. Autonomous' SmartDesk Core
The first alternative on this list is none other than the SmartDesk Core, which is one of the best wood desk with metal legs options you can find out there. Many customers know that it's sturdy, adjustable, and that it offers numerous benefits. 
Buying the SmartDesk Core means you're getting a beautiful metal desk that changed the game when it comes to office furniture. It quickly lifts 270 pounds, so you can forget all worries about it being able to support the weight of your items. 
Furthermore, it features an electric dual motor that allows you to turn it into a wood standing desk. Therefore, if you prefer to stand up while you're completing your to-do list, this model might be ideal for you. 
The SmartDesk Core also offers you one of the best solid steel frames on the market. It's sturdy and its design guarantees that it never wobbles, so you can quickly go through your daily tasks whilst using a strong table. 
2. Autonomous' SmartDesk Corner
Autonomous offers more than one high-quality option when it comes to buying a metal and wood computer desk. In this case, the SmartDesk Corner is another alternative you should consider, especially if you want to save some space. 
This wood and metal office desk is made of sturdy materials like the last one as well. It features a quiet motor, so you can adjust the height of your table without feeling disturbed by the noise of its parts. 
The SmartDesk Corner is a wood desktop with a 400-pound weight capacity. Additionally, it has four settings you can program, so it's easy to adjust the features that it offers to guarantee that they fulfill your expectations. 
With this model, you can save office space as well, which might be necessary if you don't have much to begin with. Buying the SmartDesk Corner means you get an L-shaped desk that you can place in any corner of your room. 
3. Hairpin Table by Signstek
Although it's not an Autonomous desk, the Hairpin Table is a fantastic wood and metal office desk. Customers who have tried it say that it's a great addition to your workspace, especially if you want to go for a contemporary look. 
It can carry up to 350 pounds, so it's not as strong as the SmartDesk Corner. However, the Hairpin table is a wood desk with metal legs that has a coated black finish. Therefore, it's both sturdy and beautiful.  
This model features a classic and versatile design. Thus, you can easily combine it with your surroundings, add a few items to decorate it, and you're ready to start working! 
4. Computer Desk by Tribesigns
Tribesigns offers you an alternative that you should definitely look into if you want to guarantee that you get a high-quality wood desk with metal legs.  
Since it has metal legs and an adjustable leg pad, you can change the features of your table to make sure you're always comfortable. 
This wood and metal desk also gives you a lot of legroom, which is something you might not find on every table you examine. Thus, it guarantees that you're always comfortable while you're working. 
5. Need's Computer Desk
Although many brands offer metal desks with wood tops, not all companies give you high-quality customer service in case you have an issue. However, this is something you get with Need since the people behind the brand want to make sure that you're happy with your purchase. 
The computer desk is wide, so you always have enough space to work. At the same time, it's made of environmentally friendly wood and it has an anti-scratch, waterproof surface to make the cleaning process easier. 
Lastly, its metal legs are very sturdy, which guarantees that the table never loses balance. On the contrary, it's immensely firm. 
6. Contemporary Table by Monarch Specialties
Sometimes going for something straightforward is the best way to make your office look beautiful and sleek. If you prefer classic, simple models, then the Contemporary Table might be what you've always wanted for your ergonomic workspace. 
This table is made of sturdy metal, so it's firm and it can last years by your side. Nonetheless, it has many more fantastic features, for example, its open suspended cubby, which provides extra storage. 
Since it has an industrial design with a cappuccino laminated finish, you can combine it with any decorative items you have, and it can entirely change the appearance of your office. 
7. Rustic Industrial Computer Desk by Foluban
Foluban also offers a wood and metal desk you should look into – the Rustic Industrial Computer Desk. This model features a charismatic, versatile, and fun design that combines the best features of industrial characteristics with chic finishes and a tasteful aesthetic. 
It's made of MDF with wood grain, and it has a metal frame that guarantees that the table is sturdy and can last years by your side. The wood desk with metal legs has a matte black finish that can add a sophisticated contrast to your surroundings, especially if you have a light-colored office. 
8. SHW's Large Computer Desk
Some people worry about aesthetics when they're buying a metal desk with a wood top. Others prefer thinking about the table's price first, especially if they're on a budget. However, some workers care about the environment first, and they want to make sure that the item they're buying does not harm their surroundings. 
Fortunately, if you belong to the last group, the desk by SHW might be the item you're looking for. Its primary material is an environmentally-friendly particle board, so you never need to worry about harming the planet. 
With a beautiful wood top and strong metal legs, this desk is ideal for people who want to take care of the environment while also having a beautiful, straightforward piece of furniture for their offices.
9. Gold Metal Computer Desk with White Faux Marble
You might think that just because you're getting a metal desk with a wood top, you can't have a beautiful design that resembles other materials. The Gold Metal Computer Desk with White Faux Marble is here to prove you wrong! 
Raamzo is the brand behind this fantastic, eye-catching desk, which is definitely one of the most beautiful models you might find out there. It's made of metal, MDF, and hardwood, but its colors are what make people love it so much. 
This model has a gold and marble finish, so your surroundings can look elegant and beautiful. If you're going for a luxurious aesthetic in your office, this alternative might be the correct one! 
10. DYH's Computer Desk
Some people just want a straightforward design that matches their surroundings. If you want something chic and versatile, then the DYH metal desk with a wood top might be the one for you. 
This wood desk with metal legs is sturdy and can add some style to your room, even though its design is pretty straightforward. Additionally, it's durable and practical, so you can quickly assemble it and use it for your work. 
11. Computer Desk by Hoobro
Hoobro's option is another one you should consider if you want a high-quality wood and metal desk. This alternative is beautiful but immensely functional, so it's definitely one of the best options you can buy. 
With Hoobro's wood desk with metal legs, you get a table that's spacious enough for you to fit two monitors. Furthermore, the brand is always available if you have any issues, which means that the customer service team is ready to help you every time you need it. 
12. Patavinity's Computer Desk
The last item on this list is by no means a poor-quality one. On the contrary, all the alternatives you got here are immensely sturdy, beautiful, and most importantly, can last years by your side. Patanivity's Computer Desk fits this description too – if you're looking for heavy-duty metal legs, a straightforward design, and quick installation, this might be for you! 
Purchasing Patanivity's Computer Desk means you're getting an item that's immensely straightforward to install. If you follow the instructions, you will probably need no more than 15 minutes to get it done. 
Furthermore, it has a powder-coated matte finish, which guarantees that the desk can last a long time by your side with its paint intact. 
Keynote Takeaways
The ideal wood desk with metal legs is out there and you can definitely find it, but you must examine each option first. Compare what you might get depending on the alternative you buy and make your purchase as soon as you can!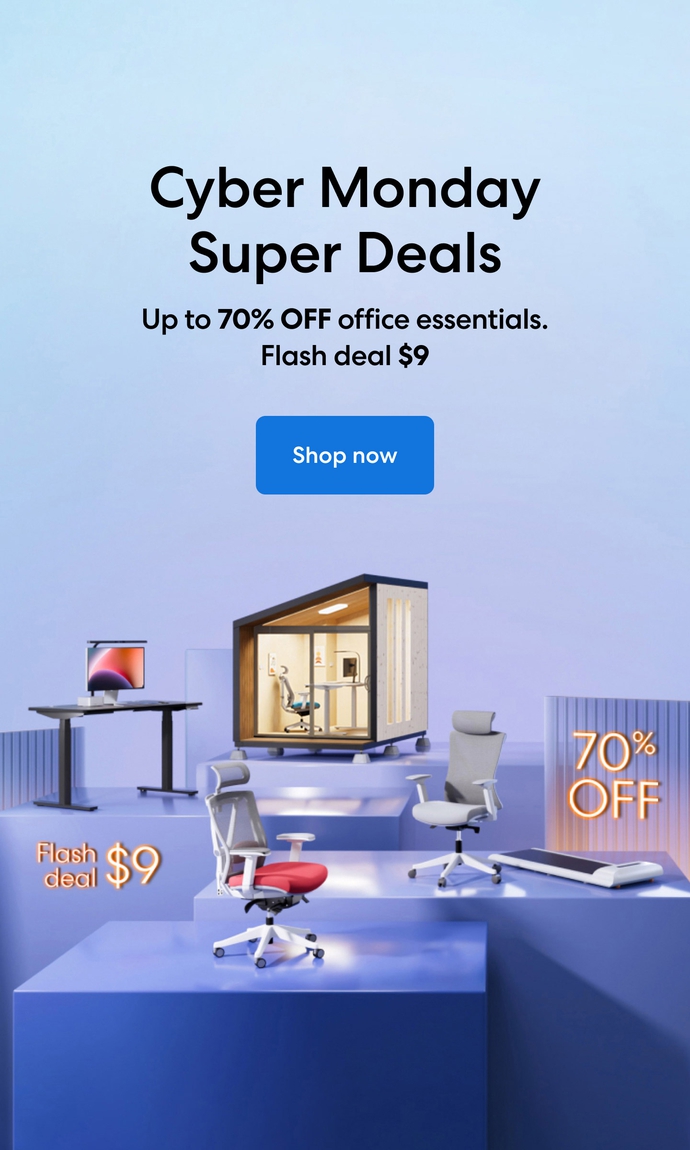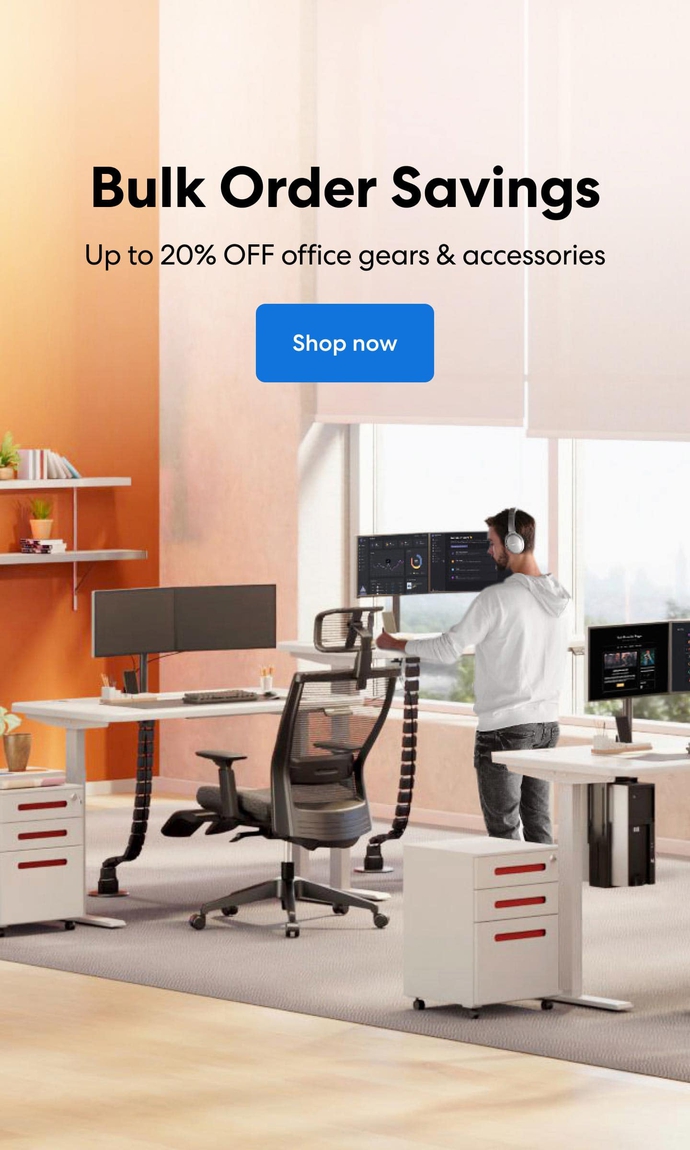 Subcribe newsletter and get $100 OFF.
Receive product updates, special offers, ergo tips, and inspiration form our team.