If you aren't ready to give away the tabletop you have or unwilling to buy an entirely new desk, then here is the good news. You can easily get a standing desk frame and modify it with the existing tabletop, or you can buy a separate tabletop and combine it with a different standing desk frame. The great thing about an adjustable desk frame is that it allows you to customize and play with the options.
Buying desk legs may seem like an extensive job, but with the right research or smart ways of making table legs by yourself, you can save a lot on the entire cost of a standing desk. This article will help you shop for desk legs and create an ergonomically friendly standing desk for your home office or gaming session.
Buying Desk Legs Guide
Even though the pandemic has subsided a bit and many countries have learned the right ways to fight coronavirus, most workplaces are thinking about resuming in-office operations. While hybrid work arrangement seems to be a widespread practice in the future, there is no doubt that the focus on workplace optimization is at its best.
As much as offices are thinking about making timings and a workplace flexible for the employees, transition to work from home and in-office days has made us all create a work corner in the home. This results in many people struggling to find the best spot and discovering ways to get a focused, quiet corner in the home office. If you are one of those people who thankfully has decided to get out of the bed and create a healthy work corner, then you must start with a standing desk.
Standing desks belong to the ergonomic family and offer a bunch of benefits for the user's health. They are energy boosters, obesity killers, and efficient stations to work for hours. Sure, they are also a big investment, but you can create the perfect desk on your own with the SmartDesk Frame. All you need is the standing desk legs and a few tools to get yourself going. Below we have listed the perfect guide to buying your standing desk legs and where to buy desk legs for your home office setup.
Static
Standing desks are either static or adjustable. Static desks have a fixed height and may be ideal for hours of standing, but with an adjustable desk, you can switch between the sit-stand positions as recommended by various studies. Static desk legs are easy to find and are often very cheap. Since they are made of solid material with no motor or height-adjustable system requirement, they are also very easy to make on your own.
Adjustable
Adjustability is a vital factor you should notice when buying desk legs. Find the adjustable desk legs for sale if you want to reap the maximum benefit of a standing desk. Height adjustable desks allow you to increase or decrease the height within the said range and make sure you can work both while standing and sitting. There are two types of height adjustable standing desks.
Manual
Manual standing desks operate with a lever and a manual height adjustable system. These desks are usually cheaper than an electric standing desk but also are hard to use. The manual system is also noisy but will be light on your pocket. However, you cannot count manual height adjustable desks as the user-friendly option in the market.
Electric
Electric height adjustable standing desks, more often known as smart desks, are versatile and easy to use. These desk frames are expensive, but they operate with just a touch of a button, so you don't have to worry about spending a lot of time achieving the height. Electric standing desk frames also come with programmable settings, so the height achieved is accurate to the last inch, and you can enjoy the noise-free movement of the frame.
Weight Capacity
When buying desk legs, you should consider its weight capacity. The weight capacity of a standing desk frame is a crucial factor in the final performance. If you are one of those people with lots of accessories on your desk, you don't want to break the legs with the weight. It is important to note that the weight capacity mentioned by the manufacturer does not include the tabletop, so while you are getting an idea about the stuff that will be on your work desk, don't forget to add the tabletop.
Especially if you are opting for multiple monitor setup and creating a standing desk for gaming, then choosing a desk with a few pounds higher than the total weight is the right approach.
Height
When buying a height-adjustable frame, all you need is to find the proper height. The height of an adjustable desk is to be noted, especially if you lie in the outliers by being extra tall or short. The height range also means more people can use the desk, and it could be a workstation or study place for everyone in the home.
To measure the desk height, there are various desk height calculators as well as most manufacturers come with a detailed guide of the height range. The maximum height should be where the desktop lands right in for not your eyes, and the forearms are a little inclined to prevent any shoulder shrug. The least height should allow you to work while sitting and also prevent any strain in the neck.
Material
The material of the desk you choose defines its strength and durability. For example, metal frames are stronger than wooden legs as they can withstand higher load capacity. Moreover, sturdy materials are much more preferable as compared to hollow legs that can collapse.
Price
One of the foremost factors when purchasing anything or buying desk legs is the budget. Make sure you compare the products with the same specifications and find the one that fits your budget. Also, make sure not to opt for a cheap product from an unknown brand. Products that guarantee a warranty are often better as the brand has to live up to the name. Any product with additional features will cost more, and make sure to get value for each dollar you pay.
Customer Reviews
The manufacturer's promises are one thing, but customer reviews deliver the whole story. So before buying any product, check for detailed reviews and then make the decision accordingly.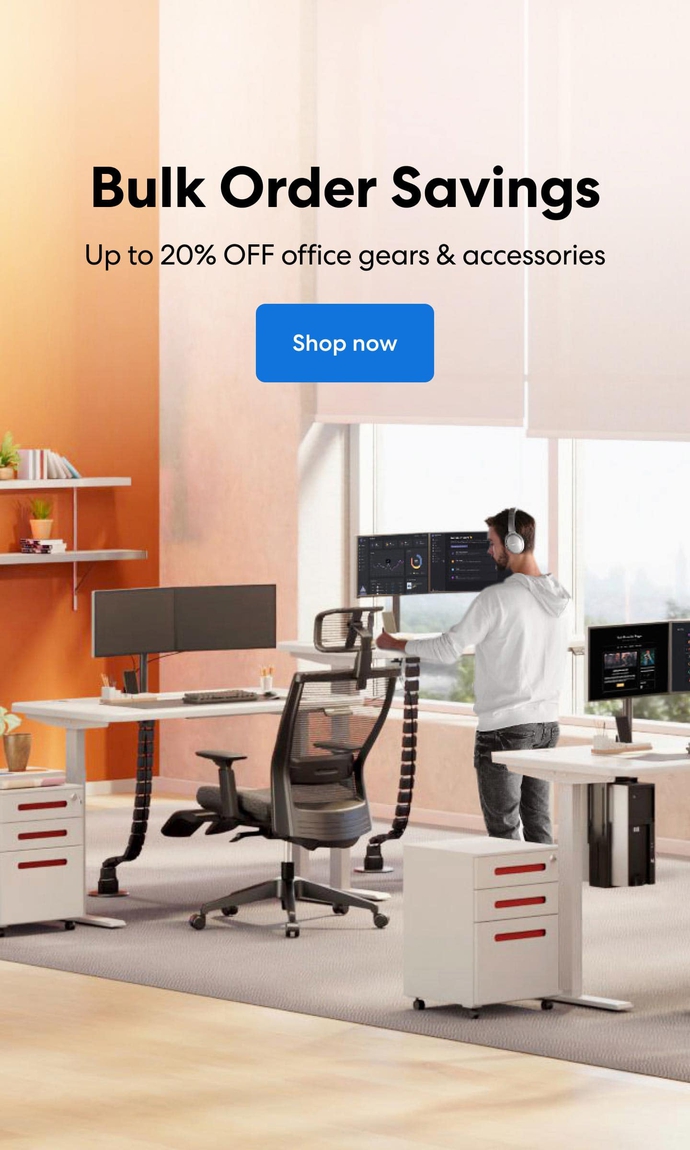 Subcribe newsletter and get $100 OFF.
Receive product updates, special offers, ergo tips, and inspiration form our team.