Smart Products
What to Look for in a Chair for Back Pain Relief - Top 5 Picks for 2023

Autonomous
|
Jun 14, 2021
1,813 Views
There is no limit to the amount of emphasis that should be put on the importance of a good chair. Whether you work from a cozy home office or a bustling company workspace, for an hour a day or 65 hours a week, where you park yourself for the duration is of the utmost importance.
You only get one body and it's your responsibility to care for it, even on company time! Chronic back pain, muscle tension, migraines, and other long-term aches and pains are shockingly common amongst long-term office workers, but it doesn't have to be that way.
Investing in a chair for back pain relief is not a luxury, but a necessity for your health. The ergonomic ways of chair design are revolutionizing the way people sit, and an office chair with back support is only the beginning.
What Is an Ergonomic Chair?
Ergonomic design is all about maximizing support and comfort through modern design technology. An ergonomic chair is fully adjustable. The customizable features can include:
Height: Move the level of your seat based on your height and the height of your desk.
Seat Depth: Optimize your comfort by setting your seat at the level you want it.
Armrests: Can be moved towards the front or back, can be height adjusted, and some designs even allow for removal.
Legrest: Rather than being in the way, leg rests can fold underneath the seat and can be moved to whatever position you find most comfortable.
Footrest: Often come detached from the main chair so can be moved however you want and are also easy to store away when not needed.
The angle of recline: Some ergonomic chairs offer up to 25 degrees of recline, so everyone can find that sweet spot to suit them. Some chairs offer various lockable heights for ease of use.
Head and neck support: Neck support is very important if you sit for too long. Chairs with headrests often have a removable feature and the height is also adjustable.
Flexible backrest: Lumbar support is key, and having a backrest that can adapt to your spine is really important for health and posture.
Ergonomic chairs are changing the way people feel about sitting at a desk. By allowing you to fully adjust the settings, angles, and tensions to fit your body, they become the perfect chairs to relieve back pain, neck pain, and knee pain.
This type of design is not only about posture, but it also tackles comfort on different levels. Ergonomic designs use light, breathable fabrics to allow for the natural flow of air. Solid backrests found on older office chair designs can get uncomfortable on a hot day in the office, so ergonomic chairs utilize mesh and other breathable materials or designs to avoid the issue.
Materials are often recycled and biodegradable making the desk chair for back pain good for not only the person sitting in it but for the environment as well.
Other than the beneficial adjustable features of a chair for back pain relief, you should also look for a chair that meets your other requirements. Some examples would be the space you have available, the style you want your workspace to have, how much maneuverability you need, and the budget you are aiming for.
Mid Back or High Back: What Is Best?
Many office workers who spend long hours at work sitting down understand the importance and impact of their office chair. With back support properly built in, the long-term aches and pains many people suffer for years down the line can be all but eradicated. There is no debate over the value of a backrest; however, the discussion over how high the backrest should be is interesting.
The answer to 'what one is better' is not as simple as black and white and depends entirely on your personal circumstance and requirements.
For a more in-depth look into the differences between high and mid-back height office chairs with back support, the benefits of each, and even some of the best models available, check out this review of mid back vs high back chair design.
Both designs can be built ergonomically to provide support and relieve back pain, but there are other factors to consider if you are torn between the two:
Pros and Cons of High Back
They provide extra comfort if you remain seated for long stretches of time.
Ideal for workers who do not move around much in their space and may even sleep there for a time, for example, dispatch.
The addition of a headrest is appealing to some workers who suffer from neck pain.
Shoulder pain is also reduced by using a chair with a high back.
High back chairs take up more space than lower back designs so in a small office space they may not be practical.
Your ease of movement is reduced with a high back chair unless you specifically search for an ergonomic design built for that purpose.
Some high back designs do not accommodate your spine's natural curve.
Some people do not like working with heavy desk chairs for back pains.
Pros and Cons of Mid Back
A lower rise back support allows your spine to follow its natural curve.
Low back chairs can encourage good posture.
Chairs with mid-height backrests are often lighter and much easier to move around in.
A mid-back office chair with back support is often smaller than a high back and therefore more suited to a small workspace.
This type of design finishes a little below shoulder height so does not provide as much relief for shoulder pain.
There is no headrest, so someone sitting for long hours could struggle with neck pain.
Not being able to rest your entire spine after an extended period of sitting straight can lead to fatigue, discomfort, and even migraines in some cases.
In summary, what's best for you depends on two main factors: office space and length of sitting time.
If the most important thing to you is finding a chair with lower back support to keep you comfortable for a few hours, then a mid-back chair is sufficient. If, however, you require an office chair for back pain relief after long hours of sitting, then you are likely better off with a high back model.
For a small home office, a high back desk chair for back pain could be overkill, but if you have enough space and require an office chair for back pain relief then go for it.
How Much Does Posture Affect Back Pain?
The first step to relieving aches and pains in finding the right desk chair. For back pain, there are many contributing factors and actions you can take to avoid it.
The importance of good sitting posture can not be over-stressed. Posture is one of those things you know about but doesn't often get read into too deeply, but you should. Seeking out the best office chair for upper back pain will give you a good head start, but it's worthwhile learning more about how they actually work.
The best chair designs encourage your body to naturally adjust to an ergonomic sitting posture. When you adjust your chair, you are effectively molding the chair to your body. Different chairs offer different levels of customization, but all will help hold your spine, hips, shoulders, and neck in the positions they should be in.
Bad posture not only increases back pain but can reduce circulation, cause poor digestion and lead to various other long-term health issues.
Some of the worst culprits of bad posture and people who work at a desk. Sitting at a desk working on a computer or shuffling through papers is an easy time to slouch, bend or otherwise damage your back. Often, you may not know the right way to sit, or what height to set a chair, or the best height for a table, which is why ergonomic chairs are so beneficial. These chairs naturally encourage you to sit properly and make bad posture feel odd and unnatural after a while.
Top Five Chairs to Relieve Back Pain in 2022
With all the above information taken into account, here is a rundown of five of the best chairs for back pain relief on the market in 2022. For a more detailed list, check out this post looking at the best ergonomic chair for back pain and many other great chair with lower back support models.
1. ErgoChair Recline
This reclining computer chair takes comfort to the next level. The design is fully adjustable and upholstered with a foam seat for ultimate support, and mesh backing for airflow. The easy to remove headrest allows for flexibility and won't get in the way when it's not required.
The reclining capabilities are also impressive, with a full 18 degrees of customizable comfort. This is a good choice for a chair for back pain relief.
2. ErgoChair Plus
Undoubtedly one of the best chairs for back pain relief and most versatile ergonomic office chairs on the market, the ErgoChair Plus has it all. The entire back support is made from ultra-flexible, frameless construction to allow for maximum movement capability without compromising on lumbar support.
One of the most unique features of this chair is how it adapts to your body, supporting and moving with your body to allow for your natural posture. One of the most versatile recliners and durable builds, this chair is hard to beat.
3. ErgoChair Pro
This attractive design of chair for back pain relief comes in a variety of colors to fit into any office or home. Ergonomic chair design has really peaked in the ErgoChair Pro, combining all the very best features into one sleek package.
Fully adjustable, breathable, and with excellent back support, this chair with lower back support is perfect for somebody who sits for many hours in a day. The fatigue-combatting design makes for a truly comfortable working life.
4. Humanscale Freedom Task Swivel
This state-of-the-art chair for back pain relief design is at the forefront of posture correcting and spinal support technology. The whole idea behind this incredible design is to use the natural weight and movement of the human body to dictate how the chair provides its support.
The look of this office chair for back pain is sleek and sophisticated and would look great in any work environment. All the materials were chosen with comfort in mind. Everything about this chair delivers ultimate efficiency.
5. Tivoca Ergonomic Chair for Back Pain
The Tivoca Ergonomic Chair for Back Pain provides support from top to bottom. The seat of this office chair for back pain is cushioned in a way that optimizes your sitting position to allow for spinal support and improved posture. The backrest is designed in two sections to allow your spine to curve as it should while still bringing the necessary lumbar support.
The top section of the chair for back pain relief is perfectly balanced to support your shoulder and the adjustable headrest provides relief from neck pain, fatigue, and headaches. For someone facing a long workday, this chair is something special.
Something Different…
More and more modern office spaces are transitioning to an 'on the move' feeling through their design. Benches, standing desks, and open shared spaces are becoming the new norm at a lot of startups.
None of this means you should have to compromise on back support. Even if you stop to sit for a casual meeting lasting less than an hour, you should know your spine and posture are getting the best help they can, which is why modern ergonomic chair design like an office chair for back pain is branching out.
New designs such as the ErgoStool- an office bench stool designed to encourage proper posture and the Gaiam Classic Balance Ball Office Chair with Back Support are moving away from the classic, more traditional desk chair and keeping up with modern ideas.
The chair you spend your workday on can make or break your office life. A bad chair means a bad day, and the addition of back pain is not going to make your working life a happy one. Ergonomic chairs are designed with you in mind: your comfort, your health, and your happiness. Investing in a high-quality office chair with back support and other customizable features is investing in yourself.
A work chair is not just somewhere to park yourself for a while. This chair for back pain relief is a huge part of your professional life and deserves a little respect.
Video ads for product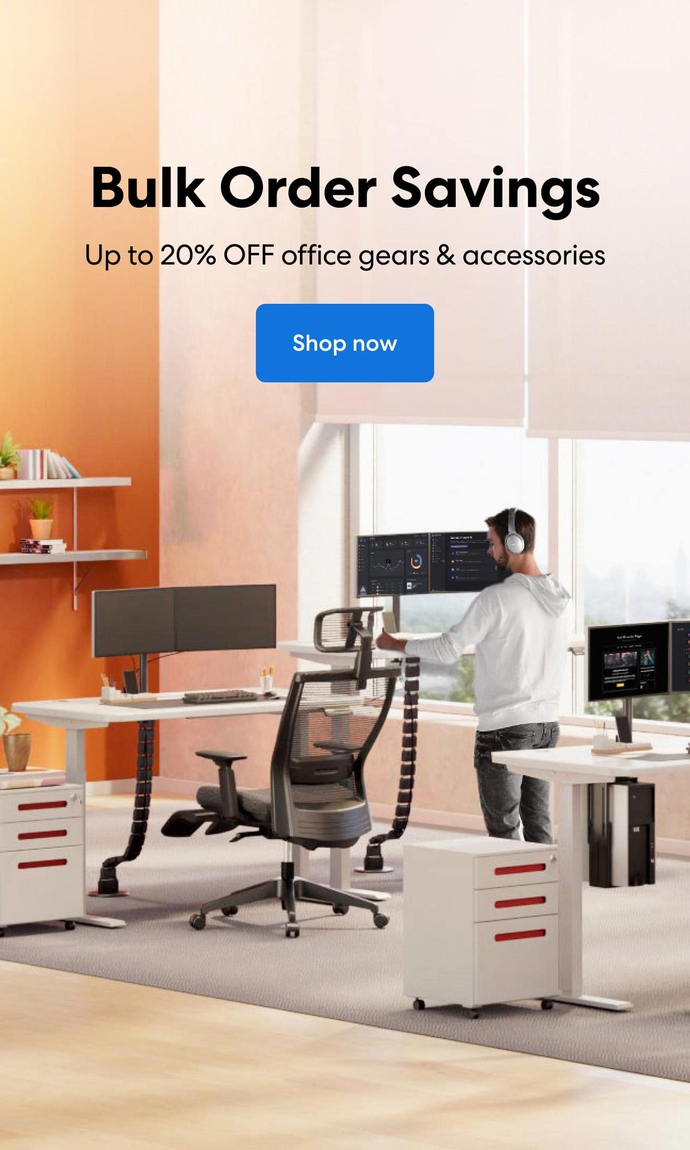 Subcribe newsletter and get $100 OFF.
Receive product updates, special offers, ergo tips, and inspiration form our team.