It's important to choose furniture that makes working easy and comfortable and makes you more productive, whether you work from home or office. The design of most modern workspaces with chic office decor is based on individual preferences and updated from traditional workspaces. You can browse through the chic office desk ideas below and find chic office décor designs that suit your workspace and help you reimagine and design your chic home office to be more efficient and aesthetically pleasing.
Color Trends for Chic Office Furniture
Every element of an office affects the perception of that space as a workspace and its effect on productivity. Consider all aspects of good productive colors when choosing an office. The color schemes for offices used in the office play a major role here. We want to start by pointing out a few concepts:
When choosing the color combination, pay attention to color psychology.

Color has a profound effect on perception and behavior.

Preparation is the key to setting the right mood.

Don't go overboard with the colors as long as they represent the company.
Furniture Trends
It is very important to improve the work environment, and even the smallest changes can make a tremendous difference, not only for productivity but also for employee comfort.
This type of furniture is best for offices with limited space because you can use it for several other purposes.

Reenergizing your employees boosts their productivity by allowing enough natural light in.

Physical ailments such as

carpal tunnel, back problems, etc., can be avoided by having an ergonomic work environment with appropriate office furniture.

There are different benefits to choosing a color scheme. There are associations between blue color and clear thinking, yellow color and mood uplift, green color and staying calm during stressful situations, etc.

Companies that prefer open layouts build strong relationships with their employees and improve employee collaboration.

Lastly, the design of your workspace can leave a lasting impression on your clients.
Style Trends for Chic Office Furniture
The classic style
An office interior design could never really be outdated. Hence, a classic office setting will never fail to impress. The point is that it brings stability and, at the same time, gives the country a sense of status. When choosing this style, be sure to use wood for the main pieces of furniture, as it is also a classic choice. It would be best to consider adding panoramic windows to the design.
The modern style
A combination of practicality and aesthetics is the hallmark of this style. This style of office does not have high walls or locked doors. Large spaces are divided into zones to ensure the space is functional.
Although the desks are close to one another, they are comfortable and offer privacy for the workers. Several modern materials seen in personal offices are more industrial in design.
The loft-style
Workers of this type will fit perfectly in this characteristic style of creative people. Obviously, such an environment would not fit any company and is informal. Instead, the emphasis is on function and simplicity. However, creatively setting it is the key, making it seem like a modern art gallery. It's easy to maintain a style such as this, and the most important principle is to accommodate all workers.
The sustainable style
One can't overstate the advantages of including biophilia in the design of your office. In addition to enhancing productivity, plants also improve focus. As a result, employees can work longer in plant-filled areas without taking a break. You could even improve morale by the presence of plants.
Including more nature in the office, the design will be on the rise in biophilia and general. In addition to using natural or warmer light sources, expect to see more offices moving away from cool blue tones.
Cubicles and office furniture will be made of natural materials such as wood and glass. A growing number of modern office designs include water features, such as fountains or streams that add natural soothing sounds to the workplace.
Desks in Chic Office Furniture Collection
Natural wood desk
The wood trends in 2022 are also worth mentioning, particularly since they are natural materials. In addition, the classic style of the wood will enhance an office setting. There doesn't need to be natural wood, but at least something that looks like it. In any case, a classic home standing desk style will go best with this particular material.
Wood and steel desk
Combining style and practicality will yield the best results. It will add comfort to the environment, while the other will create stability. Since these materials embody a modern style, they are perfect for traditional and contemporary offices. Loft offices will ideally suit such a desk, and properly integrating it is critical.
Chairs in Chic Office Furniture Collection
When it comes to furniture, leather chairs are never the wrong choice. Not only are they comfortable, but they also add a touch of luxury to a space. There is a reason why you bring luxury into an office. It is all about the image you want to portray. If everything appears more luxurious, you provide your company with more reliability.
The design of the chic desk chair can make a significant difference in a company's image, as you have probably noticed. Likewise, a simple fabric ergonomic office chair can add to the overall picture, especially in an office with a large area.
An ergonomic chair is comfortable, offers a pleasant aesthetic to your office, and is affordable. Even though it may seem weird, the better the picture of the office appears, the simpler the furniture looks as the minimalist style doesn't miss this area of the office.
Office Decor Trends With Chic Office Furniture
Although the office is a working space, you need to design it stylishly, especially to impress your employees and visitors. Adding complicated decorative elements is not a good way to add distractions. The goal is to create simple details that provide a finished look for the office and keep it current.  
Green office
An indoor garden can provide a place with a pleasant appearance and plenty of freshness.
Office clock
You could complete the look of your office by adding a statement clock on the wall. This suggestion works well if it is a personal office.
Art pieces
You can easily enhance any boring space with an unusual picture on the wall. Considering geometric forms in this way is important for 2022, as they are a part of the trends.
Video ads for product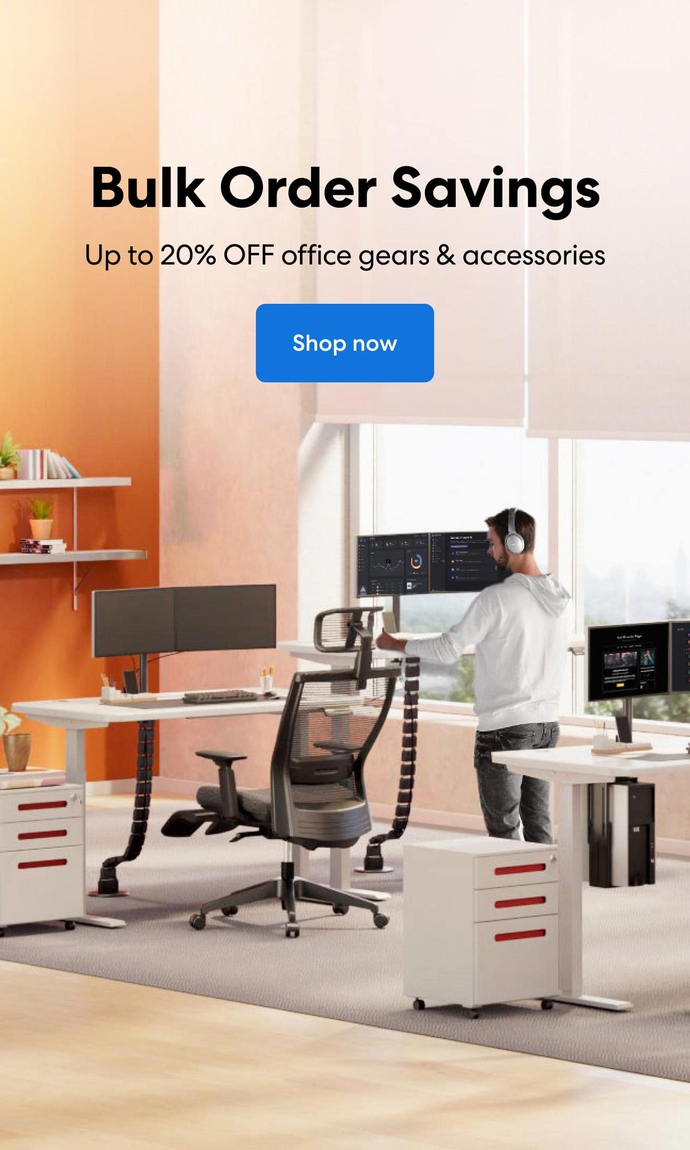 Subcribe newsletter and get $100 OFF.
Receive product updates, special offers, ergo tips, and inspiration form our team.