Smart Products
Adjustable Standing Desk Wood: How to Choose a Good One

Autonomous
|
Mar 7, 2021
3,132 Views
Choosing the best adjustable standing desk wood isn't the easiest task to do. However, the principle of ergonomics is there to ensure you are healthy and comfortable while you conduct your duties inside the traditional office. Standing desks are quite popular, but it is important to consider the best wood standing desk for your workspace. 
How do you know which type of wood to choose? You generally want a strong, sturdy variation that compliments your office. Various wood styles are suitable, but the best ones are medium-density fiberboard (MDF) and reclaimed wood. Choosing the right desk is one way to be productive, efficient, and comfortable in the office.
Taking care of ergonomic needs is one of the best ways to promote function and comfort, which are two of the most significant factors where productivity is concerned.
Pros and Cons of an Adjustable Standing Desk
Pros of an Adjustable Standing Desk
There are several reasons why an adjustable standing desk in your office is a convenient investment that you should consider. Here some upsides: 
A

standing desk can help you burn more calories than sitting does. Instead of sitting consistently, a portion of the day is going to be spent standing, which engages more muscles than sitting would.

Sitting for extended periods can be harmful to your health and uncomfortable. You may find yourself experiencing

lower back pain and cramps. Having a standing desk can help to switch up your routine, get you active, and keep your body in good health. 

A standing desk encourages its user to have and maintain

good posture and improves cognitive function. Spine health is very important, and this desk alternative is perfect for helping you to maintain a neutral spine position.

The standing breaks the standard sedentary work style which helps to sharpen your mind and increase your productivity. With your creative juices flowing, it becomes that much easier to stay on top of whatever tasks the workday may throw at you.

Using an adjustable standing desk can promote healthy blood flow in your glutes, core, and legs by engaging movement. This blood flow is essential in mitigating the negative effects of certain muscular and functional issues in the legs.
Cons of an Adjustable Standing Desk
Though the standing desk is an excellent device to have, there are a few disadvantages that warrant your concern before selecting one. These are:
While sitting for long hours has its side effects, so does standing too long. Standing for too long causes excess pressure on certain areas and can cause swelling in your feet, joint pains, and fatigue. These can all become dangerous chronic issues if they aren't managed well. That's why it's advised for you to practice employing

sit-stand sessions with these desks.

If you want to be a part of the standing desk culture, it takes a while to get used to. You have been sitting and working for years, so standing and working does not come naturally. It is going to take some time to adjust to this, and some of that time is likely going to be spent being quite uncomfortable when you stand.  

It can be very easy to practice bad posture if you are not observant of the way you stand. Some people don't stand properly naturally, and the standing desk has no feature that allows it to correct your posture.
Why Choose a Wooden Office Desk?
You may be wondering, "why wood for my office desk?" or "what is so special about wood compared to all the other materials I could be using instead?" Well, not many things can beat the natural and realistic appearance of wooden furniture. Any fixtures based on wood are gorgeous and timeless. You'd be hard-pressed to find a wooden piece that has simply gone out of style. 
Studies have also proven that natural surfaces, such as wood can make people feel good, improving their health and mental state, and lowering stress levels and blood pressure. This can be linked to humankind's innate interest and attraction to nature, natural surfaces. and objects. Since wood originates from trees, it gives an unexplainable appeal. This can have positive implications on your performance and productivity at work, which makes getting your hands on a reclaimed wood adjustable desk a tremendous idea. 
Adjustable standing desk wood is robust, long-lasting and they seem to even look better as time goes by. Here are some of the best tabletop options that you can choose depending on your needs where style and function are concerned:
Solid Wood
This type of wood refers to lumber that has been collected directly from trees. It is not engineered, nor does it require or use any kind of fillers or adhesive. Stand-out features of solid wood are its differing grain pattern, color, and texture. Solid wood is easy to repair, and there is a wide range of variety to choose from. This is perfect for someone looking for an incredibly natural look and texture on their adjustable standing desk.
As amazing as solid wood is, it is known for being susceptible to stains, so you must be careful, choose beneficial stain removal methods and take steps to ensure it does not happen. Extreme heat and the cold are enemies of the solid wood table top, and unfortunately, any significant changes in the temperature can be a huge problem for your desk. Termites and wood worms are also known to inhabit the wood causing an infestation and decreasing the lifespan of the desk. Termites prefer natural wooden alternatives, which explains their tremendous love for solid wood. Some examples of solid wood for adjustable standing desk wood are cedar, Oregon, pine, and eucalyptus. 
MDF Wood
This type of wood is commonly used for building standing desks, it resembles plywood and is created from sawdust, shavings, and tiny pieces of wood from byproduct mining. This process of creating the wood involves dehydrated wood fibers combined with wax and resin. The mixture is later compressed under pressure and heat, making it hard and rigid. 
Any MDF desk is super durable, hard to flex or crack, and is ideal for someone looking for a standing desk to last for many years. It is affordable, easily primed, sanded, painted, and sealed, which means customization is possible and highly encouraged. So, you can choose any color to match your office interior design. 
No more having to worry about trying too hard to match your office colors with your desk. Now you can choose whatever color you wish for your space, and the desk can find a home in the surrounding naturally. The options for variation allow you to choose from full overlay, partially overlay, raised, flat-paneled, or euro designs. 
However, MDF wood is very heavy and can support a high amount of weight. So, if you are the type of person that has a lot of equipment and books, then you may want to reconsider going for this alternative. Nevertheless, MDF wood is more than capable of handling most office applications incredibly well. You would need to have heavy equipment plus a lot of books for it to be much of a problem for you.
The MDF wood can sustain you for a long time to come, and it never loses the charm it brings to your office space. The Autonomous L-shaped SmartDesk in either black, walnut, or white may be a good fit for you. It offers an MDF wooden design for adjustable standing desk wood and allows you to make efficient use of the corner spaces you may have in your office.
Bamboo
The adjustable bamboo standing desk is aesthetically pleasing, easy to use, and an amazing choice for your office. The material is durable and can stand up to daily wear and tear. The durability feature is one of the defining features of the material, and it makes it appeal to many people around the world. If you don't want to think about buying a desk for a long time to come, then bamboo is for you. It is also a refreshing design from the standard office layout, which you have likely become accustomed to from years of seeing and being in the office space.
If you are environmentally conscious and looking for a stand-out and effective piece, the SmartDesk 2 - Home Office is a great bamboo standing desk option for you. Adjustable bamboo standing desks are eco-friendly and come in unlimited options such as metal and glass wood finishes. The material is excellent at regulating temperature and water porosity. 
White Oak Wood
This type of material is made from lumber and is known for its weight resistance, durability, and classy stature. White oak is a beautiful pale cream sapwood that has excellent finishing properties which means it can be stained to match any office style you prefer. The Autonomous SmartDesk 2 - Premium is a good white oak standing desk that offers a classic tabletop style you can enjoy. If you intend on going for a minimalist look with your office design, there's almost no better material you could opt for.
Reclaimed Wood
This type of wood is lumber with a history that is repurposed, with the consistent trend of recycling. That should sound very attractive if you're a stickler for conservation and recycling culture. Reclaimed lumber is environmentally friendly and there is no need for newly sourced wood. It has multiple functions, a strong build, high quality, and a unique appearance. 
While a reclaimed wood standing desk is a good option, it has some drawbacks. The lumber may have hidden damages, such as nails, and pests can make homes in the wood. There may also have been exposure to toxins that may have been used in the preservation of the wood. Remember that the wood is being reused, so you do have to be fair in making considerations where its previous applications are concerned.
Even so, you can enjoy your reclaimed wood adjustable desk that is distinct and sturdy with nice finishing touches such as smoother surfaces, grommet hole choices, and softened edges. With its longevity and damage resistance, you are in for a good time at work.
Engineered Wood
This is also a good alternative material for a wood electric standing desk. This refers to anything that has a real wooden wear layer, such as plywood, and a composite product underneath. It is inexpensive, lasts anywhere between seven to 10 years, and is of high quality. Customizability is also highly present, which means you can adjust it to fit whatever office context you may desire. You don't have to worry about it falling apart when there is extreme humidity or dry conditions, as it performs consistently throughout the seasons. 
You can choose from many colors and hues. These include walnut and light wood. You can theoretically implement one of these wood electric standing desks into whatever office image you are trying to bring off. Many wood electric standing desk options opt for engineered wood in their designs.
Veneered Tops
This entails having a thin layer of wood glued onto a cheaper wooden core. Veneered tops offer customization as the wood-veneers can be laid at many different angles and ways, creating cool and unique patterns and designs. 
While there may be a size restriction, you can still enjoy a smooth finish, and fewer chippings and joining lines on your adjustable standing desk wood. 
What to Consider in Choosing Adjustable Standing Desk Wood
What do you think of in a comparison of MDF wood vs a solid wood desk? Why is a bamboo adjustable desk a good idea? Choosing your adjustable standing desk wood requires some very important yet obvious considerations that you must go through before settling on your final choice. Remember that most of these materials are intended to be incredibly durable, and you are going to be spending some cash.
Therefore, you don't want to end up with a bad choice that costs you for nothing and that you can't get rid of for a while. Here are a few considerations that should be at the forefront of your mind as you choose an adjustable standing desk wood: 
Aesthetic - Think of the look that you are going for where your office space is concerned.
Durability - How long does this desk need to last you? Most people buy office furniture that seems as if it's going to last indefinitely.
Weight - The weight of the desk may not matter if you don't plan to shift it at any point. However, if you're the type of person who likes to move things around from time to time, weight is very important to you. 
Environment - You may be an environmentally conscious person, so you might want to up for a material that isn't doing too much damage.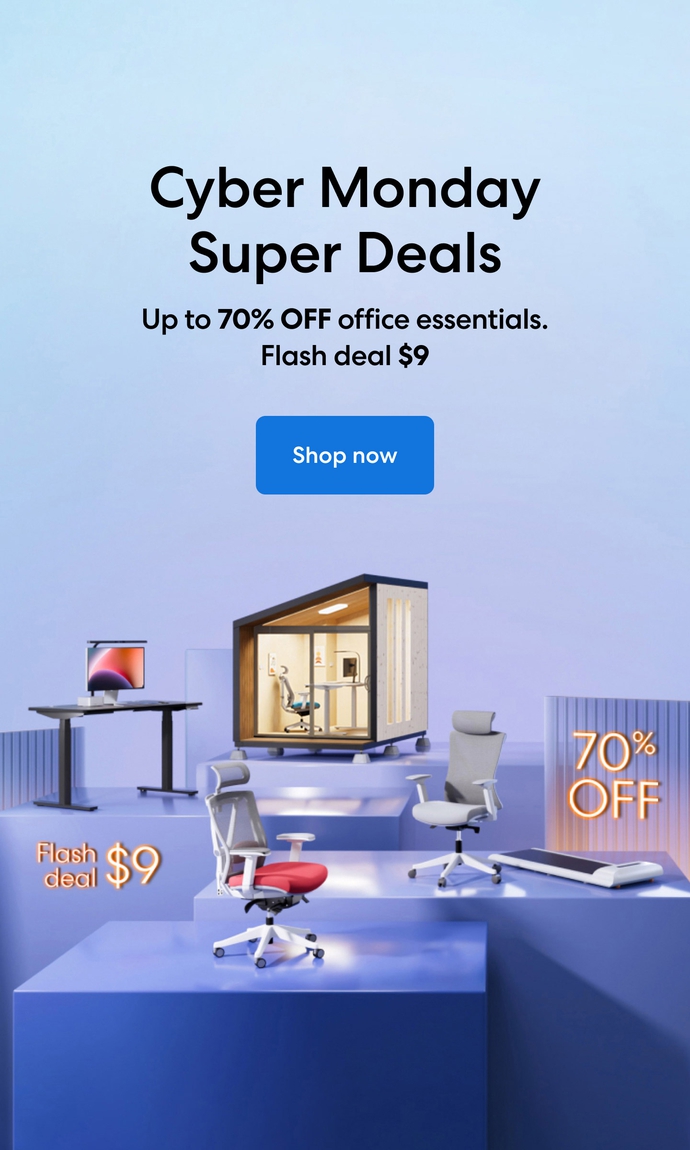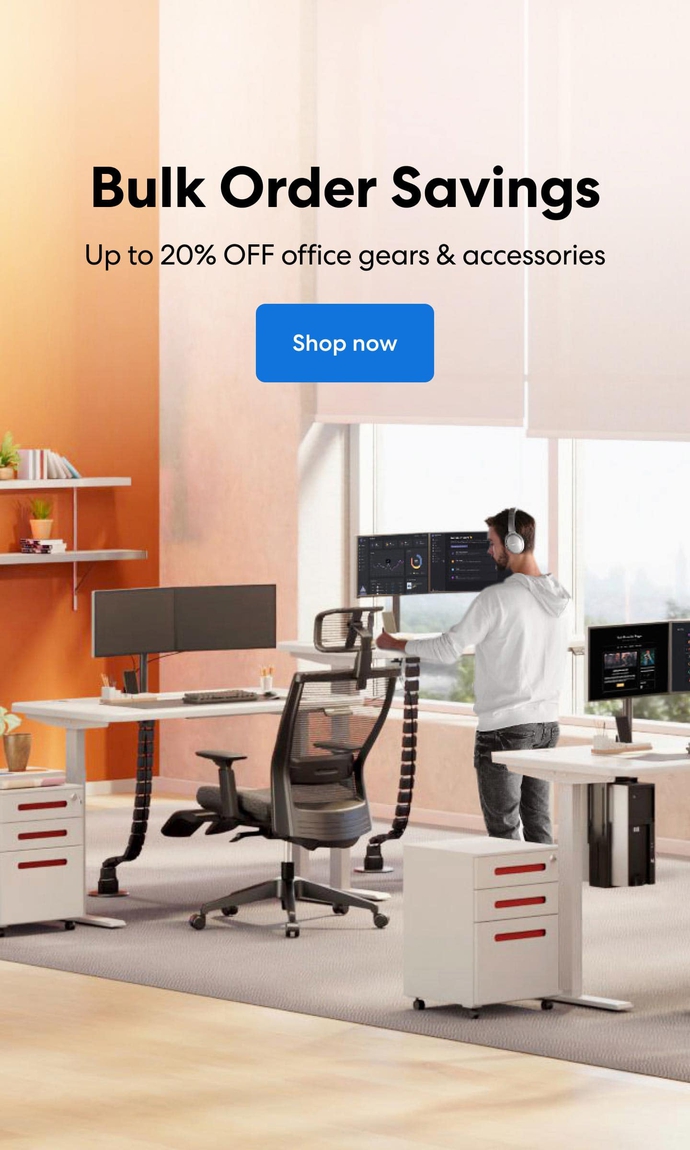 Subcribe newsletter and get $100 OFF.
Receive product updates, special offers, ergo tips, and inspiration form our team.