Workplace Inspiration
A Comprehensive Guide to Finding the Best Bike Shed in 2023

Michael Thompson
|
Oct 4, 2023
665 Views
Having a bike is fantastic. It lets you explore the outdoors, keeps you fit, and even allows you to go to work. However, have you ever thought about where to store it safely when not in use? That's where a bike shed comes in. 
These special sheds can protect your bicycles from theft and bad weather. Think about it – instead of leaving your bike out in the rain or taking up space in the house, a shed offers a neat solution. 
Now, there are many options out there, from DIY ones to those you can buy and set up immediately. Some people even look into prebuilt ADU options – those are compact homes or studios that can also double as storage! 
In this article, we'll dive deep into how to find the perfect shed for your bikes and why it's a worthy investment. Let's pedal forward! 
Understanding the Different Types of Bike Sheds
Bikes come in different shapes and sizes, and so do the backyard sheds. Here, we'll explore the various types and find out which one suits you best! 
Wooden Bike Shed
A wooden bike shed is a popular choice among many bicycle enthusiasts. Made from natural materials, it blends seamlessly into most gardens or backyards, giving a cozy and rustic feel. Not only does it look good, but it's also sturdy and can stand up to various weather conditions, keeping your bikes safe and dry. 
Generally, wooden sheds can offer versatility. You can customize them in size, design, and finish to match your outdoor space. Plus, these sheds can last for years with the proper care and maintenance. Therefore, if you're leaning towards a natural look with reliability, a wooden bike shed might be the perfect pick for you!
Plastic Bike Shed
A plastic bike shed is a go-to for many because of its low maintenance and durability. These sheds are lightweight, making them easier to move or set up. Plus, they don't rust or rot, and cleaning them is a breeze - just some water and a cloth, and you're good to go. 
Moreover, there's good news if you're thinking about the design. With modern shed plans, you can find stylish plastic sheds that blend well with your garden's aesthetics. They come in various sizes and designs, ensuring there's something for everyone. Hence, a plastic bike shed can be an excellent choice for a hassle-free and lasting solution.
Vertical Bike Shed
If your backyard space is tight, a vertical bike shed might just be the answer you need. These sheds can store bikes upright, making the most out of limited space.
They're perfect for small gardens or patios where every inch counts. Storing bikes vertically also makes it easier to grab and go without shifting other bikes around.
DIY Bike Shed
Are you looking for a fun project? Well, building your own DIY bike shed might be just the thing. It's not only a practical solution for bike storage in a shed but also gives you a sense of achievement. 
Create a shed that fits your style and space. You can add shelves and hooks or even paint it a funky color. Also, guess what? If you're keen on mobility, consider a storage shed on wheels to move it around your yard. 
This way, you can quickly move your shed around, depending on your needs or the season. Therefore, why not give it a try? Build something cool and keep your bikes safe! 
Modular Bike Shed
Have you ever wondered how to keep your bike safe while optimizing your outdoor space? A modular bike shed is your solution! This option isn't just any outdoor storage but a customizable area designed to protect your bike from weather conditions such as rain, snow, and sun. 
Not only does it shield your bike, but it also declutters your space. Plus, a modular storage shed is a trendy pick for those looking to mix style with function. It comes in parts, so you can set it up in a design that suits your needs. Keeping your bike safe and your yard looking neat has never been easier!
Bike Storage Solutions Inside a Shed
When it comes to keeping your bicycle safe and in top shape, bike storage in a shed is a fantastic idea. Think of it like a cozy room for your bicycle. Inside, it stays dry and clean, away from harsh weather. 
Nevertheless, how do you arrange everything there? The floor is an excellent place to start! If you're wondering how to set it up, there are some cool storage shed floor ideas to explore. 
How about a smooth wooden floor to make moving your bike easier or rubber mats that grip the bike stand so it doesn't slide around? You could even add some colorful floor tiles to jazz it up. With the right floor, your shed becomes a safe and stylish spot for your bike.
The Three Best Pods for Your Backyard and Storing Your Bikes
Are you looking for the perfect spot in your backyard to store your bikes? Let's dive into the top three pods that will keep your bicycles safe and stylish! 
1. Autonomous WorkPod: A Game-changer in Home Office Pods
The shift towards working from home has seen a surge in the demand for home office pods. Among the best in the market is the Autonomous WorkPod. Need a quiet work spot in your backyard? This pod might just be your answer. 
Moreover, this pod offers soundproof walls to escape distractions, while big windows provide natural light without the noise. While many envision it strictly as an office, its versatility means it can transform into an outdoor bike shed or a cozy reading nook. Plus, it comes with all of the essentials, including a SmartDesk, ErgoChair, and dedicated storage areas. 
Setting it up is a breeze. It comes pre-wired, and with a simple plug-and-play mechanism, your space is ready. Constructed meticulously, this pod suits various terrains, from grass to gravel. Additionally, if you're worried about assembling or permits, the process is simple, and all the help you need is available.
2. Autonomous StudioPod: Your Perfect Backyard Escape
Are you looking for an extra space without the fuss of renovations? The Autonomous StudioPod is here, and it's the ultimate prefab studio, offering a quiet area right in your backyard. No need to endure the endless headaches of home improvements – the StudioPod sets up quickly and seamlessly. 
Inside, it's packed with everything you need, including a desk, closet, TV stand, and even a convertible sofa bed. You can work there during the day and transform it into your personal relaxation spot at night. 
However, what about bike storage in this shed? With StudioPod's flexible design, you can easily store your bicycles as well. It's strong, weather-resistant, and built on a steel frame. This is a long-lasting addition to any home, and it fits on any ground – flat, sloped, or rough. A true multipurpose gem!
3. Autonomous WorkPod Lite: Easy, Sleek, and Wallet-friendly
Are you dreaming of a little extra space in your backyard? Maybe for work, fun, or relaxation? Well, the Autonomous WorkPod Lite isn't just any space – it's a sleek, well-designed unit that comes at a budget-friendly price. This affordable backyard ADU will completely enhance your backyard and keep your bikes safe. 
Additionally, it is quiet and private and doesn't cut corners on quality. Whether you need a home office, a bike shed, a game room, or a spot for yoga, this pod can fit your needs. 
Also, setting it up is a breeze! Simply plug it in and get started without waiting weeks or months. Plus, with its solid materials, it will keep you comfy and safe year-round. Perfect for those who want style without the hefty price tag.
Selecting the Perfect Bike Shed for Your Needs
Choosing the suitable bike shed might sound simple, but there's more to it than you'd think. With so many options out there, it's essential to pick one that's right for you, your bikes, and your space. Here, we'll guide you through the process. 
Size and Space
First, consider the size of your outdoor area and how many bikes you need to store. You'll need a more spacious option for a family with multiple bicycles. Always measure your space and the bikes to ensure a snug fit. 
DIY or Buy?
A DIY bike shed might fit those who love creativity and creating their own project. Building your shed gives you control over the design, size, and materials. 
Moreover, it can be a fun weekend activity, and you can customize it to fit your style and needs. Plus, there's a sense of pride in using something you've crafted with your own hands. 
Design and Accessibility
When it comes to combining style and practicality, the design of your bike shed matters. Opt for a layout that not only looks good but also makes it easy to access your bikes.
A vertical bike shed, for example, can be a smart choice for those with limited space. The key is to arrange your shed in a way that allows you to reach each bike effortlessly without having to shuffle others around. 
Materials and Durability
Think about where you live. Is it rainy? Snowy? Super sunny? Your shed's material should withstand the weather you're residing in. Wood is classic but requires maintenance. 
Metal is sturdy, but ensures it's rust-resistant. On the other hand, plastic is low maintenance and can be pretty durable. Make sure to take the time to think about this before deciding on what to get. 
Security
Lastly, think about security. If you live in an area where theft is a concern, invest in a shed with a sturdy lock or even an alarm system.
Whether you're a DIY enthusiast or someone looking for a convenient vertical solution, there's a bike shed out there perfect for your needs. Take your time, do your research, and enjoy the peace of mind that comes with a well-organized, safe storage space.
Ensuring Longevity: Taking Care of Your Bike Shed
Having a bike shed is super handy, right? It keeps your bikes safe from weather and theft. However, to ensure it stays in top shape for years, you must give it some care. Here are simple tips to help your bike shed live a long, happy life: 
Regular checks: Every now and then, have a look at your shed. Check if there are any loose screws or broken parts. Fix them right away. This way, minor problems don't become big headaches later.
Clean it up: Dirt and leaves might gather in your shed, especially on the roof. Clean it off. If water sits there for too long, it can cause damage. Also, make sure to give your shed a good wipe-down every few months. Moreover, if it consists of wood, you might want to clean it more often to avoid rot.
Protect from pests: Little creatures such as bugs and mice might think your shed is a good home. However, you don't want them there! Keep the area around your shed clear. Don't leave food or trash nearby to keep the pests away.
Paint and protect: If your shed is wooden, consider painting it. Paint makes it look nice and adds an extra layer of protection against rain and sun. Remember, sunlight can fade the color over time.
Lock it up: Always lock your shed when not using it. This approach can keep your bikes safe and help the door last longer by keeping it firmly in place.
Taking care of your bike shed isn't hard. A little time and effort can make it last for many years. Your bikes will thank you, and so will your wallet!
Wrapping Up
Choosing the proper storage for bikes is essential for longevity and accessibility. A bike shed can offer years of service through careful consideration and adequate maintenance.
Whether opting for a DIY approach or a pre-made solution, the goal remains the same: providing a secure and durable environment for your bicycles.
Investing time and effort now ensures that the chosen shed meets specific needs and withstands various challenges. It's a testament to the importance of both the bikes and the space they inhabit. Additionally, proper planning leads to lasting satisfaction.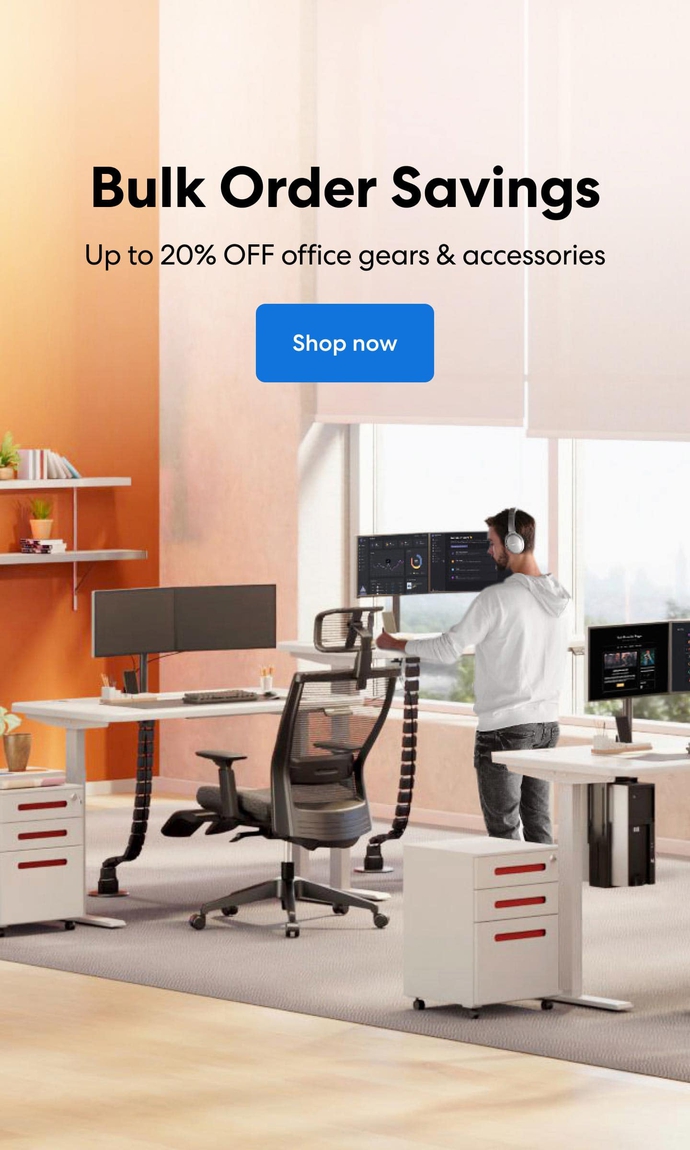 Subcribe newsletter and get $100 OFF.
Receive product updates, special offers, ergo tips, and inspiration form our team.