Smart Products
Things To Consider When Buying Convertible Standing Desk

Autonomous
|
Feb 18, 2022
1,586 Views
You are likely drawn to the countless benefits of standing desks because you have read this far. Many people often talk about the convertible standing desk as the "future of workstations." But let's face it, choosing the best convertible standing desk that is right for your needs can be hard. The fierce competition in this space has led to many choices that are making the process of researching your options a bit overwhelming.
These days, there are so many convertible sit-stand desk options to choose from, ranging from convenient mounts for tables to compact designs that are versatile and mobile. Whatever small convertible standing desk solution you choose, consider that each type of desktop attachment, DIY stand-only attachment, desk-treadmill hybrid, or height-adjustable desk has its advantages and disadvantages.
Take into Account Your Preferred Features
You want to make sure that if you buy an adjustable standing desk, you'll be satisfied with the options, features, and accessories long-term. You can even customize our adjustable electric desk riser and standing desks to meet your individual needs.
Depending on your preferences, Autonomous can design the perfect standing desk for you, and our prices are more competitive too. Check out our website to begin your design and accessorize it with awesome tools like this monitor arm.
Are you Seeking a Manual or an Electronic Adjustable Desk?
Both are highly adjustable, but the former may require greater effort. As a result, manually operated models are a potential threat to the productivity of your staff. One qualitative study on the topic of sit-stand desks (entitled "Thinking on Your Feet") involves workers from Australian organizations and found that automatic options were discouraged because of the labor-intensive and time-consuming nature of manual adjustments.
What is the Importance of Noise?
A manual standing desk can make noise when it is adjusted. Although some electric standing desk converter models have loud, metallic noises, others have noisier motors. The issue shouldn't arise at home, but it might be a problem if you work with others. You may be familiar with the metallic sounds they make when adjusting their height if you have used or owned manually operated types.
Several electronic-powered desktop standing desk converter variations can also have noisy motors, so their electric counterparts aren't exempt from this minor issue.  
Are You Looking for a Stand-alone Desk or an Attachment?
You will inevitably be concerned about space when you bring in new furniture at work, especially if you and your staff are bothered by clutter and space constraints. Perhaps desktop add-ons are the best option for those who have a trusted desk that they don't want to give up just yet.
You can, however, choose a stand-alone desk if you prefer to make a more radical switch to a more active lifestyle right out of the gate. You will also often have more room for your stuff and yourself with these types.
Your budget
Many options are available to consumers today, ranging from the highly sophisticated Stir Kinetic desk F1 that costs around $4000 to the seemingly simple but still highly functional Sierra height-adjustable desk that costs just under $200.
The perfect desk is out there for everyone, regardless of their budget. SmartDesk is a great option if, on the other hand, you want something that won't break the bank while still being an easily adjustable sit-to-stand desk. With a price of $500, you'll still get a lot of the features and benefits of more expensive models.
Try before you buy
Make sure that you can stand for long hours before purchasing an adjustable standing desk. While standing is healthy, you want to make sure you are comfortable and able to work in this set-up if you are concerned about sitting too much. It might be a good idea to use your laptop while standing at home.
Types of Convertibles Standing Desks
Freestanding desks with adjustable height
Keeping your monitor, keyboard, mouse, and other Knick-knacks in place is easy with this type of adjustable standing desk. Some have counterbalance mechanisms as well as electric motors.
Add-Ons for standing desks
You can find models that hover above your sitting desk or over your desktop if you are on a budget or want to keep your current desktop. It can overtake your desktop when you're using this type of standing desk, and some models fail to optimize the placement of your monitor and keyboard.
Desktop risers with fixed height
You can mount this kind of adjustable standing desk onto your existing sitting desk like an elevated platform. The majority of these add-ons fold up, making them portable for people who prefer to work on the go. You can adjust the height, but you need to have the desktop cleared when adjusting the hardware.
Desk that allows you to stand, sit, or recline
This convertible standing desk works while sitting, standing, or reclining. These desks are a niche product, but they are a satisfactory option for someone who suffers from chronic neck or severe back pain.
Desk Size
Analyze the office size
You can determine the size of the convertible standing desk that will fit within your office by measuring the space. You should allow at least two feet around your desk when measuring the square footage of the area where it will go.
Take your measurements
Yes, you are among the most important things to measure. To determine whether a convertible standing desk with a keyboard tray is necessary, measure where you will want your arms to fall when standing. Also, make sure you choose a place on your screen where your eyes will be comfortable. A height-adjustable desk and a computer monitor stand will be needed depending on the desk's height.
Materials
The best quality desk is hard to find, but solid wood desks are the best. A beautiful desk of this quality can be quite heavy and expensive because of its high quality.
The modern and durable nature of metal desks makes them a great choice. Most metal desks come with glass or wood tops, with metal frameworks only for stability and industrial aesthetics. The materials used in metal office desks can vary, but the steel gauge may be steel, and the desk may be powder coated or chromed.
A growing trend is glass desks. Glass desks typically have thick surfaces made from tempered glass. Metal frames often accompany this. Though easy to clean, glass is susceptible to fingerprints. There are wood top options with glass inlays if you don't want a full glass top.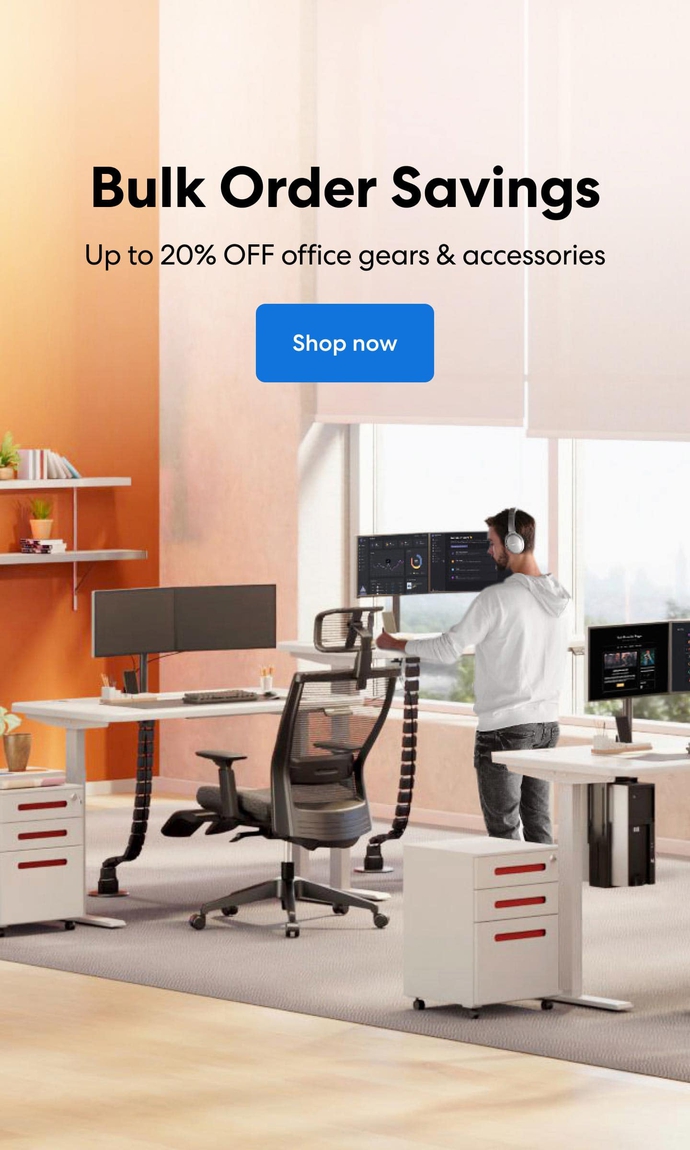 Subcribe newsletter and get $100 OFF.
Receive product updates, special offers, ergo tips, and inspiration form our team.