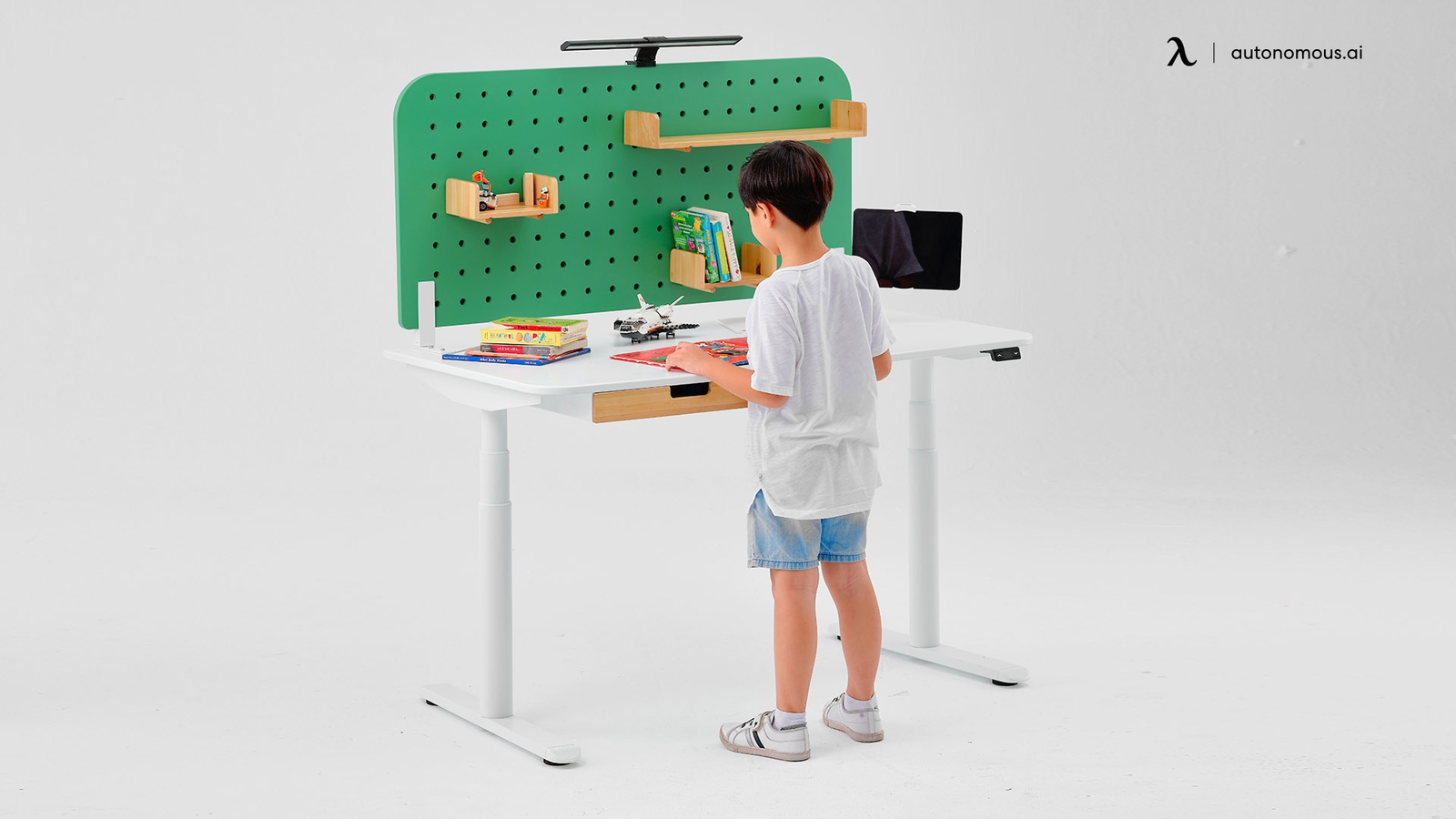 Smart Products
What Is the Correct Children's Table Height? (Size Chart)

Autonomous
|
May 13, 2021
23,622 Views
Let's do a little experiment; take a moment to imagine that you buy new furniture items to fill your new home office workspace, but when you build your desk and set your chair, it is too small for you. 
Well, it is the same for children's table height. Buying a desk is like buying new clothing; you must make sure you are purchasing the correct size. Otherwise, it is always going to be too big or too small for you. If you need to spend seven to eight hours working on your computer, you might want to make sure your desk and ergonomic chair are as comfortable as possible.
However, this also applies to child-size furniture like child-size tables. Your children should feel as comfortable as you feel in your workspace. If your child is taking online classes, it is also crucial to have child-size furniture during those moments. Did you know children are more likely to pay attention if they are comfortable during their classes? At Autonomous, we know exactly how frustrating it can be to find the appropriate kid's desk height and chair heights for your child's desk. 
The purpose of this article is to guide you to find the perfect kid's desk height with some useful kids table dimensions. We invite you to keep reading and sharing this with your friends and family to help them learn how to choose a table.
Why is the Height Of the Table Important?
The kid's desk height can profoundly affect your children's lives. This is especially the case when people are young, as the dimensions of their workspace can affect their productivity, posture, and health. On the other hand, for kids, it is crucial to help them create good habits since they are young, and if they feel comfortable in their workspace, this can have a good effect on their future as independent adults.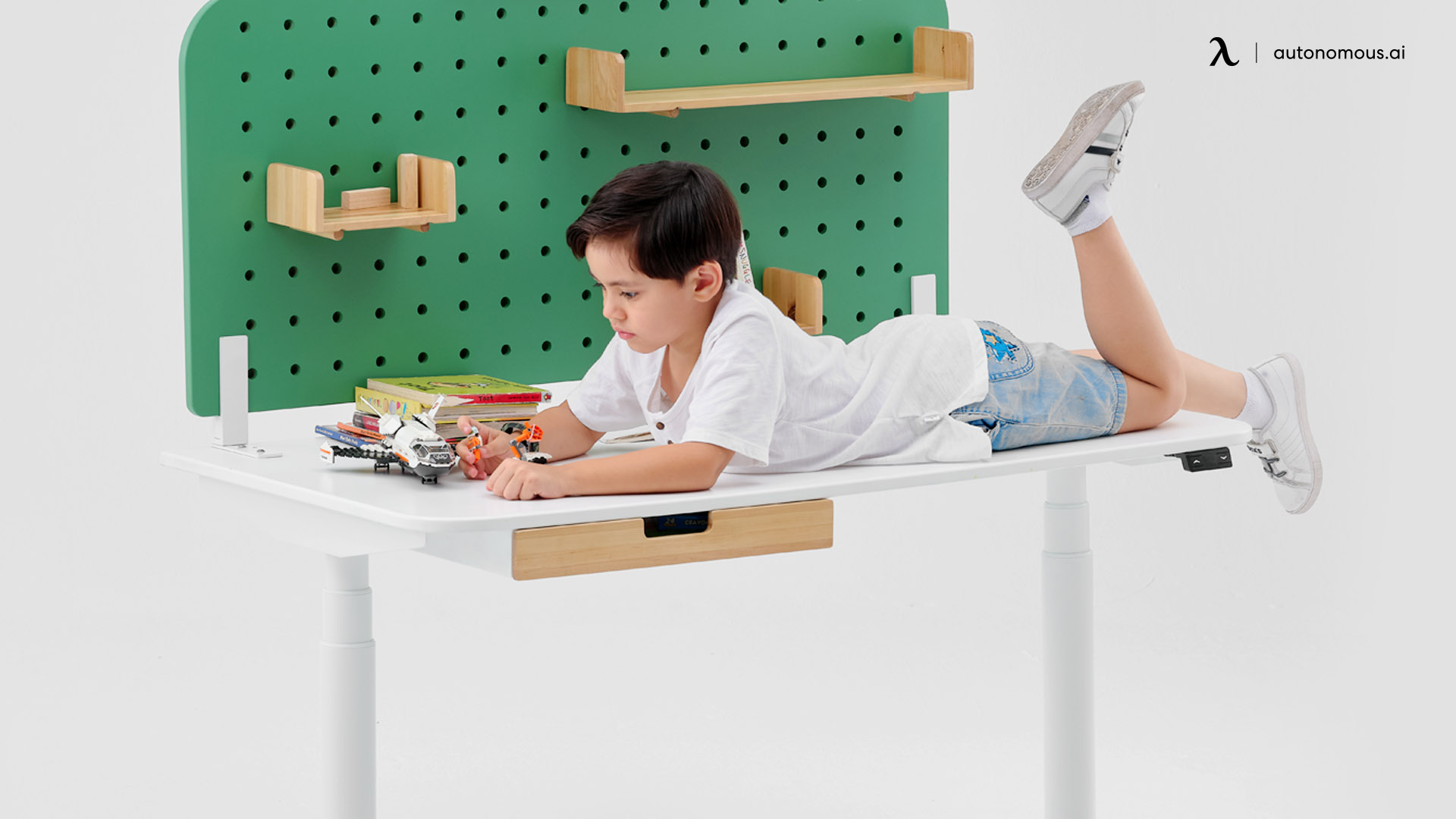 In today's society, people spend too much time sitting on their computers and looking at their screens; having your workstation in a comfortable workspace has become necessary in everybody's life. For kids, this is also important. Even though children do not work, setting a similar environment to your workspace is important. It is a place where your kids can do activities such as doing their homework, playing around, making art, and taking their online classes. This allows them to develop habits and qualities that help them build their personalities and stimulate their creativity.
However, the height of their workspace can affect their development. You might be thinking, "how can this affect my child's life?" Setting a much bigger workspace for your kids can cause them serious back injuries and develop back problems in the future. It also affects them psychologically by making them think that having to do something on a desk is uncomfortable; this is the consequence of not developing that habit thanks to the discomfort of your child's desk height.
What Benefits Can Child-Size Furniture Bring Your Kids?
If there is something children unconsciously have a total appreciation of, it is having furniture for their size. Think about your child's desk as a learning tool; this learning tool is as important as every school supply you buy for your children. The desk is not the only thing crucial, but it is also indispensable to buy the right desk chair for children.
Here are a few benefits of buying ergonomic furniture for your child:
Teaches Them Manners
How can a table with proper kid's desk height and a chair teach your kid something? It is possible thanks to the values it brings. For example, furniture can teach younger children manners; by sitting them on a chair, your child can learn how to sit and behave correctly. On the other hand, the right table and chair also give much-needed structure in a toddler's life; they ensure maximum use of their space while providing them with a place to do their tasks, experiment, create crafts, and play. 
Another way furniture can teach your children structure for their life is by using different tables for eating and their desk for their creative activities and tasks. For example, you can plant them with the idea of doing their homework, art, or making crafts on their desk and separately teach them to eat their food on the dining table. That way, they associate different activities with different spaces. 
By purchasing the desk with the correct kid's desk height, you ensure that you have a fun item that helps your children to learn more and more each day in a safe manner. At Autonomous, we provide you with the best quality ergonomic desks for kids. Do not hesitate to visit our website and take a look at our products. 
Helps Promoting Healthy Postures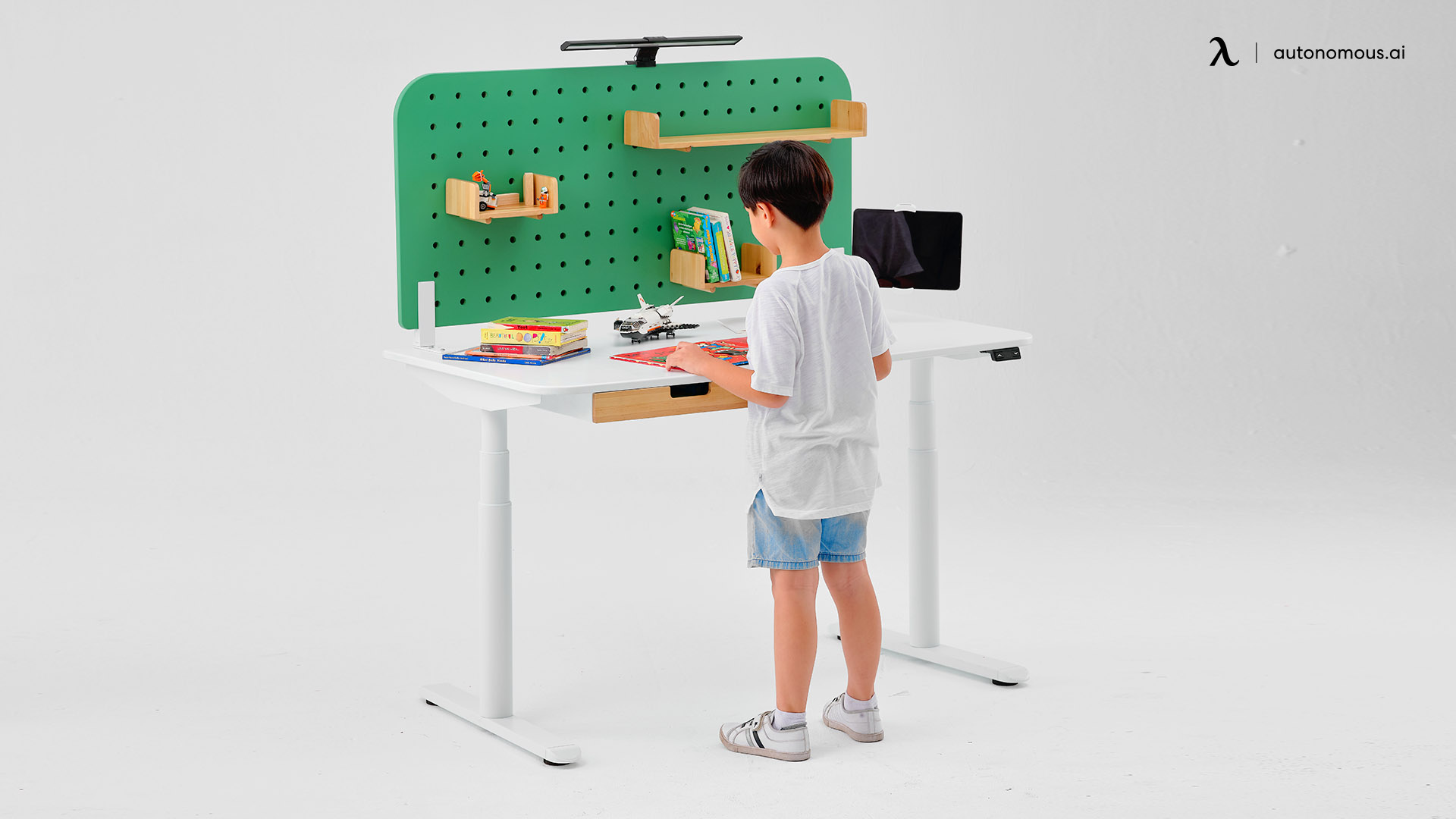 How often do your child's teacher and doctor complain about his or her posture? It is one of the most important reasons, and it should be enough to convince you to buy an ergonomic chair and desk with right children's table height for your kid. When your child is growing up, his or her body structure is still adjusting, so you need to correct your kid every time she or he has an unhealthy sitting or standing position. It helps them have a good posture when growing up. Correcting your children's posture is essential to keep a healthy body and helps them to concentrate more on their studies. 
Motivates Them to Study and Stimulate Their Creativity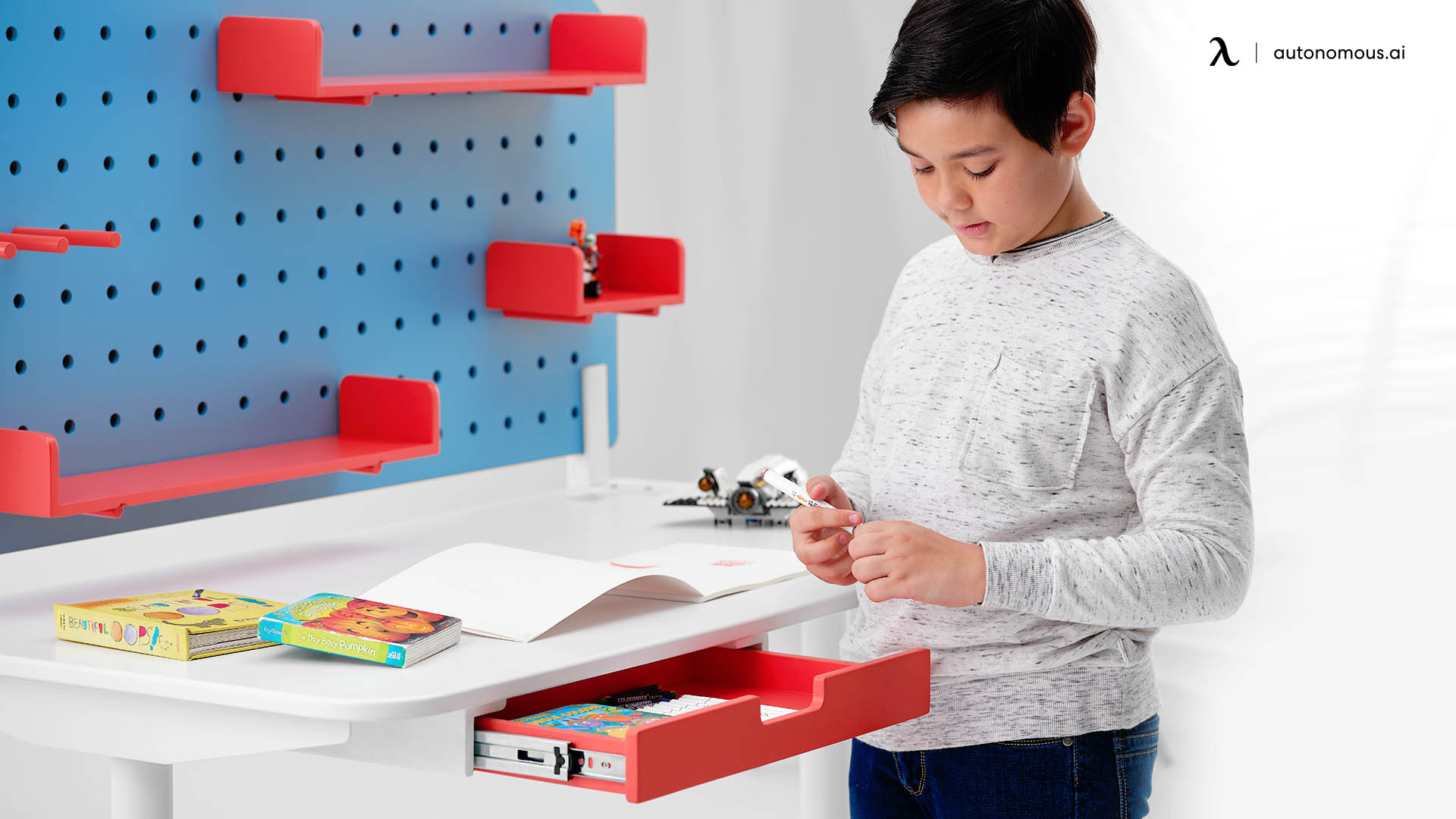 When having a personal workspace, kids tend to be more motivated to do their daily tasks and take advantage of their space to develop their creativity with fun activities. One way to know if they need a private workspace is when your children sit down at any table in your home and concentrate on whatever they are doing. Younger children who attend early childhood classes are often more prone to focus better from an early age. If your children exhibit those qualities, this is probably a good time to visit our website and take a look at our child-size table with proper height of children's table.
Guide to Choosing the Correct Height For A Children's Desk
Children's Standing Desk Height
Depending on your height, you must look at a standing desk height chart. The purpose of the standing desk height calculator is to provide you with recommendations of the correct child's desk height as well as some kids table dimensions should be in both sitting and standing positions. The base of all those recommendations is ergonomic principles oriented towards the tools you use with considerations for productivity, health, safety, and the fit between your workspace and you. 
Here are some things you must keep in mind when choosing your standing children's table height:
Sitting Position
When you look for the perfect sitting height, you should make considerations for the height of your children's standing desks and their chairs. For example, the top of their chairs' cushions should be parallel to the base of their knees. On the other hand, you have to make sure their feet are as flat as they can be when resting on the ground. By adjusting your child's ergonomic chair, you can reduce a lot of the chances of them suffering back pain. 
After doing that, you are ready to adjust the kid's desk height; to do that, check our standing desk height charts on the website. Then adjust your desk based on your child's elbows; do this by bending your kid's elbows until you get a 90-degree angle. When doing this, place their arms alongside their body. Otherwise, when you adjust the children's table height, their wrists could not be relaxed over the desktop. Having abnormal wrist positions can increase their possibilities of suffering carpal tunnel syndrome or other conditions.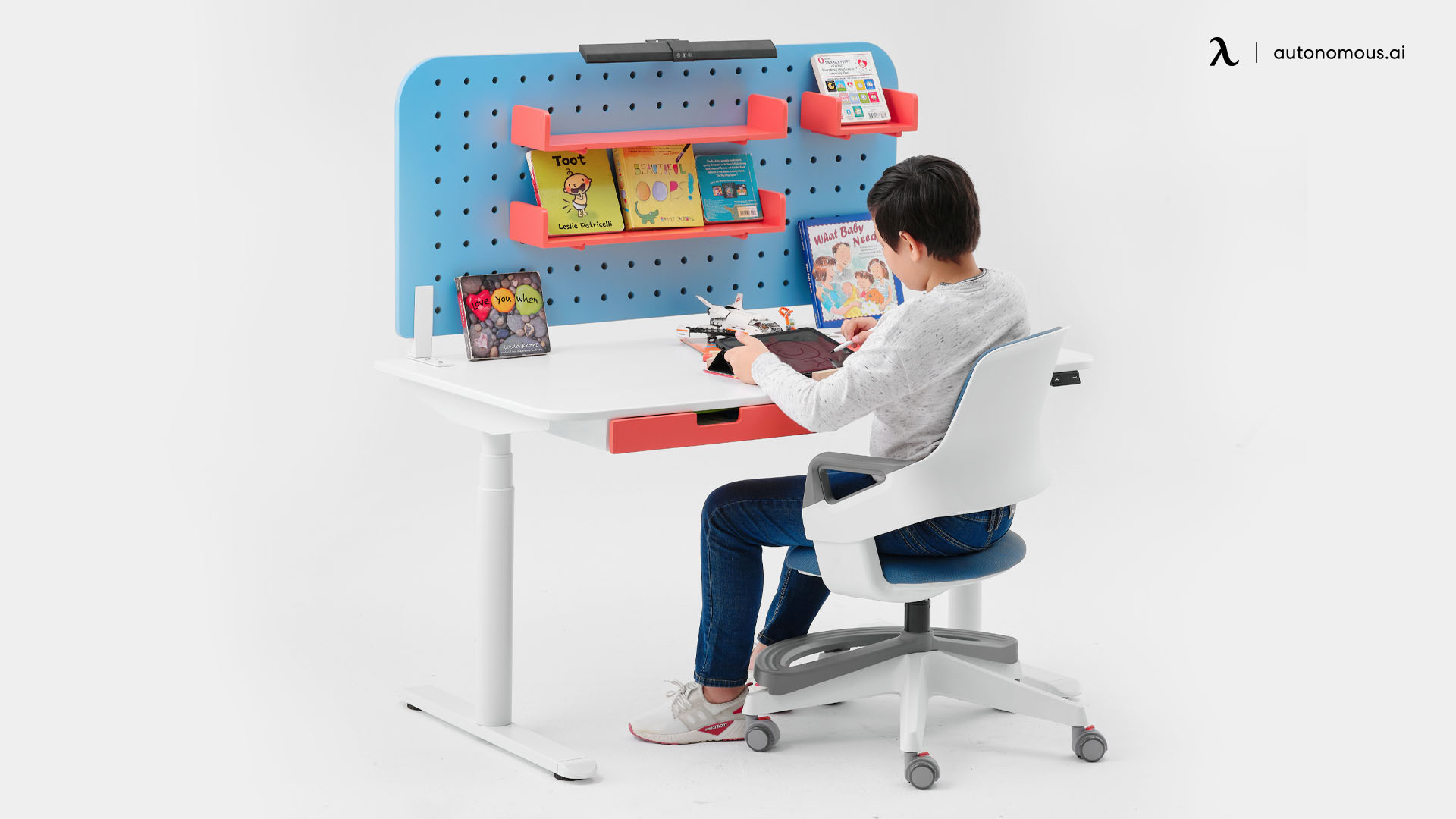 Also, think about your child's back! As we said before, when they are too young, their body structure is still adjusting, so you have to make considerations about their posture while adjusting their ergonomic chair. With our ergonomic children's chair, you do not need to worry about them developing the wrong posture, as they are designed to support their backs perfectly. 
Remember, while there are many children's desk chairs available, your best choice always is to purchase an ergonomic chair, whether it is for your children or you. These types of chairs are designed to support your spine's curvature and provide you with comfort during your working hours. Allow your children to feel that same comfort by giving them the best kids desk chair in the market.
Standing Position
The first thing you should ensure is that the children's table height matches the height of their elbows. You must repeat the same process you did during your kid's sitting position. However, there are some other factors to check while adjusting the standing position height of your children's desk. Put your kids' elbows at a 90-degree position angle, but now you must see if their necks are neutral and their wrists are in front of them. If not, you must adjust the kid's desk height until it is perfectly aligned with your children's forearms; they should be in a parallel position.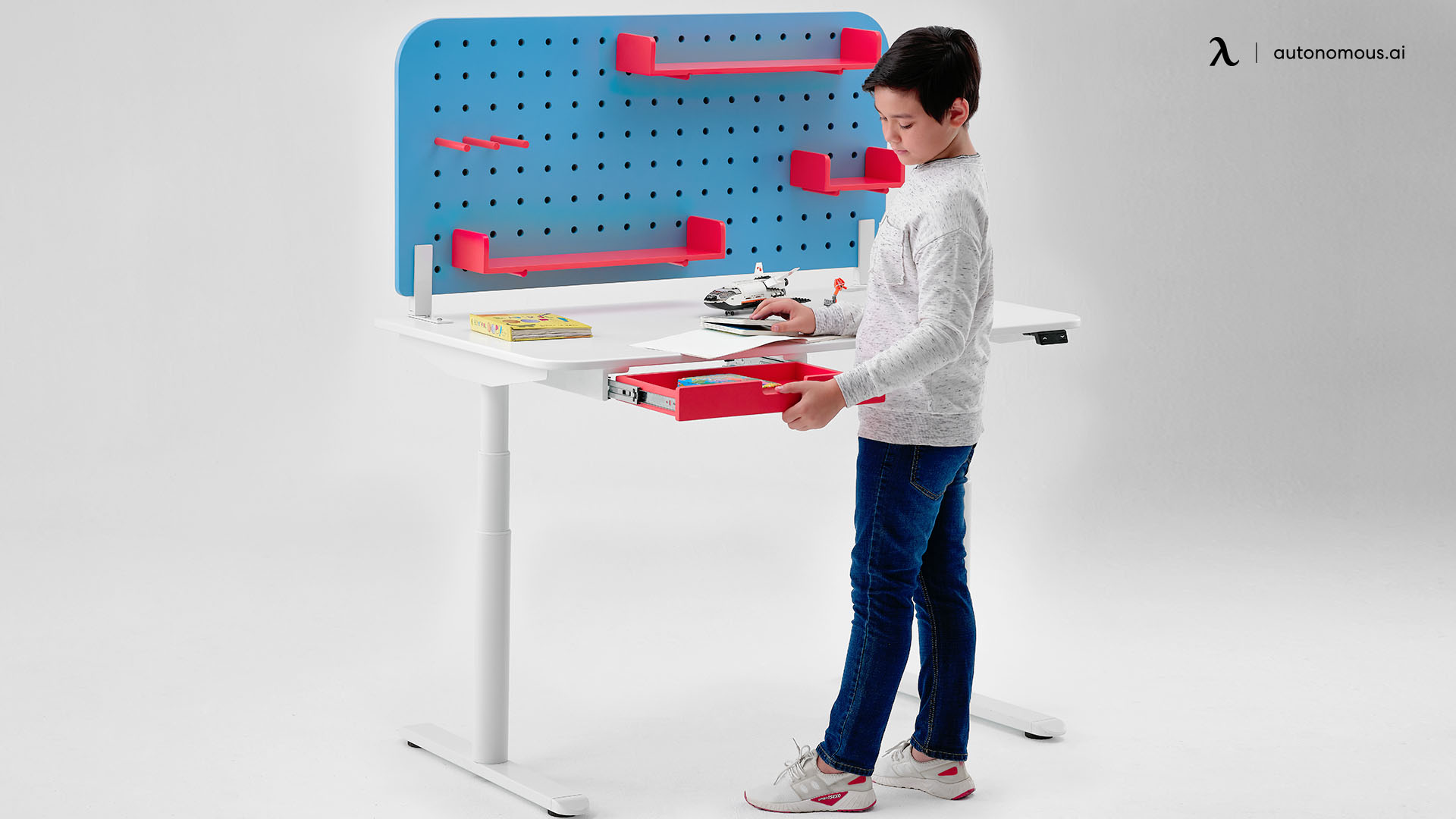 When your children play with their toys, use their brushes to paint, or use their computers, check if their wrists are straight and relaxed; they should not be inclined up or down. That way, you can prevent future injuries on their arms and wrists. 
Another factor you must keep in mind is whether their necks are straight; to avoid any back problems in the future, you must make sure their standing position at desk is neutral, without curving their spine and their shoulders relaxed. 
How to Choose the Best Chair and Table Sizes for Children
Keeping in mind all these child's desk height recommendations and some important kids table dimensions, you can start the process of finding the best child-size furniture. 
Child-Size Chair
Before purchasing your child's ergonomic chair, you must consider elements such as their feet touching the floor, your children's height, and also keep in mind their age. Some ergonomic chair sizes are designed based on different ages and sizes. If you plan to keep that chair for a while, you might want to buy a bigger chair for your child. However, by purchasing an ergonomic chair, the size should not be a problem.
Child-Size Table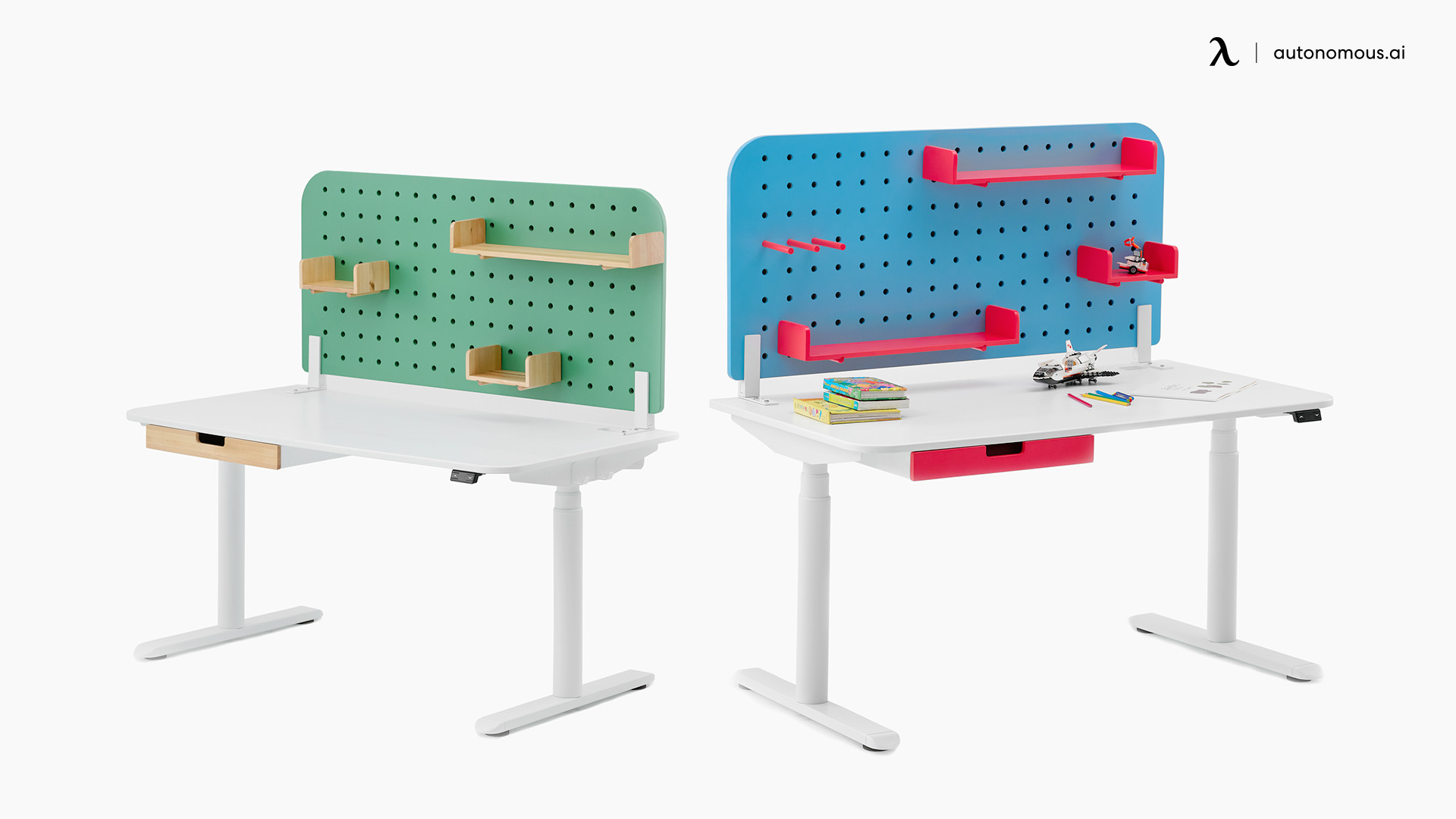 When buying our standing desk junior, the height of children's table is not a problem, as it can be adjusted to the height that fits your child the most. However, if your children are close to being teenagers, you might want to think about buying a bigger height adjustable desk for kids that fits them better. 
Kid's Desk and Chair Dimension Table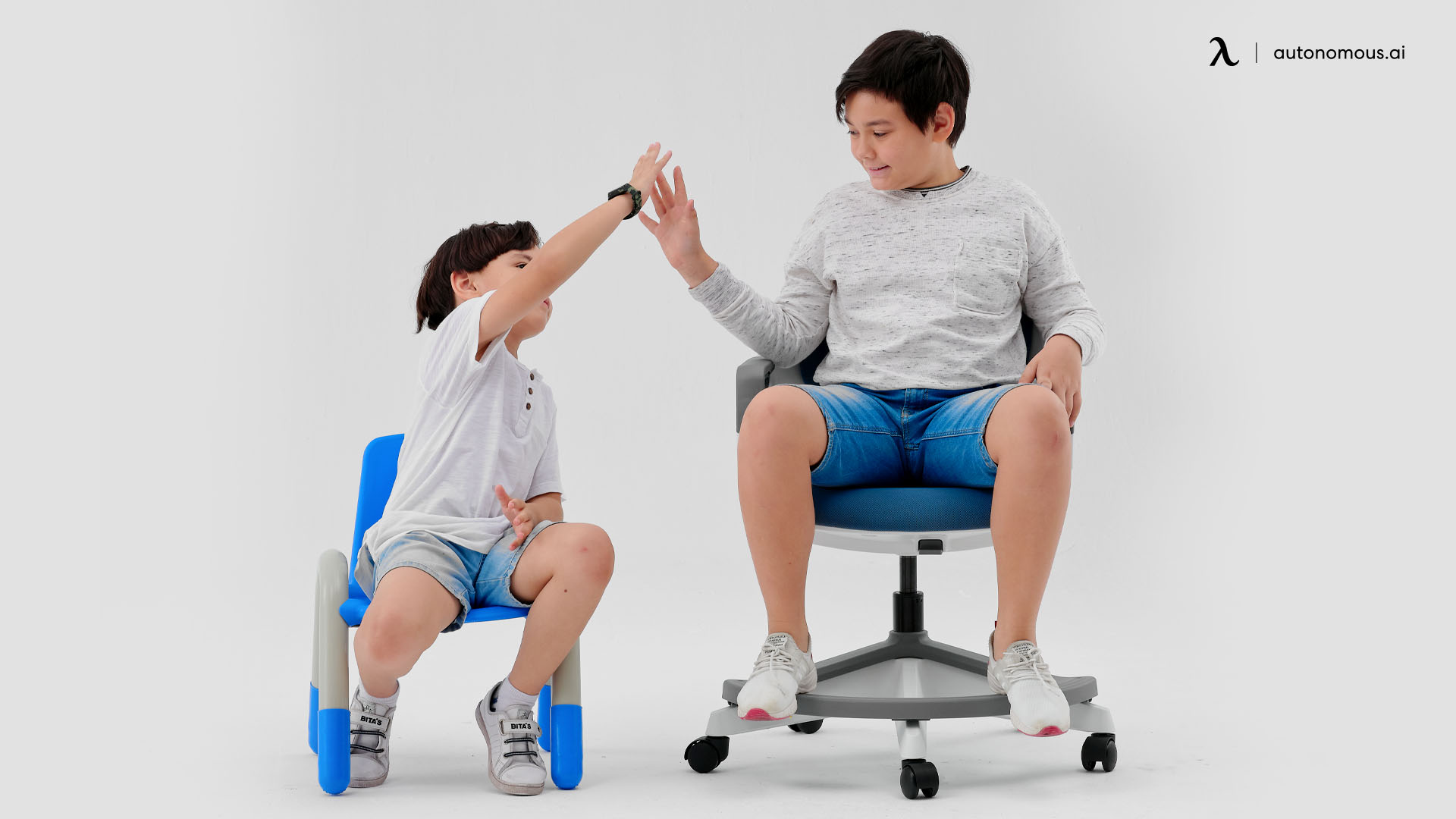 Lastly, here are the height of children's table and chairs dimensions you should keep in mind when buying your children's furniture.
Age Category

Approximated Age

Children's Table Height

Children's Chair Height

Infant

6 to 12 months

12" to 13"

(30 to 33 cm)

5" to 6"

(13 to 15 cm)

Toddler

1 to 2 years old

13" to 14"

(33 to 35 cm)

6" to 7"

(15 to 18 cm)

Toddler

2 years old

14" (35 cm)

7" (18 cm)

Toddler/Preschool

2 to 3 years old

16" (40 cm)

8" (20 cm)

Toddler/Preschool

2 to 4 years old

17" (43 cm)

9" (23 cm)

Preschool

3 to 5 years old

18" (46 cm)

10" (25 cm)

Preschool/School Age

4 to 6 years old

19" (48 cm)

11" (28 cm)

School Age

6 to 8 years old

20" (50 cm)

12" (30 cm)

School Age

6 to 9 years old

21" (53 cm)

13" (33 cm)

School Age

9 to 10 years old

22" (56 cm)

14" (35 cm)

School Age

9 to 11 years old

23" to 25"

(58 to 63 cm)

15" (38 cm)

School Age

10 to 11 years old

24" to 26"

(61 to 66 cm)

16" (41 cm)

School Age

12 to 13 years old

24" to 29"

(61 to 74 cm)

17" (43 cm)

School Age

13 + years old

26" to 30"

(66 to 76 cm)

18" (46 cm)
By using this table, you can easily find the children's desk and ergonomic chair that fits them better!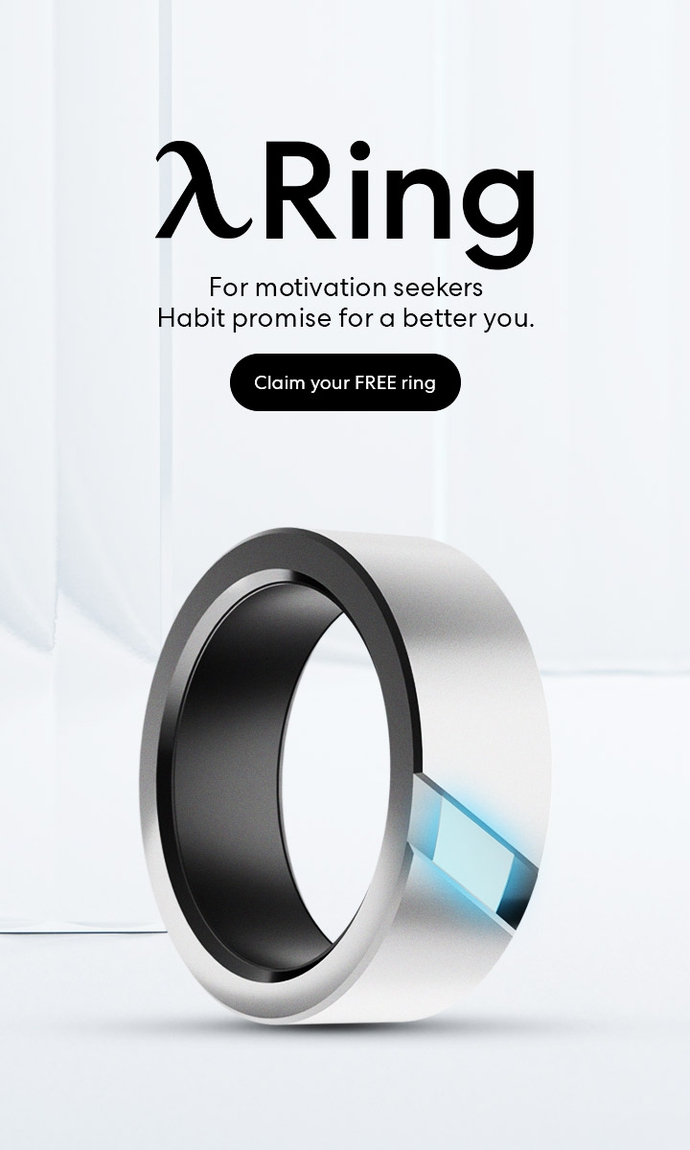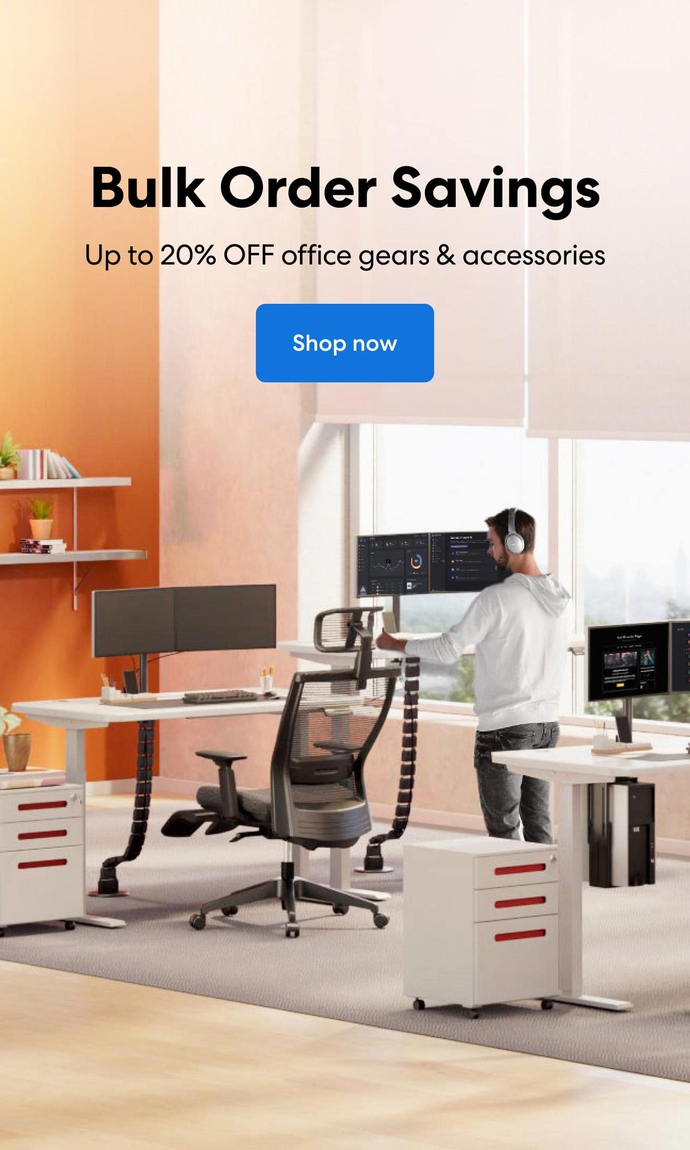 Subcribe newsletter and get $100 OFF.
Receive product updates, special offers, ergo tips, and inspiration form our team.