Smart Products
10 Best Kids Desk Chairs for Your Children
3,647 Views
Any adult that spends their working day behind a desk can tell you how crucial it is to have ergonomically comfortable and modern office furniture. For growing children, it's even more important to have furniture that promotes a healthy posture.
With many schools holding classes online and planning to continue doing so in the future, it's essential to set up a suitable workspace for your child. You can ensure that their learning goes smooth if you get them an adjustable chair they can tailor to their needs. Helping them keep an upright posture helps maintain their focus and proves beneficial in the long run.
Don't whip up a makeshift seating option for your child. This article describes what you need to look out for when buying an ergonomic chair for kids and 10 of the best kid's desk chair options you can choose.
What Parents Should Consider When Buying a Children's Desk Chair
You may assume that most desk chairs for children have similar features, but several factors can affect their functionality. An ergonomic desk chair for children should be comfortable, sturdy, and have a proper height to help them keep a neutral and good posture.
The appropriate size varies depending on the children's stature. It would be best to look for a chair that allows them to have their feet flat on the ground and their knees at a perpendicular angle. These criteria make ergonomically adjustable chairs for children the best purchase for them, as they can adapt as kids grow.
The material the chair uses has its benefits. For example, plastic makes the chair easy to wipe and clean, making them appropriate for younger children who make a mess while studying or painting. Looking for a chair with a steel frame can also help as they are more durable.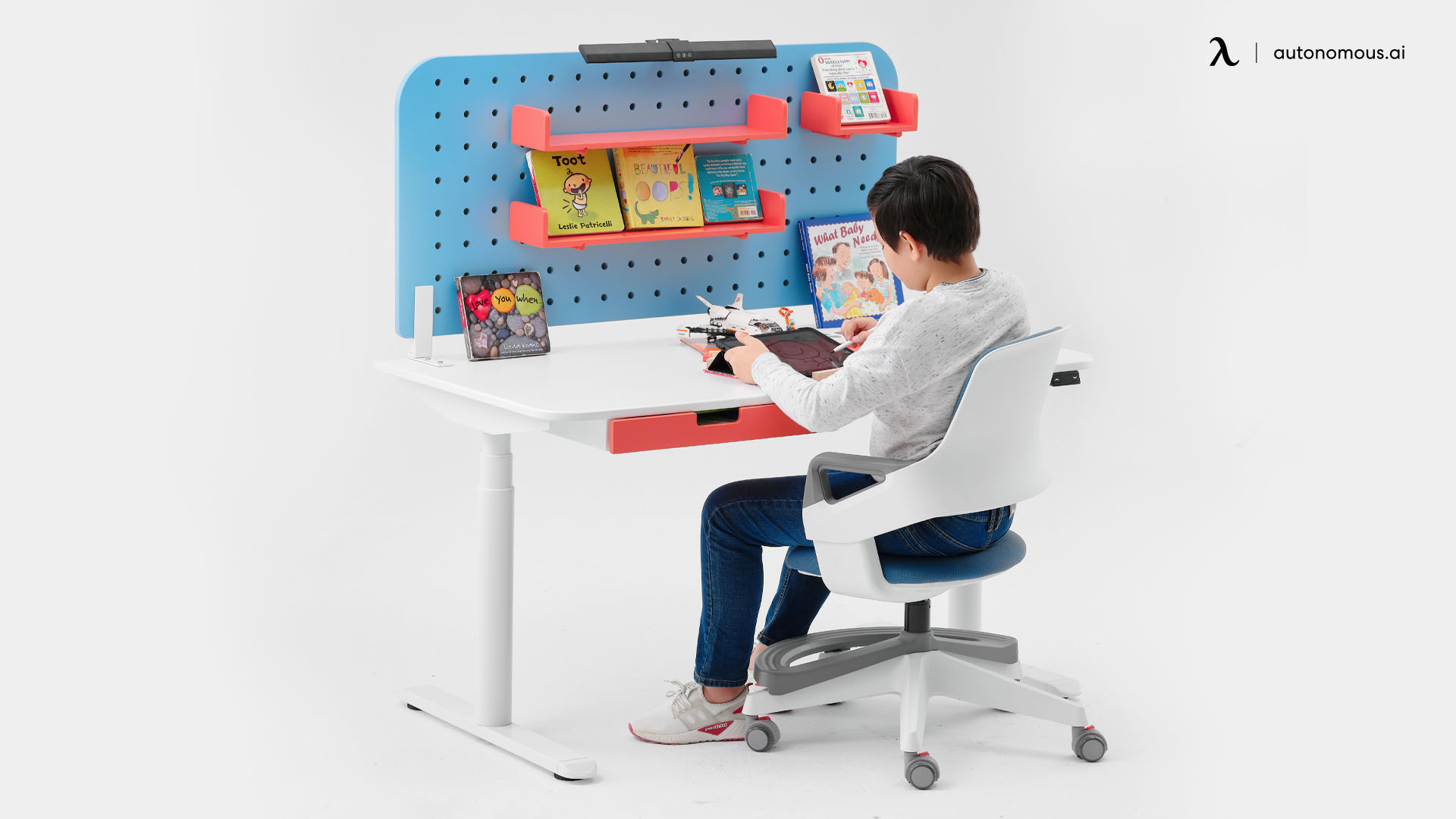 Comfort is another essential aspect to consider. Kids might potentially sit for long periods, so getting a comfortable chair is a priority. Children's ergonomic desk chairs often have features that let them provide optimal support and comfort. Look for a chair with lumbar support and adjustable, padded backrest and seat as it can help your child achieve a natural posture.
Other vital features in a kid's chair are swivel and roller casters to give extra mobility. A built-in footrest can be a helpful addition, but it isn't necessary. Getting a chair with a backrest long enough for your child to lean on is better for their posture, but some alternatives that don't have them and work just as well are wobble and balance ball chairs.
You can't forget about the chair's aesthetics. Children's furniture is often designed with that in mind. Younger children might appreciate a fun and colorful chair design more than an office-style chair, even if it has better functionality.
What Are the Best Kids Desk Chairs for Children?
Most of these chairs are for younger children, generally for those that are four years or older. The adjustable nature of some can let them use the chairs up until they are 12 years old. Depending on how much the kids grow, they may last for an even longer time. Here are 10 of the best children's desk chair options you can get for their home workspace:
1. Autonomous ErgoChair Junior
If you want a chair that grows alongside your child, the ErgoChair Junior is the right pick for you. Every element of it considers adjustability and support, as no kid develops the same way. You don't need to buy several chairs over the years or endlessly adapt a poorly made chair. This one can support children that are 4 to 12 years old.
The chair has seven ergonomic options to help kids find their ideal sitting posture. It doesn't have confusing levers or knobs – you only need to push or pull the armrests' sliding handles to adjust the seat depth and back height. If you have a young kid, you can help them by aligning the chair's backrest with their spine's natural curvature.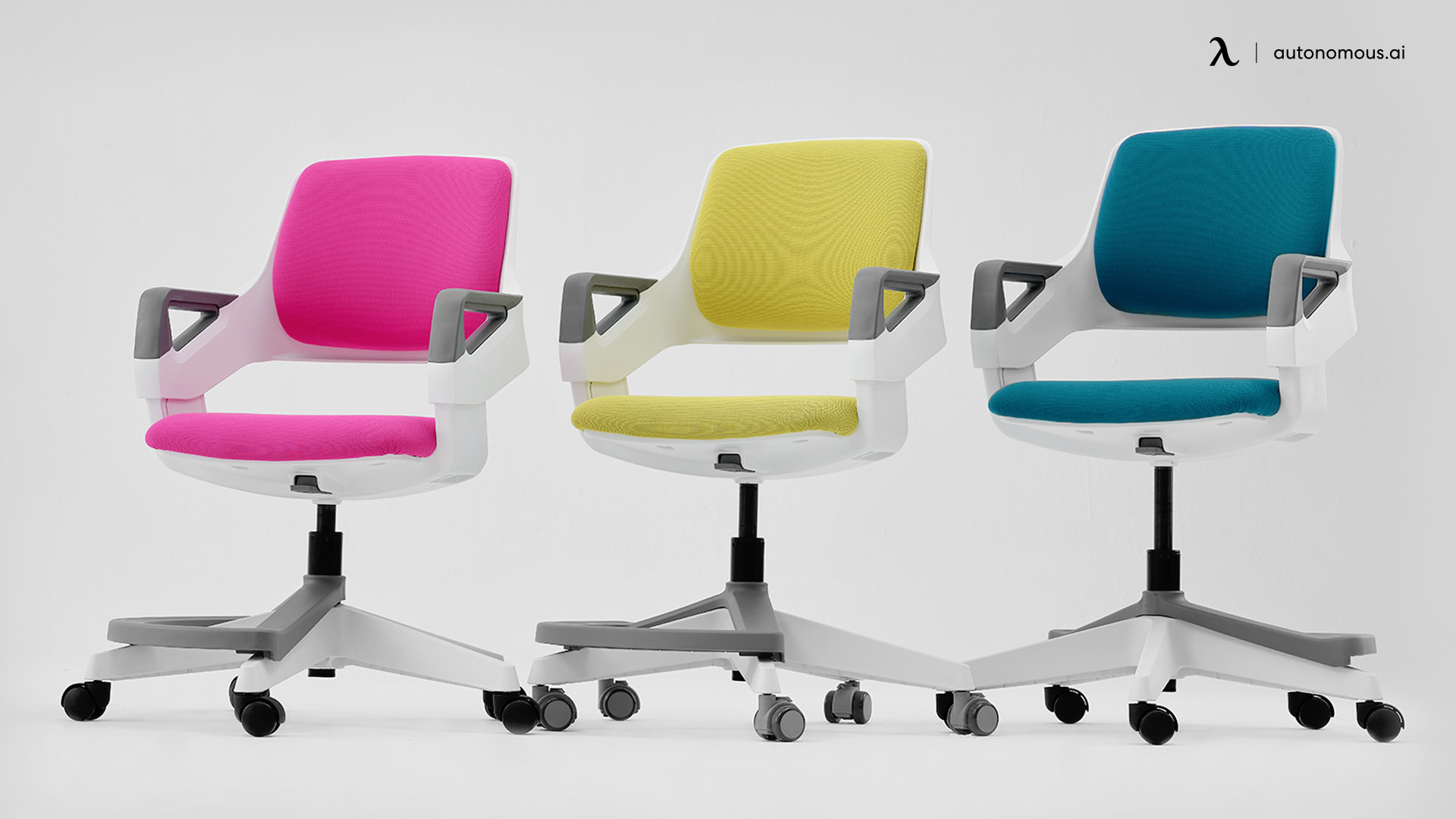 This chair can keep pace with growing children that are between 3'2" and 5'2" tall. It also has a detachable footrest to help younger or smaller children mitigate strain in their growing knees and to support their dangling feet. Pairing up this chair with a suitable children's standing desk can make the chair last for a longer time than usual.
With its entirely recyclable polymer shell and breathable fabric with memory foam, the ErgoChair Junior is one of the most comfortable ergonomic desk chairs for kids and the best kids desk chair you can get. It comes in three lively colors, dark blue, magenta, and mustard yellow, so pick the one that best suits your kid's home workspace.
2. SIDIZ Ringo Kids Desk Chair
The Ringo chair is an easily adjustable children's desk chair that adapts to their size and helps them sit in the correct posture. It features a backrest with four ergonomic options that leave more seat space for your kid and a height adjusting gas lift. You can easily customize the backrest and seat position with a circular lever on its side.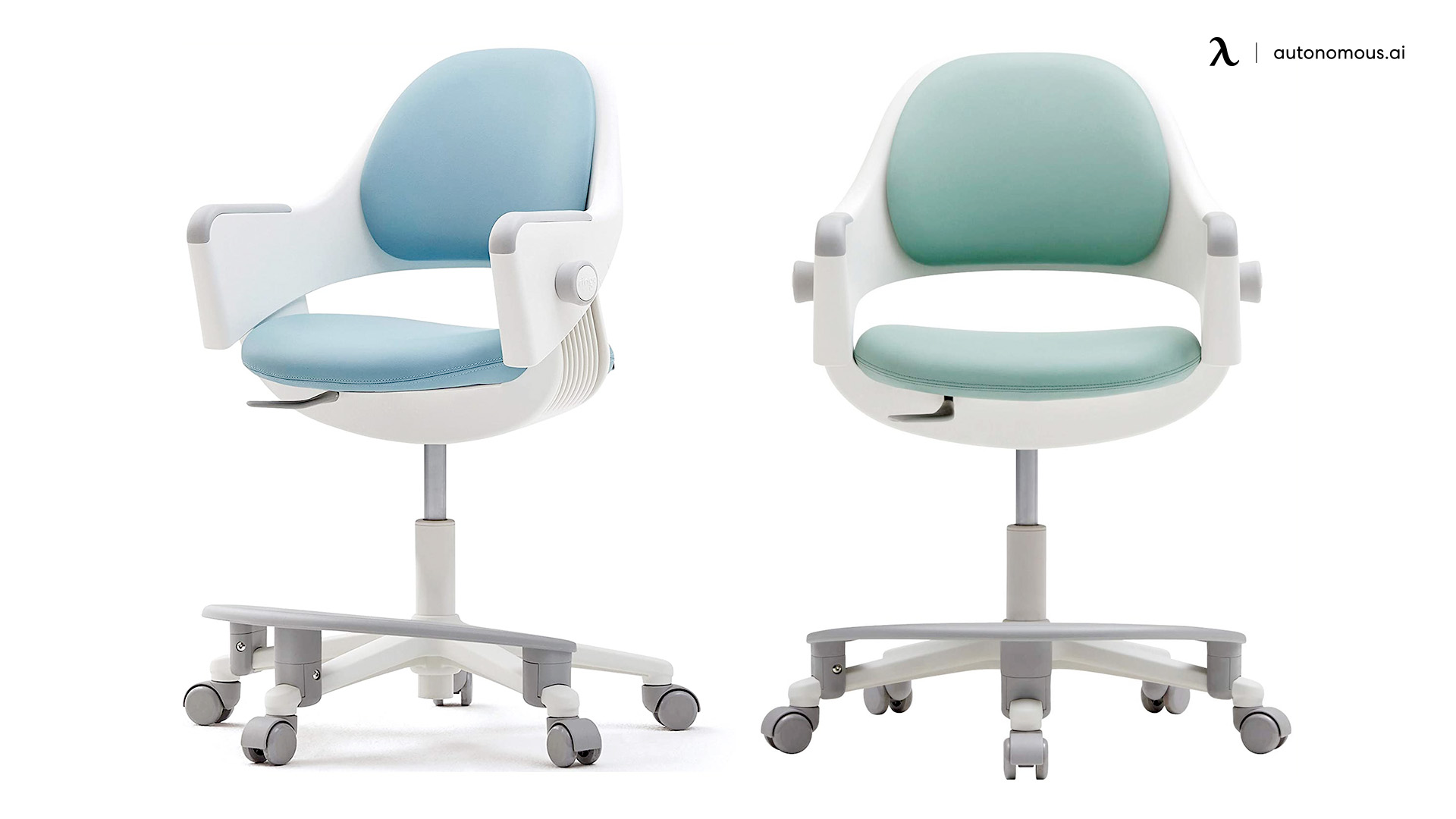 It has an intuitive design that's advantageous for kids, helping them find their correct posture by supporting healthy sitting habits. The chair comes with a detachable footrest that can help your child maintain their feet flat and their knees, back, and waist in a vertical position. It also has a sit-brake caster that stops the chair from moving once the kid applies enough weight.
This chair is ideal for children that are between 3'7" and 5'2" tall. The seat is comfortable, and the PU leather upholstery comes in three attractive options: mint green, lavender blue, and rosy pink. If you're looking to get a highly adjustable chair, the Ringo ergonomic desk chair for children is an exceptional choice of the best kids desk chairs.
3. SitRite Ergonomic Kids Desk Chair
The SitRite is a well-designed and one of the best kids desk chairs that works for kids of all ages. If you're looking for a fun office-style children's desk chair, the SitRite ergonomic chair is just for you. Kids often take after their parents, and receiving a chair resembling the one you use might thrill them.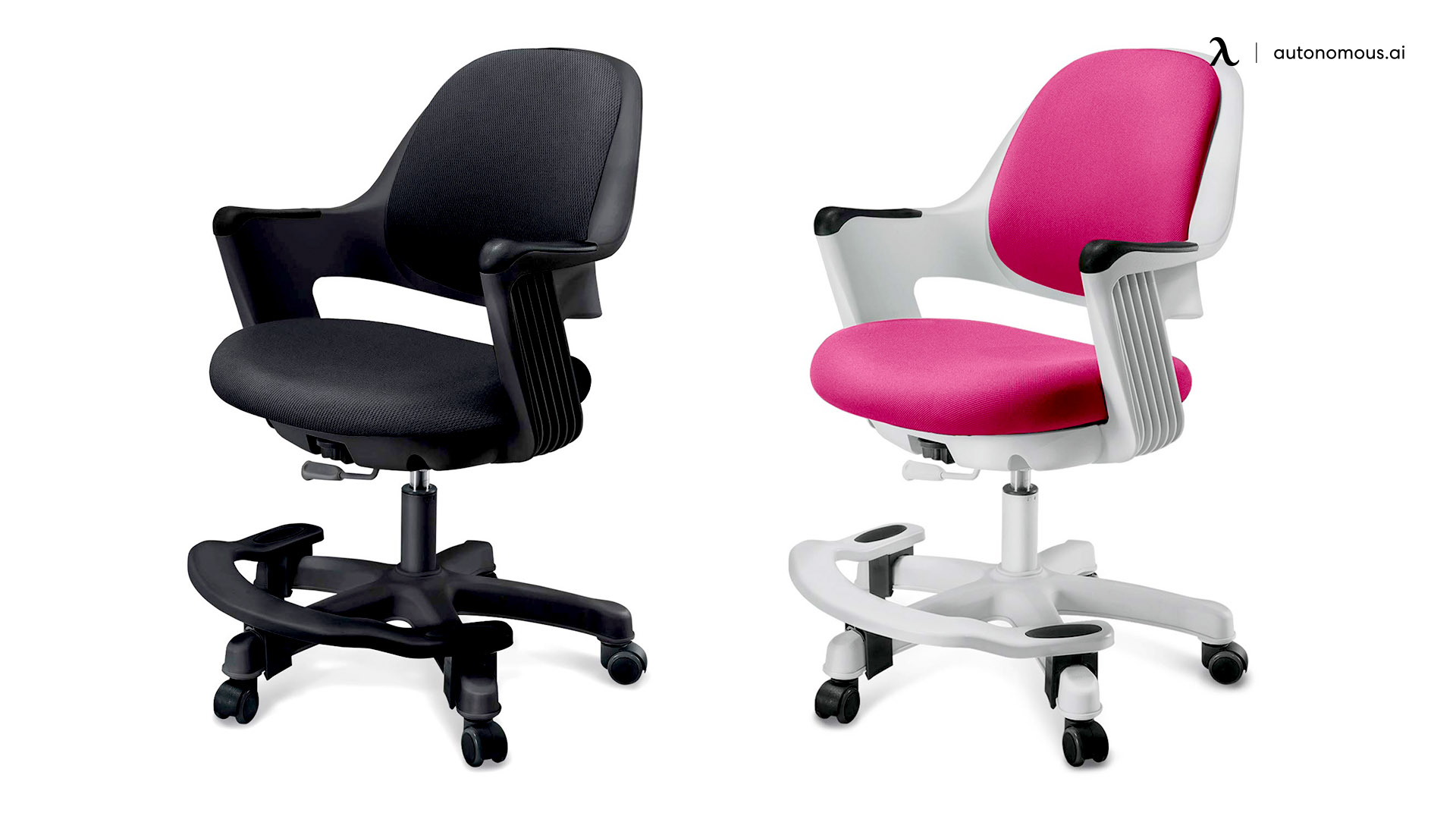 The chair has many ergonomic features that help improve your kid's ergonomic posture. It comes with adjustable seat height and depth and an optional footrest supporting kids on the shorter side. The chair also has lockable wheels, ergonomic rounded armrests, and a hypoallergenic block foam seat that makes it considerably comfortable.
If you're looking for a chair that has multiple design options, such as leather, fabric, swivel, and non-swivel, and a plethora of color choices, you can't go wrong with the SitRite kid's ergonomic chair.
4. ApexDesk Little Soleil DX Adjustable Chair
The Little Soleil children's standing chair is designed with their growth in mind. Your kid can independently adjust the seat's height, depth, and backrest with an easily twistable polypropylene lock knob.
Once the knob is open, the seat and backrest unlock, allowing you or your kid to slide them into the desired position along anchoring rods and lock them in place. The seat height is adjustable from 12" to 21" and the backrest from 21" to 32". It's ideal for children that are between 3'6" and 4'10" tall.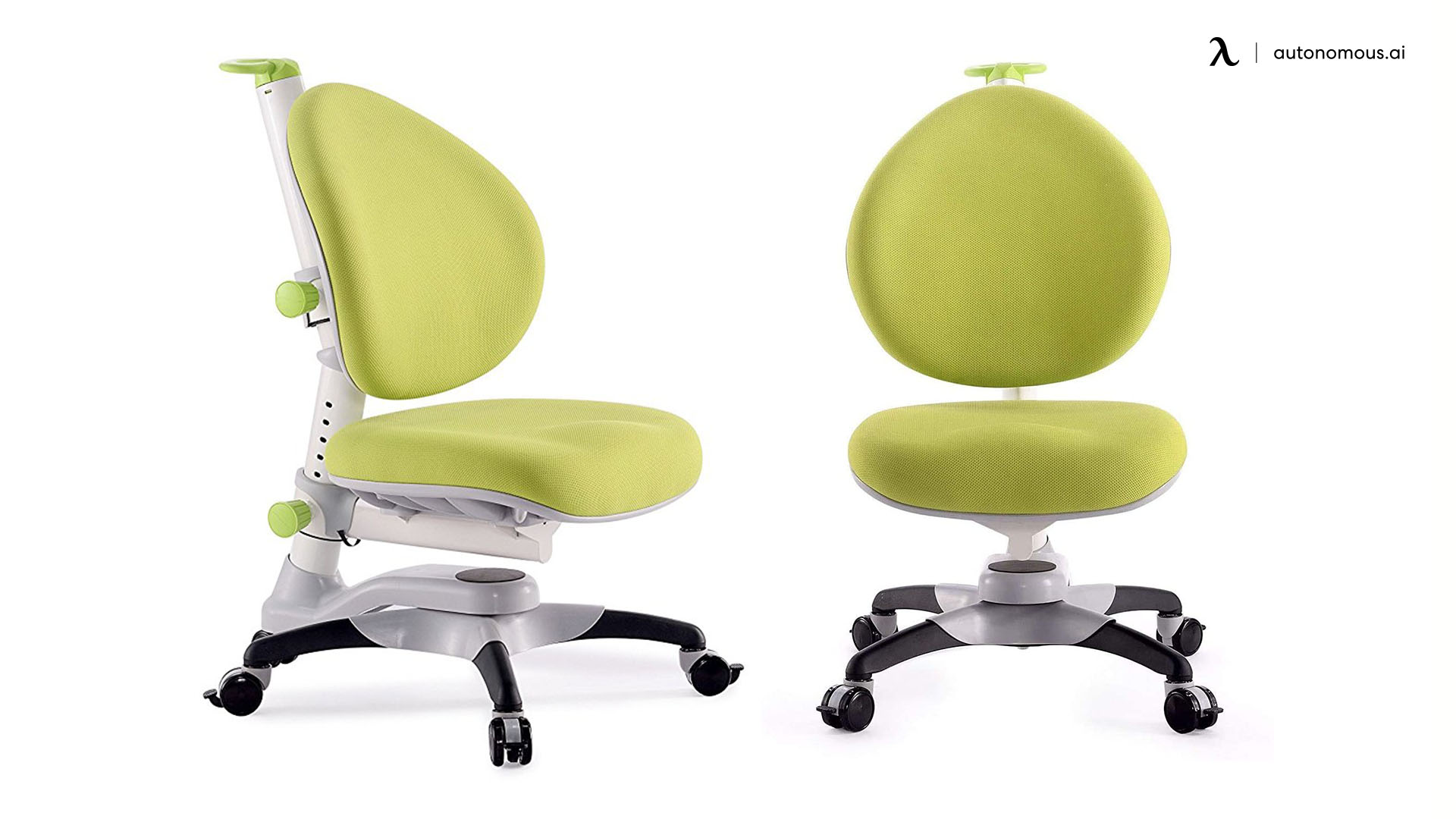 Its ergonomically contoured seat and backrest are significantly comfortable, and the steel frame with a five-star base ensures its durability. The chair also has locking casters and an optional anti-swivel lock. Overall, it's a great ergonomic desk chair for children, and it comes in three eye-catching colors: blue, pink, and green.
5. SIMBR Kids Desk and Chair Set
An alternative solution to getting the best kid's desk chair is purchasing a desk and chair set. The SIMBR main feature is that it comes with an adjustable standing desk, allowing it to keep up with fast-growing kids. It can satisfy children of nearly any age as it comes with numerous height options.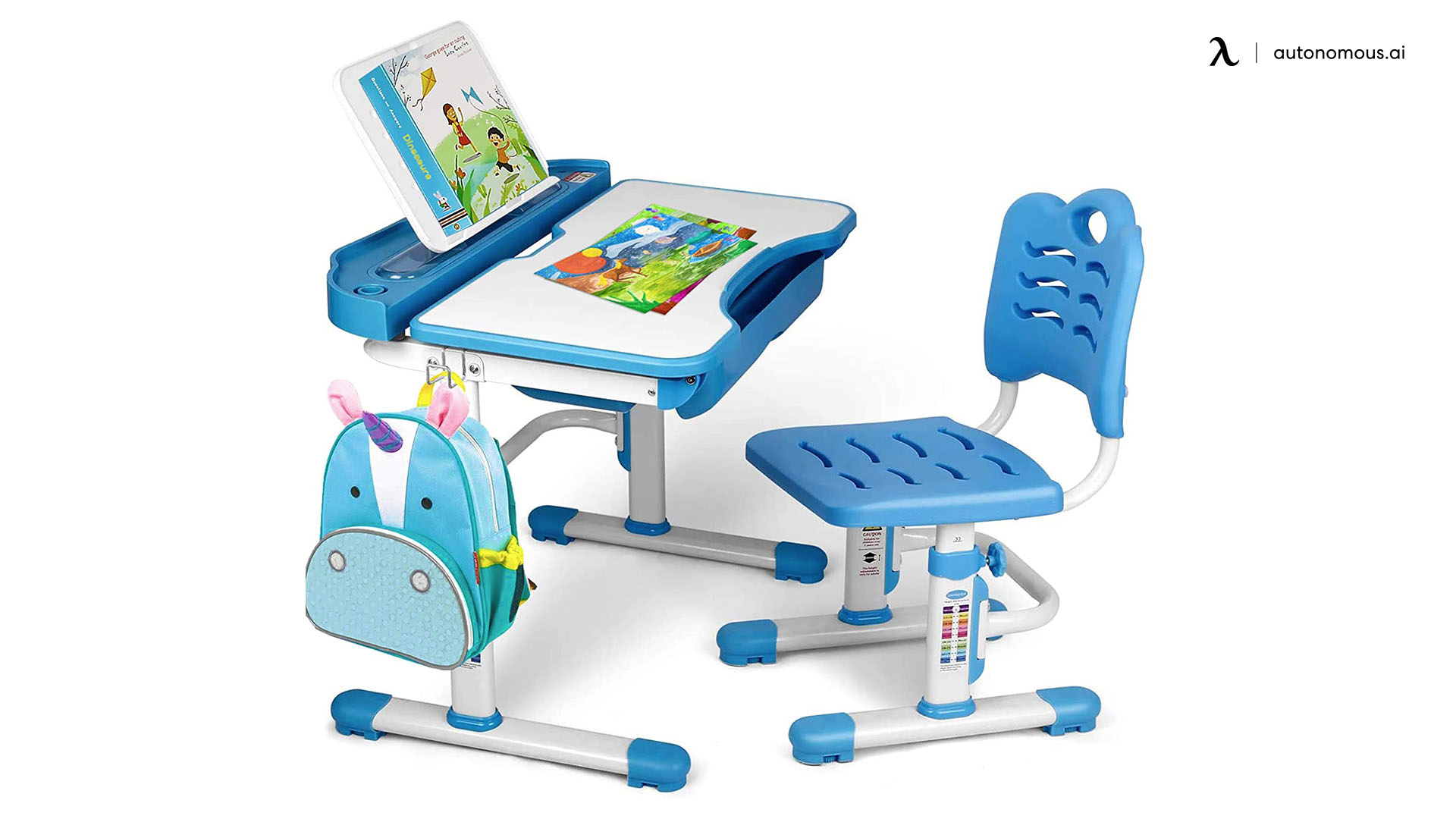 This best kids desk chair has 14 possible positions that alter the height between 21.5" and 30", while the chair has seven between 12" and 17.7." This desk and chair set works for anyone between 3 and 18 years old, but the design can become unappealing for the kid as they grow older.
You can tilt the tabletop up to 55 degrees, which lets you set an optimal angle for reading, writing, and drawing. It also prevents slouching and encourages a proper sitting posture. If you were also looking to get a desk for your kid, you could get this convenient set that comes in two colors, blue and pink.
6. GreenForest Children Study Chair
The GreenForest children's desk chair has a small and cute design. It can work in nearly every setting, whether it's the living room, a study desk, or a school computer chair, thanks to its useful features.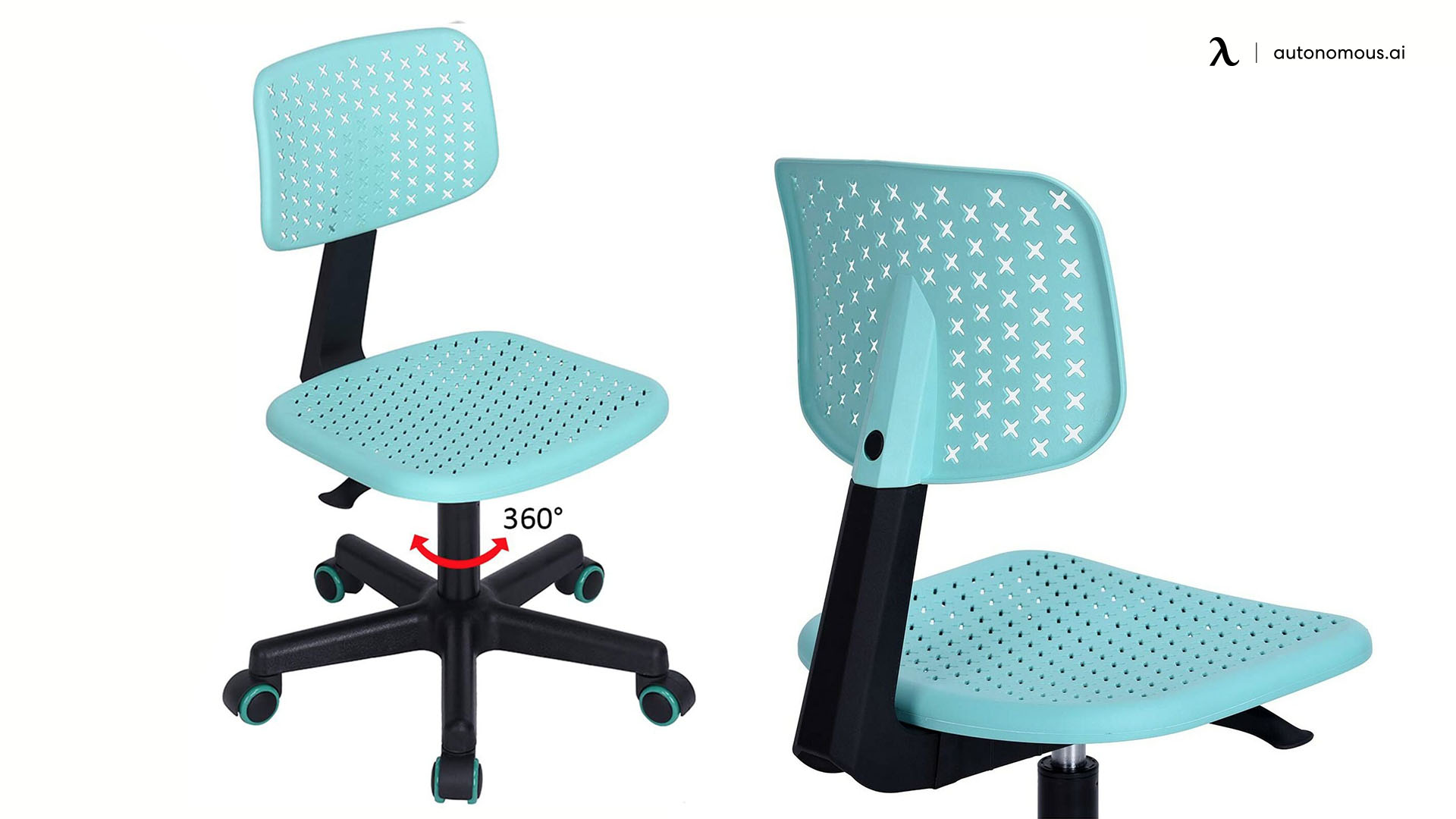 This chair has a 360-degree swivel, and it's easy to move thanks to its rubber PU wheels. It has pneumatic height adjustment, making it easy to adapt to your kid's stature. The seat is comfortable to use even after a long time because it's soft and thick, and the breathable PP back also helps by allowing air to flow through easily. Give your children a cute turquoise chair with a simple yet functional design.
7. QualiSky Child's Ergonomic Adjustable Study Desk Chair
This is another option of the best kid's desk chairs, Kids can spend plenty of time sitting just like adults, so it's important to give them a chair that lets them sit in a healthy posture. The QualiSky ergonomic desk chair for children can help them do that. Its ergonomic design makes the chair suitable for children of different ages as you can easily adjust its height and seat depth.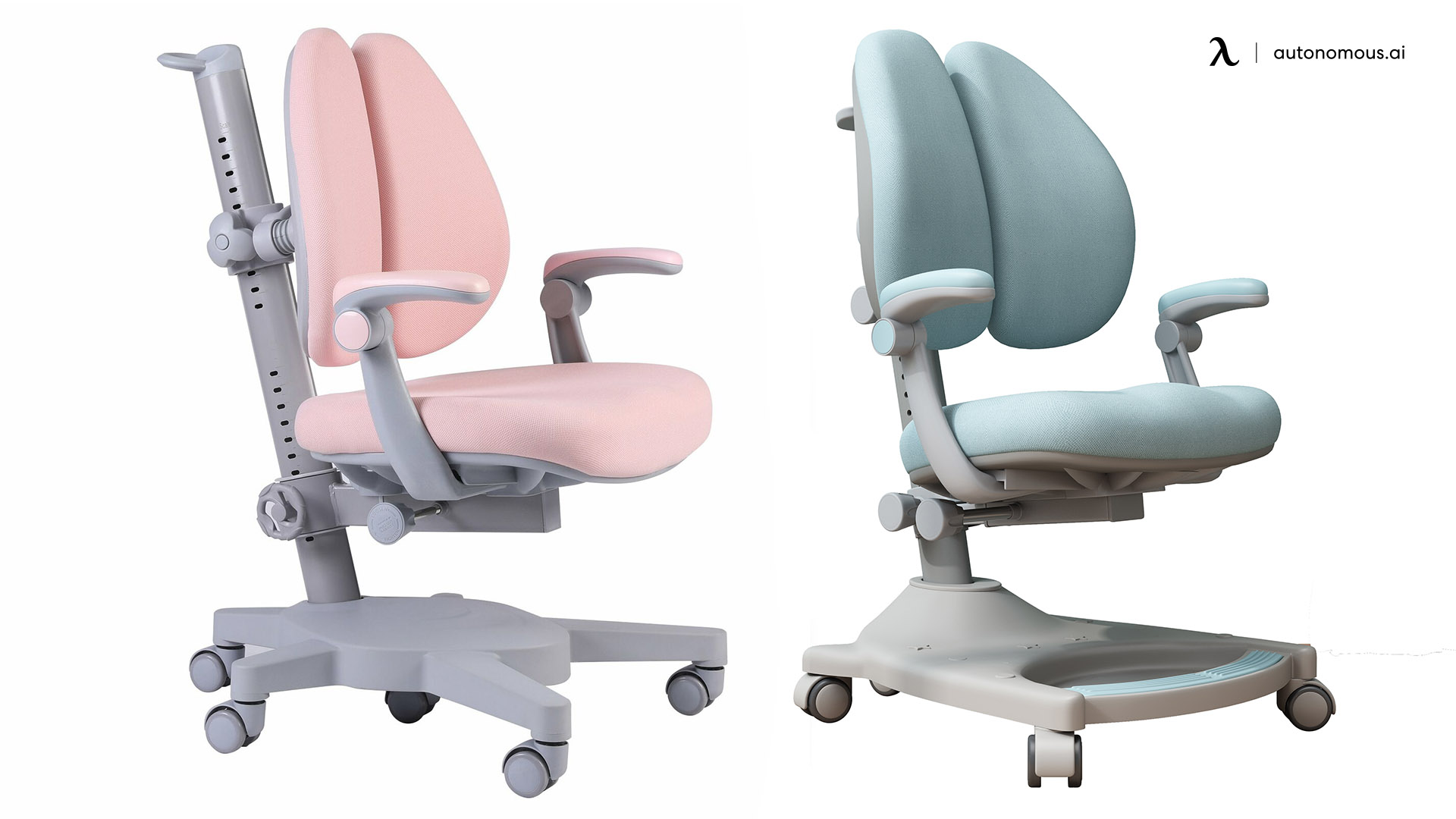 If your kid weighs more than 33 lbs, the sit-brake casters lock. This functionality, along with the lack of swivel, completely prevents the chair from moving. It helps your kid focus on the task at hand. The footrest and armrest provide further support and comfort to offer a better experience, and the chair's backrest and seat covers are removable and easily washable. It is such a unique gift for kids.
8. Office Factor Kid's Chair
The popular Office Factor is a simple, affordable, and ergonomic desk chair for children. Unlike other chairs, this one comes with a circular base and a three-star frame sitting on six casters. This aspect makes it considerably more stable and mobile than other options.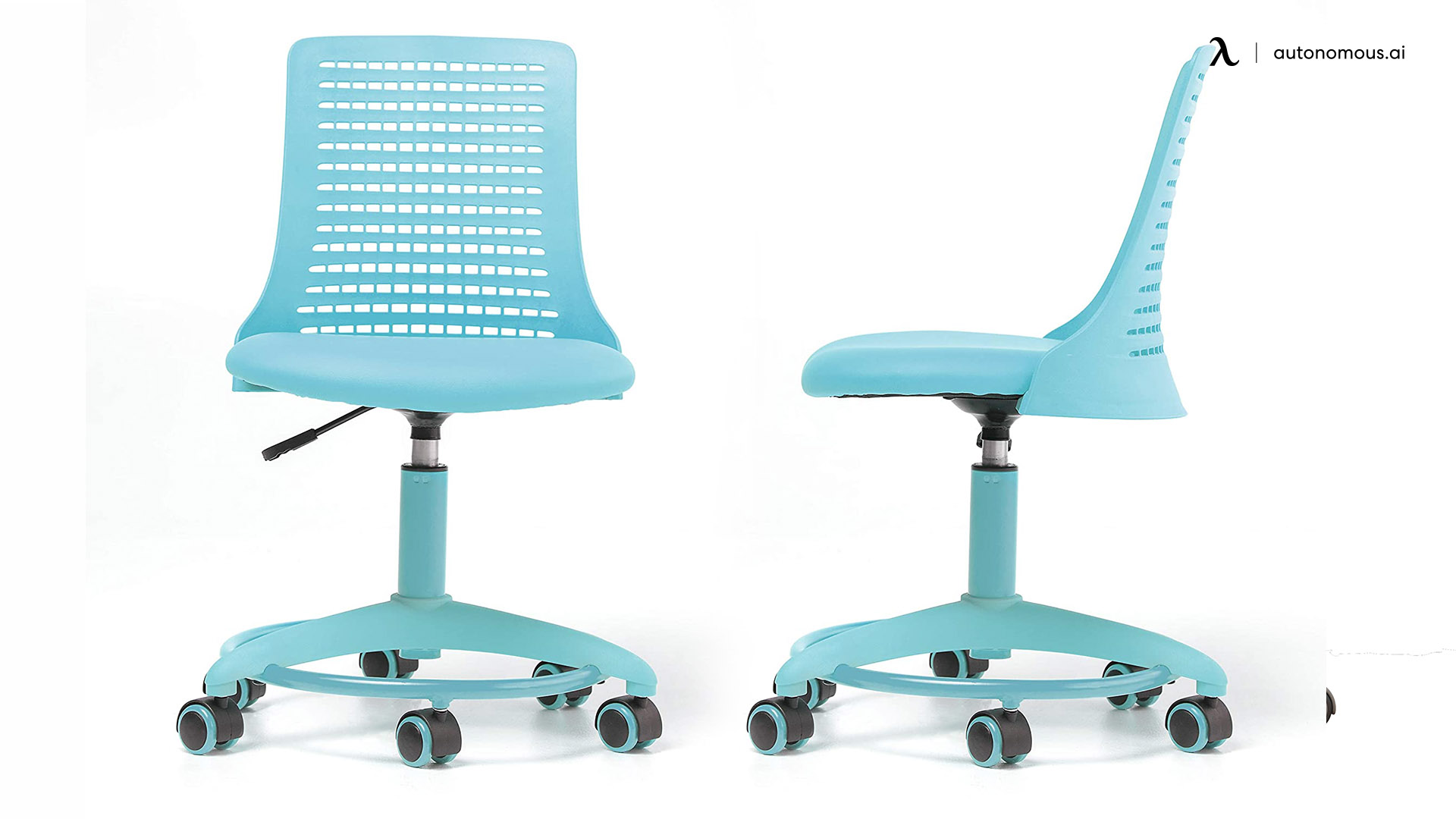 This best kids desk chair comes with a polypropylene mesh backrest. It works similarly to a mesh fabric, but it has a series of holes that increase ventilation. This chair can keep your kid cool throughout the day. The material can be rigid, and some might find it uncomfortable. Fortunately, the seat does have soft, comfortable padding.
It has four light color options, and its ergonomic design supports your kid's posture. While it isn't the best kids' desk chair, it's a great one if you consider its ergonomic shape and price.
9. Giantex Kids Desk Chair
This low-back computer desk chair is suitable for kids, teenagers, and even adults. It's the perfect addition for a children's room, a study room, and several other places. The chair's ergonomic backrest contours your kid's back and provides comfort even after prolonged use, thanks to its comfortable lumbar support pad. It is a good option to combine with a height adjustable desk for kids.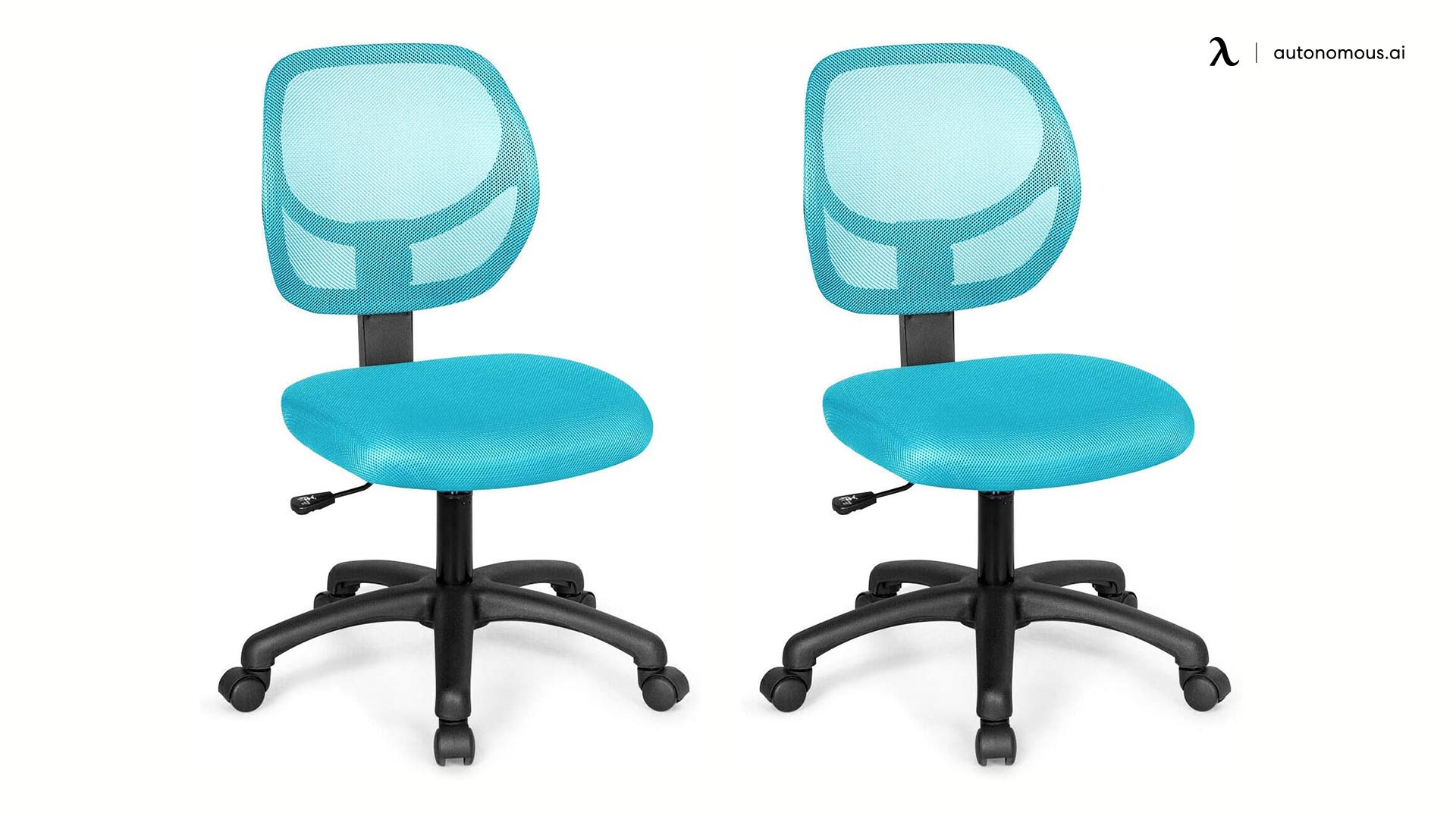 This kid's ergonomic chair doesn't have many ergonomic features besides height adjustment, but it does have a breathable mesh fabric for its seat and backrest. It can keep you cool and comfortable, thanks to the seat's high-density sponge as well. The chair is easy to move as it has a 360-degree swivel and smooth casters.
Although the chair is pretty lightweight, it's significantly sturdy. This children's desk chair can serve your kids for a long time and endure many years of abuse, making it an excellent pick for parents that want lasting furniture.
10. Gaiam Kids Balance Ball Chair
If you want an alternative option to your typical ergonomic desk chair for children, the Gaiam exercise ball chair may be the best choice you have. This healthy and fun chair can improve your kid's concentration and focus at home. It's great for kids that are too fidgety, preventing them from getting too bored and restless.
This best kids desk chair improves overall well-being and posture by promoting a dynamic sitting experience. It's meant for children between five and seven years old, or between 3'6" and 4'3" tall. The chair is an excellent alternative to a kid's ergonomic chair, and you can choose from several ball and frame color combinations.
The Bottom Line
There are numerous desk chairs for children, but you can trim down the list by looking for some essential features. Every chair mentioned is a great contender for the best kid's desk chair, but there is always one best suited for your kid if you consider their particular circumstances. Choose the chair that adequately fits your child's necessities and provides them with many years of comfort and enjoyment.
Subcribe newsletter and get $100 OFF.
Receive product updates, special offers, ergo tips, and inspiration form our team.
WRITTEN BYAutonomous
We build office products to help you work smarter.