Works of art can result from modern office design. In today's office, we're no longer confined to cubicle mazes under flickering fluorescent lights and eggshell-colored walls. A modern concrete home office, by contrast, encourages creativity and boosts morale with open, sunlit spaces and splashes of color. Here's what you need to know about the benefits of a modern concrete office design or if you simply want to spice up your mundane workspace.
Concrete no longer looks raw or unappealing as it once did. Concrete's practical and sturdy properties are subtly combined with elegance and style thanks to new concrete office décor designs and casting methods. Furthermore, concrete offers some advantages to homeowners that contribute to its increasing popularity. This article will explore the elements of modern office design and illustrate the latest trends to inspire you as you plan your next concrete office building redesign.
Why Concrete will Stay Trendy
Previously, concrete served as a material for building outdoor spaces. It made sense to do so because it was practical for making driveways, sidewalks, patios with little to no design element. Today, however, designers think that concrete is anything but uninspiring and boring. 
Material designers think the material is versatile because it allows for a variety of different designs to be created. The greatest advantage of this material is its versatility and ability to take any shape. Many cost-saving alternatives to expensive installations can be made with concrete when a little creativity is applied.
This dining room shows that you can mix concrete with other materials to create interesting effects. Inset tiles create a rug-like pattern. You can fit various materials like tiles, stones, wood borders, metal trims, and glass elements during installation. Wet, fluid concrete is poured into molds or application areas and then left to dry.
Other than versatility, the actual concrete material is very easy to maintain once set up in your home office layout. Many of the concrete applications that you choose to purchase — coffee tables, desks, and even walls come with a certain level of polishing, sealant and are properly stained so that they require little maintenance and last a very long time. Before you buy them, always ensure that you know how to maintain these specific items — this information will be listed on the seller's website, the manufacturer, or even online. Usually, just dusting away the debris or washing the surface down with a non-abrasive cleaner is one way to maintain your concrete items.
Concrete Office Design Ideas
1. Concrete wall office
The concrete wall was mixed with other materials in this dining room to create an interesting effect. There is a tiled rug feature inset into the wall. Since you can mold concrete while it's still wet, it can feature a variety of materials incorporated during installation, including wood borders, stone tiles, and metal trim.
Tile is often the first thing that comes to mind when it comes to protecting your concrete floor office design from moisture. Concrete wall treatments are another method for waterproofing walls and giving them a serene feel.
If you want seamless consistency, you can use it all over or use it in targeted areas, such as door frames and window frames. Making a few seamless niches that serve as shelves for your smart office gadgets out of a fully concrete wall may be possible.
2. Concrete garden office
Concrete's simplicity creates an architectural edge that is not overwhelming yet makes for stunning waterfall edges. The countertop material may be used for all countertops, or just the island, contrasting with another material used on the main counters, like quartz or granite.
An office desk made of concrete office design might look like a big concrete block in your garden. You can soften the look by adding sumptuous leather chairs at the side and a rug with rich patterning. Additionally, the contrast between the cool gray concrete and brass is beautiful. Lighting fixtures or home office essentials in geometric shapes purchased through our student purchase program would make a nice addition to your home or desk.
3. Light fixtures
Other ways to incorporate concrete into your home are through light fixtures. Pendant lights are a great way to add just a small touch of new material in an unexpected place. They hang just above the desktop, adding character to your room, workspace, rustic wood surfaces, or modern appliances. 
4. Floors
This section will discuss concrete office design as a flooring material since here are some of its biggest advantages and disadvantages. It is very quick and easy to install concrete floors compared to tile floors and extremely durable since they are impervious to liquid spills and difficult to dent. Concrete is a popular flooring material for architecturally inclined homes, allowing the use of single flooring material in all rooms to create an elegant sense of harmony.
You could also paint that concrete floor if you want to make it look nicer! It will look great whichever color scheme you choose. It's a great chance to express yourself creatively. You're done! Seal the paint once you're done, and it will be protected. Congratulations! You've now got a perfectly personalized floor.
5. Seating
A concrete-colored office chair is great for a garden party, as a side table by the tub to set a glass of wine down on, or for adding another side table next to the bed or sofa. Concrete is also a great way to add some texture to a softer room, as you can see here.
Seating for outdoor areas must be able to withstand not only wear and tear (and ketchup spills) but also the elements. Outdoor chairs are an excellent choice because concrete is a natural fit for outdoor use.
Although concrete-colored chairs are beautiful outside for your concrete office design, they can also be gorgeous inside this Scandinavian room layout. If the top is concrete, a table with wood legs will provide visual, material, and literal balance so the whole look isn't too overpowering.    
6. Structural elements left exposed
Concrete is commonly found in houses, so why not take advantage of it? A professional can help you understand what materials are likely hidden behind your drywall, regardless of whether you're building or renovating your modern home office ideas. Concrete ceilings or unwrapped columns can add a bit of "edge" to a space while also making the space seem larger by peeling back the layers.
Video ads for product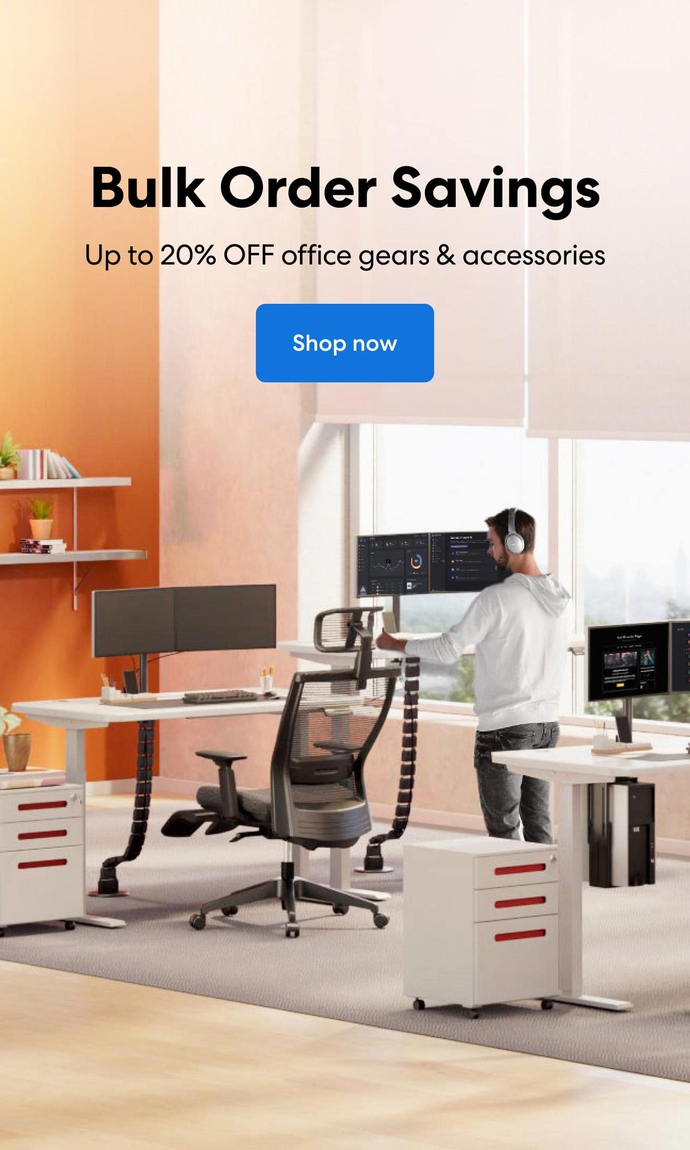 Subcribe newsletter and get $100 OFF.
Receive product updates, special offers, ergo tips, and inspiration form our team.