Workplace Inspiration
Easy Tips to Create a Modern Cabin Interior Design

Autonomous
|
Apr 16, 2023
1,085 Views
Have you ever wondered why people love cabins so much? The answer is quite simple. They evoke memories of our childhoods, stories, or fantasies and are more than just a place to call home. These buildings represent a getaway from the contemporary world, whether in the mountains, on the coast, by a lake or river, or even in our backyards. 
Cabins make us think of the simpler times of interacting with nature, having outdoor activities, and enjoying the little things in life. In these places, people are encouraged to slow down and get to know one another, creating lifelong memories you will cherish forever. Even if the cabin isn't too elaborate, its aesthetic and overall vibe will surely exude friendliness and warmth. 
Today, ancient, rustic cabins are being renovated to reflect a more contemporary design that still feels homey and pleasant but lacks the old animal motifs we would have seen ages ago.
However, if the decoration of your cabin is more rustic than modern, don't panic. There are several simple methods to modernize your cabin and give it a more fashionable look. Keep reading for easy, low-cost modern cabin interior decor suggestions. 
What to Consider Before Decorating a Log Cabin Interior?
When you start your redesign, it is crucial to be aware of the frequent mistakes that DIY designers make. Although every room you build or decor is prone to flaws, cabins have a few particular issues that homeowners should avoid. 
Excessive wood in a room is one of the most frequent challenges when adopting a modern log cabin interior design. Regular cabins are well known for their log-lined walls, rustic hardwood planks, and timber beams, but this can give the interior a small and dark look.
Use light, vibrant textiles, furniture, and décor to tone down this overabundance of wood. Consider including these features in your design, or you can even add a stone or brick fireplace to help divide the room. 
Another problem that comes to mind when remodeling cabins is that it might be difficult to distinguish between adorable and tacky when it comes to log cabins. Although many cabins have a natural, rustic beauty, owners often overdo it when decorating and end up with an excessively themed room. Too many rustic furnishings, dark woods, and trinkets might clog and overpower the room. 
How to Make Your Cabin Look More Modern?
Cabins emit a sense of coziness, warmth, and comfort for the fortunate homeowners who enjoy the peace and tranquility that comes with them. Nonetheless, when these places aren't properly furnished, they become gloomy, tacky, and overbearing. It might be difficult for homeowners to build a lovely, contemporary room because there are so many earthy textures and dark colors to choose from. What you really need is a modern twist on that old rustic cabin décor that will make the space brighter and bring back that cozy, comfortable feeling you love. 
Use Light Colors
Dark materials, such as paneling, earth tones, and dark wood, are frequently used in old cabins. All the wood utilized in modern cabin interior design is a recurring problem. Dark wood, rough flooring, and wooden beams are some of the most used design choices in traditional cabins; while these features can look good on certain occasions, they can sometimes give off an antiquated and heavy impression. That isn't exactly the ambiance you would want in a place that's meant for you to unwind and interact with your loved ones. 
Our best advice to fix this is to start with the basics to brighten up the cabin: consider painting the fireplace, cupboards, or walls with a nice white or pastel color to add brightness. Moreover, making the walls' backdrop more neutral is a simple place to start. In order to give the cabin interior design a brighter, more airy vibe, you can take inspiration from the Scandinavian style. 
Brighten Things Up
Think of all the lighting options you see whenever you go to the home section of your favorite store. Adding any of those pieces can completely change the look of your cabin interior design by bringing in more light and providing a pleasing contrast to the room's dark timber tones. 
Contemporary lighting incorporates rounder shapes into your design, breaking up the straight lines of logged walls and plank flooring. Some great examples are drum pendants and spheres. Look for striking pieces with rounded or asymmetrical forms to make your decor draw more attention from guests. If you want to add elegance, don't hesitate to choose multi-lighting options, such as pieces with many hanging lights or chandeliers. 
Use Sheer Items
Examine the furniture and curtains in the area and replace heavy or dark drapes with thin linen or cotton drapes. Also, if privacy is not a concern, you can omit window coverings entirely for a light, airy appearance. It is a great idea to incorporate natural light whenever you can. 
In order to quickly brighten up a dark armchair, couch, or dining chair, slipcovers are your best choice. 
Moreover, open shelves can replace hefty kitchen cabinets for a lighter atmosphere. 
Glass and Mirrors Are Your Best Friends
If you want to contrast the rustic materials often used in log cabins, mirrors and glass accents are the perfect lightweight and delicate alternative, as they create an intriguing contrast across the room. The horizontal lines of log cabin walls contrast best with round and elliptical mirrors but feel free to include older pieces to fit into the rustic theme. Mirrors also serve as excellent light reflectors, giving the rooms a lighter and airier look. 
Moreover, glass furniture, vases, and decorations can create a calming and elegant look in your house. Remember to make the most of the windows, which are the most spectacular glass element you can include in your cabin. Use large windows as a statement element in your design, and place furniture around them in a way that doesn't block off natural light. 
Choose The Right Rugs
Light-colored materials make a cabin interior design feel more airy and welcoming, as they tend to reduce the gloomy and imposing feeling. Soft beige, cream, or gray rugs can brighten the space and give it an airier and even bigger effect. Lighter couches, bedspreads, and chair textiles can also help to add life to a dim area. 
Using earthy neutral colors, such as green, taupe, navy blue, and other soft tones, can help you honor the building's rustic, natural beauty while adding a pop of color to your modern cabin interior design. 
Clean Up
Nothing makes a room feel more crowded and old than clutter. You don't have to be a strict minimalist, but an open, airy area encourages a calmer, more laid-back atmosphere. In order to start cleaning up your room, look for anything that can be reused, recycled, or put away and organize all items that way. 
A clean look is the best option for a minimalist room, or minimalist modern cabin interior design,  as this look uses natural materials and earthy hues to provide warmth and friendliness. It might be the ideal shed house idea for you. 
Mix and Match Colors and Textures
Mixing the rustic feel with modern touches allows you to remodel your modern cabin interior design and create a snug yet stylish house. Don't be afraid to combine contemporary lighting with vintage furniture or white leather sofas with intricate rugs. Discovering the harmony between modern design and rustic furnishings will allow you to relax and unwind in a comfortable, opulent area that oozes serenity. 
Use Plants
Plants inject vitality and energy into your house, while statement colors, such as blue and red, can make everything look much more vibrant. Using plants of various shapes and sizes is an organic and underrated method to add color and texture to your design and break up all the neutrals. 
Living in a cabin means going outside and spending time in nature. Therefore, let the natural surroundings of the cottage serve as inspiration for your décor. Basic natural decorations, such as stones, plants, flowers, and branches, can give the modern cabin interior design a homey, organic atmosphere.
Additionally, wicker baskets are a lovely accent to store cabin accessories, such as blankets or extra layers. 
You can also stack wood as an artistic endeavor outside or inside the cabin to fulfill your relaxing backyard ideas.
Use Neutral Colors
You can make your cabin interior design look brighter by using a neutral color scheme. In contrast to strong or dark hues, white, cream, and gray all offer a neutral backdrop and a more peaceful impression. 
Using neutral colors is not as dull as you would imagine. You can add cushions or other decorative items that serve as perfect little colorful decorations that will draw your eye toward them. This way, you can showcase your personality through interchangeable, lower-cost items. 
Use Vintage and Modern Items
Wool camp blankets, thick knit throws, and comfortable sheepskin rugs are the epitome of the modern modern cabin interior look. A great option is to give the cabin organic textures to add warmth and intimacy. After all, that is the main focus of modern cabin life. 
Antiques and family treasures have a special place in a rustic environment, but luckily for you, they go well with contemporary elements. Combining the old and the new is a wonderful approach to paying tribute to the cabin's past. 
Consider creating an old-fashioned black-and-white family photo gallery wall on a picture ledge or putting Grandma's plates on contemporary open shelves. Like any other house, your cabin interior design should showcase your identity, so don't be afraid to put up your beloved vintage items and other backyard entertainment ideas. 
Build Your Own ADU
If you've ever wanted to build your own ADU but are unsure of where to begin, you must know all the factors that might affect the price of putting your ADU together. Owning an ADU can have many wonderful advantages if you don't have enough room at home to store your belongings. 
This section is meant to explain everything that must be considered when building an ADU and why the Autonomous ADUs series could be the best choice for your tiny backyard ideas. 
The materials you use for your prefab accessory dwelling unit are one of the most important considerations because, naturally, some cost more than others. Simple vinyl buildings tend to be the most affordable material, but more durable metal structures will need more budget, as well as wood and stone. 
You should also be aware of how the ADU's design may impact the price. Typical garden ADUs tend to be the cheapest option, whereas storage ADUs and open-stall ADUs can cost much more. 
In order to build an ADU on your land, your contractors could require state permissions, which you will need to pay out of pocket. This will be directly impacted by the cost of labor and your location. However, most contractors don't charge exorbitant rates. 
Autonomous StudioPod
If you don't want to deal with the hassle of home repairs and renovations, your best bet is to install our StudioPod. You will be able to live, work, and unwind in this fantastic and modern prefab studio. 
The StudioPod features a high-tech electrical installment to connect anything you wish and change the light's color to suit your mood. You can sit back and relax in this magnificent room away from home, but you can also use it for anything you wish.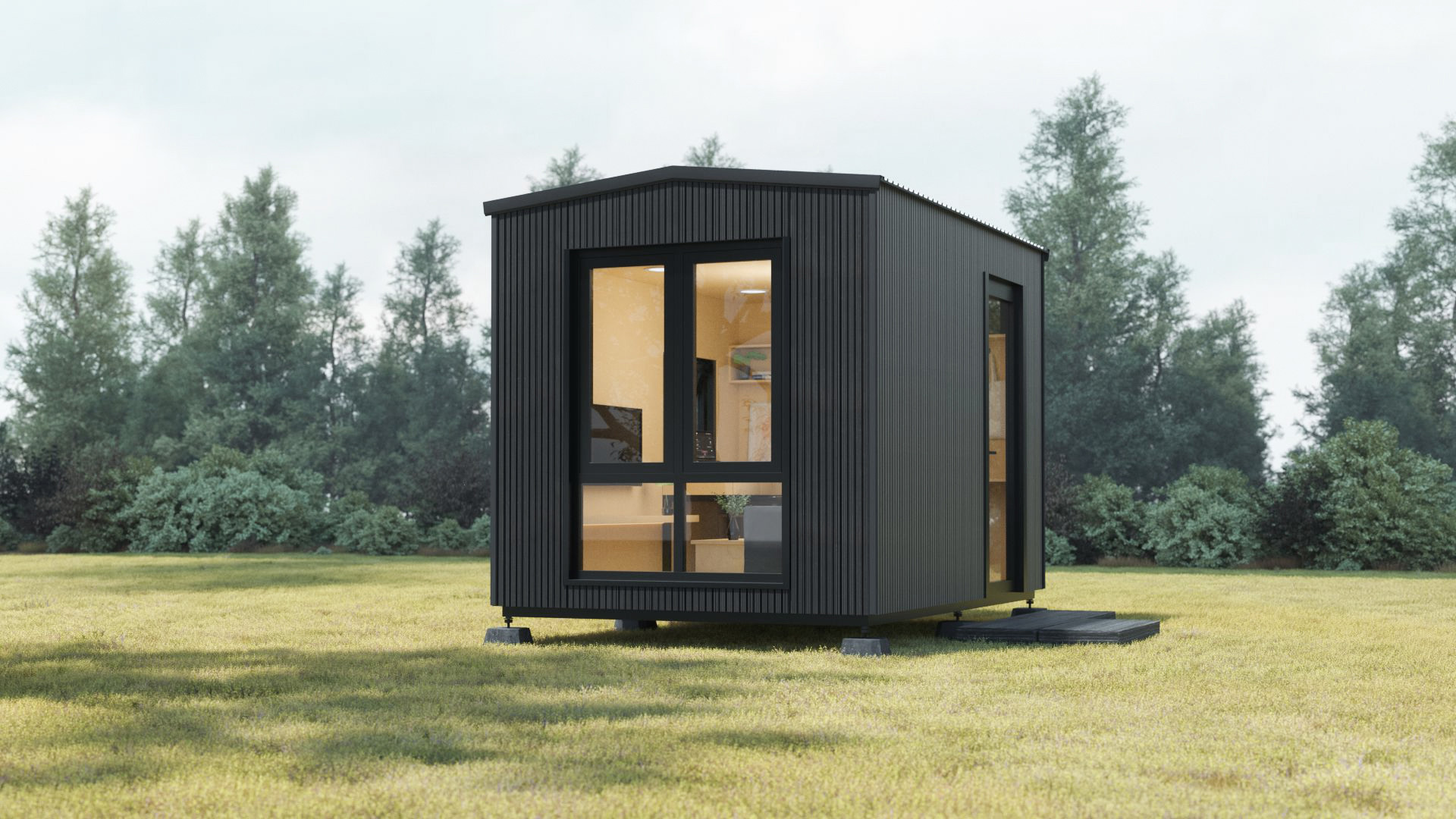 Dimension
8'4"W x 12'6"L x 9'10"H
Floorspace
105 square feet
Ceiling height
7'3"
Weight capacity
2.9 tons
Pedestal
18"W x 43"L x 7"
Window & door material
Powder-coated aluminum,  5/16" tempered glass
Material
Siding: plywood 1/2", steel frame, honeycomb paper, plywood 3/8", bitume, housewrap, vinyl siding
Roof: roof shingles
Floor: plywood
Pedestal: steel frame & wood plastic composite
Electrical devices
RCB, Wall outlet, Ceiling light switch, Ceiling light, Ventilator switch, Ventilator, Ethernet wall port, 66ft power cable with 2 connectors
Include
Optional: Cabinet, Desk, Small & Big Bookshelf, TV Shelf, Foldable Sofa Table, Convertible Sofa Bed. Always included: Electrical Cabinet
Power input
Maximum voltage : 110V AC (US standard)
Maximum current : 25A
Maximum power dissipation : 2750W
Autonomous WorkPod
With glass doors extending from the ceiling to the floor and soundproof construction, the WorkPod ensures you'll never feel trapped in a room, as you would with a regular DIY cabin. 
Moreover, this office pod is perfect for home office workers who don't want to deal with the burden of a daily commute after work since you will only be a few feet away from home. 
Dimension
8'6''W x  11'9''L x 11'H
Ceiling height
6'10'' to 9'4''
Window material
Wooden frame, 5/16" tempered glass
Door material
Anodized aluminum frame,  5/16" tempered glass
Material
Siding: bitumen, housewrap, vinyl silding
Roof: bitumen, housewrap, shingles roof
Floor: plywood
Balcony: composite wood
Include
Optional: SmartDesk Connect, ErgoChair Pro+, Dual Monitor Arm, Cable Tray, Steel Cabinet, Anti-Fatigue Mat. Always included: Electrical Cabinet & Bookshelf
Floorspace
98 square feet
Capacity
2.9 tons
Bottom Line
Modern cabins and ADUs are fantastic additions to any house. They provide an extra space where you can rest and enjoy doing your favorite hobbies without being bothered by anyone else. Luckily for you, here at Autonomous, we have a wide variety of prefab house additions to choose from, and you can always check them out on our page.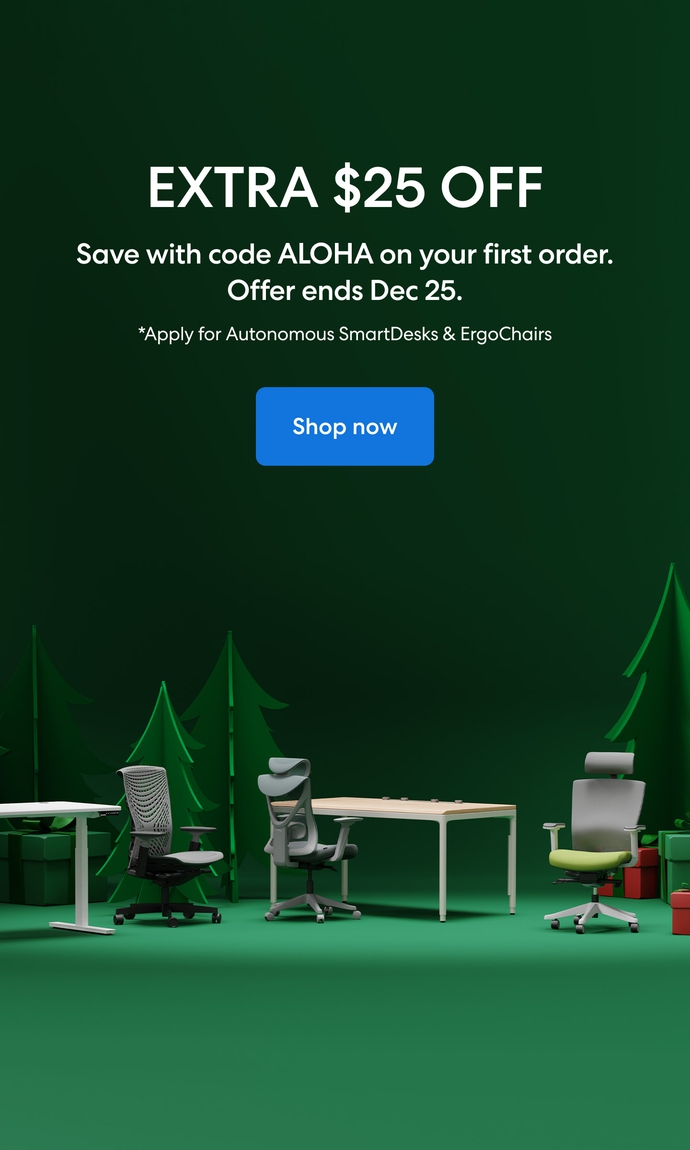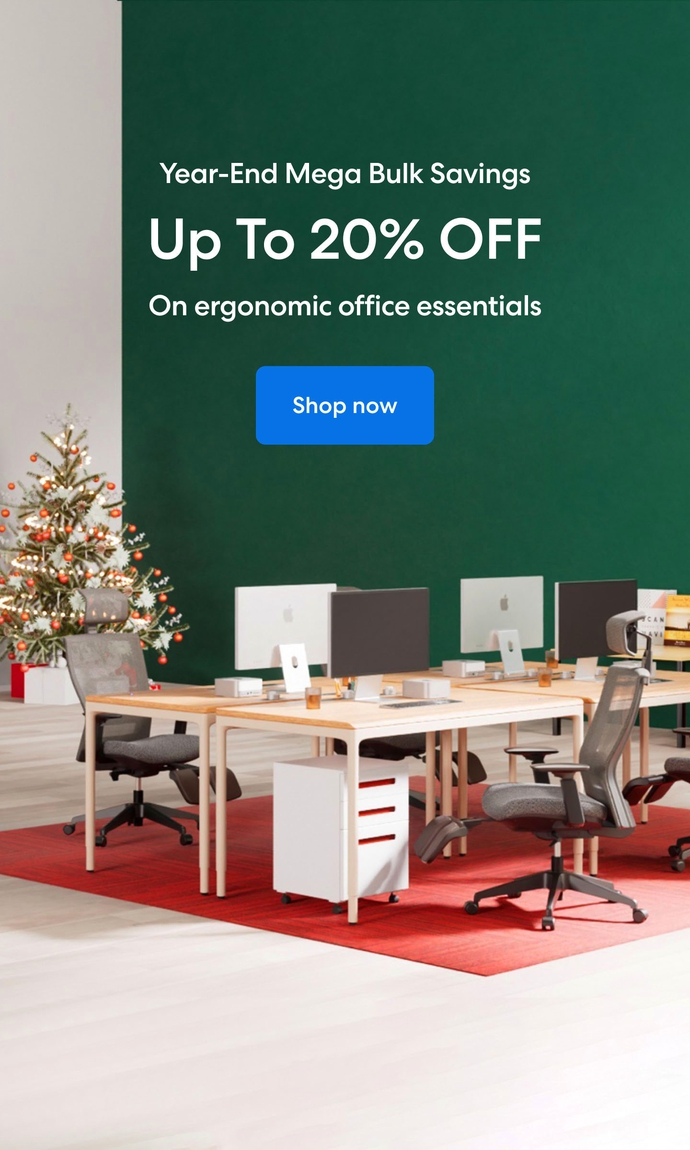 Subcribe newsletter and get $100 OFF.
Receive product updates, special offers, ergo tips, and inspiration form our team.