Workplace Inspiration
Creating a Functional Home Office to Boost Your Morale

Autonomous
|
Oct 28, 2021
1,776 Views
Morale. There's something extra employees use, so they don't look like zombies when they get to work. They are therefore more productive and motivated. Keeping them motivated is how you maintain a good employee retention rate. One can do that by establishing a positive working environment, a functional home office, and fostering a company culture that boosts morale.
Ways & Tips for Creating a Functional Home Office
1. Consider investing in new tools
A happy, functional home office environment is critical for a productive workplace, and if you work from home, this means investing in an enjoyable home office. Think about how much time you spend here: so you should be comfortable in every aspect of the functional home office ideas you're incorporating.
Then, invest in some furniture and equipment for the functional office décor that will allow you to perform your duties more efficiently. You can handle any task, even on the worst days, by having a comfortable chair, a beautiful desk, and an adequate PC. There are other ways to accessorize your functional home office layout: such as an oil diffuser for your favorite scent or speakers so you can listen to the music of your choice.
2. Choose a good location
If you want to create a perfect workspace, you need to choose a dedicated workspace first. You should try to have your workspace near a window (or near a window), as there's nothing better than straining to see your work! It is also important that this area be quiet with some privacy, especially if you have young children, pets, or roommates that are exceptionally noisy. You could create the ideal work-life balance even if you live alone with these work-from-home office ideas.
3. Separate work from personal life
It will help if you separate your work life from your home life, even at home. For example, consider separating your ergonomic home office setup from the rest of your house. In addition, you might gain some professional privacy if you designate a room for only work or segment a room with a door or curtain.
With the rise of remote working opportunities, coworking spaces are becoming more popular, and they're an excellent way to boost your morale. However, you may feel bored or lack stimulation if you work at the same place repeatedly.
It might even leave you feeling lonely if you work by yourself (even if you like the idea of working by yourself). But, on the other hand, the coworking space provides a nice change of scenery (usually complete with a lucrative workstation set-up, home office gadgets) and the chance to meet other professionals.
4. Change your workspace look frequently
Repeating the same things every day, in the same way, is almost certain to lower morale. Even if you thrive on predictability and order in your home office setup, doing the same things every day will eventually take its toll. Thus, it is important to shake things up occasionally to keep your morale high.
Depending on what you do, you can choose how you want to handle that. Alternatively, you could occasionally rearrange your schedule, functional office furniture, change the types of tasks you normally delegate, or take on different types of clients.
5. Rejuvenate your office décor
Clean and fresh rooms in your functional home office always seem to be bright. Personalization will make your space feel fresher without overpowering it. Color transcends individual tastes. You might not choose orange and green for your home, but these vibrant colors are known to improve productivity and energy levels.
Color coordinate your office supplies and choose colors that make you happy and calm. Create inspiration boards around the work you enjoy that inspires you, or consider bringing in artwork, a tabletop fountain, plants, or photos that inspire you.
6. Lighting
Be sure to bring a lamp in your functional home office! The natural light may be enough, but you'll need another source of illumination at night. If your workspace lacks natural light from a window, you can use full-spectrum lighting to get many of the benefits of sunlight. Look for task lights that you can dim for different tasks.
7. Desk supplies organization
Hang folders and supplies on an easily accessible grid from hooks and clips to keep your desk from becoming cluttered. The hangers provide a stylish way to organize your office supplies, tools, and folders. Dangle shelves and keep supplies in chic boxes if you do not like how the look is exposed.
8. Expanding your view
Working from home is a lot easier when you have a nice view. Work in natural light by positioning your desk. Natural light can improve alertness, mood, and metabolism. Not near a window? Replace your incandescent bulbs with LEDs that simulate daylight. Also, take frequent breaks in the fresh air.
9. Corner or nook offices
If you don't have the room for a true home office, then think again. Even the most minuscule shard of space can become a functional work area when paired with a simple desk and floating rack. I can prove it with this tiny home office. Your home can be the coveted corner office - even if it is just a small kitchen nook.
You can create the same nook by mounting a small floating shelf or made-to-measure surface on the wall and then decorating it with a couple of curvy wooden shelf brackets painted in the same color as the wall. As a result of the decorative detail, the shelf appears built-in and has an appealing style. Next, make your mini-command functional home office station complete by adding a stool underneath.
10.  Desk supplies and accessories
We have a way to bring some joie de vivre to your work set up this fall, whatever it is. Use French-toile fabric to dress up old glass vases or metal cans, and store your everyday tools inside. Were you looking for organizational ideas? A notebook and a plastic pen are not the only things available. When your supplies are elevated, you will feel more inspired and motivated.
To keep your home office functional desk organized in a hurry, you can rely on a reliable filing system. You can make any old trunk into a mini home office with just some filing folders, cutlery tray and cork. Even wicker baskets are stylish options for storing (and hiding) paperwork if space is an issue.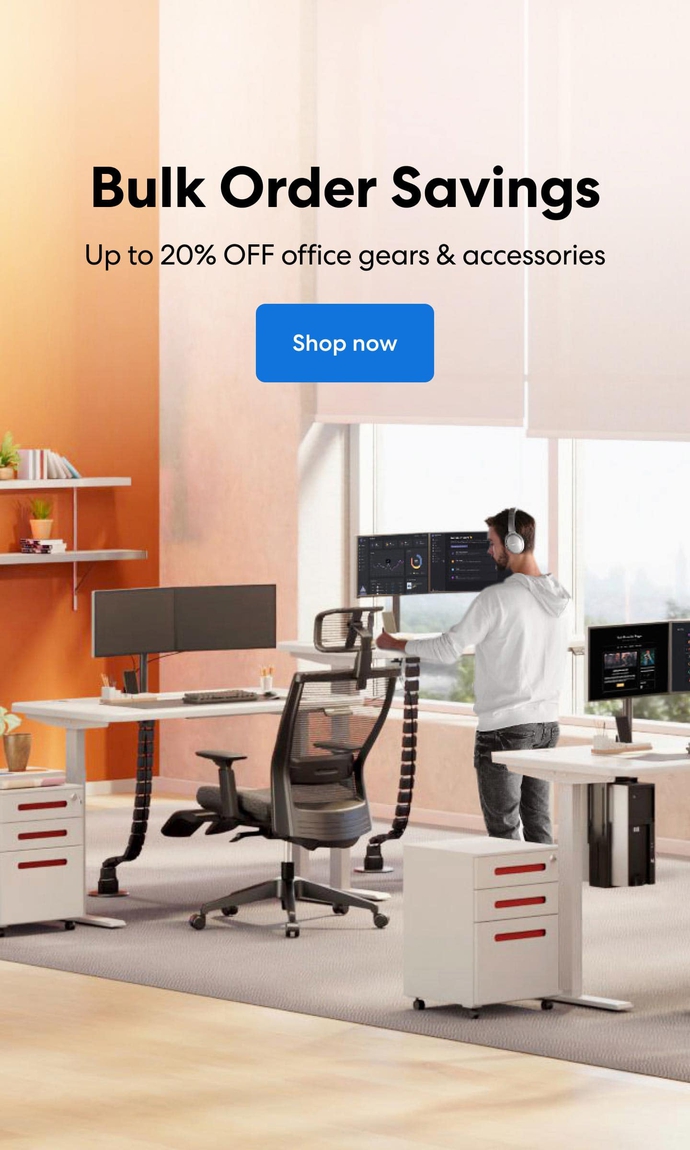 Subcribe newsletter and get $100 OFF.
Receive product updates, special offers, ergo tips, and inspiration form our team.