Smart Products
Detailed Eureka Ergonomic Desk Reviews for Your Consideration

Autonomous
|
Dec 12, 2022
993 Views
If you spend long hours at your desk and are worried about the toll it is taking on your health, investing in an ergonomic standing desk might be the best thing you could do for your well-being in the long run, as being sedentary in a seated position can have devastating consequences on your health. In addition, stand-up desks have many scientifically proven benefits, such as reducing back pain, improving circulation, and enhancing your mood and focus. 
If you're looking to invest in a high-quality standing desk, the Eureka Ergonomic store has got you covered with an extensive range of professional and gaming standup desks that maximize ergonomic support and let you put in those extensive hours without risking your health. Keep reading for our detailed reviews of their top products.
5 Eureka Ergonomic Desk Reviews
1. EUREKA ERGONOMIC L60 L-shaped Standing Desk: Right-handed
The Eureka L60 is an innovative desk featuring a programmable keypad for right-handed users. The design allows for plenty of working space, and the height is adjustable so you can switch between sitting and standing throughout the day. In addition, the programmable keypad allows you to customize your desk to your perfect height and save your favorite settings for easy adjustments. Say goodbye to discomfort and hello to productivity with this small L-shape desk. 
| | |
| --- | --- |
| Dimension | 61.02"L x 43.7"W x 29.5" - 48"H |
| Materials | EPA, TSCA Title VI and CARB PhraseⅡ certified particle board, custom grade carbon steel |
| Colors | Black |
| Weight capacity | 220 lbs |
| Included | Mouse pad |
| Warranty | 5 years |
2. EUREKA ERGONOMIC L-shaped TechDesk: Monitor Stand
This L-shaped desk from Eureka Ergonomicis perfect for gamers who spend long hours at their computer system but want to safeguard their health. It includes a monitor stand and a dual headphone hook to support all your essentials and comes with a powerful and efficient dual motor lift to adjust desk height with the touch of a button. And if you're a Call of Duty buff, this Eureka Ergonomic L-shaped gaming desk might be perfect for you, as the product is an officially licensed Call of Duty gaming desk. 
| | |
| --- | --- |
| Dimension | 61.06"L x 39.10"W x 35" - 53"H |
| Colors | Desert Sand |
| Weight capacity | 220 lbs |
| Warranty | 5 years |
3. EUREKA ERGONOMIC Ultra Long Standing Desk: Manual Height Settings
The Ultra Long Standing Desk is the perfect solution for gaming and office use. This desk is designed to be height adjustable, with 5 levels of mechanical lifting to help you find the most comfortable position. In addition, the height can be adjusted from 24'' to 32'', so you can switch between sitting and standing throughout the day. 
The desk is incredibly sturdy and has a wide surface that can support up to 3 monitors or 165 lbs of weight. It's easy to assemble and comes with a 5-year warranty, so you can trust that it will last. In addition, the design allows you plenty of working space so you can work productively for long hours without worrying about clutter. 
This Eureka Ergonomic desk has passed the Carb certification for safety, so you can be confident that it will provide complete protection for you and your family. 
| | |
| --- | --- |
| Desktop dimensions | 60"L x 27.55"W |
| Height range | 24.4" - 32.28" |
| Color | Black |
| Weight capacity | 165 lbs |
| Warranty | 5 years |
4. EUREKA IM63 Curved Desk: Additional Storage & Manual Height Settings
This curved ergonomic desk from Eureka Ergonomic features an I-shape leg design and a spacious 63" gaming surface, giving you ample space to move freely. The carbon fiber textured gaming surface and lightly curved front edge add a sleek and professional look to your workspace. 
The IM63 Curved Desk is height-adjustable, with manual height settings that enable you to find the perfect position for your needs. The desk can be adjusted from 24'' to 32'', so you can switch between sitting and standing throughout the day.
In addition to its sleek design and adjustable height, this Eureka Ergonomic gaming desk also offers additional storage options. This desk has a built-in shelf and cup holder to keep your workspace organized and clutter-free. It is easy to assemble and comes with a 5-year warranty for your peace of mind. 
| | |
| --- | --- |
| Dimension | 63"W x 27.56"D |
| Height range | 26'' - 32'' |
| Included accessories | Mouse Pad, Cup Holder, Controller Rack, Headphone Holder |
| Weight capacity | 200 lbs |
| Warranty | 5 years |
5. EUREKA ERGONOMIC Standing Desk with Double Drawers and Hutch
This amazing desk from Eureka Ergonomic maximizes comfort and utility with a digitally maneuvered up-and-down mode, plenty of storage space in the form of double desks that fit snugly under your workspace for easy access to all your files and documents, and built-in USB ports for optimal convenience. In addition, the adjustable height allows you to mold your experience to your stature to ensure the healthiest work posture possible so you can protect your neck while getting everything important done. 
Top dimension
Classic Top: 47"W x 23.6"D
L Top: 55"W x 23.6"D
Slide-out drawers dimension
15.4"W x 10.6"D
Height range
29" - 48"
Materials
Steel, MDF wood
Colors
Gray, Walnut
Weight capacity
220 lbs
Warranty
5 years
What Are The Benefits of Using a Eureka Ergonomic Desk?
The Eureka Ergonomic desks are designed to promote good posture and reduce strain on the body, which can lead to a number of benefits for users. For example, improved posture can help prevent back pain, neck pain, and other common musculoskeletal disorders and improve focus and concentration, leading to increased productivity. They can also reduce fatigue and promote good circulation, increasing comfort and promoting a more enjoyable work experience. 
By regularly using an ergonomic desk, you can enjoy a healthier and more comfortable work experience and avoid the common problems that come from sitting at a desk for long periods of time. In addition, ergonomic desks are often adjustable, allowing users to switch between sitting and standing positions throughout the day, which can help to reduce strain on the body further and promote good health.
Which Standing Desk from Eureka Ergonomic Is The Best for Me?
In the end, which ergonomic desk suits you best depends largely on your needs and preferences, but we've tried our best to summarize all the great features of the top products from Eureka Ergonomic  for you. For example, if you work from a home office, one of their desks with ample shelf space might suit you, or if you're a gamer, a Eureka Ergonomic RGB gaming desk might be the right fit. 
On the other hand, if you're aesthetically inclined, you might like to check out our range of glass top office desks if they suit your preference. 
Either way, standing desks are a great investment you can't go wrong with, so get one today to ensure good health in the long run.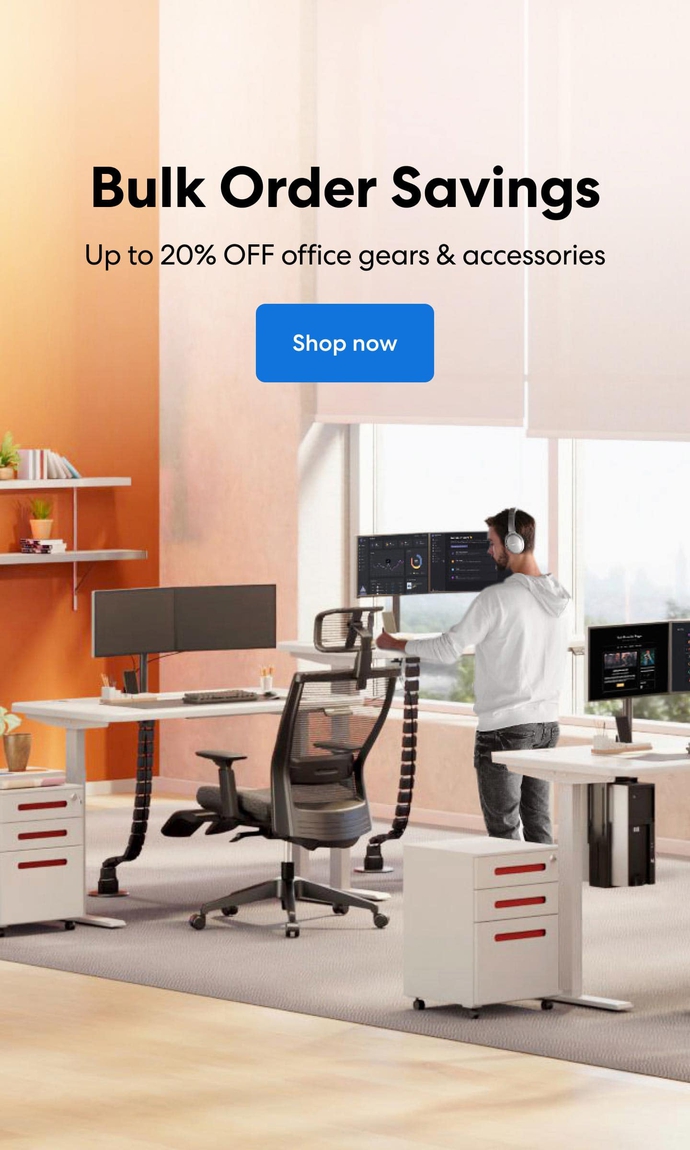 Subcribe newsletter and get $100 OFF.
Receive product updates, special offers, ergo tips, and inspiration form our team.