Smart Products
Developer Desk Essentials: What You Need At Your Workplace

Autonomous
|
Mar 31, 2021
4,254 Views
Developers have a precise way of how they do their work. Their smart office accessories need to be perfectly aligned, and their ultimate desk setup has to be flawless. If you are a developer and are looking forward to a desk overhaul, you can check some great ideas of software developer desk accessories from this article. 
There are a plethora of office desk accessories that can be incorporated on a developer's desk. This article will guide you towards some of the essential items so that you can choose the products that you deem fit.
The amount of time that a developer spends on their desk is consistently high, and therefore, these small things have long lasting impacts.
1. Pen Stand
In this technologically advanced world, almost everything is automated, even the art of taking notes. However, there are always some details that you jot down, and nothing can be more irritating than not being able to find a pen for your developer desk accessories at the right time. It is one of the best desk accessories for developers.
A pen stand is a great accessory that can be placed at a corner of your desk. They come in various designs, and therefore, you can choose something that can complement your overall developer desk setup. Pen stands are a small example of the things that are quintessential to a productive day at work. 
2. Coffee Flask Mug
Being a developer requires a lot of screen time, and sometimes daytime is not enough to meet the deadlines. On such days, you will need hot coffee to be by your side, and what is better than a great coffee flask that acts like a mug too. 
These flasks for programmer desk accessories are created out of metal and have a robust insulation system in place. They come in fancy colors and are also open to customization if you find the right vendor. 
3. Mouse Pad
A big mouse pad crafted out of fine leather serves dual benefits. The first one being the primary benefit of providing a spotless and smooth surface for the mouse to operate. The second benefit is the additional aesthetics that you get after placing this pad on your desk. It is a must-have developer desk accessory you need to know. 
Mouse Pads come in various sizes and materials, and therefore, you should select the one that matches your style. You must decide on a budget before you set out to explore these pads because the premium leather ones can be very hard hitting on your pocket.
4. Standing Desk
The idea of coding and working relentlessly while standing can be extremely daunting, but you get used to it. It is a better alternative than sitting for prolonged hours because that practice makes you lethargic and reduces your vigor.
When you are standing and working, your posture is in a better stance, and the pressure on the spine is next to none. It also results in better blood circulation to your hands and feet. Finding a suitable electric standing desk can be really tricky sometimes. You also shop standing desk accessories to make your work easier.
5. Desk Lamp
An interesting developer desk accessory is a desk lamp. You can never lay enough emphasis on the lighting because it is the most crucial element that defines your productivity. Your desk should be well lit so that you can focus on your work with added precision.
Natural lights are always a better choice than artificial lights, but if your desk is placed on enclosed premises, a LED desk lamp will work fine.  There have been many innovations in this industry, and you will be able to find a lot of technologically paced lamps. These innovative accessories help you to cope with the workload in an efficient way, and therefore you can check more such products out there.
6. Mobile Stand
It is vital to designate a place for your daily driver, i.e., your mobile. It will help you to monitor your notifications from a distance so that the distractions in your life can be minimized. You can even choose a mobile stand that works as a wireless charger so that your device stays charged. This item is necessary for your software developer desk accessories. 
The choice of your mobile stand will depend on a lot of factors, but the most important one of them will be the price of it. You must make a rational choice as these quirks can be added later on as well.
7. Noise Cancelling Headphones
Noise canceling headphones have become a necessity for your developer desk accessories collection in office spaces where there are loud noises. It can get complicated to focus during such chaotic circumstances, and therefore you should be ready with your protective gear.
You can also create a small space for your headphones where they could be hung on any adjacent wall. This will add to the overall look and will also provide you with a safe office space to keep your headphones.
These headphones as programmer desk accessories might require a bit of investment, but you will be able to use them outside your office too. There are many product catalogs that are available online that will help you to get your perfect fit. It would be best if you considered buying these at the earliest.
8. Sticky Notes
Small and vibrantly colored sticky notes are necessary developer desk accessories. It will have a positive impact on your productivity. They will help you to remember small and vital information, which often gets overlooked. They come in various shapes, and therefore, you can opt for a mix so that your desk gets better visual imagery.
You do not have to worry if you do not have a soft board. These sticky notes come with solid adhesives, and therefore, they can be pasted on your desk and the walls around too. 
Final Words
Now that you are aware of all these small yet essential developer desk accessories, you can mix and match our suggestions to come up with your package. These suggestions have been filtered out after analyzing a plethora of products so that your work can be reduced!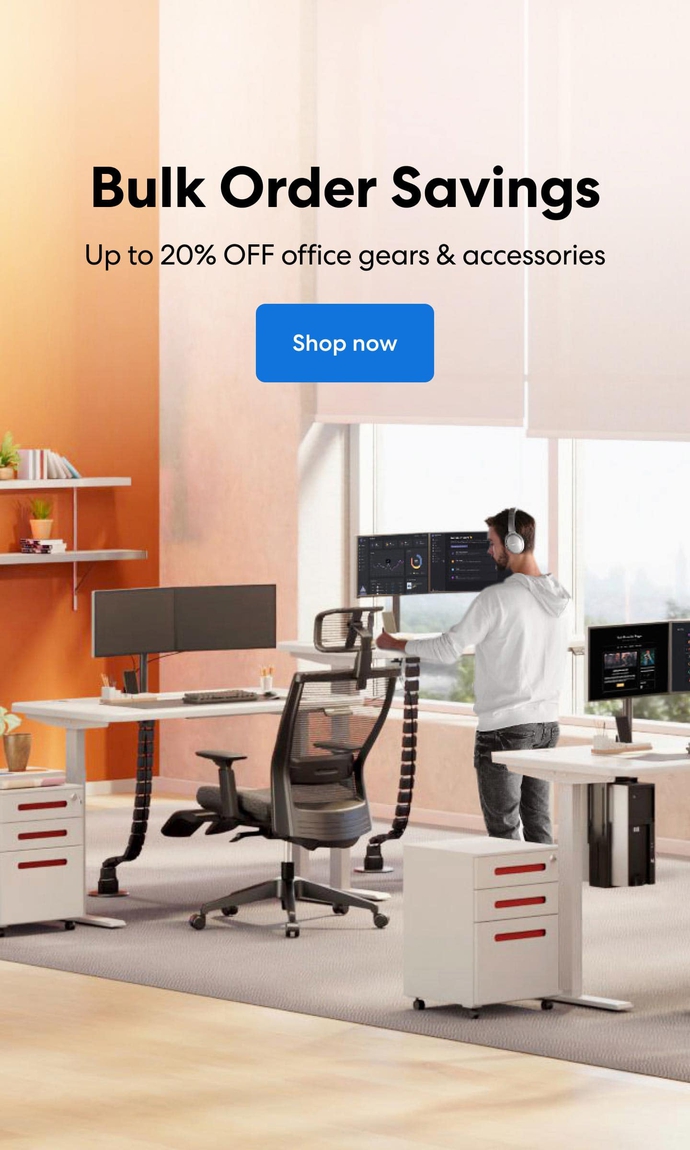 Subcribe newsletter and get $100 OFF.
Receive product updates, special offers, ergo tips, and inspiration form our team.