Workplace Inspiration
DIY Cardboard Table For Office Decor - Step by Step

Autonomous
|
Nov 21, 2022
1,103 Views
When you opt to buy the whole thing pre-built, picking a table for the office's decor is difficult enough. What about people who want a more hands-on attitude to their offices, though? To get the most inspiration possible, these folks often look for a simple cardboard table DIY along with many cool office decors and workspace inspiration. 
Although it is not entirely out of the question, being "hands-on" does not necessarily imply that you will be constructing the cardboard table yourself. Instead, it indicates that you merely want to depart from the conventional setting, maybe with the aid of a table. A simple cardboard table DIY is a great concept that has probably been thought of before, and you wouldn't be the first! 
Why Go For a DIY Cardboard Table?
Though it's likely that you are here because you're looking for ideas from existing designs to set up your own area. You could be asking how to construct a DIY cardboard table for office décor, or you might simply want to gain some perspective to see what household items you might have lying around that might improve the aesthetics and usability of your remote workstation. 
It may be a lot of pleasure to buy new furniture. However, have you ever noticed that no matter how many furniture shops and outlets you visit, they never seem to have the exact style you're looking for? Either that or you have absolutely no room in your budget for new furniture. So a DIY cardboard table for your office decor can be a great solution. Even if you are a woman who wants to set up their offices, a DIY table can do for your female executive office decor. 
Imagine the possibilities if you could create your own simple side table from common cardboard plus it can be a cheap office decor solution for you.  
Step-by-Step DIY Table Cardboard - A Guide
Take Measurements
This is the very first step in this step-by-step DIY table cardboard guide. The space where your cardboard table will be placed should be measured. After deciding where your new table will go, measure the length of your workstation from one end to the other using a tape measure. The dimensions you get should be recorded in writing or mentally noted. They must be considered while you assemble your supplies and choose the size of your table. 
Decide on Practical Size
Choose a useful size for your DIY paper mache furniture. Making a DIY paper mache furniture that is 1 foot long by 1.5 feet broad will guarantee that you have enough area if you only have around 2 square feet to work with. Of course, you are free to experiment with your cardboard table's proportions as you see appropriate. 
Set up Workspace
Make sure you have all the equipment necessary to construct a cardboard table on your own, and also set down some suitable drop cloths, old newspapers, or towels. This will assist gather dust, waste, extra glue, and who knows what else, minimizing the amount of cleanup required when the job is over. When it's ready you can put up any sort of office decor, for example funny office decor if you are that sort of person. 
Cut Some Cardboard
Pay close attention to your cardboard box and each of its five flat sides at this point ,its 4 sides + its bottom base. Given that we will need to work on both the inside and outside surfaces, each of those surfaces will need to be covered with cardboard that has been cut precisely to the size of the surface you're attempting to cover. You will need 2 cardboard pieces for every side that you wish to cover. As a result, make sure you have Ten cardboard pieces and measure/cut them to the proportions of your box (because our box's measurements won't always match yours).
Cutting tip
You won't need a bandsaw to create a table out of cardboard, even though it is often thought of as the best equipment for cutting cardboard. In truth, you can also make precise, clean cuts using a pair of scissors or a box cutter. 
Glue the Table
Keep in mind that there's no hurry, so take your time to make sure your cardboard DIY table turns out as tidy and clean as you imagined. 
Only take one cardboard piece at a time.

Spread a generous quantity of white glue on the back of it.

Choose whether to begin gluing up the interior or external surfaces, but act quickly before the glue dries, and carefully press the cardboard sheet over the suitable box surface. 
Tape it Up
You know what would really help those cardboard pieces that were adhered to the wall remain in place? Extra adhesive, please! Because of this, we suggested that you add some sticky tape with your list of items. So, after giving your box some time to allow the glue to completely cure, begin carefully tape each of the individual cardboard panels in place. Don't forget to tape up the box's bottom as well. 
Wrap the Table
It's now time to cover the whole box with yet another layer to give it a smoother, more even appearance. We chose kraft paper for our cardboard side table, but you may also achieve fantastic effects by using contact paper, cloth, or even simply painting your cardboard. Make careful to cover all 10 sides of the box, including the interiors, just as you did with the individual cardboard pieces in Step 2 & 3. 
Add Legs
And how about some good and useful legs to really elevate your new side table? The four toilet paper rolls are useful here. 
Invert your new table so that the top side is on the bottom.

Mark the locations for each roll and each table leg using your pencil and ruler.

Place a little amount of white glue on one of the surfaces of each toilet roll, one at a time.

Firmly but lightly press it into the area you've designated.

While the other table legs are drying, go on to the next one. 
Your cardboard table is now prepared for decoration and you can use it to display in the office as your inspirational office decor element.
Video ads for product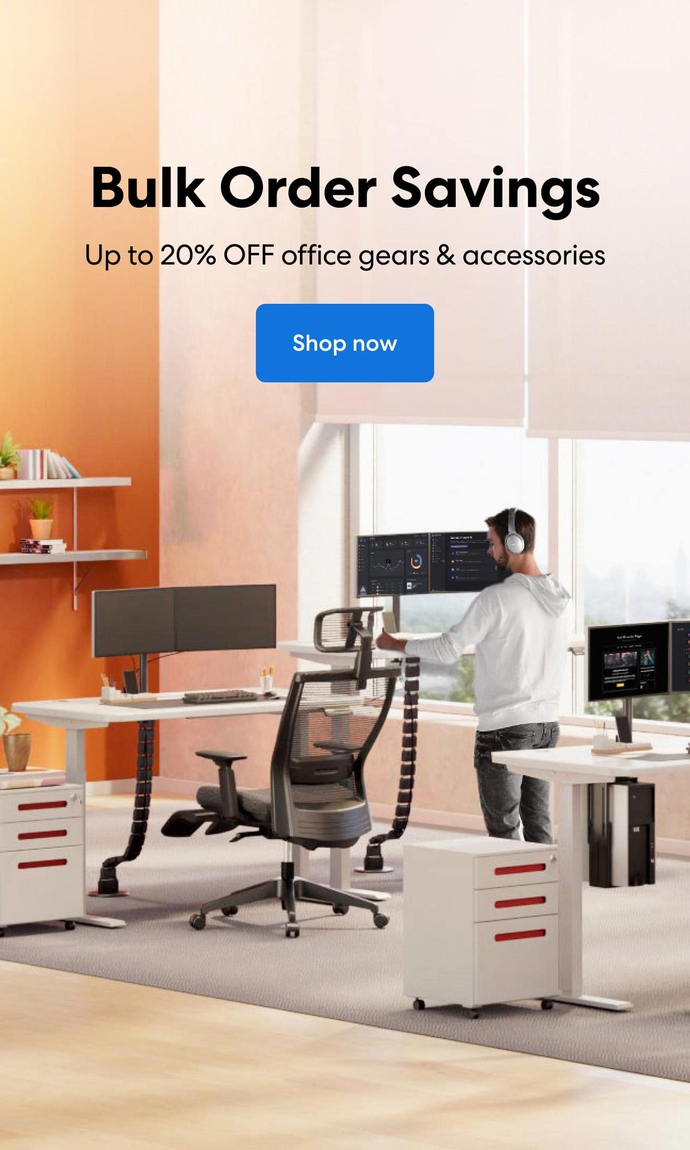 Subcribe newsletter and get $100 OFF.
Receive product updates, special offers, ergo tips, and inspiration form our team.