Workplace Inspiration
Dual Curved Monitor Setup: Complete Guide
13,074 Views
Do you want to build a dual curved monitor setup? Here are some tips that you may find useful during the planning process.
Working on a desktop computer can be quite advantageous for selected users. You usually have more space to work in, a larger display and more room for more peripherals that you'd be able to connect to a laptop. However, depending on the kind of work you complete, you may be able to take more advantage of a dual curved monitor setup than you would with a regular setup.
A second display can be beneficial for gaming or working. It will grant you a wider field of view, allowing you to have more things available on your screen and multi-task more efficiently.
For today's article, we'll review how you can get started with a dual curved monitor setup, from selecting the right monitors to connecting them to your computer and getting them working.
2 Curved Monitor Setups: Choosing the Best Displays for a Dual Setup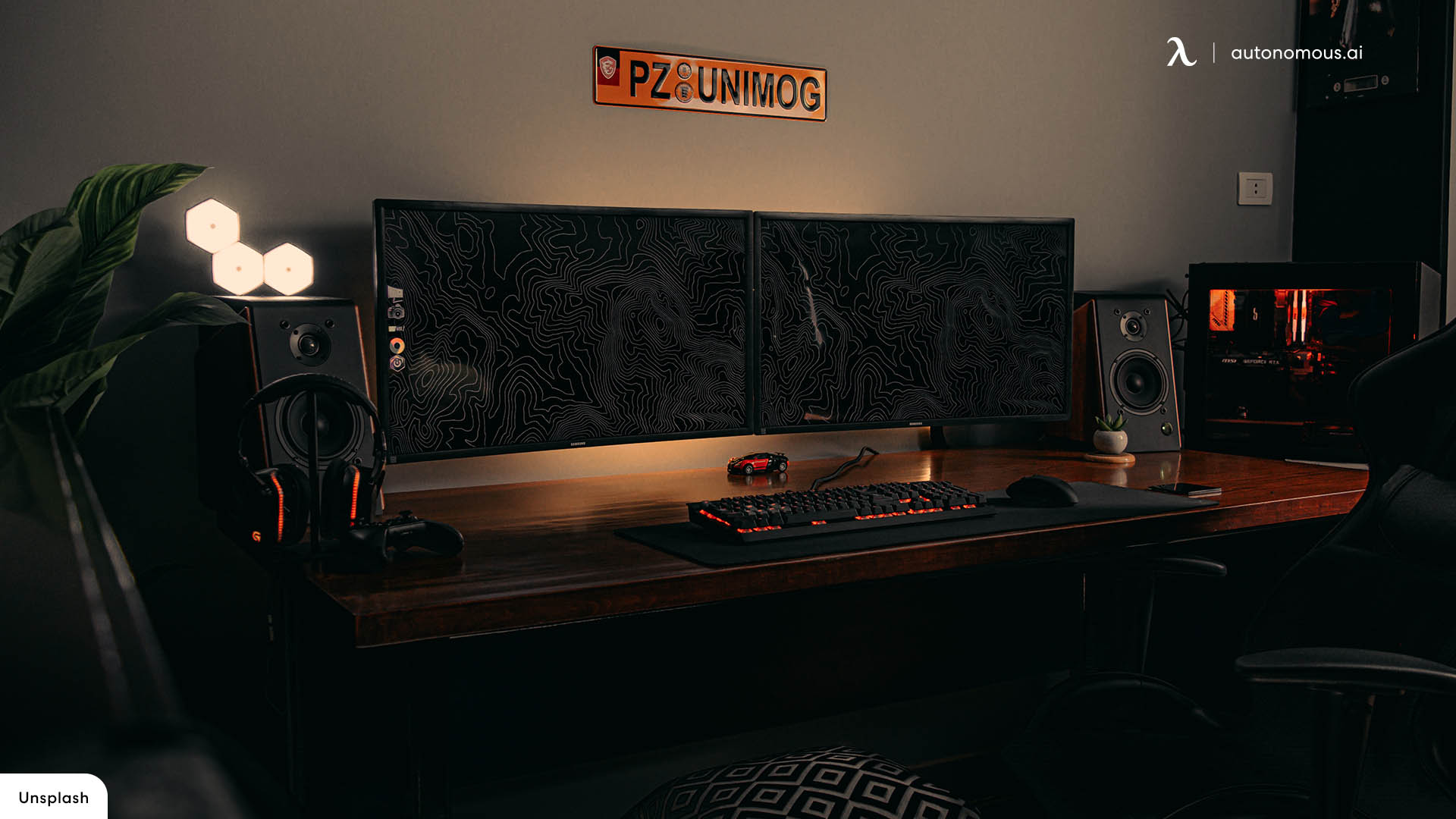 If your office desk is spacious enough for you to fit two monitors, then the first step is to choose the best curved monitors in the market. If not, you can also take a look at the list of desks for dual monitors in case you'd like to replace your old desk, too. A corner desk for two monitors is also a good option if you'd like to have more space available. If you don't want to build a new desk, don't worry! You can also opt for a dual monitor mount.
With that being said, you need to know that curved monitors tend to be more expensive than flat screens, but it is still possible to find "budget" options. Below we have listed two of the best curved monitors you can choose from at the moment.
1. Gaming Screen PXC325 by Pixio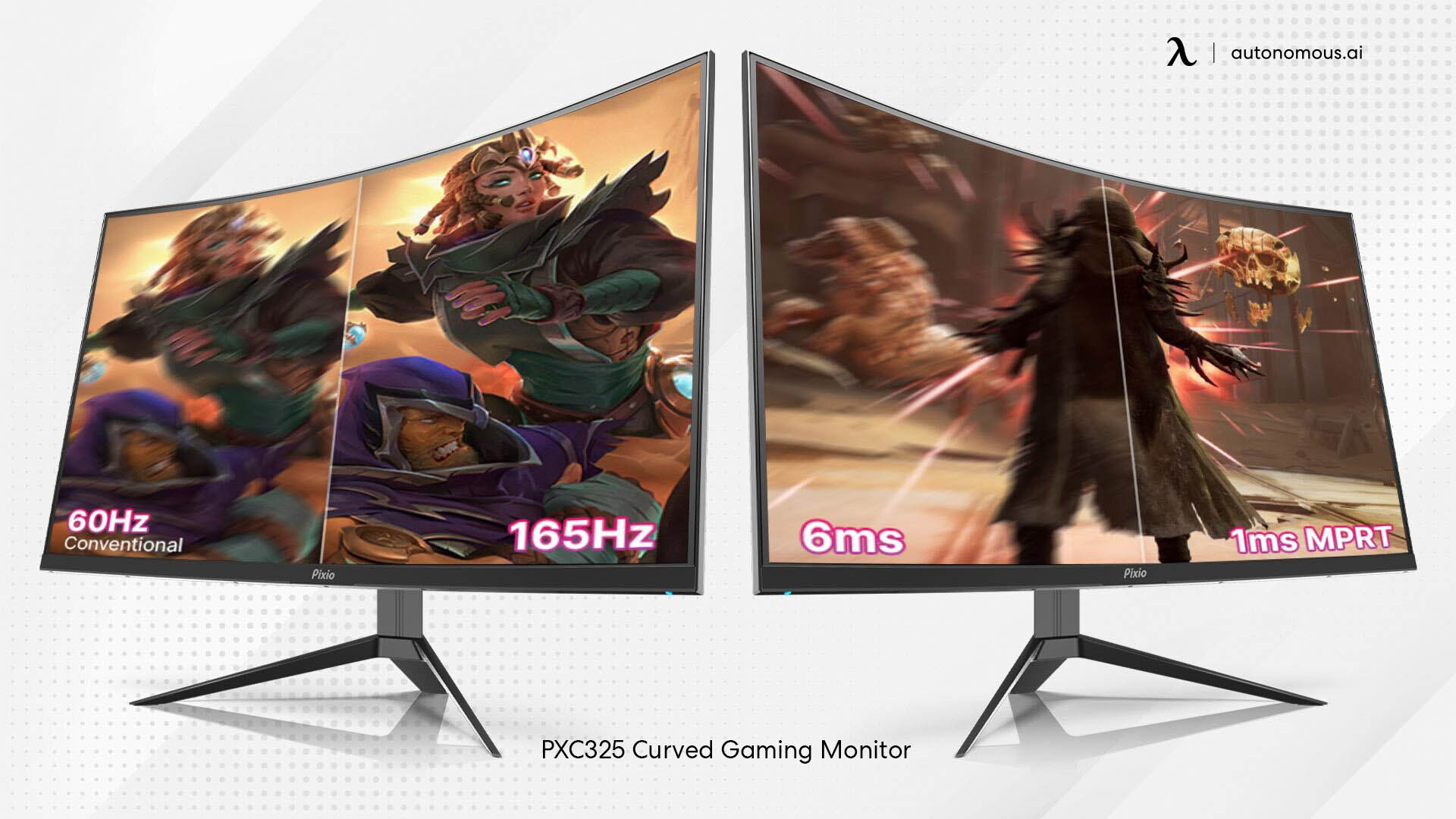 This curved gaming monitor 32 inch is compatible with HDR and G-synch. Furthermore, it has a 1ms of response time, and you can activate the "eye-saver mode" at any time. If you own a VESA mount, you will be able to mount it pretty easily once it arrives at home. It has a total width of 31.5" and the standard resolution, 1980p x 1080p.
2. Gaming Screen PXC327 by Pixio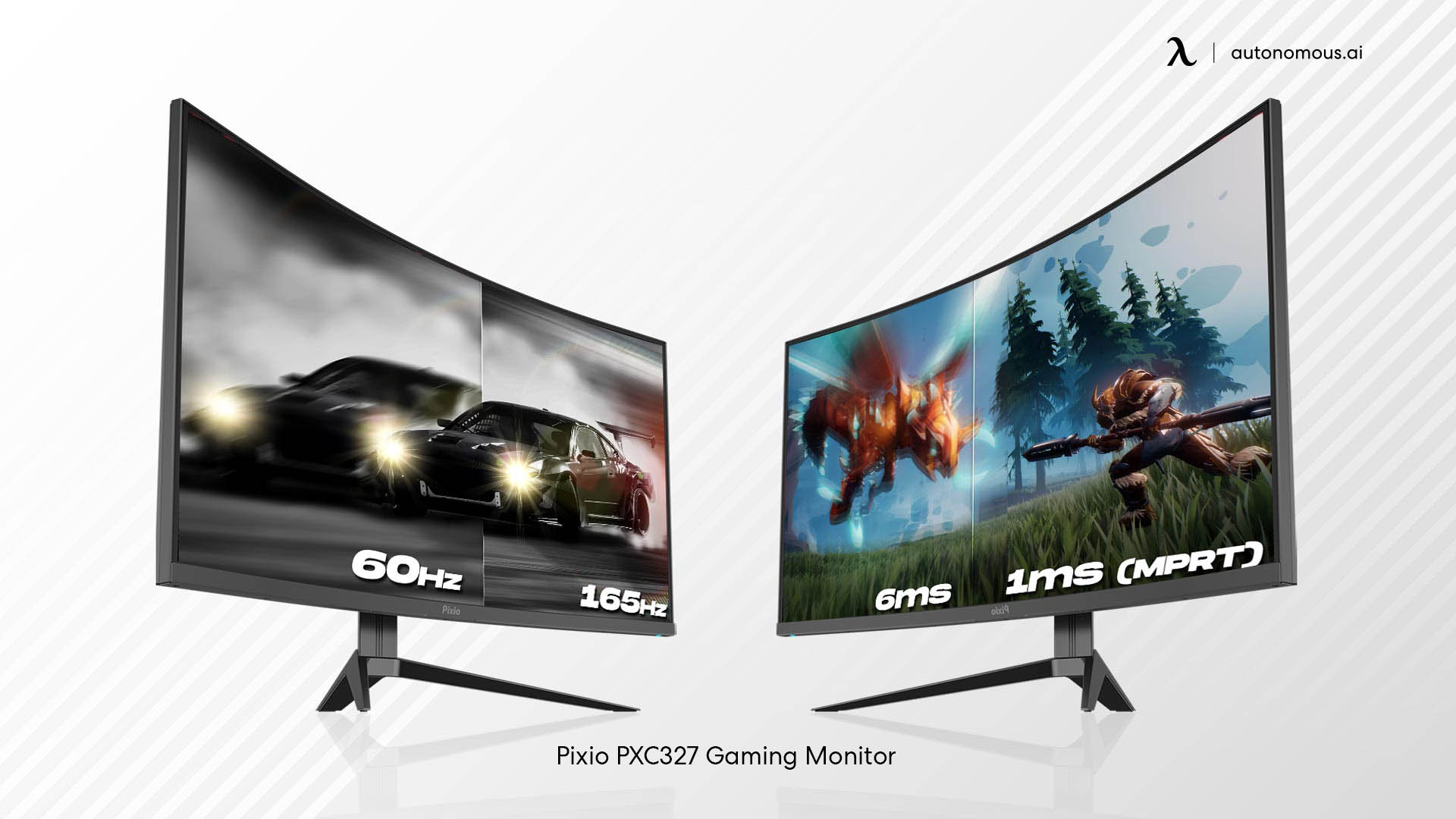 This curved gaming monitor of 165Hz is another good option for you. It is slightly bigger than the previous option, as it has a width of 32". It is compatible with AMD FreeSync Premium, G-Sync and HDR technology and has a response time of 1ms. Like the previous option, it is ready to be mounted in any VESA mount you may have around. It has a resolution of 2560p x 1440p.
How to Set Up Two Displays on Your Computer
Once you get the two displays for your desk setup with two curved monitors, you can proceed to set them up in the most comfortable position based on your preferences. It's recommended to put one beside the other for a better effect, but be free to place them however you like.
The next step of this dual curved monitor setup guide is to learn how to get your computer ready for a dual-screen setup. Here we'll guide you through each step of the process so you can start using your dual curved screen setup as soon as possible.
Step 1: Connect your displays
First, make sure that your computer has enough ports (HDMI, for instance) for you to connect the extra display. If not, you can always purchase an extra port that allows you to use both screens simultaneously.
Step 2: Set your main and secondary display
Go to your desktop, right-click and select the "display" option. Doing so will redirect you to the configuration page, where you'll see your available monitors identified by a number. If you have connected both screens, you'll likely see "1" and "2."
This screen will allow you to choose your main display. All you need to do is check the box that indicates such an option. The remaining monitor will then be automatically selected as the secondary display. Don't forget to click on "apply" to save your changes.
Step 3: Choose your preferred resolution
Go to your desktop, right-click and select the "display" option. You will see your available monitors again. Then, you can select the display you'd like to configure.
Once you're on the next screen, proceed to click on "advanced display settings." You can find it in the below area. Following up, you'll see an option for the "resolution," which is a drop-down menu that will allow you to choose the right resolution based on your preferences. Once done, click on "apply" to save your changes.
Step 4: Select your preferred display style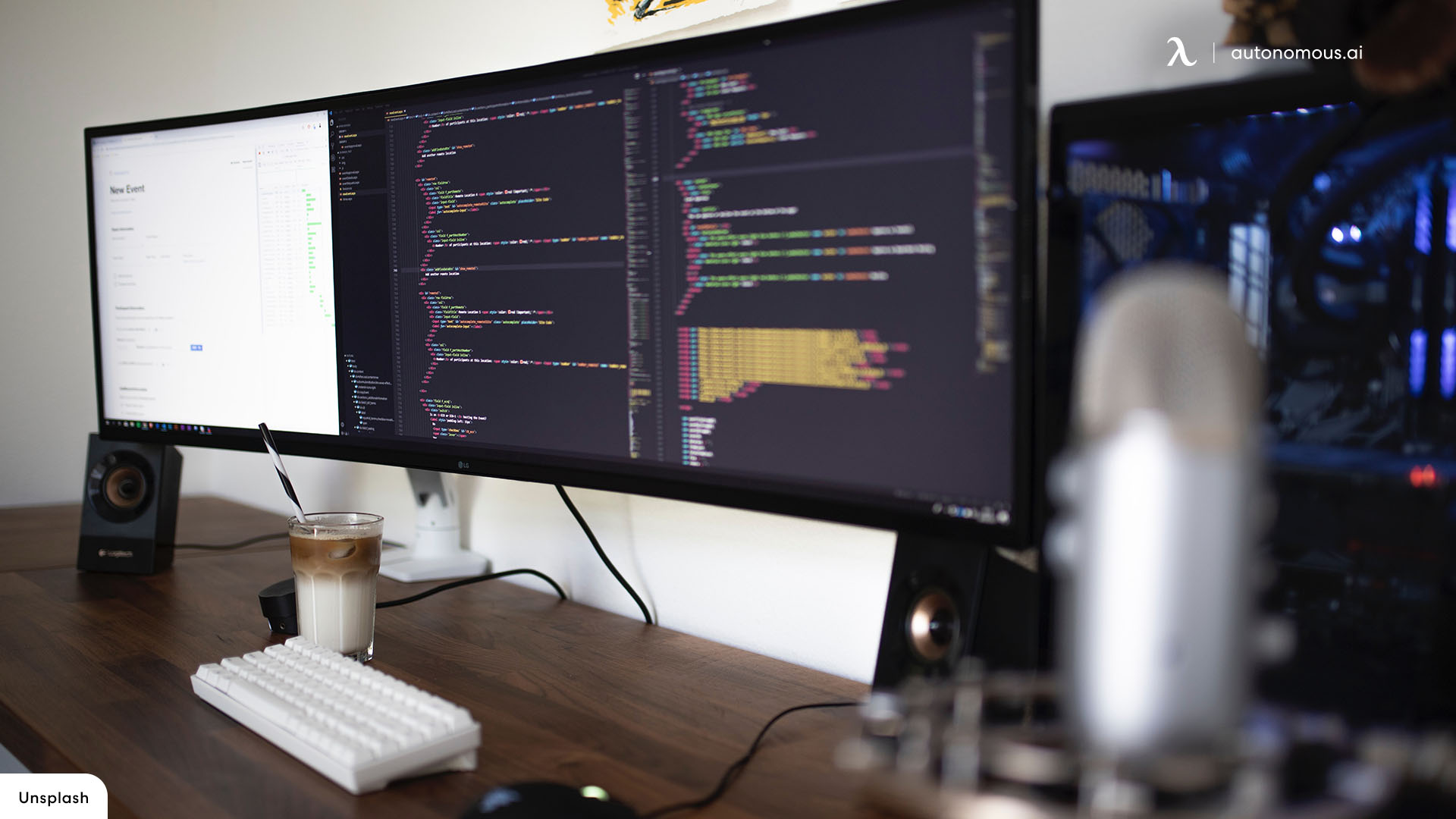 Go to your desktop, right-click and select the "display" option. You will see the same screen as in the previous steps, but now you need to right-click on "multiple displays," which is a drop-down menu that will show you a few options:
If you'd like to "extend" your display, choose the option that reads "extend these displays." Then, both screens will act as an extension of each other.

If you'd like both screens to mirror each other, you can choose the option that reads "duplicate these displays" instead.

As the drop-down menu indicates, you can also choose to disable one monitor over the other.
At this point, you're already finished setting up your double curved monitor setup. It's quite easy! Your only preoccupation would be to make sure that your displays are in a comfortable position for your sight. Still, you're always free to modify your setup whenever you feel like making some changes.
Conclusion
Setting up a dual curved monitor setup is not as complicated as most people think. Since it's all based on your preferences, all you need to worry about is the technical issues (having the ports available, etc.) that will appear in the process. Other than that, it is quite easy, and you can get your double monitor setup working as soon as possible.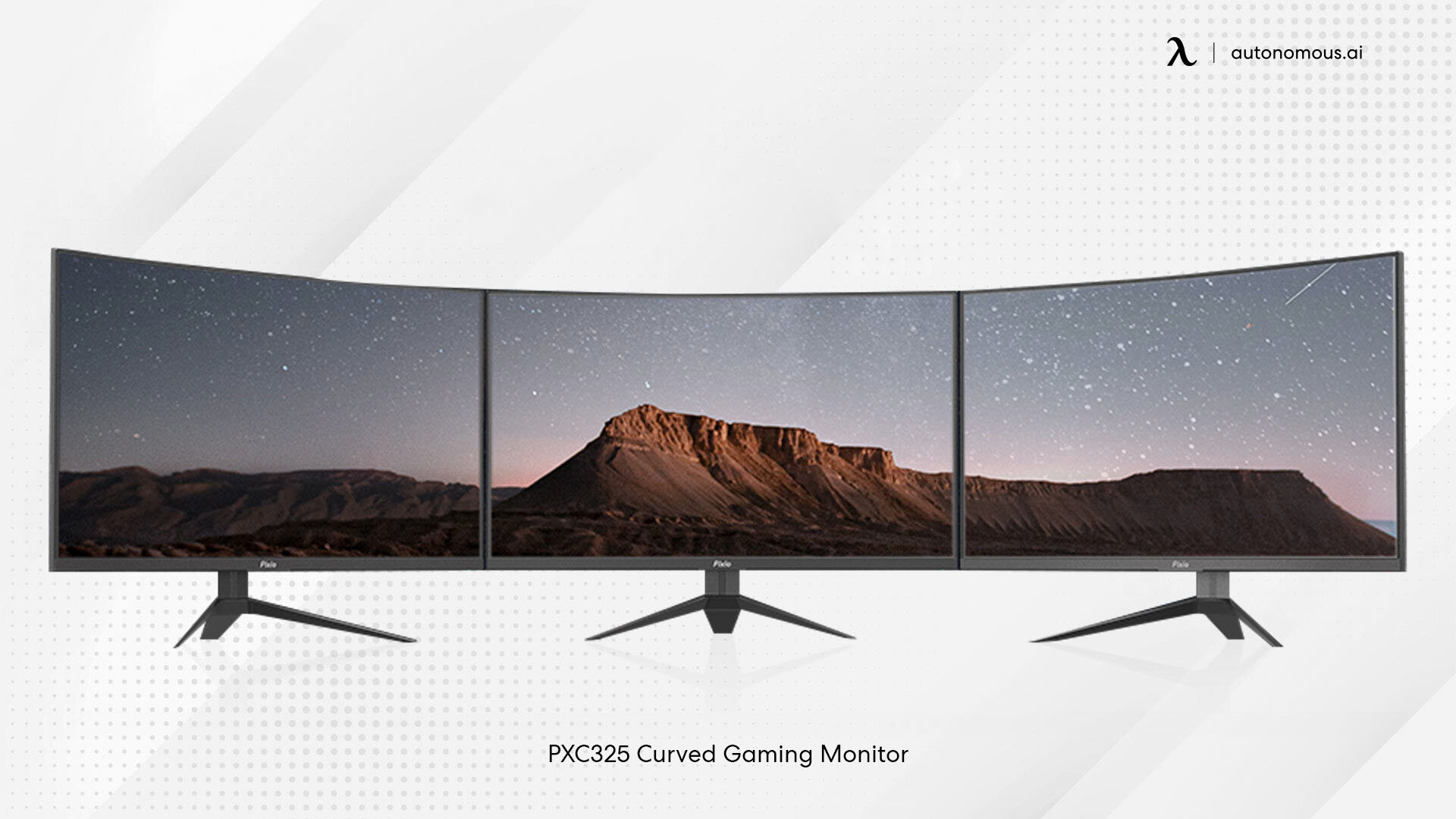 If you're a laptop user and would like to learn how to set up an extra display, you can take a look at this guide for a laptop and monitor setup.
Subcribe newsletter and get $100 OFF.
Receive product updates, special offers, ergo tips, and inspiration form our team.
WRITTEN BYAutonomous
We build office products to help you work smarter.