Smart Products
What Are the Different Types of Monitor Connections?
2,190 Views
Are you a home office worker who has to plan his home office independently? Or are you a gamer or streamer who is planning his gaming station? Either of the cases means that you must know the details regarding the laptop with monitor setup and all the relevant adapters and connections that you will be dealing with. There are multiple types of monitor cables that you should know to make your life easier.
If you are planning a home office setup, you will have to put up everything from scratch. From dealing with the essential office accessories to office furniture, and from buying the best office gadgets to dealing with the wiring of different computer monitor connection types for the PC, you have to do everything on your own.
This means knowing the types of monitor cables for PC, and their functionality is vital for you. It is understandable if you are not tech-savvy and have limited knowledge regarding these connections. So, you don't need to worry about that.
The good part is that we have discussed all the different monitor connector types in this article to help you out. Going through this article, you will find some of the most common ones like HDMI, DisplayPort, and USB-C and the older options like VGA and DVI to have a holistic understanding. So, let's begin with the details of the most common one, i.e. HDMI.
Different Types of Monitor Connections
HDMI
The High-Definition Multimedia Interface (HDMI) Port is a port that you will find most commonly on monitors. HDMI is more of a standard option in the market. May it be the film-making companies like Universal, Warner Bros., and Disney, or may it be the video game manufacturers like Toshiba, Panasonic, or Sony. All these big names are compatible with HDMI.
So, it won't be wrong to say that learning the details regarding the different types of HDMI is vital for gamers and streamers. There are four major types of HDMI ports, namely HDMI standard, HDMI High Speed, HDMI Premium High Speed, and HDMI Ultra High Speed.
The HDMI standard is the most common type that you will usually find. This port is ideal if you wish to have results upto 1080p resolution. However, the High Speed and Premium High Speed are for 4K and HDR-enabled devices, respectively. The last one, i.e., the HDMI Ultra High Speed, is there for HDMI 2.1 features, the 8K video displays, and 48GB/s Bandwidth. Mostly, gamers and streamers need Ultra High Speed.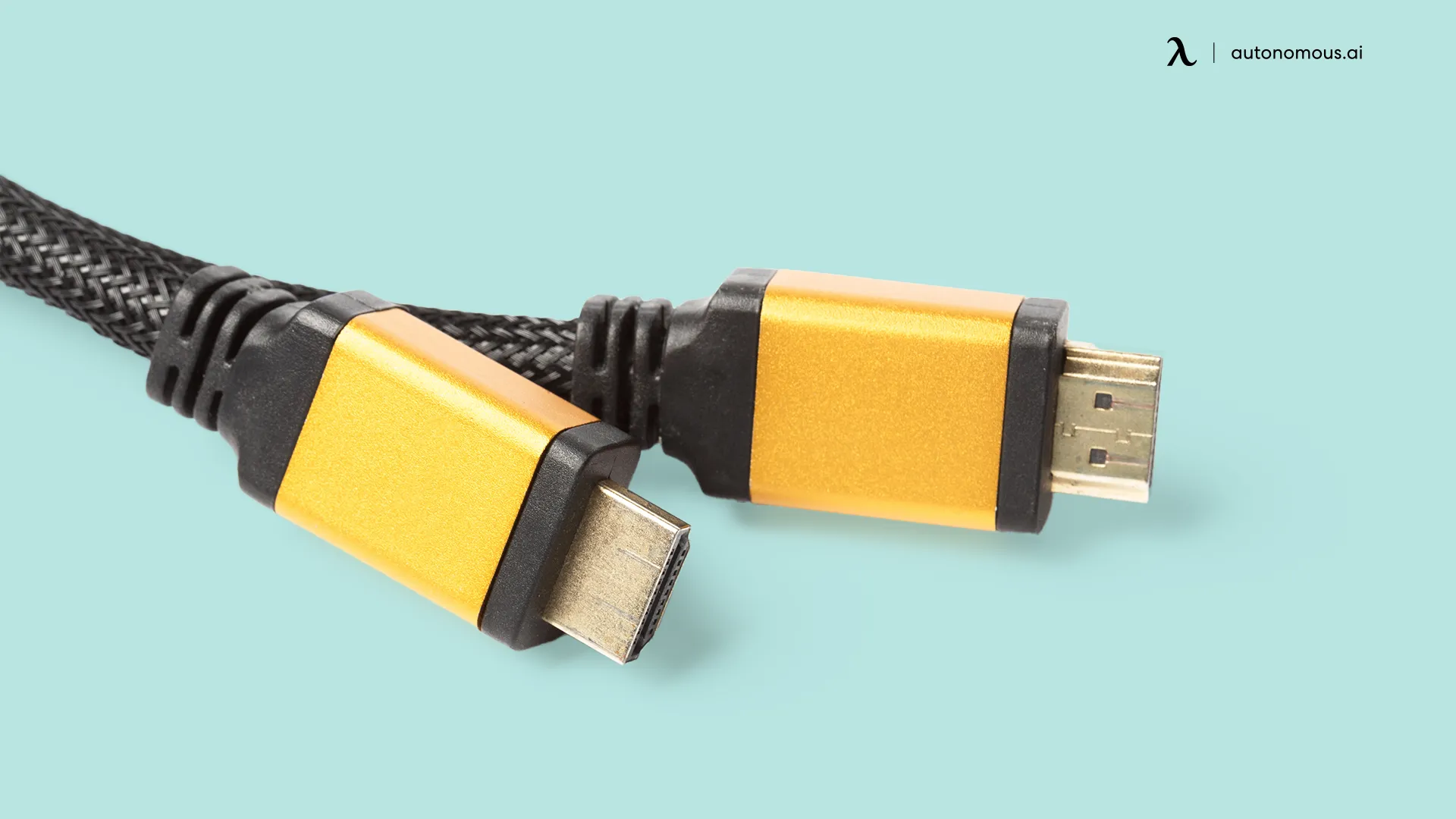 DVI
The Digital Visual Interface (DVI) ports are comparatively older ports and were usually found on PCs. Still, you will find some monitors coming with a DVI port. That's why it is important to understand its role.
You may find this port next to an HDMI port. Although DVI cannot carry sound, it has a higher frame rate than HDMI cable when you have a 1080p monitor. The DVI is designed to transmit digital signals directly. That's why it has a faster speed. So, if you use a DVI port, you can expect to have a sharper image. This is mainly ideal for gamers who always wish to have a crispy result.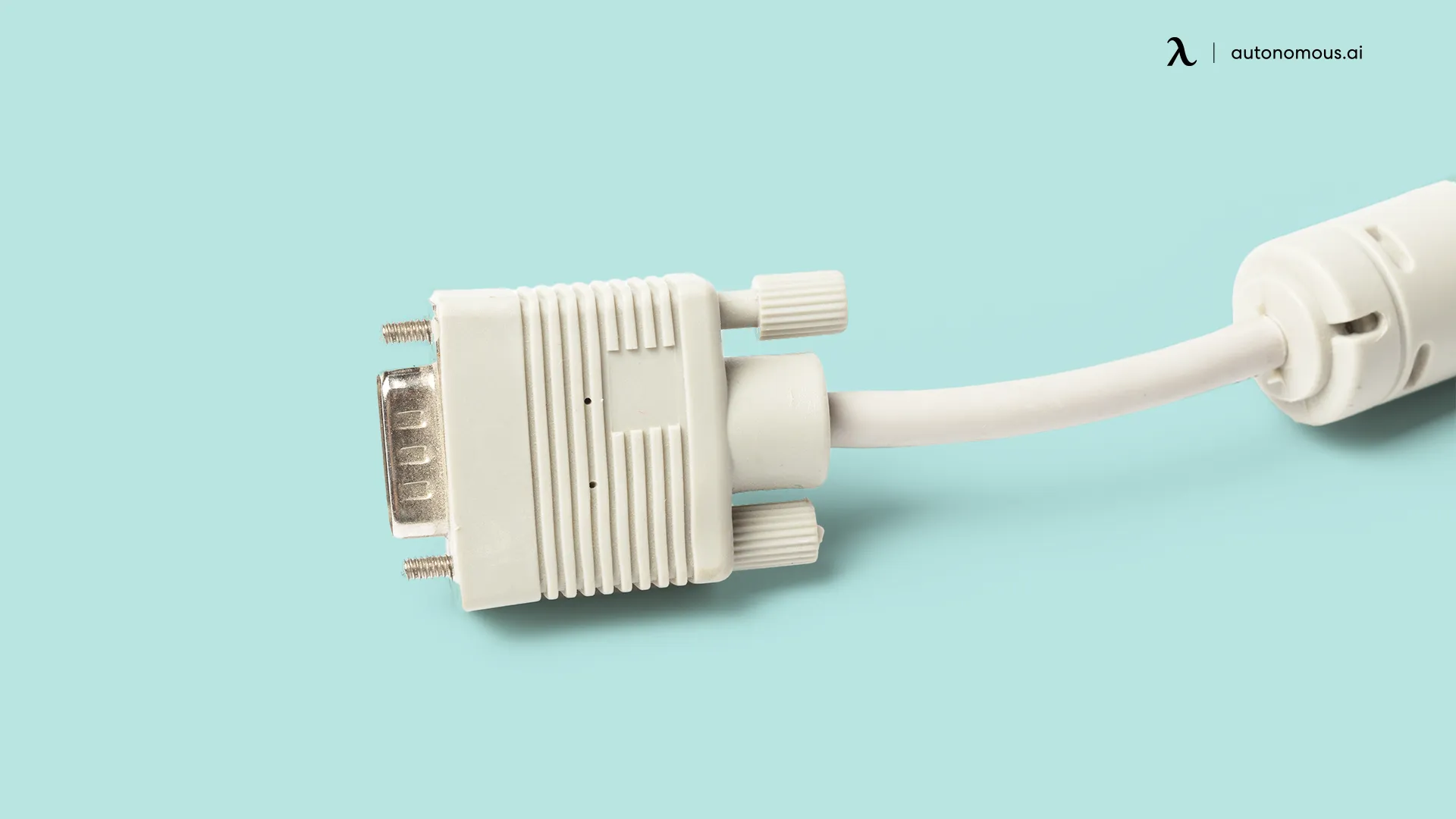 DisplayPort (DP)
The Display Port (DP) is a newer connection than DVI as it was launched somewhere around 2008. You will usually find a DisplayPort usually on premium monitors because it adds high-quality graphics. If you have a visually intensive task like video editing or gaming, you would love to have a monitor having a DisplayPort.
If you break it down to its details, there are three different types of monitor cables in DisplayPort (DP). These include DP 1.2, 1.3, and 1.4.
The 1.2 is for monitors that have a 4K video output with a 60Hz refresh rate and 3840p x 2160p. DisplayPort 1.3 is for 8K videos having a 30Hz refresh rate, and 1.4 is for 8K videos with a 60 Hz refresh rate. The 1.4 is a comparatively newer version and covers HDR videos as well. So, if you have the latest games, you can trust the DisplayPort 1.4 for the best results.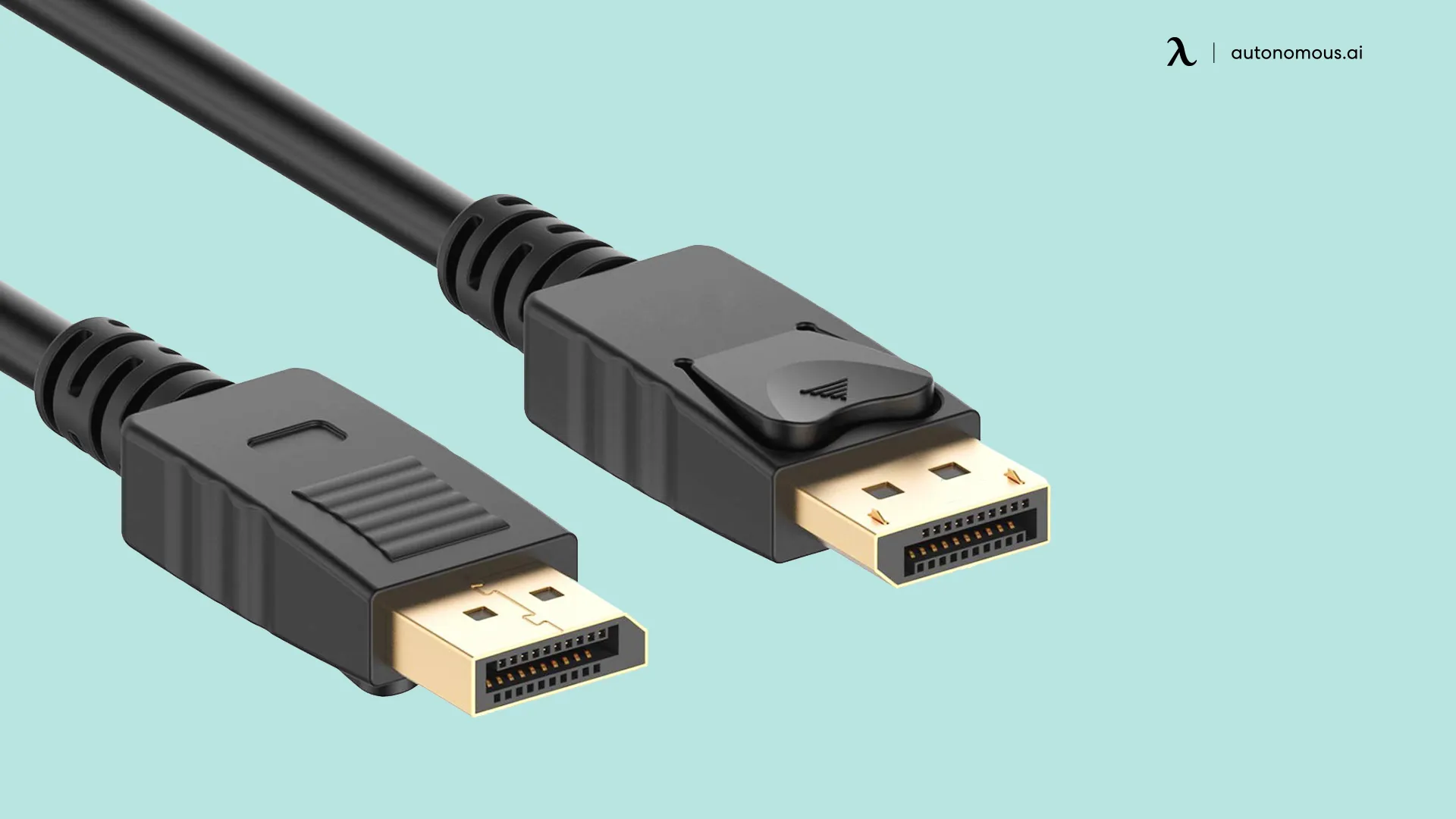 VGA
The Video Graphics Array (VGA) port is also an older version that was introduced before the HDMI port. You won't find this gold standard port on newer devices, mostly. However, it is still there on some legacy devices. The main reason people buy this port these days is to run their older devices that still have this port. You only need an adapter for that purpose.
If you want to recognize this port on your older devices, so this is a 15-pin connector featuring 5 pins in three rows. Each of these pins serves a unique purpose and is specifically attached to the VGA port. You may think of using this port if you want to bring an old video game back to life.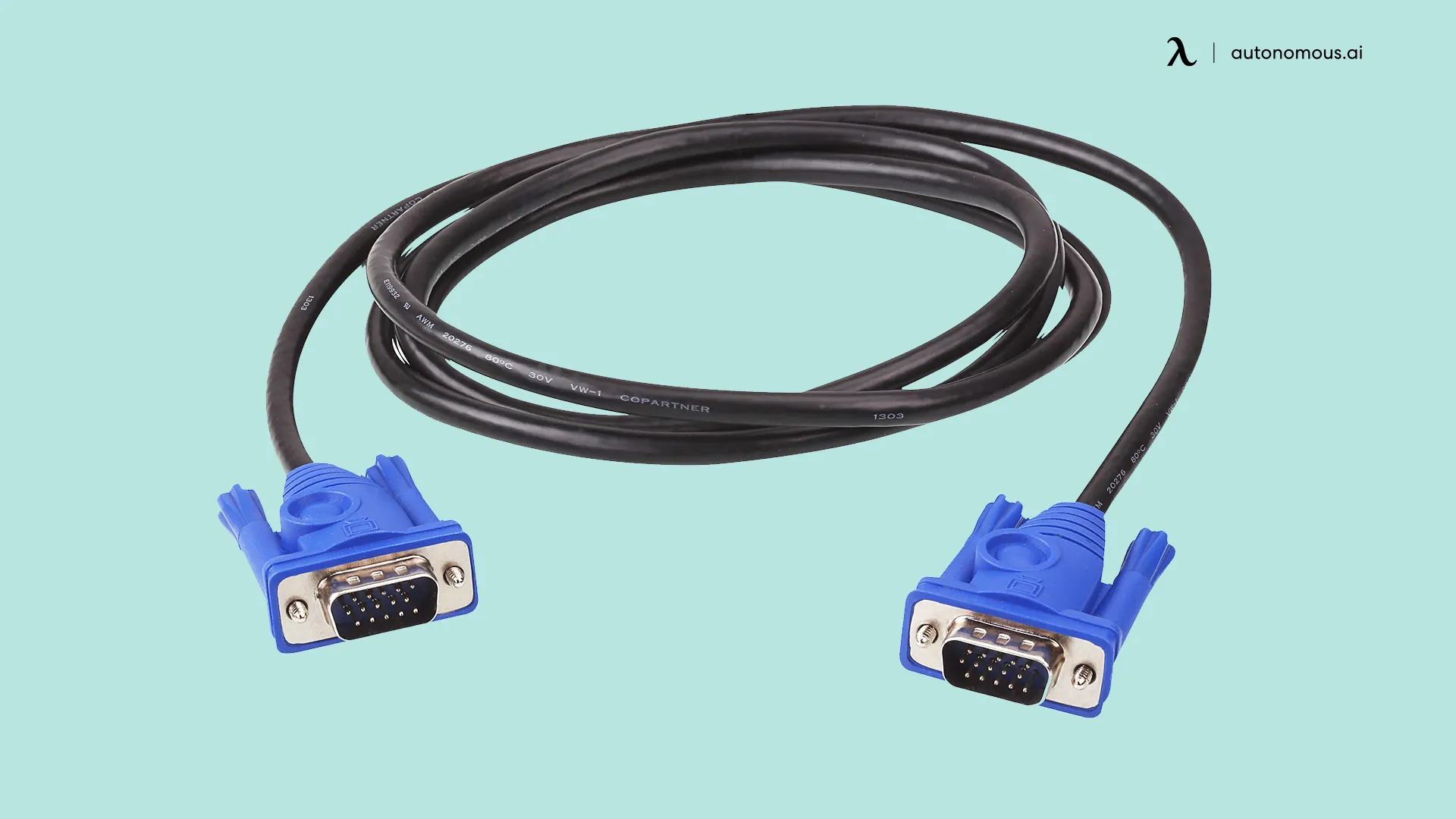 USB-C
The USB-C is the latest addition to the types of monitor connections. You will find the USB-C port on the recent versatile monitors, which comes with more features. Although it was thought of as an alternative for the older USB port, you can use it as a substitute for the HDMI or DisplayPort.
If you were tired of remembering the side for inserting your USB cable, you would love to have this port as it is reversible and lets you plug in the cable both ways. Since this is a versatile port, you can plug in your smartphones or tablets while you work.
The interesting fact about this port is that it lets you connect your laptop to your monitor or your monitor with other monitors. So, creating a multi-monitor setup becomes an easy-peasy task with a USB-C port. Overall, it makes your life easier while you work remotely. 

Less Common Types of Monitor Connections to Know
Monitors come in different forms, and although the types of monitor cables are some of the easiest to find in today's market, there are many other monitor connector types that you can consider as computer accessories. Some of these connections might be useful if the above options are not available for you at the moment.
1. SDI
Serial digital interface, or SDI, is commonly used in the motion picture industry. It uses a single-pin connection to transmit the digital video signal. The cables can be as long as 300 meters, making them a good choice for people who need to make a particular display available far away from where the primary computer is located.
This type of display port is typically used by video security cameras to transfer the images captured. SDI connections often come along with BNC Cabling, which also includes specific connectors that allow the user to "lock" them into the end devices.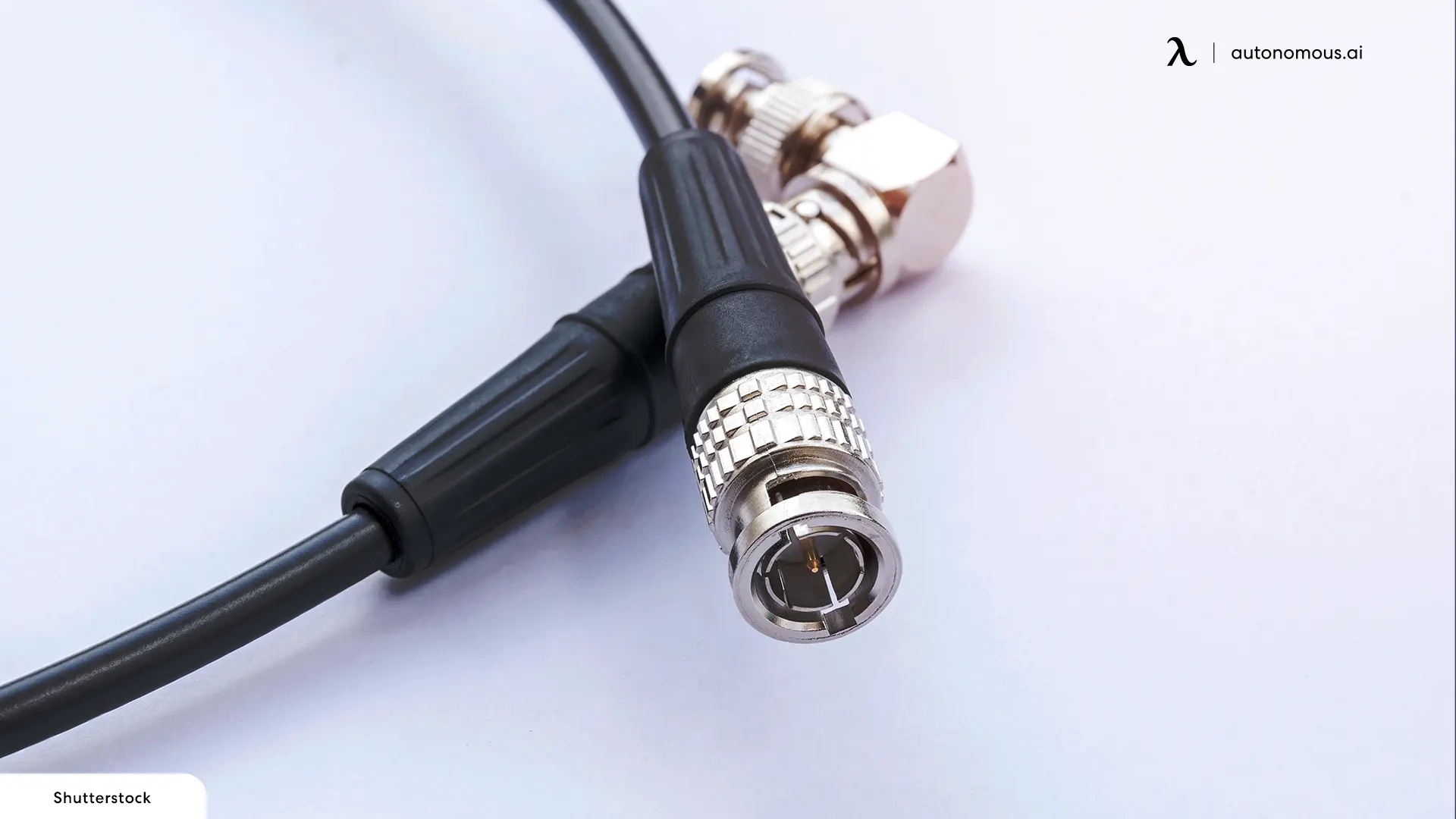 2. AV (RCA)
AV input is not very common in the modern day. You probably know about it as it used to be one of the most common monitor port types to connect video game consoles to your television or any other display you may have had at home. This connector receives analog audiovisual signals from electronic devices and then generates AV signals that are then sent to the display.
3. NDI
A network Device Interface (NDI) is a computer monitor connection type. It allows you to project audio and video using an ethernet network. Both computers need to be connected to the same connection for it to work, though. 
Does the Monitor Cable Type Matter?
Any of the connections we've presented in this article can be useful for the average user or people without any specific exigencies, such as using a vertical monitor. However, some people need very specific functions, such as audio, higher resolution, or perhaps a higher refresh rate.
Take a look at the below chart to know what's best for you:
HDMI connectors

are better for people with a Smart TV or a computer who would like to have access to audio and video simultaneously, without the need for extra connectors for the audio.

Display port connectors

are the best option for audio and video signals. Sometimes, it can provide better performance than HDMI cables.

DVI connectors

are better for those who want a 144Hz refresh rate at 1080p. However, it only carries video, and it can work perfectly fine with older systems.

VGA connectors

are still common, but they're becoming rare with each year that passes. If your monitor has this connector available, you can still use it if you don't have anything else around. It may not provide as good video quality as other connections, though.

USB Type-C

is excellent for laptops, smartphones, and tablets and can be used for other devices, such as a wireless charger. If you own Apple devices, you'll be happy to hear that the thunderbolt connection is one of the best options (it's the equivalent of USB-C in Apple devices). You can also learn how to connect a MacBook to monitor.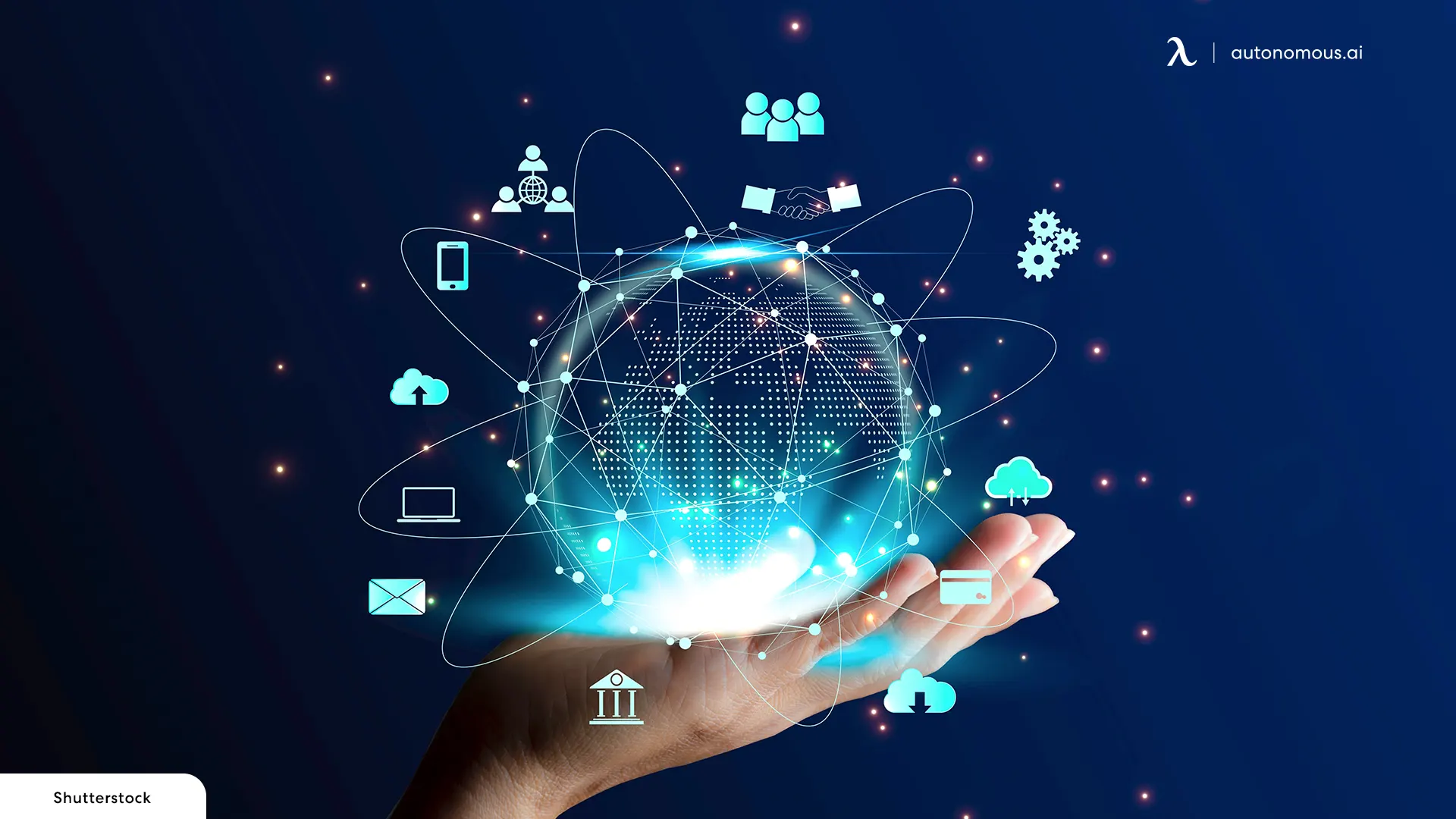 Types of Monitor Cable: New vs. Old
Of course, new technology beats old technology easily. However, that doesn't mean that some of the old monitor connector types are obsolete. Some monitors and computers still include those ports "just in case" something goes wrong, and there isn't any other type of connection available. For example, it's not uncommon for certain laptops to include a VGA cable, even if the current standard is HDMI connectors.
The older monitor cables include DVI, VGA, and AV connections. HDMI has been the standard since it was introduced in the market in 2002. However, four years later, in 2006, the DisplayPort made its debut and is quite common to find in most devices. It has better performance and could be better for certain users.
DVI and VGA cables only support video. AV supports both audio and video, but the quality may not be the best. On the other hand, both HDMI and DisplayPort are excellent options for relatively good audiovisual quality. DisplayPort can support 4K video, too, if that's what you want.
It's also essential to take into account what your computer's GPU and monitor can support to choose the right type of monitor cable. For instance, not all computers include some form of DisplayPort port, but you might have access to HDMI and DVI or even VGA.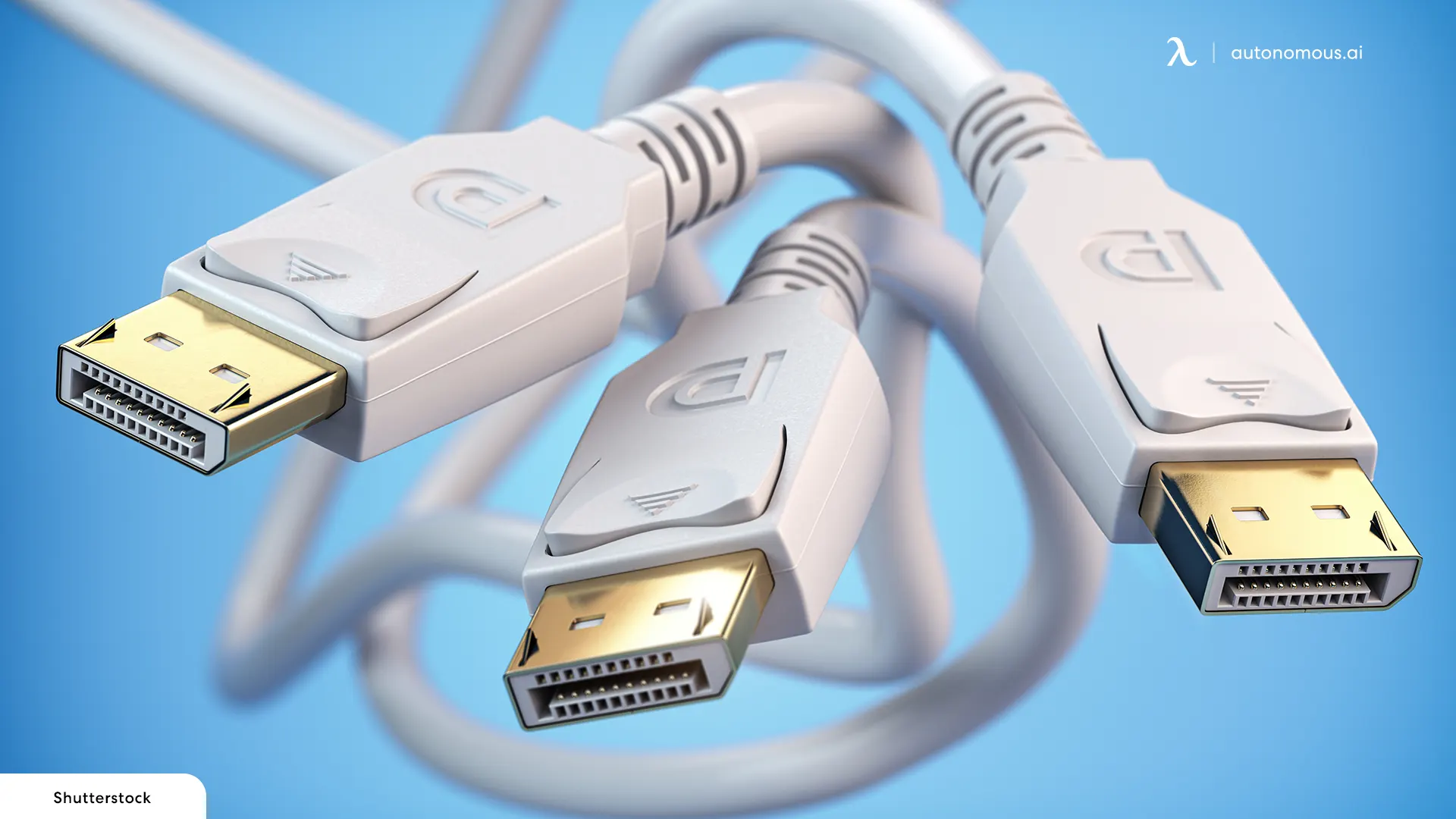 Frequently Asked Questions
1. What's better, DVI or VGA?
VGA is currently considered an obsolete video connection. DVI is still present in several computers, and although it can only provide video signals, it's still quite good due to its precision and velocity. Thus, we could say that DVI is better than VGA due to the better quality it can provide to the user. Plus, you can easily convert DVI to HDMI.
2. What's better, HDMI or DisplayPort?
Although HDMI is the current industry standard, DisplayPort happens to be the best connection at the moment, supporting 4K video at 144Hz. The reason why DisplayPort is better than HDMIs the data transfer rate. The former has a higher rate than the latter.
3. Can VGA do 4K?
Unfortunately, VGA cannot provide 4K quality. VGA has a maximum resolution of 2048x1536. Therefore, no matter how you try, it's impossible for this type of connection to provide 4K video quality.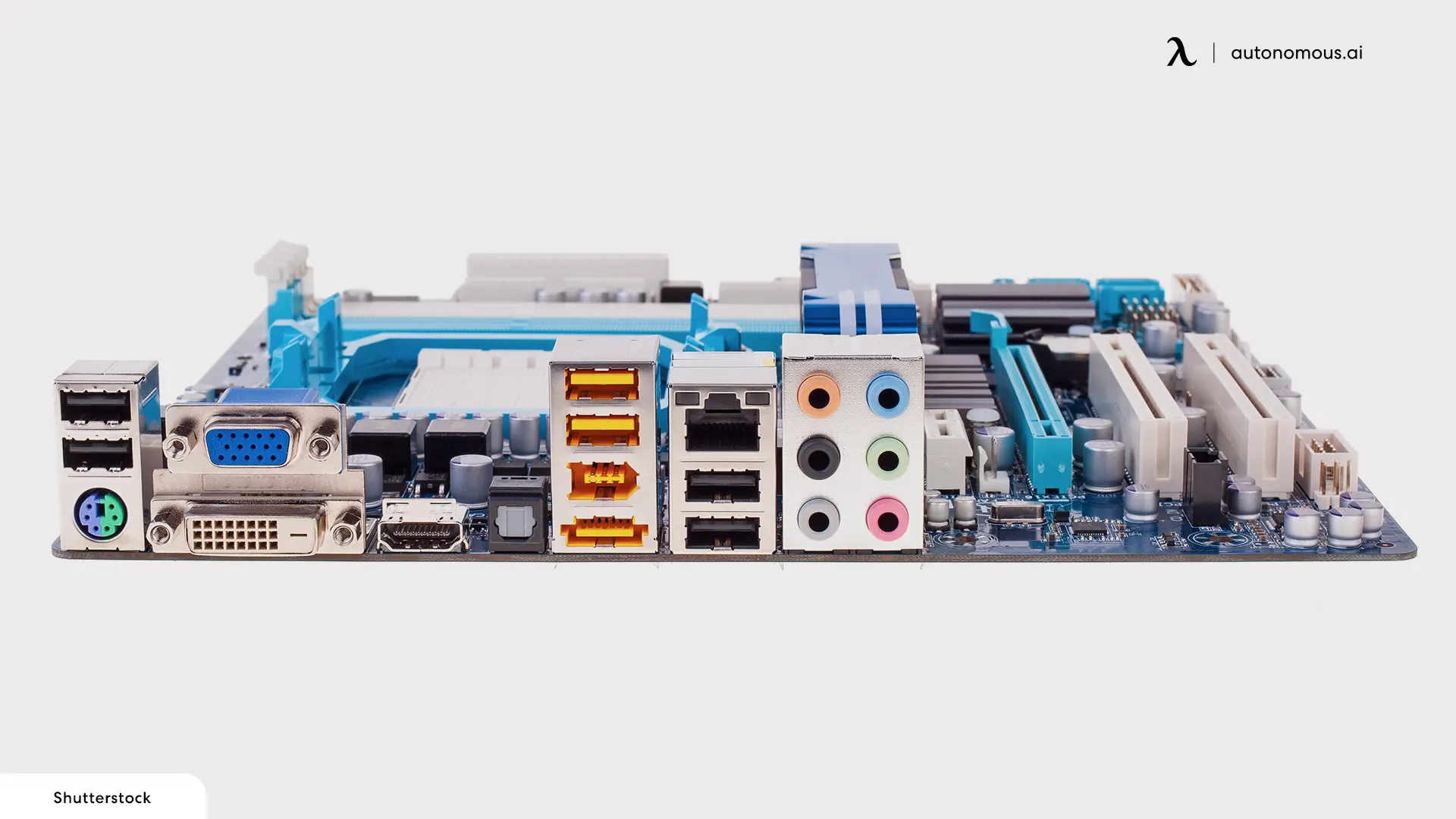 4. Should I use VGA or HDMI?
If you have access to HDMI, there's no reason why you should stick to VGA. HDMI has a better resolution and can also provide audio signals, something that VGA cannot do. HDMI is better in all aspects. You'll have a better video experience if you choose it over VGA.
5. What is the best monitor connector for gaming?
If you're a gamer and would like to make the most of your gaming time, then you should use DisplayPort. HDMI is good, but DP happens to be the best option for both audio and video, being capable of providing 4K at 144Hz. If you have a dual monitor setup, DisplayPort will enhance the performance, too.
Wrapping It Up
Coming towards the end, you may now have a holistic idea regarding the major types of monitor cables. So, planning a multi-monitor setup on your own won't be much difficult for you. However, you must know the right place to buy the office furniture for yourself, so we have made that part easier for you too.
The good news is that you can find all types of ergonomic office furniture at a discounted rate under our employee purchase program. Our purchase program is designed to offer high-quality ergonomic furniture at lower prices. There are multiple discount offers for you, so you can avail yourself of the benefit of that if you are planning your office. All you will be required to do would be to log on to our program using your corporate email, and you will be good to go.
Keep up with Autonomous news
Stay informed, stay inspired with our new blogs.
WRITTEN BYAutonomous
We build office products to help you work smarter.