Smart Products
Elegant L-Shaped Desks for Home Office You'll Love in 2021

Autonomous
|
May 21, 2021
1,876 Views
Working from home office during these changing times? Most of us are. As you manage your home office, it is time to redo your home with a corner desk for home office. A corner desk not only saves you floor space and is easily tucked away in a corner. The L-shaped desk home office is one of the most in-demand work desks.
Recent needs to stay healthy and beat a sedentary lifestyle during the pandemic have seen a demand in an office standing desk. Benefits? Get on your feet to work or sit down when tired by merely adjusting the height of your work desk. Many medical journals confirm the benefits of using a standing desk to benefit you as you burn more calories, avoid stiff body postures, and better blood flow.
What is an L desk for home office?
An L desk for home office offers you two different table arms perpendicular to each other. Wow, to the extra workspace that you get, you can easily accommodate another user on any side of the L-shaped table. Explore this corner standing desk, and you will surely want it. Break barriers from traditional desks and do yourself a favor for your health.
Most senior executives in companies have an L-shaped desk. With their computer system on one side, mementos/ pictures/ office files/ a printer/ desk calendar or more occupy the other side. Access is easy as stretching to get items is avoided. Convenient, isn't it?
Do explore more home office setup idea as you visualize the setup.
Why an L-shaped Corner Desk for Home Office?
A computer L-shaped desk home office offers you savings on floor space and extra storage. It is most preferred for the large surface area you get to work. Most people also prefer it for the extra corner space to easily store files, books, or other material. As the L-shaped desk is tucked against the wall, you get ample storage space on the underside too. You can always add a couple of drawers or smaller bins to store various household items or office items. These storage bins could be used anywhere in the house if you need to move the table or decide to use the space for any other items. You get easy accessibility and mobility with these temporary storage ideas.
Here are some ideas to explore adjustable standing desk for small spaces.
Top 5 reasons for an L-shaped Desk for Home Office
Here are the top five reasons for you to consider an L-shaped corner standing desk for a home office.
Healthier body
When you have a standing desk, even in L-shaped for a corner, you can expect to be healthier. Adjusting your desk height to sit or stand as you work burns more calories, increases blood flow, and reduces body aches and has good posture.
Exclusivity
An L-shaped desk home office is not for just anyone. It showcases elegance and class and serves the needs of people with essential tasks to accomplish. At your home office, you have a choice to set it up in the middle of your study or tucked into a corner. Either way, it offers you ample space available for a seating area and more. 
More surface area
A corner desk provides you with more surface area with the L-shaped table. You can always use the space for extra storage or office stationery, or a printer/scanner. The extra workspace on either arm of the L-shaped desk home office is beneficial when a work colleague has to work back with you. 
Reach
The best part is that you can easily reach out for items placed on either side of the table. You don't need to stretch your body, thereby pulling a muscle or two as you reach for a file, very common with a standard desk.
Storage
With an L-shaped desk for the home office, you are sure to find extra storage space under the tables.  You can always store work files or more.  If you don't want to use this space for anything, you can leave it free to just stretch your legs as you work long hours from your work desk.
Elegant L-shaped Desks for Home Office 2021
Our pick of the most elegant L-shaped desk for a home office is the SmartDesk Corner that offers you a choice like no other. One of the best sellers of the L-shaped desk offers you a combination of an office stand desk and a corner desk. You can easily adjust the desk's height for your convenience to sit and work or, when tired, stand up to work. Raise the height of the work desk by the flick of a button. Manage the height of the desk between 29.4 inches to 48 inches. Notable, isn't it?
The additional workspace on both sides is perfect for spreading up and working on drawings, files, or designs. If you are more of the compact work area kind of person, extra workspace does not harm you. It gives you space for storage of office-related things or household items, thereby serving as a multipurpose table.  We love the 2-in-1 purpose of the table.
Some people prefer to use this table as they work using two screens when comparing data or having an extra screen for a virtual meeting. Executives could have company dashboard information or just TV displaying how Wall Street is playing out the day. 
The single solid steel frame takes on a weight capacity of 440lbs. The finished wooden top makes you feel closer to nature as you are tied down to your work or the pandemic prevents you from going out. There is a choice of four different finishes, including a walnut-colored top.  Refreshing, isn't it?
The benefits of this L-shaped desk for a home office are just excellent!
Of course, you always have the choice to explore more ideas for an L-shaped corner desk home office before you finalize the one that best meets your needs.
Video ads for product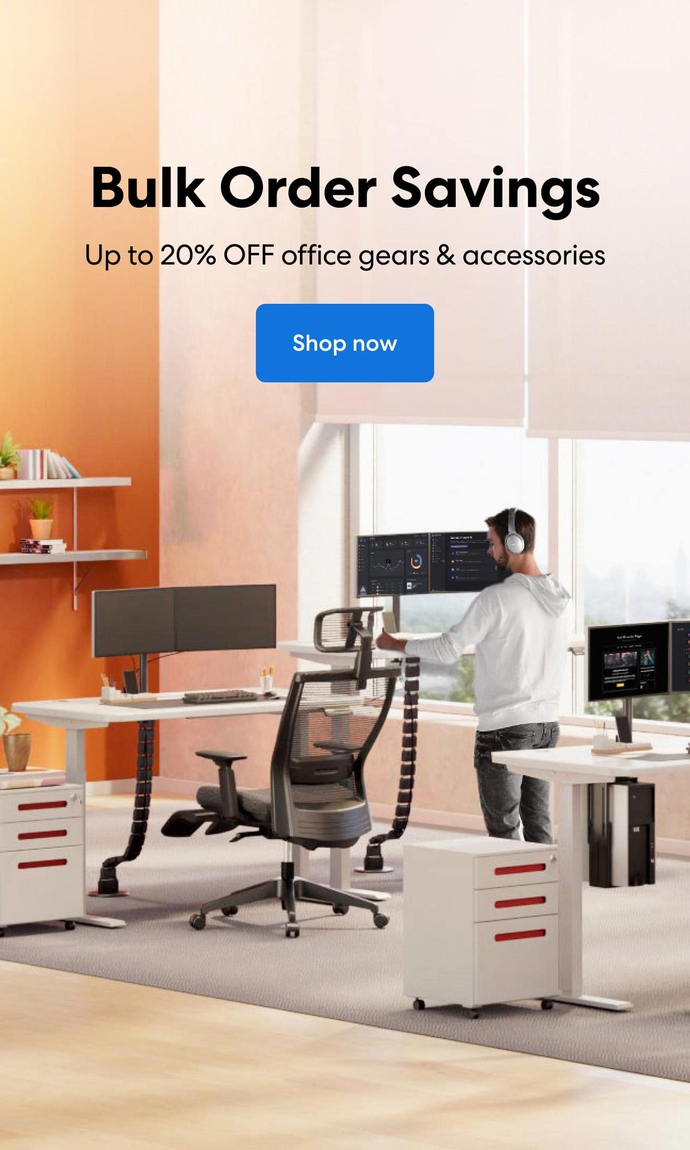 Subcribe newsletter and get $100 OFF.
Receive product updates, special offers, ergo tips, and inspiration form our team.