Smart Products
What is the Ergonomic Desk Height for a Tall Person?

Autonomous
|
May 25, 2021
9,639 Views
Are you a tall person who is looking for an ergonomic desk? Are you a tall person struggling to find one? It is understandable! Today, most of the desks that you find in the market – ergonomic or otherwise – are in a standard size. So, how do you find a good fit or a desk height for a tall person? It is tough to find a suitable office desk for individuals who are taller or plus-sized.
You could easily pick out any desk or office ergonomic chair and use that. But, the nature of ergonomic desks is that they're supposed to cater to unique body shapes and sizes. When it comes to knowing if a desk suits you, the best way to find your match is to test out as many desks as possible.
However, doing this to find the desk height for a tall person isn't always possible. Either the store has limited options, or you're shopping online where you can't really test out the desk.You can keep the following key things in mind when looking for an desk height standard for a tall person, as well as gaming desks.
How Tall Are You?
Let's jump right into the most obvious factor to know how high should a desk be for a tall person– your height! If you already know your height, then move on measuring the length of your back from the top of your head to the bottom of the spine.
The standard height of an office desk is around 30 inches. One desk size can't fit an employee that's 5 feet 2 inches and another that's 6 feet 2 inches equally.

Someone who is 5 feet 2 inches should use a desk that's at least 24 inches. That is about 6 inches lower than the standard desk height of 30 inches. 
Then measure out your thigh length, beginning from the knee to your waist and, then, the knees to the base of your foot. The last measuring is the length of the waist, to see if the desk you want can accommodate extra space.
Getting all these measures right ensures that you'll consider not only the maximum office desk height but its depth and width too. 
What Are The Desk Dimensions?
Next, look at the desk that you're interested in purchasing. Try to look for various desk dimensions that are suited for people of different heights. Usually, it's easy to find a desk with the proper height range of 28 to 30 inches if you're upto 5 feet 10 inches tall. There are many standing desk height charts that you can see online to get a better idea.
If you're taller than that, then you may not find it easy to get a desk. Some tall people who find it too cramped to work with smaller desks prefer getting a tall standing desk.
As an easy measure – add one inch to the desk space for every three inches to the person's height. For example, if an employee is 6 feet, then the

standard desk height would be 27 inches. 

An affordable solution to buying a new desk with desk height for a tall person is to cut the desk legs. The legs must be cut down to make the desk 24 inches and readjust using wooden blocks.

If the space permits, an L-shaped desk is perfect. It gives you more PC area while the two sides offer space for devices, folders, and writing. 

After setting up your new workstation, leave enough space under the desk to move your legs about freely and to prevent banging your knees. 
It is easier for them to work with this height when standing and sitting; all they need is an ergonomic chair for tall people with more height adjustment. Standing or sit-stand desks can be the better solution for offices where all employees have different heights.These desks have adjustable standard desk heights, with the best of them going as high as 33 inches.
What Are The Chair Dimensions?
A taller person will always have this issue with their chair. That the seat pan isn't large enough to support their entire leg. Usually, when seated, the leg remains unsupported and hangs over the seat. It's uncomfortable and creates pressure under the thighs.
They might even find that the chair can't be raised high enough for them. Next, they are sitting at a lower height with the hips below the knee level.
The suitable chair for

standard desk height for a tall person can turn out to be the component that supports you in areas where the desk height adjustment isn't possible.

Sitting in an adjustable chair lets you rest on the back support with

lumbar support, offering your arms, back, and legs full support.

There shouldn't be any pressure on the back of the knees. There should be about a fist-sized amount of space between your legs and the seat edge.

The width of the chair should let your forearms and elbows be fully supported whenever you sit or type.

Fatigue in the shoulders and arms increases when arms remain unsupported or are raised slightly.

The armrests must be long enough for you to sit on the chair without pulling up the chair to the desk. If you pull up the chair, your shoulders remain shrugged, and there's a strain on the neck and shoulder muscles. 

The chair and

desk height standard for a tall person must be level. Your elbows should be horizontal, wrists in a straight position, and eyes must be looking down at a 30-degree angle without bending the neck.
To prevent these issues, get a supportive and comfortable chair even when used with an adjustable standing desk. The chair and desk should be balanced out and work together. In fact, the chair gives you greater customization as they feature adjustable seat height and back support.
When seated, the angle between the legs and torso should fall in the 90- and 110-degree angles. The back of the knees mustn't touch the edge of the seat. The equipment used, your height, and the tasks that you perform also determine desk and chair height.
Tips on a Better Ergonomic
The most often asked question on the standard desk height is best addressed when you look out for an ergonomically designed desk.
Most people forget or ignore the need for a standing desk or an ergonomic chair when buying one.  They seem to be attracted by the looks and the features. Amongst the features, design, looks, aesthetics, matching décor take priority over silent ones that are ergonomically designed. People overlook adjustability, electric motors, movement of armrests/ footrests, adjustable lumbar support, and more. Why do people overlook these?  Ergonomically designed products may be a tad higher on the costs that make most folks lower their priority. Some others miss it because they don't find any tangible benefits. So, what are the main factors to consider in an ergonomic desk?
1. Free Movement
As you look to freeze your selection of a standing desk, consider the amount of space under the desk and the desk height standard.  With ample space, your legs would have free movement. You can easily cross your legs or stretch them to make yourself comfortable. You may want to look out for any drawers that may restrict the movement of your legs.  What about the colors that you may want? Do consider a white ergonomic office chair for all its benefits.
2. Harmless Shape
Whether using a desk at your office or your home office, you may want to avoid sharp edges. Of course, this is true, especially if you have small children at home. However, even for adults, smoother, rounded shapes are preferable to avoid any accidents and mishaps.
3. Personal Space
Check the space available in the room and specifically desk height for tall people. You want to avoid a situation where the entire table occupies most of the space available. You will need space to move around yourself, to get into the chair, for other office accessories. Be certain of the size of the standing desk and chair that you need. Read up on our blog on a desk chair for small spaces. 
Using Adjustable Standing Desk for Better Health
Most folks miss the need for an ergonomic desk with standard desk height unless they experience health concerns themselves. However, research shows the need to move your body muscles away from the sitting position adapted as you work. Why? As you sit for long hours, your body muscles don't move. Hence, they don't need and consume the energy (blood sugar) that the blood carries. As a result, blood sugar piles up internally in your system. This increases your risk for obesity, cardiovascular concerns, diabetes and more, and could be fatal in many cases.
Yes, ergonomics has benefits for everyone, including a gamer using a gaming desk and chair. What are these benefits? As you move your body, muscles are used.  These movements don't let the muscles go to sleep and make them work. As a result, you don't feel sleepy with movements, stay focused and alert at work, and productivity increases. Here is our review on the best desk chair for back pain.
Say goodbye to medicines!
FAQs
Is 80 cm too high for a desk?
The office desk height that you need depends on your requirements. Most folks prefer to use a desk height calculator to determine the standard desk height, given their height.
What happens if my desk is too high?
Well, don't you worry! You have many solutions if you realize that your desk is too high for you after your purchase. You could ask for an exchange or plan to sell it or even think of gifting the desk to a family member.  What do you do if you must use it? Easy! Try getting a higher ergonomic chair with a footrest. Second, try lowering the desk to your desired height – after all, it is an adjustable height desk. Still doesn't work for you? How about adding a wooden platform under your chair to raise the height, safely though! Another option is to buy an optional keyboard tray; this will help the keyboard stay closer to you for easy body movement access. The computer screen could stay on top of the table.  A final option is to consider a monitor arm to lower the computer screen in line with your vision.
Should elbows rest on desk?
Here are the headlines from our ideal ergonomic position for your elbows.  Always ensure that your forearms are rested well on the desk while standing and working. When sitting, you may want to rest your elbows on the armrests that are adjusted to suit your needs. As your elbows rest, your shoulders relax, and so do your neck and back muscles.
What is an advisable depth for a desk?
Most standard desk heights are available from eighteen inches depth onwards. While many would say it depends on your preference, it is best to go for about thirty-six inches, considering a laptop being used. How do you calculate this? Remember that OSHA guidelines recommend a distance of at least twenty inches between the computer screen and your eyes. Next, add ten inches for your forearms and wrists to rest on the tabletop. Finally, add about six inches should you want to change the angle of your computer screen.
How do I get an ergonomic desk posture?
Well, a lot of ground has been covered in this. If you are following the American standards, you cannot miss the Occupational Safety and Health Administration's guidelines. If you are based out of the United Kingdom, the National Health Scheme also has its own guidelines advising on the right sitting posture, ensuring that you stay healthy.
Summary
Ergonomic desks are here as a boon to people of different standard desk heights. You even have a desk height calculator to determine your needs.  Ergonomically designed chairs and desks prove their salt's worth in the long term. Invest in your health!
Video ads for product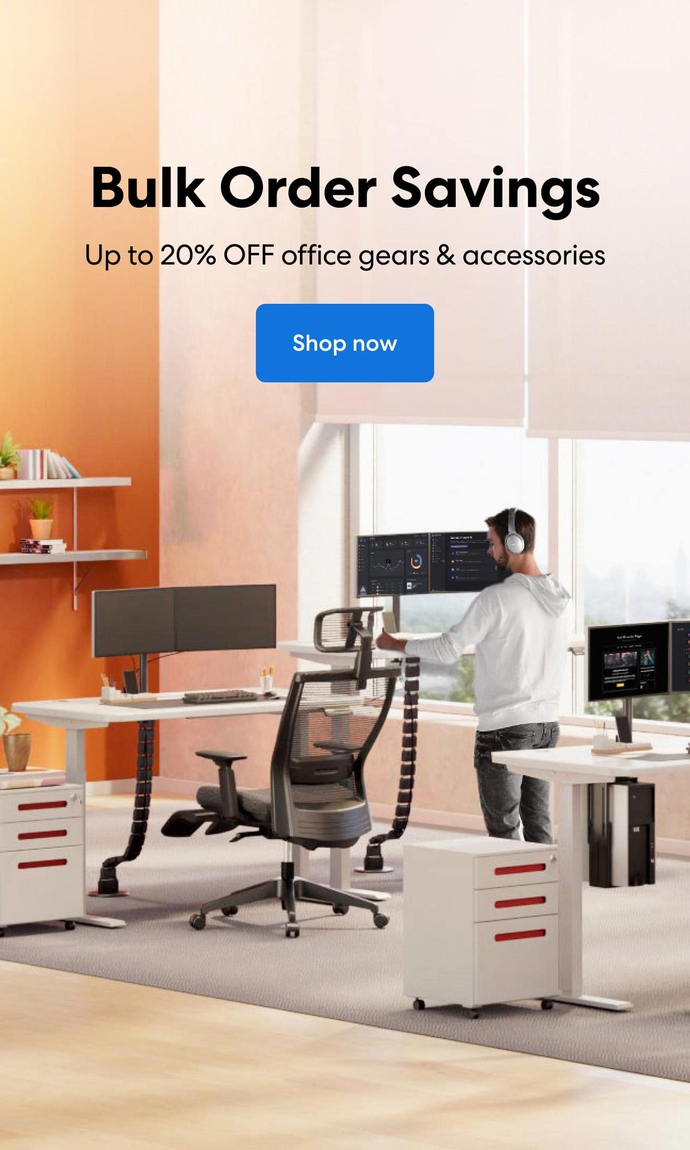 Subcribe newsletter and get $100 OFF.
Receive product updates, special offers, ergo tips, and inspiration form our team.