Smart Products
Best Ergonomic Standing Desk Converters For Your Workstation

Autonomous
|
Jun 2, 2022
1,054 Views
Stacking a laptop on top of a cardboard box is one way to transform a fixed-height desk into a sit-stand desk. Find an affordable ergonomic standing desk converter in our store now. Z-Lift and X-Lift converters are the most popular solutions. Famous for a good reason, these new desk converters' sit-to-stand models combine versatility, ergonomics, and affordability. Click here to know more about the types of computer standing desk converters we have in store for you.
When to Consider a Standing Desk Converter?
Changing standing desks to sit-stand desks seems like a cookie-cutter method, and it is in a way. It is unnecessary to replace your current desk to change your workstation throughout the day, but it is still better for your health to add an extra keyboard stand for a standing desk.
Pros of ergonomic standing desk converters
Converters are an affordable investment

You don't need to ditch your old desk

They are better suited for those transitional phases
Cons of ergonomic standing desk converters
Converters only raise a part of the desk

They might be a little less ergonomic while you are sitting

Some desk converters might appear to be bulky; this varies on how big or small your desk really is
What Type of Converter Should You Buy?
Except for desktop risers, most convertible standing home standing desks have an adjustable height mechanism for changing the work surface height. Especially for taller workers, the scope of the work surface is an important consideration. A 5'10" user is usually at the top of many height ranges. Other units are better suited to taller users.
The work surface dimensions are as follows: Will you be able to type and use the mouse comfortably? Finding a balance between a wide work surface and a slim one can be challenging. There is room for individual preference, but you need to make sure your keyboard and mouse fit comfortably. Also, you want to make sure the work surface allows you to move your hands between typing and mousing as little as possible. Here are some best ergonomic standing desk converters in the market.
1. FinerCrafts Desk Convertor with Anti-slip Pads
We offer higher quality office desk converters with thicker steel frames and durable laminate tops. This helps you be more productive. This standing desk height converter, which boasts powerful gas springs for maximum lifting and anti-slip pads to keep it stable, is convenient and easy to use.
2. Standing Desk Converter by Mount-It!
It is healthy and affordable to alternate between sitting and standing throughout the day. By using a gas spring arm, you can stand and sit easily. An L standing desk can be transformed into an ergonomic and functional workspace using the Easy-Setup converter.
In addition to promoting a healthy lifestyle and reducing neck, back, and shoulder pain, this tool also encourages movement throughout the day. You can raise your desk from 4.3" to 19.9" with the gas spring handles in seconds. The base extends straight upward.
3. Extra Wide Height Adjustable MI-7925 Standing Desk Converter by Mount-It!
Standing and sitting alternately at work is an easy and cost-effective way to stay healthy. Under a sturdy base, it is equipped with a gas spring mechanism for smooth adjustment.
Under the keyboard, there are two adjustment levers and an ergonomic keyboard tree.
4. Standing Desk Converter with Gas Spring by Mount-It!
This height-adjustable desk fits on top of your existing desk, giving you the option to work standing or sitting. With the gas spring-assisted lift, you can easily adjust the height. Eight different levels of height adjustment are possible with the locking teeth on the height adjustment mechanism. The table's base features a slot for a smartphone and a height-adjustable keyboard tray.
5. Electric Desk MI-7927E Converter with Built-In USB Port by Mount-It!
The MI-7927E's height adjustment ranges between 5.7" and 17.1", and it is compatible with all brands of computer and A/V equipment. The base of this table also includes a USB port, making it different from others. In this way, it is possible to place the desk converter more flexibly. The electric height adjustment is another major benefit. Next to the USB charging point is a power switch that allows you to adjust your desktop's height.
6. Sit-Stand Desk MI-7934 Converter with Dual Monitor Mount by Mount-It!
In addition to providing an ergonomic workspace, the MI-7934 stand-up desk converter is able to accommodate two monitors so that you can maximize your productivity. The desk height can be adjusted between 6.25 inches and 16.5 inches. This product can accommodate dual monitors by rotating the arm 360 degrees.
Introducing Autonomous EPP
EPP for Gamer/Streamer
Level up your gameplay by upgrading your gaming station. The Autonomous store is filled with all the gaming goodies you've been dreaming of. We've got a brand new collection of RGB lighting gear, standing desk accessories, colorful desks, gaming screens, chairs, and Bluetooth speakers.
Employee Purchase Program

Boost productivity and enjoy fun breaks with our employee purchase program. Our standing desk adjustable and ErgoChair collections come with various accessories. Need a way to stimulate your mind during the workday? We've just added easy desk games that help you rejuvenate your mind.
EPP for Developer/ Programmer
Build the best-organized coding lifestyle by reinventing your programmer hideout. Having the right equipment makes it easy to code. We're offering exclusive offers for individual programmers and companies eager to buy in bulk for their offices.
EPP for Government
Managing your municipality is hard work. So we've built this Autonomous employee purchase program just for government employees. Stay within your department budget by using our discounts to buy premium goods at a fraction of the cost.
EPP for Educator/ Teacher
Do you want to grade assignments and plan assignments more efficiently? Learn more about our teaching promotions. Get what you need and want without spending a fortune.
Show off your new workstation to your colleagues and ask them to register for our programs now. You could earn up to $1500 if they do.
Student Discounts
A student ambassador can earn up to $1500 for every successful referral they make. That's on top of the discounts we're already handing out!!
Video ads for product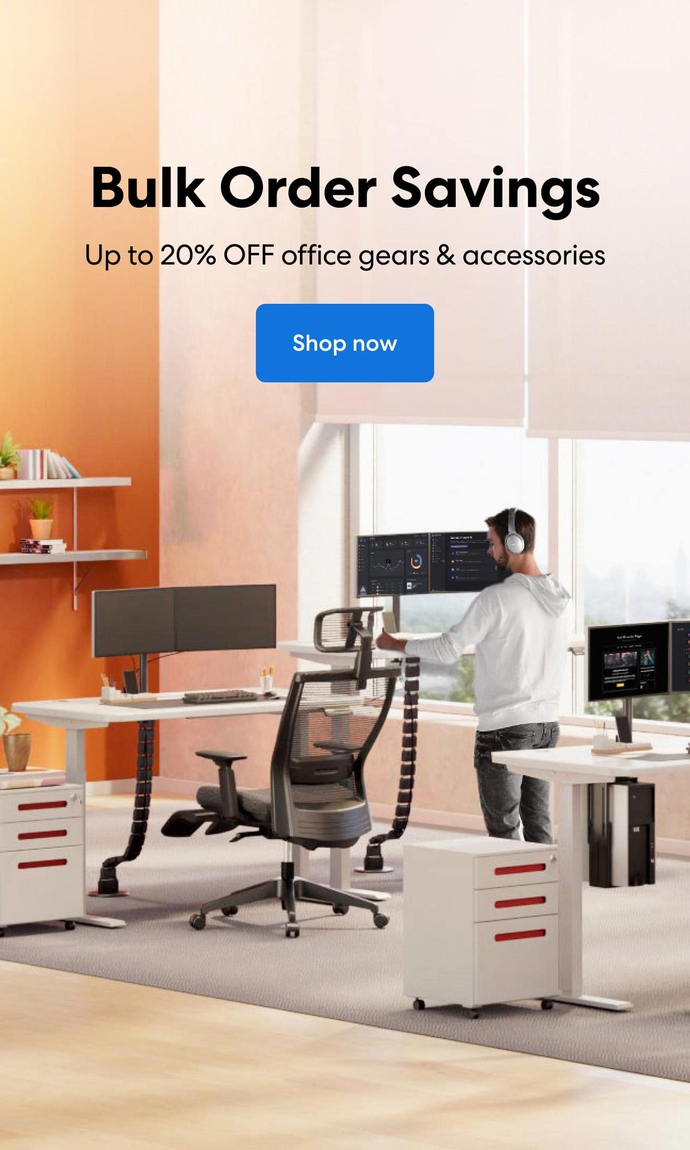 Subcribe newsletter and get $100 OFF.
Receive product updates, special offers, ergo tips, and inspiration form our team.