Gaming Setup
Inspire Your Gaming Experience with These Top 20 Black Gaming Chairs

Autonomous
|
Jun 25, 2022
994 Views
The best black gaming chair will combine two very important things when it comes to your gaming space – ultimate style and comfort. When in a gaming session, the last thing you want is to be sitting in a gaming chair that is destroying your back, and for professional streamers, it is the main piece of kit that your subscribers will see. With an all-black gaming chair, you can show off your personal style too. These top 20 handpicked black gaming chairs are some of the best chairs for a gamer to stay ergonomically enlightened while still having a way to express themselves. 
When looking for an all-black gaming chair, your health should always remain your top priority. Your body should be treated with care, and what better way to do so than by sitting on a sturdy and comfortable foundation? This is why this round-up has considered all the chairs that will provide some of the best back support for your frame. Black chairs for gamers normally do not come cheap, but at the end of the day, they are a great investment, especially if you are investing in one that will provide ergonomic benefits. 
At a glance, you may find that when looking for a leather gaming chair for you, they may appear to be a little over-the-top, but worry not; if you are wanting something more on the reserved side of things, this round-up has some of the best, simple, yet stylish black chairs for gamers. These chairs will offer you all the support and comfort that you are wanting, minus the colorful aesthetics. 
The following 20 chairs are all the top picks from some of the most reliable companies, and every single one has passed the test of comfort. If none of these chairs catch your attention, you could always go another black gaming chair route, but a chair from this guide is worth it. With that being said, treat yourself to either one or two of the following best gaming chairs.
Top 20 Black Gaming Chairs for Your Consideration
1. Vertagear Gaming Chair SL4000
The epitome of the motto "play harder for longer" is the Vertagear SL4000. Featuring an integrated steel frame, in addition to an aluminum alloy base, this five-star chair allows those who sit on it to enjoy ultimate stability and durability that is long-lasting. 
Overall, the Vertagear SL4000 was designed with your well-being in mind, as the dual-layer of premium foam that this chair is wrapped in provides prolonged comfort, and the removable pads for neck and lumbar support help you to maintain a healthier gaming posture throughout your use with this chair.
Even if you don't realize it yet, spending hours upon hours of time gaming really does take a toll on your body. Having a good chair, like the Vertagear SL4000, will help you to enjoy long hours of gameplay while making yourself comfortable with its lockable 140-degree independent back recline and adjustable tilt tension.
Investing in this gaming chair is a must for a better gaming experience and ergonomic ease. Offering perks left, right, and center, it is a no-brainer why this chair is among the top picks for being the most comfortable gaming chair.  
2. Karnox Leather Gaming Chair
With the Karnox Leather Gaming Chair, never again will you have to discontinue your gaming session as a result of discomfort, as this black leather gaming chair should be your new reliable partner to enjoy longer gaming hours with. 
The Karnox Leather Gaming Chair is one of the premium gaming chair options in this round-up, and it has all the features one needs in order to feel comfortable during a gaming session. Better yet, this all-black gaming chair has some of the best ergonomic features, as well as everything you like about your average, regular gaming chair.
These features brought together at the chair's affordable price make it the perfect chair for just about all gamers to improve their gaming set-up and take their gaming to the next level. 
3. Karnox Gaming Chair Assassin Ghost Edition
Gaming furniture, such as a gaming chair and desk, are often displayed in the most neutral hues like black and white. As far as a black gaming chair goes, it is best to familiarize yourself with all the features that the Karnox Assassin Ghost Edition gaming chair can offer you. 
Not only does this all-black chair feature an exclusive tilt mechanism allowing users to adjust to their preferred seating preferences, but it also features a backrest and seat that is upholstered in PU leather and cushioned with a molded foam.
The slick design of this recliner gaming chair also makes it a popular option amongst gamers around the world. No matter where you are in the world, when you purchase the Karnox Assassin Ghost Edition gaming chair, you enjoy the rewards of free shipping and great customer support. What more can a gaming chair possibly offer? 
4. Vertagear SL5000 Gaming Chair
If you are on the hunt for the best RBG gaming chair for your gaming setup, then the Vertagear SL5000 Gaming Chair is the chair for you. When you buy the Vertagear SL5000, you will have the option of either purchasing it as a regular gaming chair, or you can choose to give it a racing edge.
Anyone determined to have the ultimate gaming experience can get the Vertagear SL5000 to come complete with an RBG kit, making it the perfect black chair for a gamer.
5. Secretlab Titan Evo
If you are wanting a benchmark by which you can judge all the best gaming chairs, then the Secretlab Titan Evo is the solution. To earn a role like this means that the Secretlab Titan Evo needed to have ticked all the boxes one would tick when looking for the best gaming furniture around – supportive, comfortable, and stylish. 
The three available sizes - small, regular, and extra-large - that this black chair comes in may just about push this chair to the top of your list. No longer do you need to search through thousands of models to find the perfect fit; this all-black chair should cover all the bases. 
6. Secretlab Omega
When it comes to quality products, most people are willing to spend a little extra money. This is because they know they will be spending a sizable portion of their time putting this product to use. Gamers should have the same mentality when it comes to adding a chair to their gaming set-ups. 
A finely constructed black chair for gamers is the Secretlab Omega. From the base to the case, the armrests, the lift mechanism, and the seat, this chair was made with some of the best available materials around.
However, the secret to this chair's success is the non-existent third parties, for those that do not want to deal with retailers or distributors, as this company will sell directly to you. This is part of the reason why you can get a premium chair at a reasonable price. 
7. NeueChair
If you are someone who wants functionality over design, then the NeueChair is the perfect choice for you. However, this is not to say that this chair is not stylish, as many would tell you that the black mesh and sleek chrome silver look of this black gaming chair make it a very attractive option. 
Most importantly, however, is the construction of the chair. Being heavy and substantial, the assembly of the NeueChair is a breeze. It is simply a matter of pushing two parts together after inserting the casters. Should you be able to afford its price tag, then you can get back to your gaming in a matter of seconds. 
8. AndaSeat Kaiser 3 XL
Anyone needing more wiggle room will find that the AndaSeat Kaiser 3 XL black and white gaming chair can provide that. It comes in two sizes, large and extra-large, and the options it gives do not stop at the size. You can also choose between two types of materials, linen fabric and PVC leather, and seven different colors, including black.
9. Noblechairs Hero
It is easy to neglect your health when choosing a black gaming chair. The reality is, that most of you should be picking a chair that takes your back and neck support seriously. Noblechairs Hero is not the most exciting black leather chair out of the bunch, but it does do a good job of taking care of your neck and back. 
10. Corsair T3 Rush
The latest addition to Corsair's supply of premium black gaming chairs is the T3 Rush. You can thank the memory foam lumbar pillow for making this chair considerably more comfortable. However, if you intend to enjoy breakfast, lunch, or dinner with a side of drinks at your desk, then you should know that fabric chairs, like this one, stain. 
11. Logitech G x Herman Miller Embody
If you are looking for a good all-black gaming chair, then you may have already heard of the Logitech G x Herman Miller Embody, as this chair has occupied one of the top positions in most gamers' best chair roundups for a considerably long time. This is because not only is it comfortable for prolonged periods of gaming, but it also supports an active and healthy posture. Better yet, the Logitech G x Herman Miller Embody also easily fits your body frame. 
One of the most noticeable traits of this chair is your ability to sit in this chair all day long and not feel a moment of discomfort. Another stand-out feature is the warranty. This warranty sits at 12 years, guaranteeing you a black leather gaming chair that will last well over a decade. 
At first, the price tag may seem like a lot, but once you realize that your investment is worthwhile and that the dent in your bank account won't be dented again by another gaming chair for another 12 years or longer, you will want to purchase this chair straight away. 
12. Mavix M9
Another black and white gaming chair that does not come cheap is the Mavix M9, but if you are going to buy a gaming chair, then there is no reason why you shouldn't buy one that offers the utmost comfort. The Mavix M9 has incredible ergonomics and delivers on the health part of a good gaming chair. No matter what position you find yourself in, the dynamic lumbar support will give your back the support it needs. Other several adjustable parts allow for maximum comfortability. In comfort alone, the Mavix M9 is well worth its price. 
13. Andaseat Fnatic Edition
This round-up has a bunch of Andaseat gaming chair options, and the Andaseat Fnatic Edition is one of them. Even if you have no idea who esports is or if you actually are an esports fan, this all-black gaming chair is well worth your consideration. 
Its large seat, ultra-soft lumbar support, and plush foam memory padding make it the gaming chair of all gaming chairs. It is a great black gaming chair for larger gamers who are big on comfort. 
More Options for the Best Black Gaming Chairs
If none of the above black gaming chairs have won your seat, here are several other options to look into: 
14. Noblechairs Epic Real Leather
15. Andaseat T-Pro 2
16. Autonomous ErgoChair 2
17. Razer Iskur
18. Corsair T2 Road Warrior
19. Noblechairs Icon Gaming Chair
20. Brazen Phantom Elite Gaming Chair 
Autonomous Gamers' Benefit Programs
Before indulging in more of the best black gaming chairs, it is useful to know about the benefits in place when you decide to purchase any of the above gaming chairs mentioned in this round-up. Autonomous knows how the pandemic has radically changed how people spend their money and have put benefits in place for their customers. By joining its Employee Purchase Program or Gamer Purchase Program, you can unlock a world of storewide discounts to grab an all-black gaming chair for less.
That brings an end to this round-up of 20 of the best black gaming chairs aimed at inspiring your gaming experience. No matter what all-black gaming chair you decide to go with, each one provides features that achieve a stylish look and maximum comfort.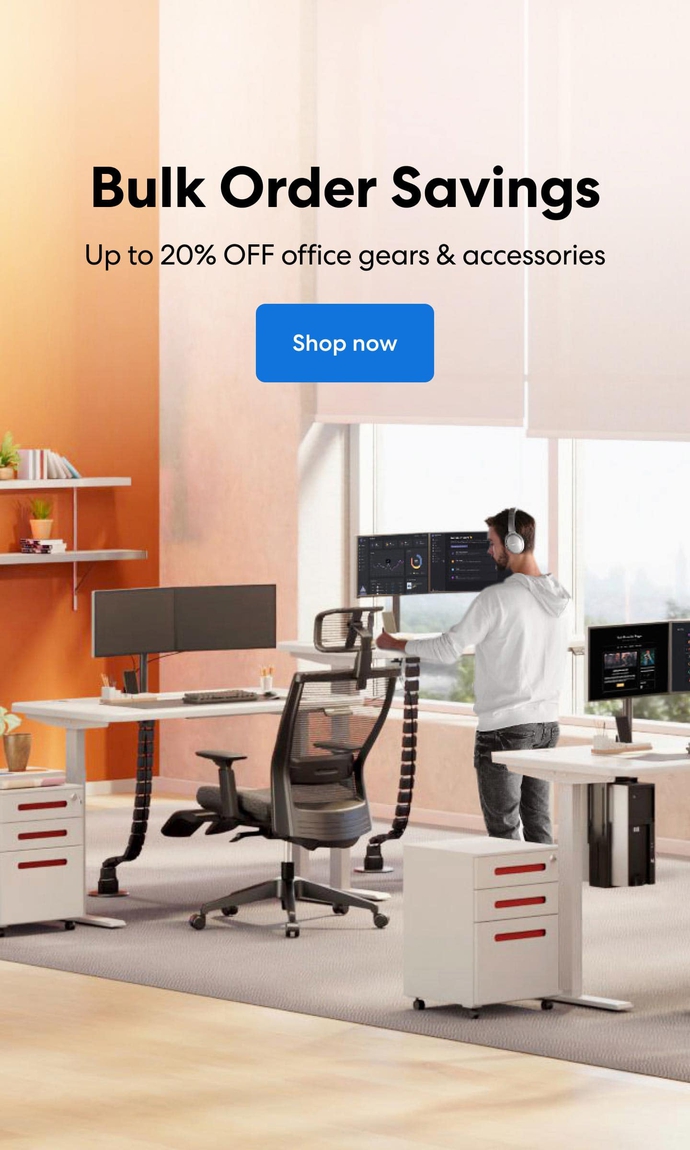 Subcribe newsletter and get $100 OFF.
Receive product updates, special offers, ergo tips, and inspiration form our team.