Smart Products
Explore Small-Space Chair Trends and Inspirations in 2023

Autonomous
|
Jul 24, 2023
239 Views
The new generation and their preferences are steering furniture manufacturers into producing chairs that cater to their needs. Although functionality is a priority, people are now looking for space-saving designs, ergonomics, and other factors before investing in a small space comfortable chair. 
In this article, we will explore the latest small-space chair trends. Keep reading until the end, as we will also review the top six seating solutions from Autonomous. 
Let's get started! 
Current Trends in Small-Space Comfortable Chairs
Whether you want to buy an ergonomic chair or a cross-legged office chair, the following are the current trends that you should consider before investing in a seating solution: 
Multi-functionality
One of the latest trends in small space comfortable chairs is multi-functionality. The new generation is looking for furniture that caters to their needs while optimizing limited living areas.
A compact and comfortable chair for a small space should not only offer a cozy spot to sit but also have other functionalities or benefits. 
Some of the latest design chairs come with hidden storage compartments that provide a convenient solution for organizing and decluttering your work table. 
Space-Saving Designs
If you're searching for a comfortable chair for a small space, it should utilize the limited living area to its maximum while providing you with comfort. 
A chair should not compromise on features that provide comfort and should seamlessly fit into small spaces. Sleek profiles and slim frames are popular choices as they reduce unnecessary bulk and create an illusion of spaciousness.
Foldable and Stackable Chairs
Today, people are looking for chairs with foldable designs. A small comfortable chair for a small space should stack away when not in use, allowing you to use the valuable floor space for other activities. 
With a simple folding mechanism, you can transform your chair into a compact form that you can tuck away in a closet. This is great for those living in small apartments or studios where there is a need to optimize space. 
Ergonomic Support
Another trend among the new generation is ergonomic support. A small space comfortable chair should not only save space but also take care of your posture and well-being. 
The lumbar support should adjust to the curvature in the lower back area, helping promote a healthy posture and alleviate back pain. 
Bold Colors and Patterns
Currently, bold colors and patterns in furniture are trendy among new buyers as it is a conversation starter for when you have guests over. 
Chairs with vibrant hues allow you to inject a pop of color into your small space, instantly transforming its ambiance. Captivating patterns are a way for users to express their creativity and improve the aesthetic of their room. 
Unique Shapes
A small comfortable chair for a small space should have unique shapes that add a touch of artistic flair to the living area. It should have a distinct and unconventional look that instantly becomes a conversation piece at every meeting, dinner party, or other event. 
With unconventional contours and structures, you can bring an element of surprise and artistic expression to your small space.
Retro Style of the 70s
The retro style of the 70s is a hot favorite with the current generation. It adds a touch of nostalgia and embraces a vintage aesthetic. 
A small comfortable chair for a small space should have the charm and character of the 70s. This makes the furniture a statement piece with its vibrant colors and funky patterns.
Sustainable Materials
People are gravitating towards small-space chairs made from sustainable materials. The new generation is becoming more environmentally conscious, and they're looking for furniture that addresses their concerns. 
Chairs made from reclaimed wood, bamboo, or recycled materials help reduce the strain on our natural resources and give new life to existing materials. It enables you to play your part in conserving the forests, reducing waste, and supporting the circular economy.
Flashy Details
We're living in an era where people prefer glamor and excitement. A comfortable chair for a small space should have enough flashy details to become the center of attention. 
If you want to bring depth and dimension to your small space, a computer chair with glossy surfaces, reflective metal accents, or mirrored details should do the trick. 
It should incorporate metallic tones, such as gold, silver, or copper, that further add to the flashy effect and give out a sense of extravagance. 
Layered, Indulgent Textures
Another latest trend when it comes to a compact and comfortable chair for small spaces is indulgent textures. Plush fabrics and rich materials offer a feast for the senses while ensuring comfort and relaxation. 
It also brings a certain depth and visual interest to your living area, making it feel more inviting and luxurious. 
Soft and Inviting Curves
Gone are the days of hard edges. Today, people prefer soft and inviting curves when buying a small comfortable chair. 
The gentle curves are perfect for cradling the body, allowing the user to relax and unwind after a long day. Whether you're reading a book, working, or simply enjoying a cup of tea, these chairs with soft and inviting curves offer a comfortable and ergonomic seating experience. 
By bringing a sense of warmth and intimacy, soft and inviting curves on the most comfortable small space chair create a feeling of security and coziness. It will make you feel right at home. 
Biophilic Design
These days, the building industry is focusing on increasing the occupant's connectivity with nature, and so are the furniture manufacturers. A small comfortable chair for a small space with a biophilic design ensures comfort while connecting you with the natural world. 
One of the benefits of incorporating biophilic design is sustainability. Chairs with such designs often utilize eco-friendly materials, such as responsibly sourced wood, recycled fabrics, or natural fibers.
It reflects a commitment to reducing environmental impact while providing a comfortable and visually appealing seating option. 
These types of furniture also incorporate patterns and textures found in nature. This helps create a sense of calm and serenity and can help you relax by bringing a sense of peace to your living area. 
Statement-making Designs
If you're looking to stay updated with the latest trends, you may want to consider a compact and comfortable chair for small spaces with statement-making designs. 
This type of furniture has bold shapes and vibrant colors and is made from unconventional materials. It can transform your living space into one that reflects your unique style and personality. 
How to Select the Best Small-Space Comfortable Chair?
There are several factors you should consider when investing in a small space comfortable chair, some of which include the following: 
The Size of the Chair
It's essential to pay close attention to the chair's dimensions before purchasing one. 
Measure your available space carefully to determine the size of the seat. It's best to look for compact and slim designs that can easily fit without overcrowding the room.
Functionality and Versatility
When buying a small comfortable chair for a small space, make sure it is multifunctional and versatile. The seat should have adjustable features and be able to adapt to different activities, such as sitting or taking a quick nap. 
Comfort
If you're going to be sitting in a small space for an extended period, you need a comfortable chair. 
Look for a chair with excellent cushioning, supportive features, and ergonomics. It should also have proper lumbar support and armrest positioning.
Style and Aesthetic
You should always invest in a small space comfortable chair that complements the aesthetics of the living or working space. Take into consideration the existing color scheme, textures, and materials to ensure that the seat works well with the surrounding décor. 
Material and Durability
It is important to buy a chair that is sturdy and built to last. You should look for frames made from materials like wood, metal, or high-quality plastic. 
Make sure you consider the durability and longevity of the seat before purchasing one. 
Easy Storage
In small spaces, it's crucial to consider storage. Chairs with space-saving designs can allow you to store or rearrange them when not in use. 
Budget
Before you start searching for a small comfortable chair for a small space, you should determine your budget range. Although investing in a high-quality chair is essential, finding one that fits your budget is also crucial.
The Top Six Best-selling Chairs at Autonomous 
Whether you're looking for an ergonomic office chair with adjustable features or one that has a fantastic recline, our list of the top six seating solutions has something for everyone. 
Autonomous ErgoChair Pro 
If you're looking for a small space comfortable chair, look no further than the Autonomous ErgoChair Pro. This fully adjustable and supportive seating solution is perfect for people with limited space. 
With its compact design and adjustable features, the ErgoChair Pro is the most comfortable small space chair you'll find. It has an adjustable height and armrests while providing a smooth recline with lockable positions. This allows you to adjust the chair according to your needs. 
Small areas can get hot and stuffy, but that shouldn't concern you, as the ErgoChair Pro has a woven mesh back that provides excellent airflow. This executive office chair will keep you cool and comfortable even in a confined space.
Autonomous ErgoChair Plus 
When it comes to compact and comfortable chairs, the Autonomous ErgoChair Plus is a game-changer. It ensures your comfort while optimizing the limited space you have. 
With its frameless construction and built from earth-friendly materials, it's the perfect compact, comfortable chair for small spaces. It encourages natural mobility, allowing you to move freely without feeling confined. 
The ErgoChair Plus has adaptive spinal support and comes in two different breathable options (cooling naked TPE or breathable mesh), ensuring a comfortable sitting experience in even the smallest of spaces. It is the best office chair for sciatica pain. 
Autonomous ErgoChair Core 
The Autonomous ErgoChair Core is a compact, comfortable chair with adjustable features and a contoured foam seat. This guarantees maximum comfort while remaining small. 
It's the perfect small space comfortable chair that provides the support and ergonomics you need for long hours of sitting. The breathable mesh back keeps you cool, and the lumbar support pad ensures proper alignment and comfort. 
Don't compromise on comfort in your small space; choose the ErgoChair Core for the most comfortable sitting experience. 
Autonomous ErgoChair Recline 
When you need to relax and put your feet up, the Autonomous ErgoChair Recline allows you to do just that in a limited space. It offers comfort and versatility, making it the best small comfortable chair for small spaces. 
With its adjustable headrest and leg rest, you can find the perfect position to unwind and recharge. The reclining mesh back with lumbar support provides optimal comfort and encourages proper posture, even in limited spaces. 
Now you can enjoy the luxury of a comfortable reclining chair without sacrificing valuable space with the ErgoChair Recline! 
Autonomous ErgoStool 
The Autonomous ErgoStool is a compact and comfortable ergonomic stool that is perfect for those with limited area. It provides low-impact breaks from standing and promotes movement in small spaces. 
With a weighted dynamic base and ergonomic sloped seat, it ensures comfort and support, making it the most comfortable small space chair alternative. Its compact design and adjustable height range of 10 inches make it a perfect fit for any sized room. 
This armless desk chair can help you strengthen your back and core while offering the benefits of a comfortable chair for small spaces! 
Conclusion 
The best ergonomic chair is not only comfortable but also takes inspiration from current design trends. It should be multifunctional and save space while offering great aesthetics that complement your room's decor. 
In this article, we've reviewed six seating options that are up-to-date with the latest chair trends and provide great functionality. It should help you make an informed decision!
Video ads for product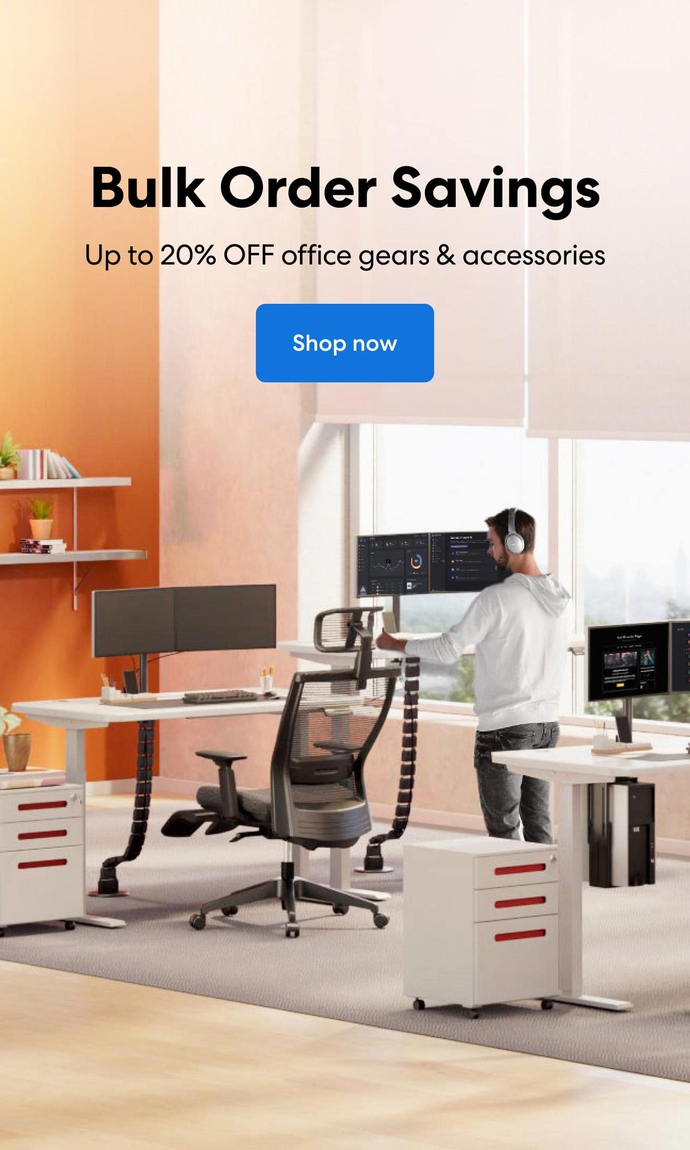 Subcribe newsletter and get $100 OFF.
Receive product updates, special offers, ergo tips, and inspiration form our team.