Workplace Inspiration
From Tiny Homes to Mansions: Exploring Different Types of Housing
227 Views
According to research from the Census Bureau, the average American moves 11.7 times during their lifetime. With such a high number of relocations, it's crucial to understand the various types of housing options available to make informed decisions. 
In this guide, we'll talk about the fascinating options of different housing types, from a single-family home to the intriguing prefab accessory dwelling unit, and even delve into popular architectural styles. 
By understanding each type of housing and considering the diverse needs of modern families, you can confidently choose the perfect home for your unique situation. 
As you read through this comprehensive guide, you will discover the benefits and drawbacks of each housing type, allowing you to make an informed decision that suits your lifestyle and preferences. 
Therefore, whether you're a first-time homebuyer or an experienced real estate investor, our expert insights will help you navigate the world of different types of houses with ease and clarity. Let's begin this exciting journey together! 
Types of Houses by Building Structure
Whether you are a first-time homebuyer, looking to relocate, or just want to understand the diverse range of housing options available, this comprehensive guide is here to help. If you're looking for the ideal type of house structure, make sure to consider one of these options. 
1. Single-family Homes
A single-family home is a standalone residential building that doesn't share any walls with another structure. These homes offer the most privacy, and you can often find them in suburban neighborhoods. 
Also, a single-family homeowner usually owns both the house and the land it sits on. Therefore, if you value privacy and the freedom to personalize your living space, a single-family home could be the right type of housing for you.
2. Semi-detached Homes
Semi-detached homes are single-family dwellings that share one common wall with another house. Usually, these homes are designed as mirror images of one another and provide a balance between the privacy of a single-family home and the affordability of a townhome. 
3. Multi-family Homes
Multi-family homes are residential properties with multiple housing units, each with its own entrance, kitchen, and bathroom. Moreover, these properties are perfect for investors or families looking to generate rental income while living in one of the units. 
4. Townhomes
Townhomes are multi-floor homes with separate entrances, kitchens, and bathrooms. They share walls with neighboring units, making them a more affordable option than a separate single-family home. 
Also, townhomes can offer shared amenities, lower maintenance costs, and a sense of community. However, they may also come with less privacy and limited parking. 
5. Tiny Homes
Tiny homes have gained popularity in recent years, offering a more affordable and sustainable living option. These small abodes range from 60 to 400 square feet and can be either stationary or mobile. Additionally, they are perfect for those seeking financial and physical freedom or looking for creative tiny backyard ideas.
6. Condominiums (Condos)
Condominiums are similar to apartments, but the units are owned rather than rented. Condo owners build equity with each mortgage payment and enjoy the benefits of homeownership, such as tax deductions. Homeowner associations manage common areas and assess fees to cover shared expenses. 
7. Co-ops
Co-ops, short for cooperatives, are housing arrangements where residents own shares in the corporation that owns the building. Shareholders have a say in decision-making and share maintenance costs and other fees. 
Moreover, co-ops provide a sense of community and can be less expensive than traditional homes, but they also come with less personal freedom. 
8. Apartments
An apartment is a rental unit within a larger building. Tenants don't build equity while renting but often enjoy convenient features, such as on-site maintenance, laundry facilities, and recreational amenities. 
The landlord is typically responsible for repairs and upgrades to the leased unit, making it an ideal type of housing for those seeking a low-maintenance lifestyle.
9. Prefab House Additions and Modular Homes
A prefab house addition and a modular home are factory-built housing units assembled on a permanent foundation on a piece of land. These homes can offer a faster and more affordable construction process while still providing the benefits of traditional homeownership. 
By understanding what type of house structure you want, you can make an informed decision about the right housing for your needs and preferences. 
Whether a single-family home's privacy, an apartment's convenience, or a tiny house's innovation draws you, there's a perfect housing option available for you. 
Types of Houses by Architectural Style
Looking through various architectural home styles can be both fascinating and enlightening. Exploring different housing types can provide a more profound comprehension of the historical, aesthetic, and functional aspects that each style presents. 
Not only will this knowledge help you appreciate the beauty of each design, but it will also provide you with relaxing backyard ideas, insights into the type of house siding ideas, and even shed house and DIY cabin inspiration. 
Therefore, we have compiled a list of fantastic architectural styles to help you choose the one that best fits your preferences and lifestyle. 
1. Cape Cod
Originating in the 1700s in Massachusetts, the Cape Cod style is both charming and sturdy, designed to withstand harsh New England winters. 
These homes typically feature roof shingles, wood siding, and a central door with windows on either side. While maintaining their original charm, modern Cape Cod homes often incorporate additional space and windows.
2. Colonial
Colonial homes share resemblances with the Cape Cod design and date back to the 1600s. Moreover, these homes boast a simple, symmetrical structure and are often two or more stories tall, featuring a grand entryway and central staircase. The colonial style comes in various flavors, including English, French, Dutch, Georgian, Spanish, and American. 
3. Contemporary
Contemporary homes and modern homes differ in their relation to time. While contemporary homes refer to the present time, modern homes are specific to a certain time period that's in the past. 
Furthermore, contemporary designs often draw inspiration from modernist styles, focusing on clean lines, natural textures, and neutral color palettes. These homes are also known for their eco-friendly materials and designs.
4. Craftsman
Craftsman homes are a celebration of the value of well-constructed, handmade architecture, representing the highest level of craftsmanship and quality. 
Normally, these homes showcase hand-worked materials, low-pitched gable roofs, exposed beams, and tapered porch columns. Interiors often feature custom elements, such as built-in bookshelves and hand-laid fireplaces.
5. Greek Revival
Easily identifiable by their impressive columns, Greek Revival homes draw inspiration from Greek philosophy, democracy, and culture. 
Since the 1830s, these homes have been popular in the U.S., showcasing large columns, Greek-style embellishments, and grand entrances. Furthermore, the color palette is often white or subdued.
6. Farmhouse
Farmhouse-style homes derive their aesthetic from rural farmhouses, showcasing tall ceilings, exposed beams, large front porches, and a central fireplace. 
Additionally, some designs include barn-shaped rooftops, while others opt for a more subtle approach. Modern farmhouse styles combine rustic details with clean lines and updated features. 
7. French Country
Inspired by the countryside homes of France, French Country homes exhibit a unique charm. With pointed roofs, shutters, and stone exteriors, these homes offer a weathered, Provencal look. Interiors often feature stone fireplaces, subdued palettes, and distressed wood with worn colors or pastels.
8. Mediterranean
Mediterranean homes draw elements from Italian and Spanish villas, focusing on indoor-outdoor living. 
Popular in temperate climates, such as Florida and California, these homes showcase white stucco walls, tiled roofs, warm stone, and intricate metalwork. Additionally, you can often find splashes of color in the beautiful tile work. 
9. Mid Century Modern
Appearing after WWII, Mid Century Modern homes showcase sleek, uncluttered designs and appreciation for the outdoors and nature through big windows and a mix of man-made and natural materials. 
Functionality inspires form in these well-designed homes, blending organic and geometric features. 
10. Bungalow
Bungalows are typically small one-story homes that offer a cozy, inviting atmosphere. 
They were common in the early 20th century and often had front porches and featured craftsman, arts and crafts, or mission-style designs. 
With their compact size and single-floor living, bungalows are ideal for those with mobility challenges or seeking a simpler lifestyle.
11. Ranch
Ranch-style homes are popular single-story houses with long, low-pitched roofs and semi or fully-open floor plans. These homes are typically wider than they are deep, providing ample living space on one level. 
Within the ranch category, you'll find variations, such as the storybook ranch, California ranch, and split-level ranch. 
12. Split-level
Split-level homes can optimize space usage by adding levels that are only a few steps apart. 
The first floor usually contains the dining area, living space, and kitchen, while the second floor has bedrooms and a basement with another living room. Although practical, the extra sets of stairs can be challenging for people with limited mobility. 
13. Cottage
Cottages are smaller residences, often found in vacation destinations and smaller towns. While they can include elements from various architectural styles, cottages are generally associated with quaint, picturesque living. They can also have a similar style, such as a DIY cabin in your backyard. 
14. Victorian
As one of the most iconic traditional home styles, Victorian houses, also known as the Queen Anne style, are characterized by arches over entryways and windows, round towers, bay windows, and large front porches. These homes are usually two or three stories tall, providing ample space for families. 
15. Prairie
Popularized by architect Frank Lloyd Wright, Prairie-style homes often feature horizontal lines to imitate a flat setting. Ideal for those who prefer open floor plans, these homes have low-pitched roofs with overhangs and centrally placed chimneys. 
16. Tudor
Tudor-style homes are known for their stone fireplaces, expansive ceilings, and abundant woodwork. These larger homes often have intricate millwork and a grand interior, making them a statement choice for homeowners. 
ADUs: The Latest Housing Trend Taking Over in 2023
As people seek more affordable and flexible housing options, ADUs are becoming a popular solution that offers both versatility and functionality. 
If you're looking for shed house ideas, consider investing in an ADU instead. While ADUs serve a similar purpose as a shed, they offer much more functionality and versatility. Here are some prefab ADUs that would make a perfect addition to your backyard: 
1. Multi-purpose StudioPod
This ingenious prefab studio offers a convenient and versatile space for living, working, and playing right in your backyard.
With a well-thought-out design, it features a closet, foldable coffee table, bookshelf, TV stand, desk, and a convertible sofa bed. Whether you need extra living space, a home office, or an Airbnb rental, StudioPod has you covered. 
One of the many benefits of this type of house siding is that it's a breeze to set up. In just a couple of days, your StudioPod will be ready without the need for lengthy permit processes or disruptive construction. 
The all-terrain design allows for stable installation on various surfaces, ensuring a functional space on even slopes or rough ground.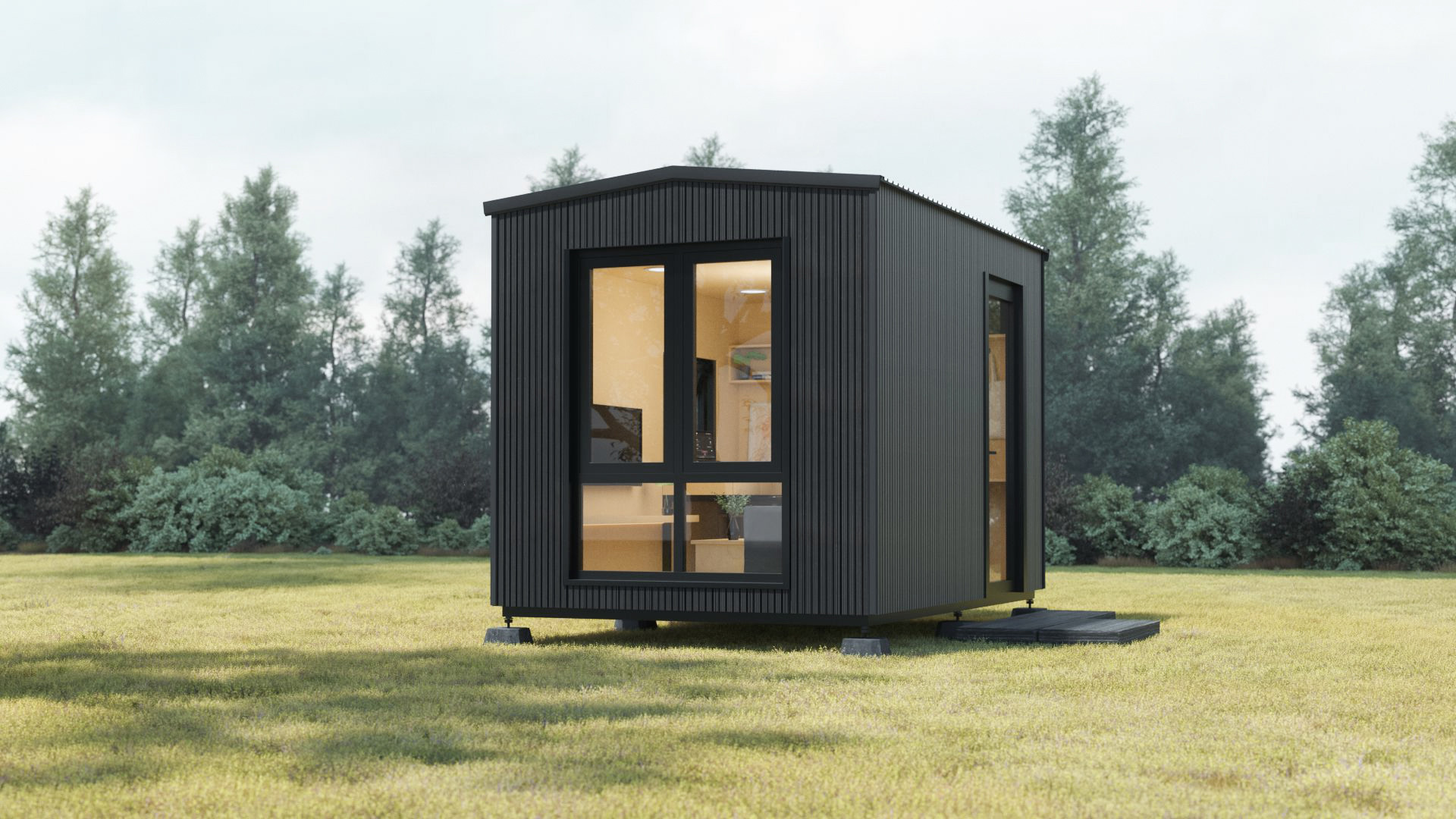 Dimension
8'4"W x 12'6"L x 9'10"H
Floorspace
105 square feet
Ceiling height
7'3"
Weight capacity
2.9 tons
Pedestal
18"W x 43"L x 7"
Window & door material
Powder-coated aluminum,  5/16" tempered glass
Material
Siding: plywood 1/2", steel frame, honeycomb paper, plywood 3/8", bitume, housewrap, vinyl siding
Roof: roof shingles
Floor: plywood
Pedestal: steel frame & wood plastic composite
Electrical devices
RCB, Wall outlet, Ceiling light switch, Ceiling light, Ventilator switch, Ventilator, Ethernet wall port, 66ft power cable with 2 connectors
Include
Optional: Cabinet, Desk, Small & Big Bookshelf, TV Shelf, Foldable Sofa Table, Convertible Sofa Bed. Always included: Electrical Cabinet
Power input
Maximum voltage : 110V AC (US standard)
Maximum current : 25A
Maximum power dissipation : 2750W
Pros

Cons

Quick and easy setup
It may require professional help for assembly
Versatile usage options
You might need to prepare the ground for uneven terrain
Durable and weather-resistant materials
Permit requirements may vary by location
Eco-friendly insulation
2. Autonomous WorkPod
Discover the ultimate work-life balance solution with this innovative office pod. This unique, sound-insulated space features floor-to-ceiling glass doors, creating an inviting atmosphere without distractions. 
Moreover, the office pod can accommodate different terrains, ensuring a stable and durable workspace. 
Inside, the pod comes equipped with ergonomic furniture, an anti-fatigue mat, a cabinet, and a bookshelf, making it the perfect environment to spark creativity and productivity. 
With a simple, headache-free construction process, this type of house siding allows you to avoid lengthy permit processes and high remodeling costs.
Dimension
8'6''W x  11'9''L x 11'H
Ceiling height
6'10'' to 9'4''
Window material
Wooden frame, 5/16" tempered glass
Door material
Anodized aluminum frame,  5/16" tempered glass
Material
Siding: bitumen, housewrap, vinyl silding
Roof: bitumen, housewrap, shingles roof
Floor: plywood
Balcony: composite wood
Include
Optional: SmartDesk Connect, ErgoChair Pro+, Dual Monitor Arm, Cable Tray, Steel Cabinet, Anti-Fatigue Mat. Always included: Electrical Cabinet & Bookshelf
Floorspace
98 square feet
Capacity
2.9 tons
Pros

Cons

Distraction-free workspace
Limited customization options
Comfortable, ergonomic setup
It may require professional help for assembly
Versatile usage possibilities
Quick and easy assembly
3. Autonomous WorkPod Lite
Tight on space? No worries. WorkPod Lite from Autonomous has everything you're looking for in a dream outdoor office pod, presented in one convenient prefab package. The compact freestanding studio is all-weather proof to protect you from the elements while you work, and sound insulated to help you knuckle down and focus. Delete the noise and close the door on distractions.
re-wired with 2 universal wall sockets, ceiling light, and light switch, WorkPod Lite is one the best fuss-free outdoor office pod solutions that allows you to easily separate work life from home life. Set up your ultimate at home workstation and power up your devices whenever you need to get some serious work done. And when it's time to clock-off, switch off the lights and step outside.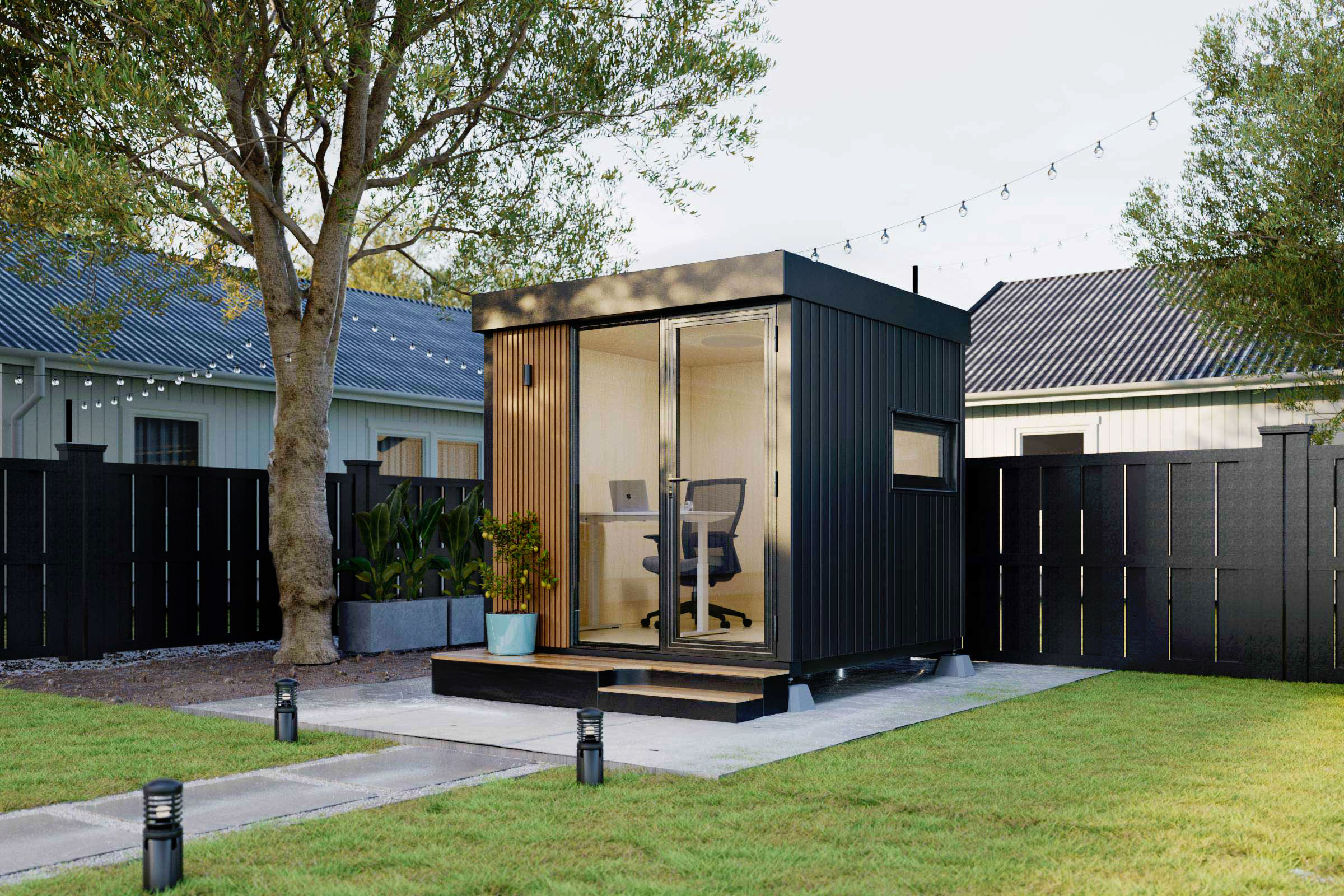 Dimension
8.7"W x 8.12"L x 9.3"H
Material
Window and door: powder-coated aluminum, 5/16-inch tempered glass
Siding: plywood 1/2-inch, steel frame, honeycomb paper, plywood 3/8-inch, bitume, housewrap, vinyl siding
Roof: metal roofing
Floor: plywood
Balcony and Pedestal: steel frame and wood plastic composite
Pedestal
24"W x 103"L x 9"H
Electrical devices
RCB, Wall outlet, Ceiling light switch, Ceiling light, Wall light, Ethernet wall port, 66ft power cable with 2 connectors
Weight capacity
2.3 tons (including Pod body)
Floorspace
80 square feet
Ceiling height
7.3-inch
Pros

Cons

Distraction-free space
Limited customization options
Affordable
Limited space for bulk equipment
Multi-purpose usage
Quick and easy assembly
Summary
It's important to decide on the right type of housing to live in. StudioPod and WorkPod offer unique and flexible solutions for different housing types that can enhance your living experience. 
They provide multi-purpose spaces for work, relaxation, and play, making them perfect for various backyard entertainment ideas. 
Whether you need an office, guest room, or a rental unit, these innovative pods present a modern approach to transforming your property and maximizing its potential.
Subcribe newsletter and get $100 OFF.
Receive product updates, special offers, ergo tips, and inspiration form our team.
WRITTEN BYAutonomous
We build office products to help you work smarter.