Remote Working
Find out the Top Five Best Standing Desks for Home Office

Autonomous
|
Aug 4, 2020
9,216 Views
Getting tired of sitting all day long in your office? Here are the top five best standing desks for home office that will keep you calm and active. According to the latest research, sitting at a desk all day during office routine has a negative impact on workers' health. However, technological advancements have increased the popularity of standing desks among (typical 9 to 5) office workers.
A standing desk is particularly designed to provide more comfort as compared to the traditional sit-down desk. People who are desk-bound all day have increased risks of diabetes, obesity, and heart diseases. On the other hand standing desks allow users to move around and stretch their muscles and decrease potential health hazards.
1. Explore the advantages of standing desk
Experience the better mood: While you are standing endorphins are released in your body. A slight increase in endorphins will make your mood better, and you will feel more innovative and constructive.

The decrease in leg pain: Sitting for long time periods with your legs hanging can lead to leg pain. While you are standing, blood flows properly through your legs. Thus, standing posture helps you to avoid leg pain.

Back pain reduction: Sitting for too long over a consistent period can result in back pain. Standing desks have helped such patients, and they have reported recovery.

Anxiety reduction: Standing posture have positive effects on the body. In the stressed conditions, you can make use of breathing exercise to normalize stress levels.

Reduce incidences of Heart diseases: When you are standing blood is properly and freely flowing through your body. This prevents the formation of a clot in blood vessels. Arterial blockage is the main cause of many CVDs (Cardiovascular diseases).

Neck pain: The angle of the head while sitting puts additional weight on your spine. This can result in different disorders like cervical spondylitis. Standing will help you evade neck strain.
2. Turn your standing desk into success with remarkable features
Personalize your posture with the perfect adjustability
Adjustability is the most significant feature of a standing desk. Depending upon your standing position, an adjustable standing desk can be personalized to your needs. It allows users to adjust the desk at a specific level and make adjustments from time to time.
Besides, it can easily be adjusted to traditional height for people who like to work while sitting on a chair. Non Adjustable desks may be cheaper, but they do not have customized features as an adjustable standing desk.
Get the full control over work using periodic switching
Height memory ensures episodic switching between standing and sitting during a task. It is a significant feature that is not available on manual height adjustable standing desks. Therefore, a mechanical desk is more reliable to perform your work in a sit-stand position.
Depending on your posture, you can easily transform your workspace from standing to sitting and vice versa. With just a push of a button, adjust the desk height and perform your work effectively and efficiently.
Guaranteed professional appearance with high-quality materials
The best standing desks for home office are made by using high-quality raw materials to give them professional and attractive appearance. Others are composed of metal and glass combinations that look admirable.
Approximately, all of the standing desk producers offer these features in their products. But, getting the best one highly depends on functionality and price. Customers always prefer to get the biggest bang of their bucks without squeezing their budget.
3. Stand out of the crowd with five best standing desks for home office
Now, you have got all the essential information about the features of the standing desks. Below are the top five best standing desks for home office.
Autonomous SmartDesk 2 Home Office – Get big with less buck
SmartDesk 2 Home Office from Autonomous is one the best standing desks for home office. Users get the amazing blend of functionality and satisfaction with the cutting-edge technology of the SmartDesk 2. It is highly reliable and designed to customize sitting and standing to reduce health hazards. It encourages proper posture and regular movement of natural parts of the body.
Moreover, SmartDesk 2 is the perfect solution for the sedentary routine. Unlike the sedentary lifestyle that causes health risks, you get a comfortable working environment every day. It increases the productivity through movement flexibility into any workspace.
SmartDesk 2 standing desk is quite popular among the users due to its extraordinary structure and attributes. With mechanical height assistance, it features an electric motor that lifts to 300 pounds. It has a wide wood top (52") that comes in various finishing options. You can create up to four presets to change your sitting and standing postures accordingly.
Autonomous SmartDesk 2 allows you to have full concentration on your work. Whether you are reading, working or enjoying online games, it is highly capable of refreshing your body and mind at all times. It ensures a substantial amount of activeness and reduces laziness and lethargic attitude.
SmartDesk 2 Home Edition personalizes height settings of a standing desk according to you and your family members needs. Besides, friends can also use your standing desk as it is flexible and takes good care of all their requirements. Its wide space and supportive structure permit to use electronic and technical devices simultaneously while you are working.
Autonomous SmartDesk 2 is highly affordable and costs only $379 which is budget friendly as compared to other standing desks. Customers get a 30-day trial period, and they get money back guarantee if they do not like the desk. In short, Autonomous SmartDesk 2 delivers the top-notch quality with tons of functionality at an affordable price.
Autonomous SmartDesk 2 Premium
The Autonomous SmartDesk 2 Premium is similar in features and functionality to the SmartDesk 2 Home Office, but with even more range so you can raise and lower your desk for even more purposes. It's the ultimate in simplicity and flexibility when it comes to standing desks.
The SmartDesk 2 Premium is also much more affordable than competing standing desks that can cost upwards of $1000 or more. With a rock-solid frame that supports up to 300 lb, it can handle just about any number of common desktop peripherals, computers, and accessories.
You can also customize the SmartDesk 2 Premium with a number of different colors and wood finishes suitable for any environment and aesthetic. Its whisper-quiet electric motor comes with four programmable memory settings so you can lift and lower it to the exact right height every time. It's a desk that learns your habits and adapts to you...not the other way around.
Autonomous L-Shaped SmartDesk
The L-Shaped SmartDesk is uniquely suited offices and homes that are suitable for a corner desk. It's like having two SmartDesks in one! Yet remarkably, the cost is only marginally higher than the SmartDesk 2 Premium. 
It's such a luxurious feeling, having two surfaces to spread out all your gear. Once you go L-Shaped, you'll never turn back! This SmartDesk, of course, features the same motor and memory settings as the SmartDesk 2 Home Office and SmartDesk 2 Premium. 
Setup couldn't be simpler! Just check out this handy video tutorial to see how it's done:
For Creatives: Autonomous SmartDesk Art Desk
The SmartDesk Art Desk is a gorgeous, curved, spacious desk best suited for creatives at home and for creative teams. The desks create a beautiful S-shape when placed in a row making them great for large studios for creative professionals working together. Its curved shape puts you in the center and helps you reach all your tools easily.
It's also customizable just like the other SmartDesks, making it a great choice for spaces with a specific aesthetic. It'll blend right in! In addition, it also features the sturdy and cutting-edge electric motor found in the other SmartDesks, with the same memory settings. For artists and creatives, this one is a no-brainer!
For DIY-ers: The SmartDesk DIY Kit
Do you have a wood tabletop that you'd love to use as a standing desk? Are you looking for very particular fit and finish to suit your space? Do you just like having things that are customized and personalized like no one else?
The SmartDesk DIY Kit is the best choice for you. It's essentially the high quality and sturdy frame and electric motor with memory settings that you'd get with other SmartDesks, allowing you to attach it to any surface you choose! 
Here's a great video of a reviewer trying out the DIY kit for his own personalized space:
Conclusion
In the coming future, awareness of health will influence people to find out the ways to improve health conditions. Presently, there are two phases of life; active and inactive phase. However, the time we spent working in an office does not approve it as a 100% active phase. Eight hours work time can leave employees inactive and deskbound. This situation is quite alarming because it may lead to an unhealthy lifestyle. The progress in research and technology are revealing different ways to live a healthier and active life. There are no excuses and reasoning why the society should not accept standing desks. Therefore, if you want to reduce the dangers of sedentary life, a standing desk is the best option for a healthy life.
---
Read more...
The 5 Best Reclining Chairs with Foot Rest in 2018
10 Valuable Tips for Parents Balancing Parenting and Working from Home
Ergonomic Guide for Sitting while Working from Home
Top 10 Ergonomic Accessories for Home Office with the Standing Desk
Video ads for product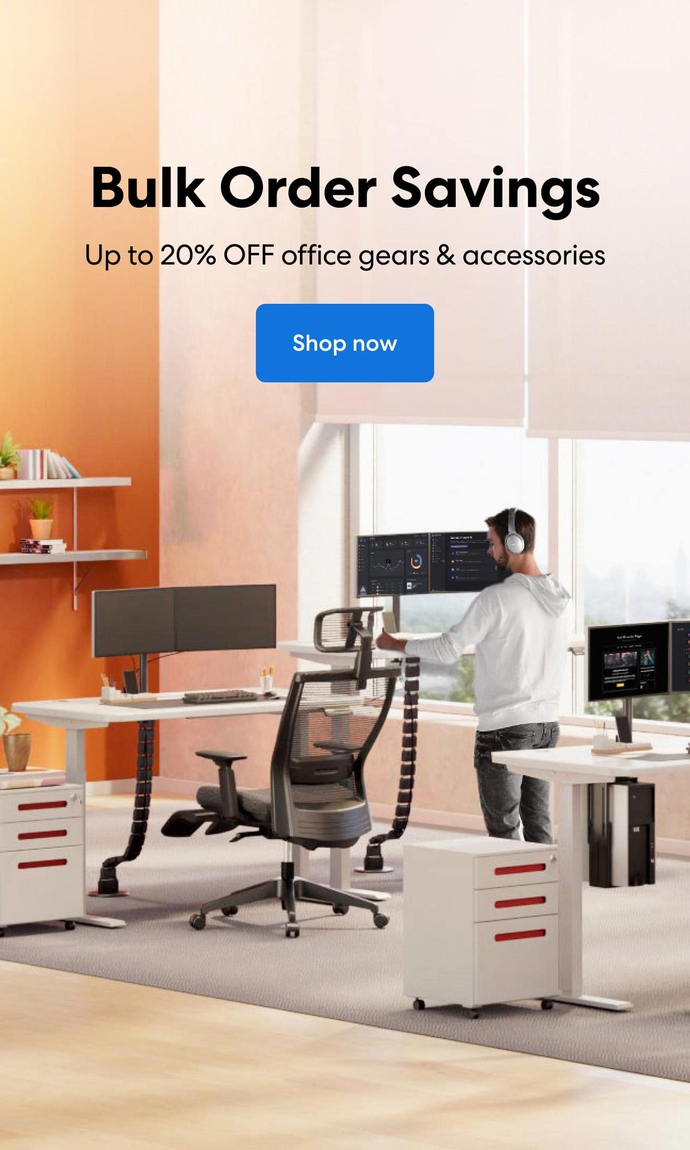 Subcribe newsletter and get $100 OFF.
Receive product updates, special offers, ergo tips, and inspiration form our team.