Smart Products
Choosing Furniture for Your Off-Campus College Apartment

Autonomous
|
Jun 4, 2023
349 Views
Moving into your off-campus apartment is a thrilling and liberating experience, and it's a chance to explore new living arrangements, create new habits, and make new friends. 
One of the most significant aspects of this new experience is the furniture you choose to decorate and furnish your apartment. The right furniture pieces can help you create a comfortable and welcoming environment, essential for your mental and emotional well-being.
In this article, we'll explore the must-have campus furniture pieces for your off-campus college apartment. We'll also share some essential factors to consider before buying university furniture. Let's dive in!
Must-Have Campus Furniture Pieces
1. Desktop Shelf
A desktop shelf is an excellent addition to any student's workspace. It provides additional storage space for books, stationery, and other essentials while keeping the desk organized and clutter-free. When looking for a shelf, it is important to consider the size of your desk and the amount of storage space you need.
Some desktop shelves have built-in organizers, such as pen holders, file dividers, and charging stations, which can help keep your workspace tidy and efficient.
Some product suggestions
2. Floor Chair or Bean Bad
Anyone who spends a lot of time studying or playing video games should invest in a good floor chair. It may be readily adjusted to the perfect position for your back, neck, and arms.
Consider the chair's construction, cushioning, and range of motion before making a purchase. Find one that has enough cushioning, a solid frame, and a backrest and armrests that you can adjust for optimal comfort and support.
Some product suggestions
3. Under Desk Storage
Under desk storage is a great way to keep your textbooks, files, and other study materials organized and within reach. It maximizes your available space while keeping the room tidy.
When shopping for wholesale office desks, consider the size and style of the desks and the type of storage you need. Options include open shelves, closed cabinets, and hanging organizers. Depending on your preferences and budget, you can also choose from a range of materials, such as wood, metal, and plastic.
Some product suggestions
4. Office Chair
A comfortable and ergonomic office chair is a must-have for students who spend a lot of time at their desks. When looking for an office chair, consider the size and shape of your body, your preferred sitting position, and the type of work you will be doing.
Some product suggestions
5. Compact Desk
A compact desk is perfect for small apartments with limited space, providing a dedicated workspace with little room. When choosing a compact desk, consider the size of your room, the amount of workspace you need, and the style of your decor. Look for a desk with built-in storage, such as drawers or shelves, to maximize your available space.
Some product suggestions
Factors to Consider Before Buying Campus Furniture
Space
When choosing furniture for your campus apartment, it is important to consider the size of your room and the available space. You should measure the room and plan the layout before purchasing any furniture. This will help you determine the size and style of furniture that will fit comfortably in your room.
Functionality
You should also think about the practicality of your furnishings. Think about what you'll need and how you'll utilize the furnishings before making a purchase. If you spend a lot of time at your desk, it's important to have a comfortable chair and a large desk with plenty of room for paperwork and supplies. Consider getting a couch bed or a futon if you often have overnight visitors.
Style
The design and style of your campus furniture can significantly impact the overall look and feel of your living space. When choosing furniture, consider the style of your apartment or dorm room and opt for pieces that complement or enhance the overall aesthetic.
Remember that furniture with neutral colors or simple designs can be more versatile and easier to match with another decor.
Budget
When shopping for campus furniture, your budget should also be taken into account. Consider your financial situation and make purchases as efficiently as possible. You can find cheap furniture online or in secondhand shops.
Frequently Asked Questions
Can I buy campus furniture in bulk?
Yes, you can! Many office furniture manufacturers offer bulk discounts on furniture purchases which can help you save money on your overall investment. When buying in bulk, consider the furniture's quality and durability, as well as the cost savings.
Where can I find university furniture stores?
There are many ways to find university furniture stores. You can search online for furniture stores specializing in university furniture or check with your university's housing department for recommendations. They may be able to provide you with a list of recommended stores or suppliers that can help you find the furniture you need for your campus apartment or dorm room.
What is the best type of small apartment furniture?
When it comes to small apartment furniture, space-saving options are key. Wall-mounted desks, foldable chairs, and modular furniture are all great options for small spaces. When choosing furniture for your small apartment, consider the size and layout of your space, as well as your style and preferences.
Can I buy chairs for the office wholesale?
Yes, you can purchase office chairs wholesale from many different wholesalers. Wholesale office furniture is a great way to save money on your office furniture purchases, especially if you are buying in bulk. Make sure to research the different options available and compare prices to find the best deal.
What should I look for when buying bulk furniture?
When buying furniture in bulk, it is important to consider several factors. First and foremost, make sure to consider the quality and durability of the furniture. You want to invest in furniture that will last years and withstand daily use.
Conclusion
Investing in well-designed dorm essentials might significantly improve your time spent resting. You can create a beautiful and practical room by following our advice and giving thought to your own tastes and requirements. When making a purchase, keep in mind the square footage of your apartment, your budget, and the comfort and quality standards you want to achieve.
Your college apartment may be a great place to study, unwind, and make new friends with the help of some well-chosen furnishings.
Video ads for product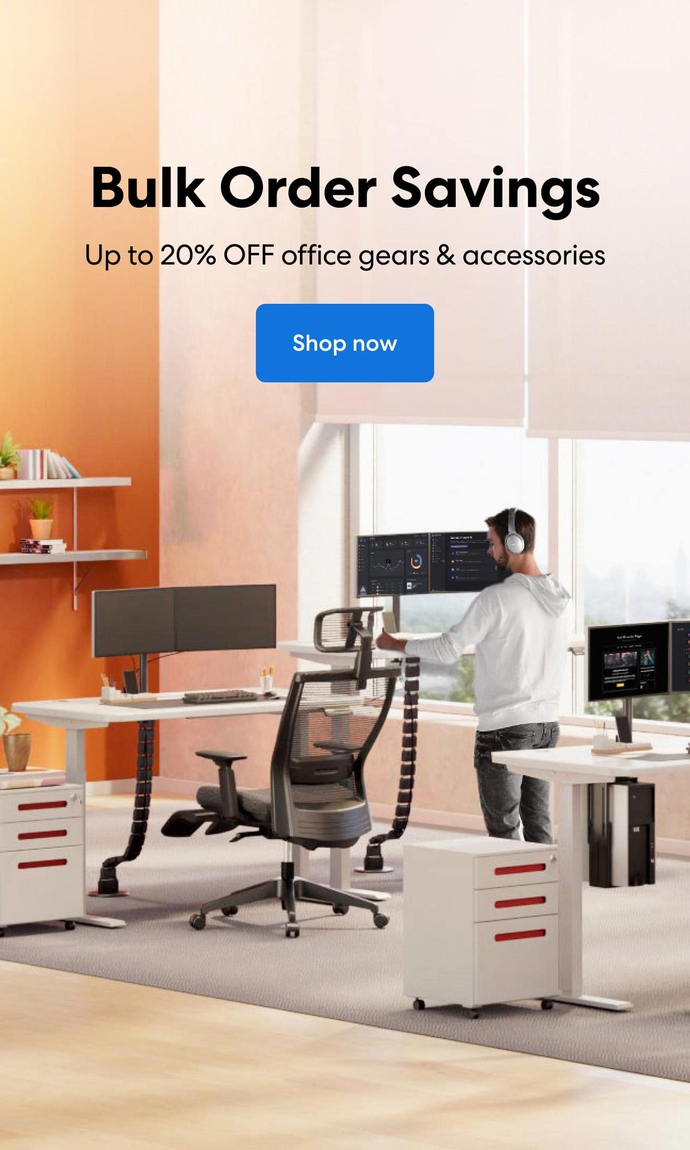 Subcribe newsletter and get $100 OFF.
Receive product updates, special offers, ergo tips, and inspiration form our team.