Smart Products
What Is The Best High Back Ergonomic Chair for a Tall Person?

Autonomous
|
Jul 9, 2021
2,458 Views
A high back ergonomic chair is for a taller person. It helps to stabilize and support the back and neck during long workdays. Now you might think to yourself, where do I buy an ergonomic office chair?
Well, you have come to the right place. 
Today we review our top 15 high back ergonomic chairs for tall people. Discussing what is the best high back office chair for taller humans. 
In this list, we discuss some of the benefits and advantages of owning a high back chair. Talking about beneficial, there is a range of ergonomic chairs for back pain that helps you with extra support. It makes complete sense to invest in one if you are a tall person that suffers from bad posture or ergonomic stress in the workplace. 
Back pain can derive from a bunch of different workplace ergonomics and come in all shapes and forms. Most commonly, the problem can relate to the vertebral disc region, nerve root compression, or improper movement of the facet joints. These issues lead to lower back pain, one of the most frustrating ailments for office workers. 
Finding an ergonomic office chair for yourself is the best thing you can do if you suffer from back pain in the office. Remembering to take care of yourself now, reaps many benefits in the future. 
After all, you spend around 90,000 hours of your lifetime in the office. Why not make that 90,000 hours of comfort? You owe it to yourself!
What is the Average Height of a High Back Office Chair?
What is the average height of a high back office chair, and why does this matter to taller people? 
Considering taller people need the extra leg and backrest room, the height of the chair is imperative when choosing a high back ergonomic chair.
A standard chair measures anywhere between 18 to 22 inches. Sometimes a little more. 
The average high back office chair can range anywhere between 24 inches to as much as 32 inches on the more expensive models. 
So, there is something for all sizes when getting an ergonomic chair for your office. 
Should I use a Mid Back or High Back Office Chair?
The debate between Mid Back Vs High Back office chair has been a long time in the making. 
That boils down to how much moving around you are going to be doing when using your chair. If you are going back and forth a lot, a mid back chair might be great for you.
High back office chairs provide stable support for both your lower back, head, and neck. That is the kind of support that you need when suffering from lower back pain as a tall person. 
While some might argue that mid back office chairs offer support for taller people, the fact remains that taller people need high backrests. That provides support to the lower, middle, and higher back. It gives you the ability to work all day without any discomfort.
Sitting at a computer in the right way is also an essential requirement if you wish to prevent back pain in the future. 
Best High Back Ergonomic Chair For Your Office
So, without any further delay. Let us get on with our list of 15 high back office chairs that provide relief in the workplace. 
1. ErgoChair Pro
Autonomous has a way of creating remarkable ergonomic chairs that are modern and stylish. The ErgoChair Pro is an example of just that. 
This high back desk chair has flexible lumbar support and reclines with five lockable positions. It supports up to 300lb, and the design incorporates earth-friendly materials. The breathable mesh design backrest keeps things cool and allows air to flow freely around your body.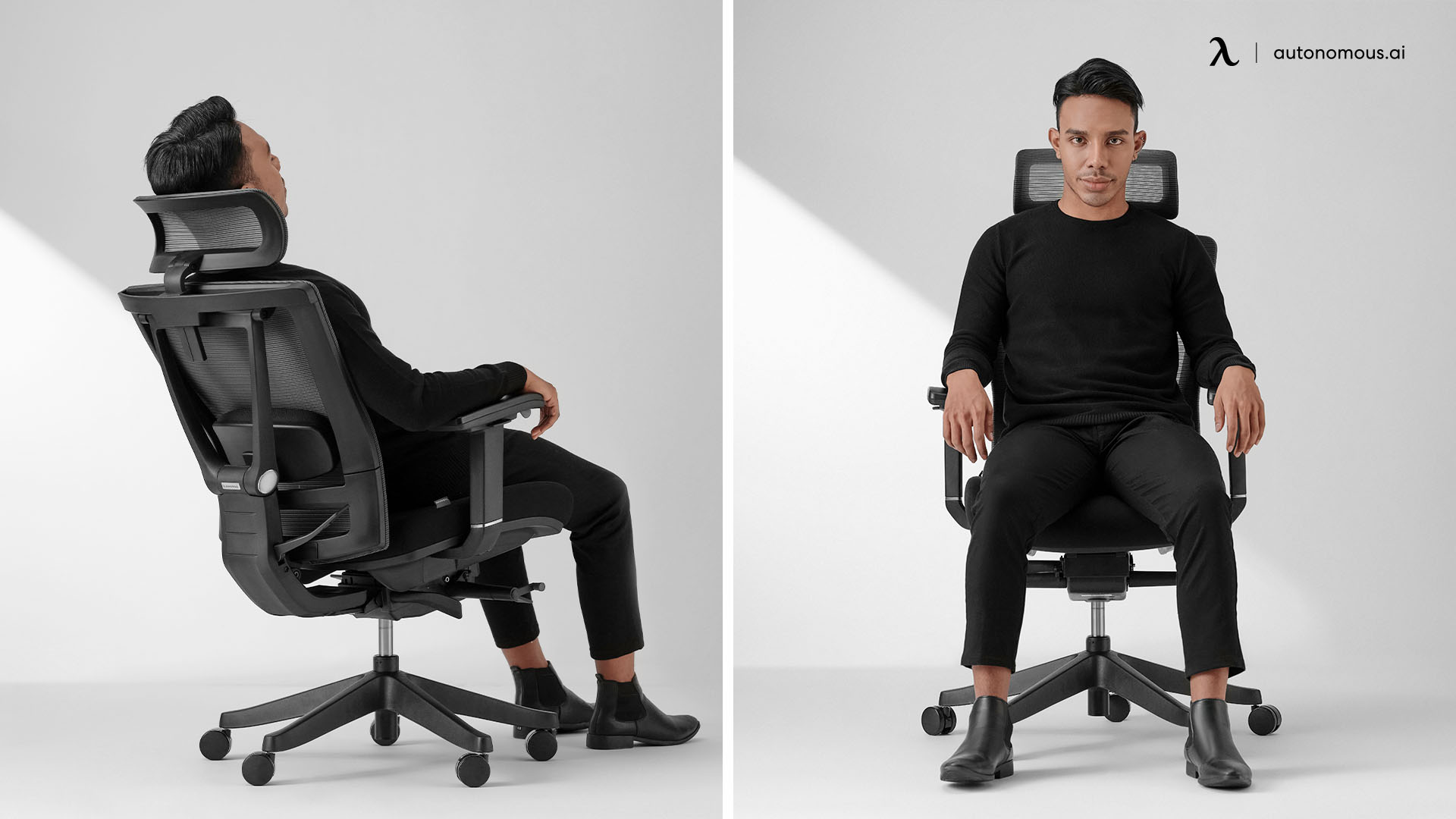 Designed to help relieve back pain, correct posture, and help fight fatigue, the ErgoChair Pro is a welcomed ergonomic chair among any office or workplace. 
This chair is perfect if you want to buy an ergonomic chair that is affordable and durable. It comes standard with a two-year warranty and you can even own one and pay via monthly installment. 
Get the perfect ergonomic chair for back pain and get the relief you deserve.
2. ErgoChair Plus
This dynamic movement-inspired high back computer chairs engineering department meticulously crafts this chair to give you the support and flexibility you need. 
The beautiful frameless design is ultra-modern and supports up to 300lb.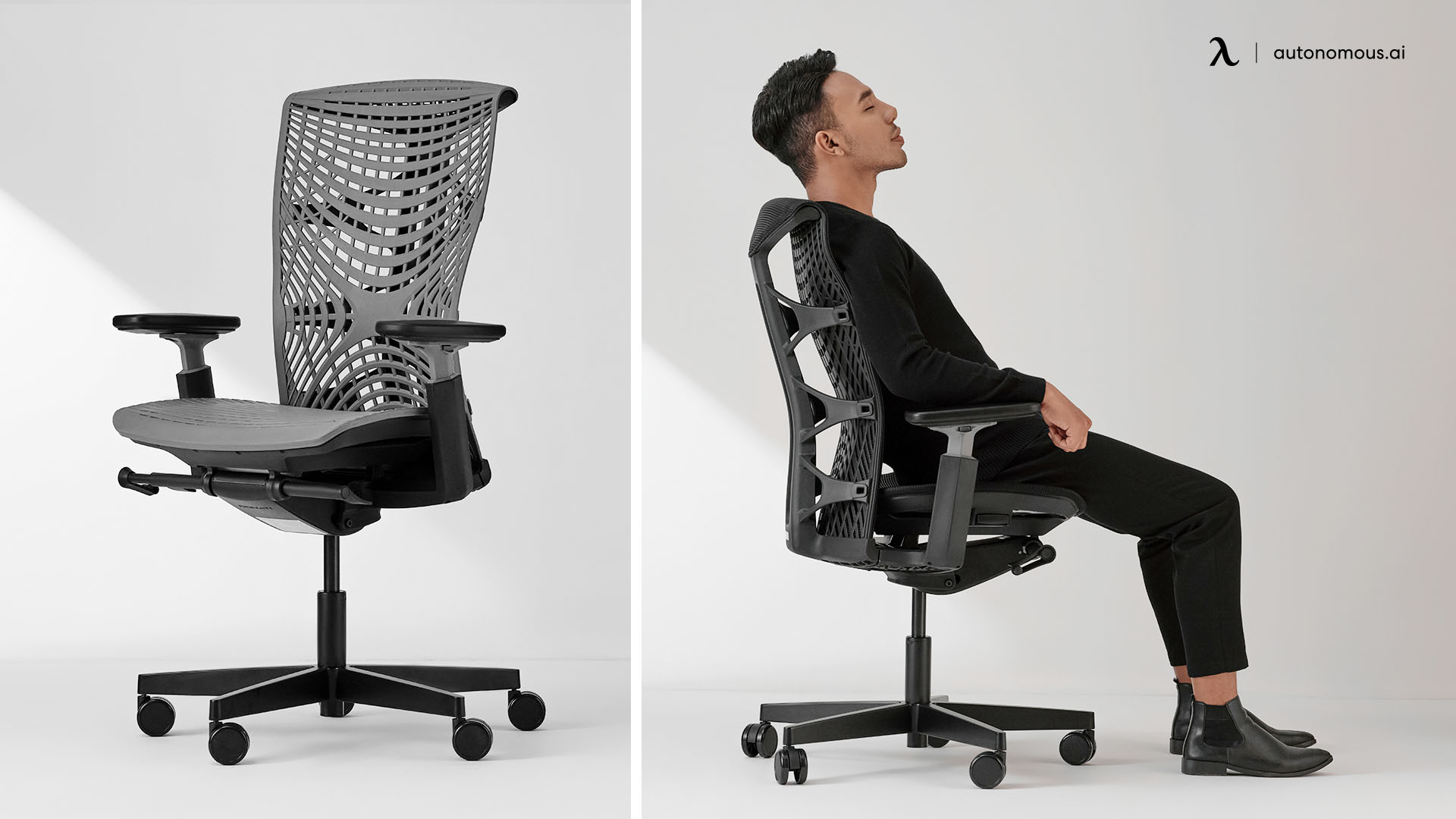 It is a high back office chair that has a malleable backrest. What this means is that it molds to fit your lumbar region perfectly. 
This incredible high back ergonomic chair comes together with a 25-degree recline, 11 lockable positions, and a five-year warranty.
You cannot go wrong with this one. The ErgoChair Plus is an ergonomic masterpiece. 
3.  ErgoChair Recline
The ErgoChair Recline is the ultimate comfort and relaxation high back ergonomic chair.
It has an adjustable foot and headrest, and the seat can recline back so that you can take a nap in it.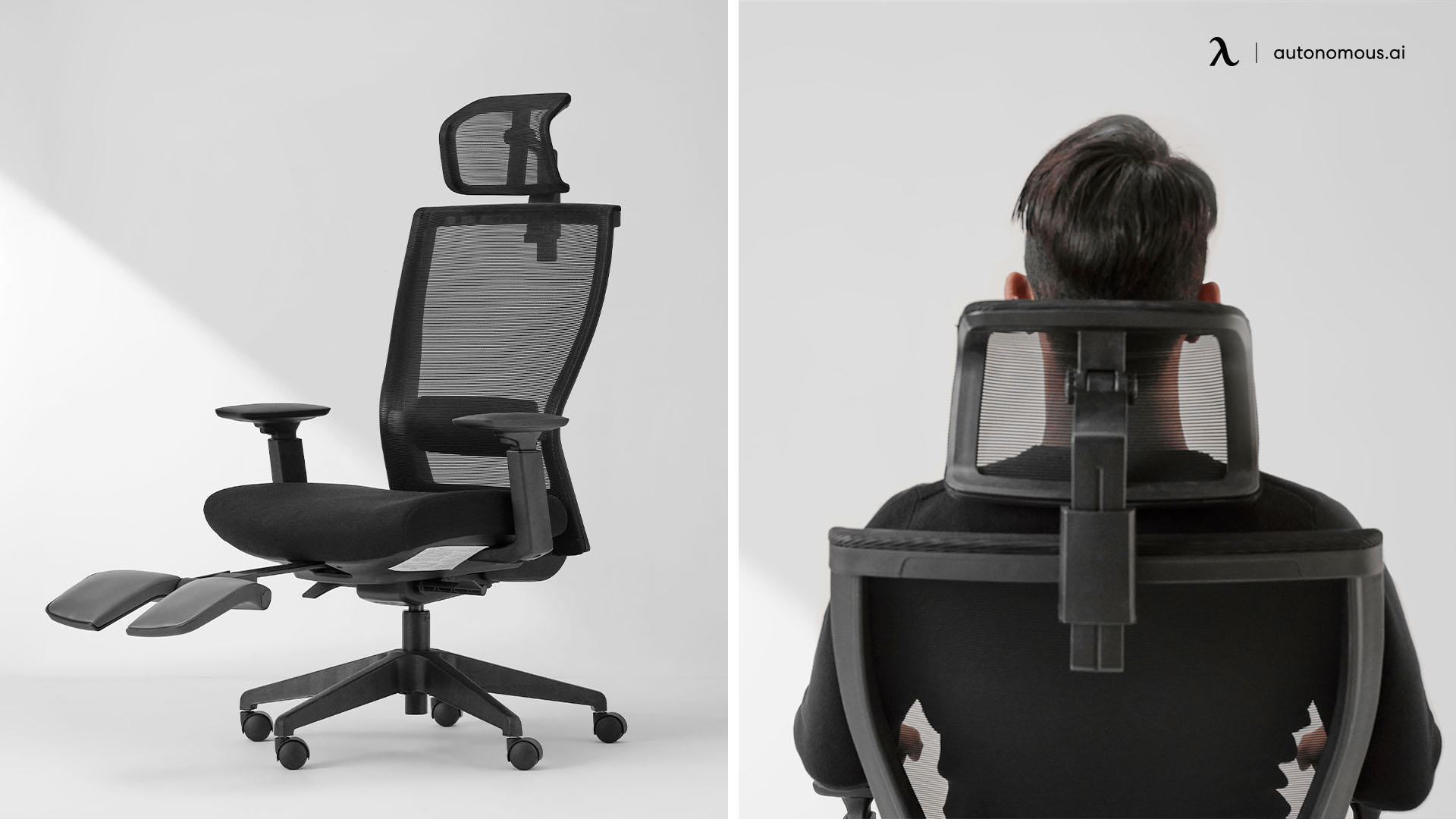 Being meticulously designed by Autonomous, it provides some of the highest quality lumbar support technology in the industry. 
The quality that you find with ErgoChair is unmatched. You might never go back to a mid back office chair again.
4. IntimaTe WM Heart
Being affordable doesn't mean that it needs to lack quality. That is where the Intimate WM Heart Stands out. You cannot miss this chair in your ergonomic workstation. 
A stand-out feature of this chair is the adjustable armrests. Yes, you heard correctly, the armrests are adjustable. As a typist, having this feature is critical to have elbow and arm support when working. 
If this high back computer chair does not suit you, you can fold them up to be out of your way. 
At such an affordable price, you find full-back, head, and neck support. It is a great chair which is excellent value for money.
5. Hbada Office Chair
High quality and affordability are what come to mind when thinking of this high back ergonomic chair. 
The sleek modern looking chair looks incredible in white. The backrest ergonomics fit over the lower spine perfectly.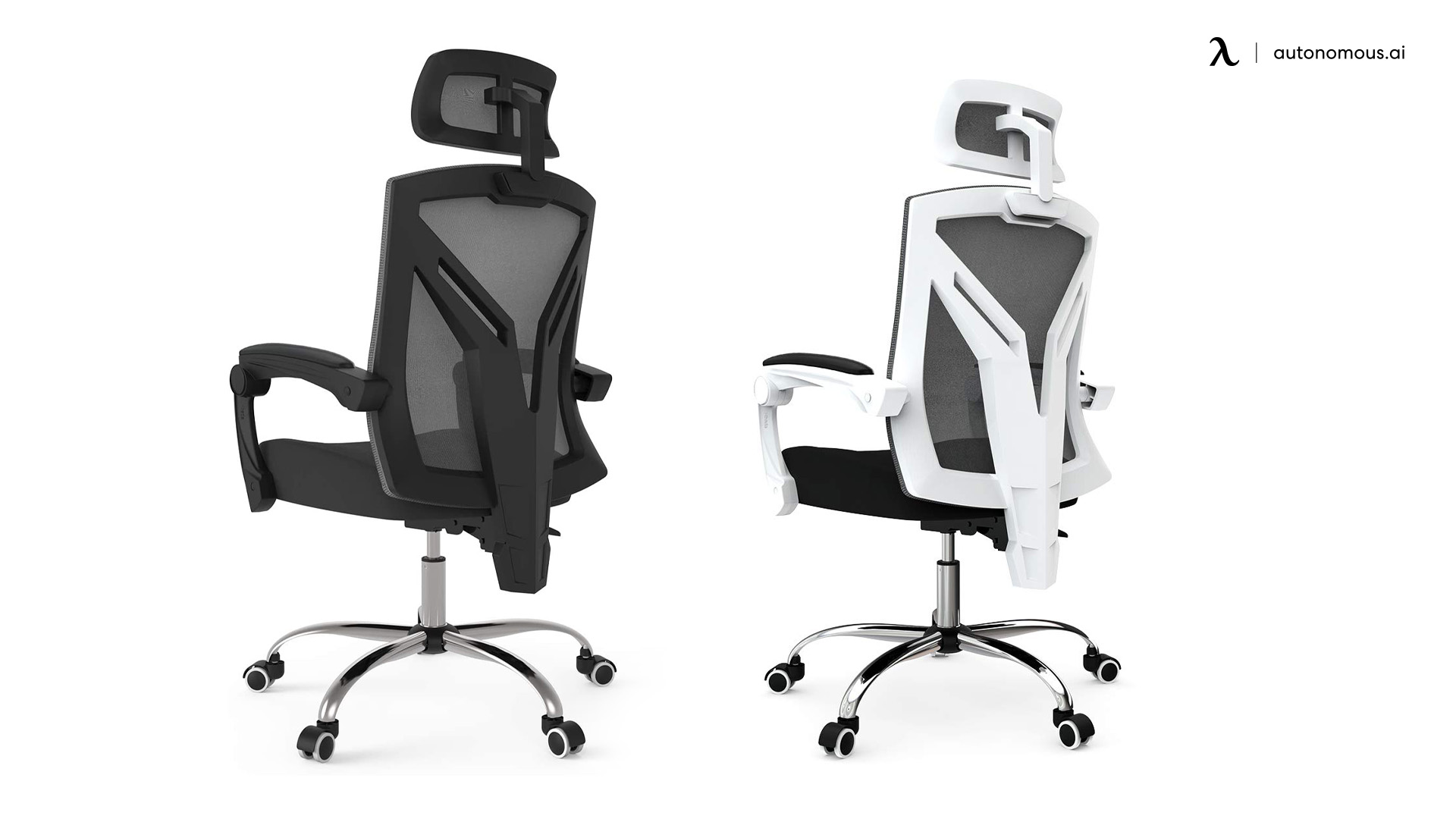 Armrests are included with this chair but can be moved out the way if needs be.
Its design is a high-density breathable material that fits superbly in a confined workspace.
6. Mastery Mart
The unpretentious Mastery Mart is a basic ergonomic chair that has armrests and an adjustable headrest. 
Unfortunately, you can't remove the armrests, but you can fold them down to store them out of the way. 
The high back provides excellent lumbar support, which you can adjust with a wheel under the chair. 
It is not the best chair on the market, but it certainly does its job well. 
7. KLIM K300
While this high back ergonomic chair lacks adjustability, it has great neck and back support at an affordable price.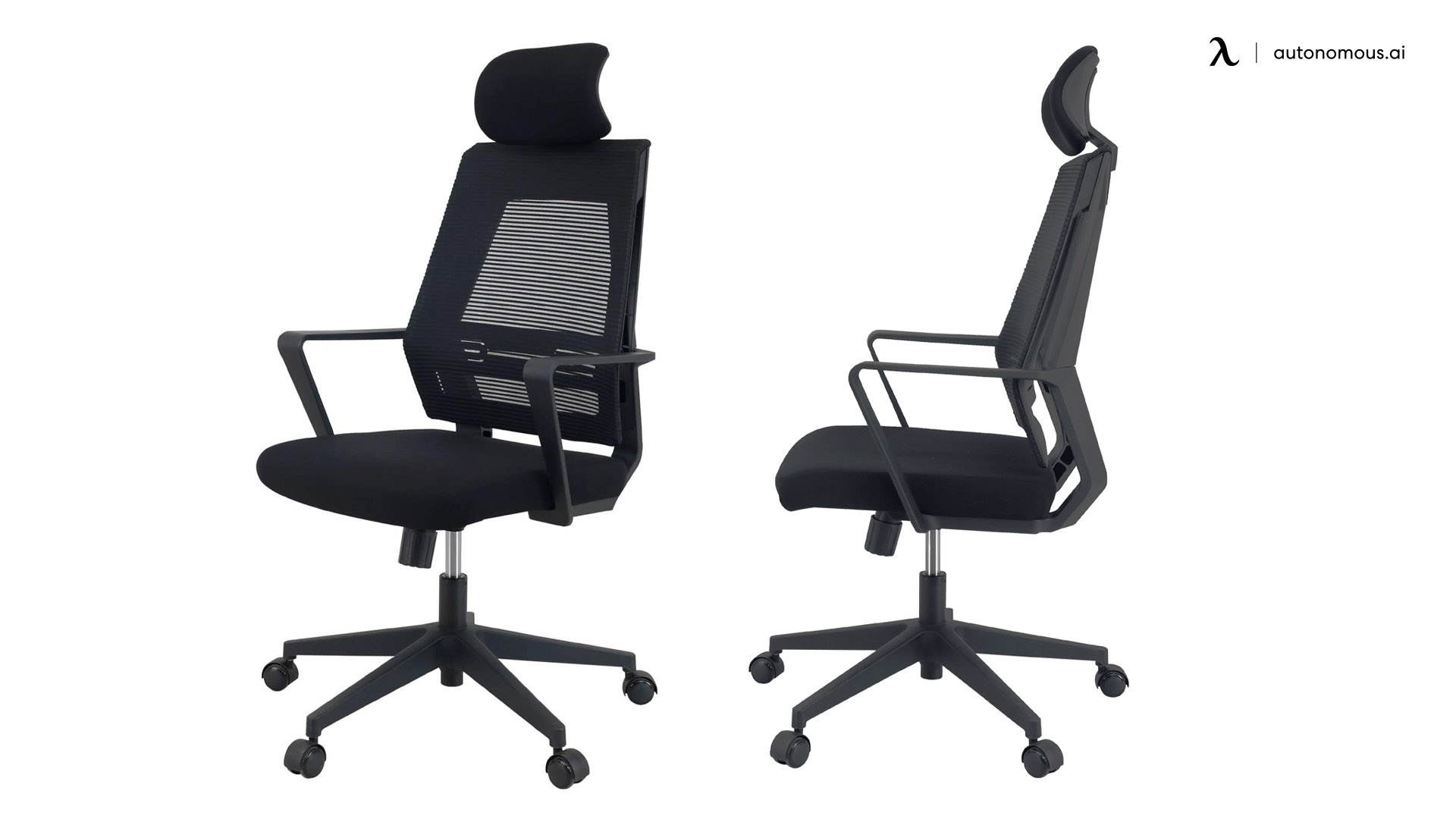 It has a professional, elegant look that fits into a modernized office space perfectly.
The KLIM K300 offers a comfortable solution for people on a budget.
8. Amazon Basics Executive Office Desk Chair
This rather pricey leather high back computer chair is super stylish and gives off an executive feel in the office. It is a bit expensive for an office chair but makes up for that in quality and features. 
It has an adjustable height and a 360-degree swivel that give you comfort and support like you have never felt before. 
Wherever you decide to use this chair, do not expect to be disappointed.
9. YAMASORO Ergonomic High Back Chair
The YAMASORO is a futuristic-looking high back desk chair that would be a welcomed addition to any office cubicle. 
Including an array of features, this chair is also aesthetically pleasing.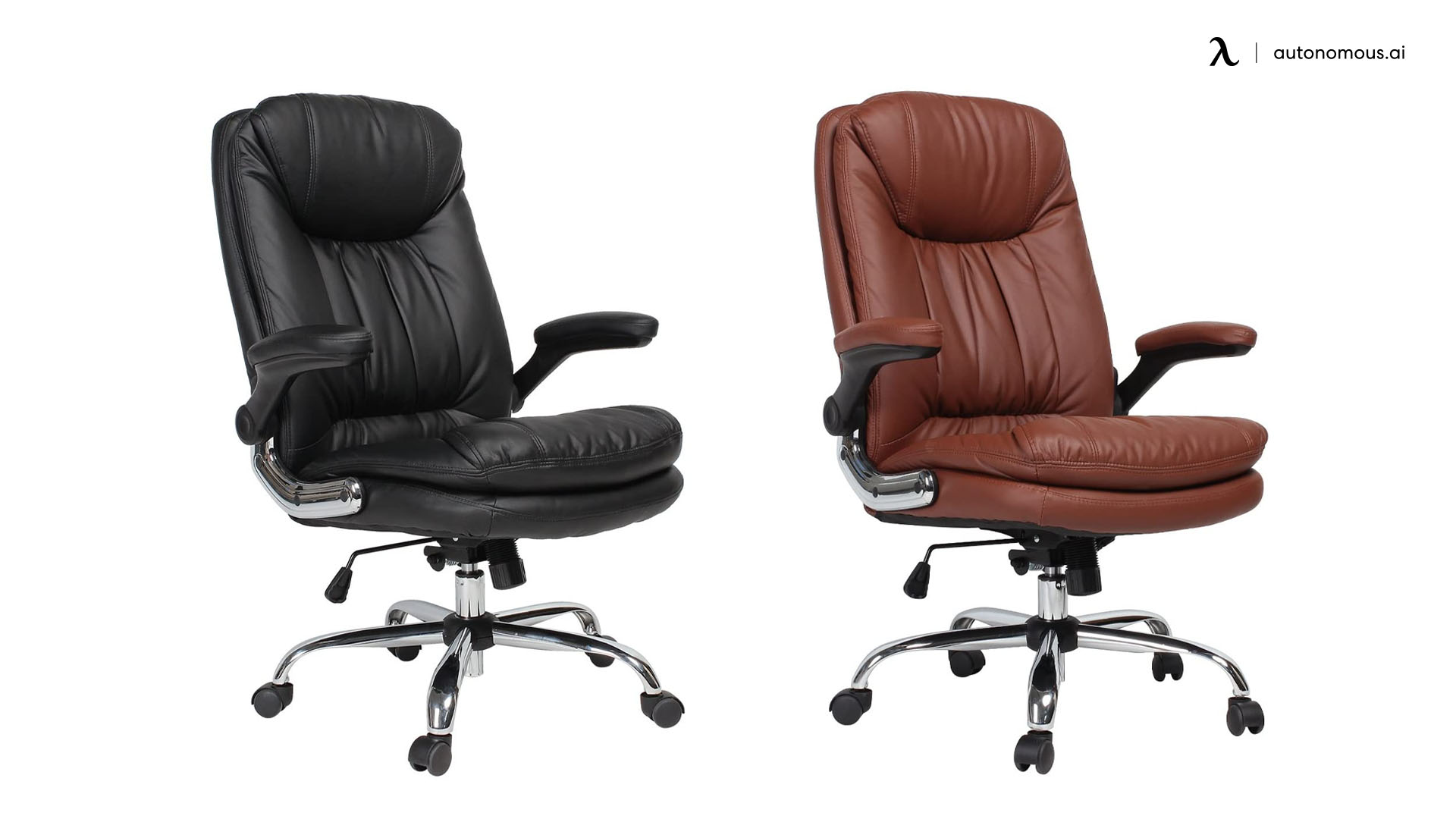 You can adjust the armrests and height. It also contains a tension wheel and can tilt back with ease and comfort. 
Quality, reliability, and class come with this leather high back office chair. 
10. INTEY Ergonomic Office Chair
If you are after full custom setup, you have come to the right place. The INTEY is a reasonably priced high back office chair that comes with ultimate customizability. 
Absolutely everything from the lower back, neck support, tilt mechanism, armrest, and height can be adjusted. 
It makes this a dream high back desk chair for anyone who likes options. 
Do you want a solid chair at a bargain price? Then look no further. You have found it. 
11.  Ticova Ergonomic Reclining High Back Computer Chair
The relatively unknown brand Ticova deserves a spot among these other high back office chairs. It stands out from the crowd with the thickened backrest that helps to prevent workplace fatigue. 
Sweating is a thing of the past with the breathable mesh on this ergonomically designed office chair.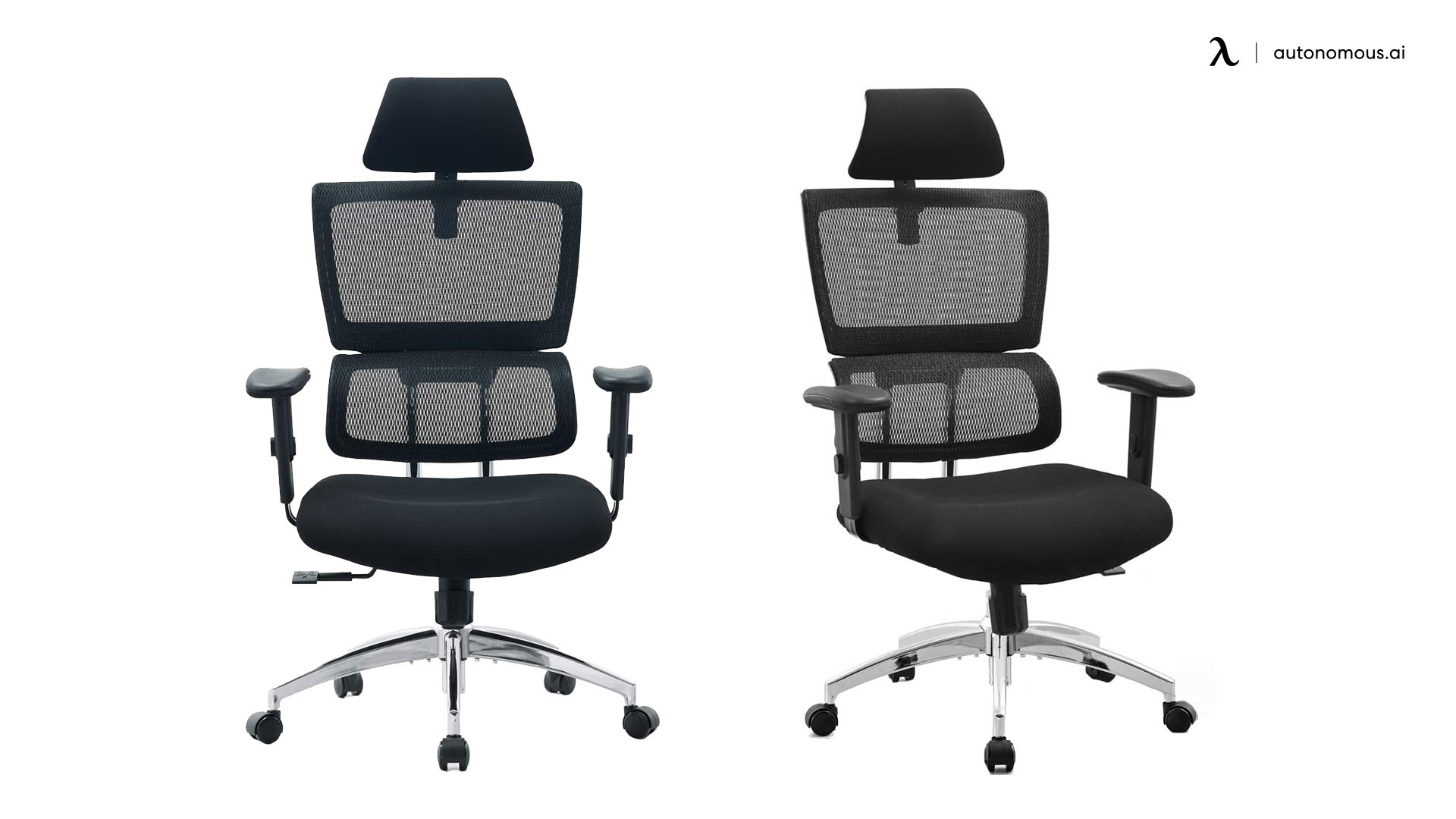 It is fully adjustable and has a memory foam that keeps you comfy for years to come. 
The future could be bright for Ticova if it keeps producing chairs like this.
12.

  Nouhaus Ergo3D Ergonomic Desk Chair

It features a 3D adjustable lumbar support system. The high back computer chair quite literally hugs your back every time you take a seat. 

The Nouhaus has expectational adjustability and a breathable ElastoMesh to keep you sweat-free. They even include a set of smooth roller wheels in case you have hardwood flooring. 

They are so confident in their product that they offer a free 30-day trial. So, please take advantage of this and test it out risk-free.
13. Futuristic Smugdesk High Back Desk Chair
This high back computer chair looks like it belongs in an ergonomic spaceship. You are going to stand out in the office with its futuristic space-like appearance.
Somewhat on the pricey side, this sexy high back desk chair is worth every penny.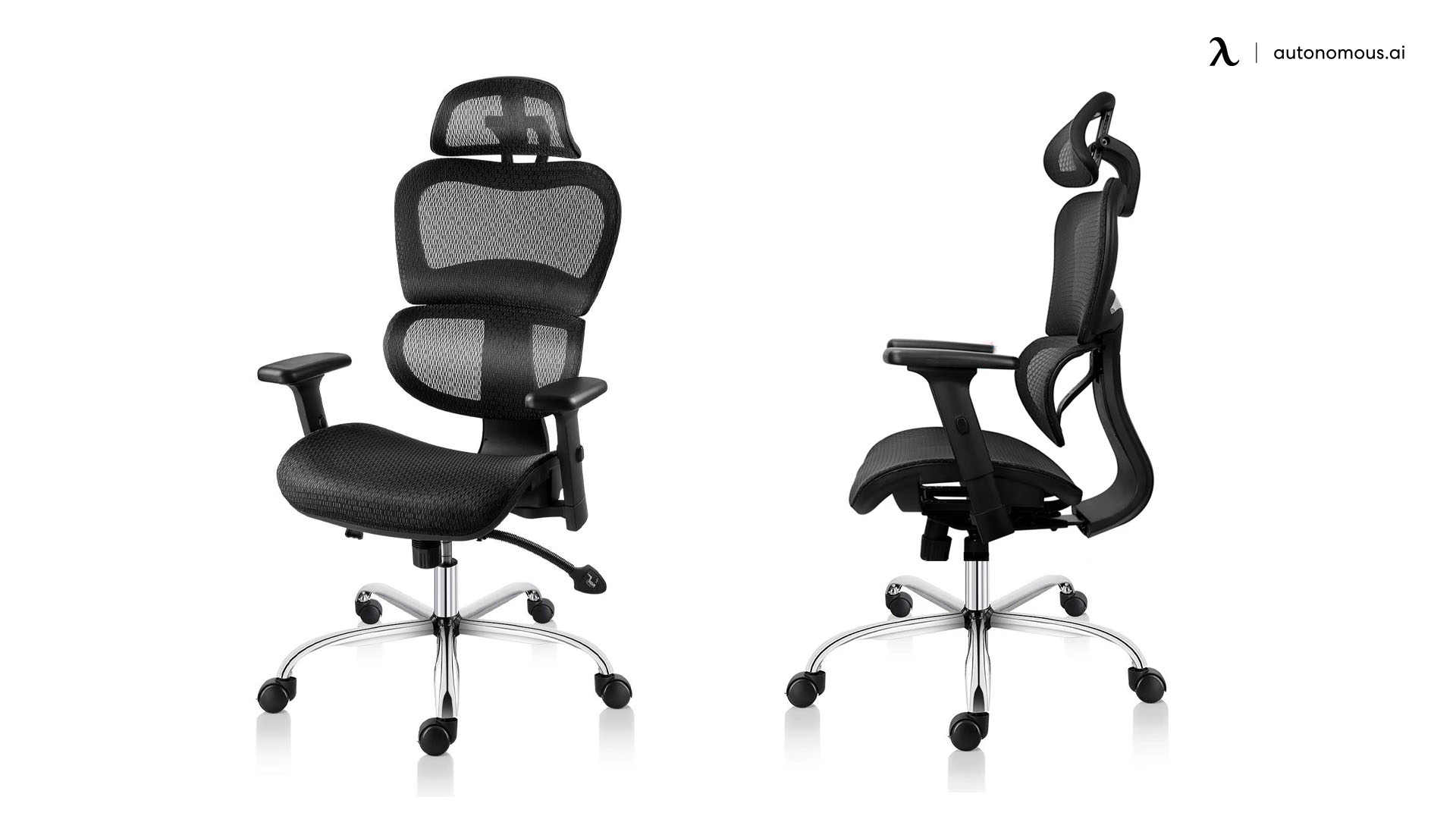 It enhances the natural curve of the spine, aiding in reducing back pain. A free rotating headrest keeps your neck and head supported all day long. This chair is every ergonomic fan boy's dream. 
The armrests are movable, and the double pad cushioning provides support to the lower back. Comfort, support, and breathability are the names of the game for this epic high back office chair.
14.  MFavour Ergonomic Office Chair
It is designed to look similar to a gaming chair and comes at an affordable price that fits your budget. 
You find support from the back to the neck with its full-size high back design. 
Height adjustment comes standard with this chair. Armrests, on the other hand, are not adjustable. 
The Mfavour Ergonomic office chair satisfies gamers and office workers alike. 
15.  Office Hippo Ergonomic Chair
This solid ergonomic high back chair is basic and excellently priced. The design fits the shape of your back perfectly. The high backrest is adjustable and able to recline if you wish.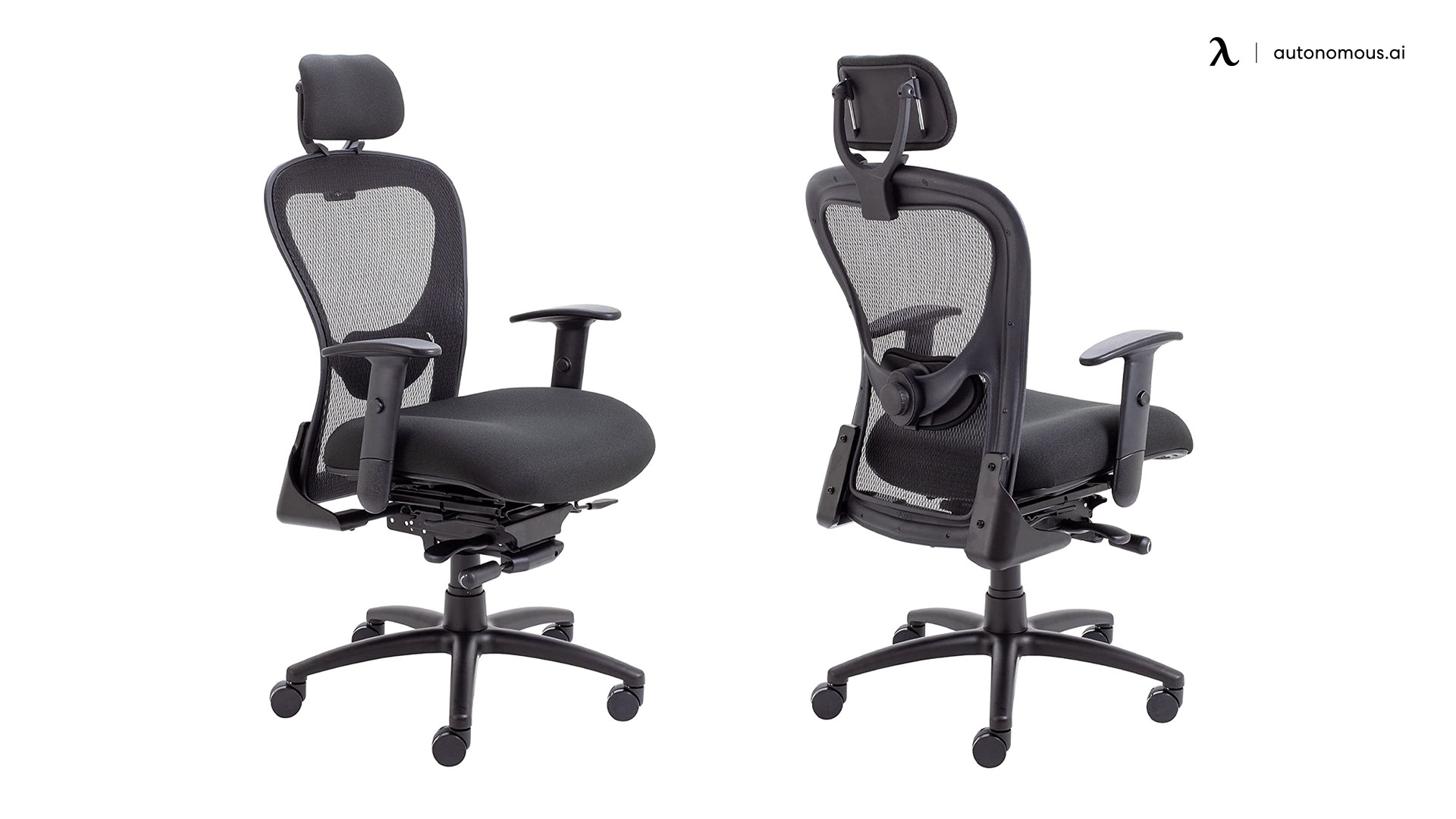 Adjustment of the lumbar support system happens to utilize a handwheel, which is a feature not seen on other models that are as affordable as this. 
Office Hippo High Back Ergonomic Chair is affordability and excellence wrapped in one package.  
So, Which One is Best for Me?
Technically speaking, height and weight would determine which one would be best for you. 
Entry-level chairs can hold around 230lb, so the average person should be fine using them. Higher-end models can hold up to 300lb.
It all boils down to personal preference. Aesthetics is something to consider when deciding which chair you choose too.
Final Thoughts
Back pain is a common problem for office workers all over the world. That is something that alleviates with an ergonomic environment. 
A high back ergonomic chair is the start of your ergonomic office upgrade. Do consider looking at other products that can help improve your well-being. 
Things like ergonomic mice, keyboards, LCD arms, and laptop stands are vital when going ergonomic. You can't just change one thing and expect to see results. All of the above work in unison to improve your productivity and comfort in the office space and at home.
Always remember, there is no quick fix for back pain. So, make sure to keep using your ergonomic equipment if you want to see results. Each new day is a new start to a pain free life with your new ergonomic office space. 
The workplace is where you spend most of your time. So, why not make sure you are comfortable and supported.
It is time to sort that lower back pain out and get the stability you need.
Video ads for product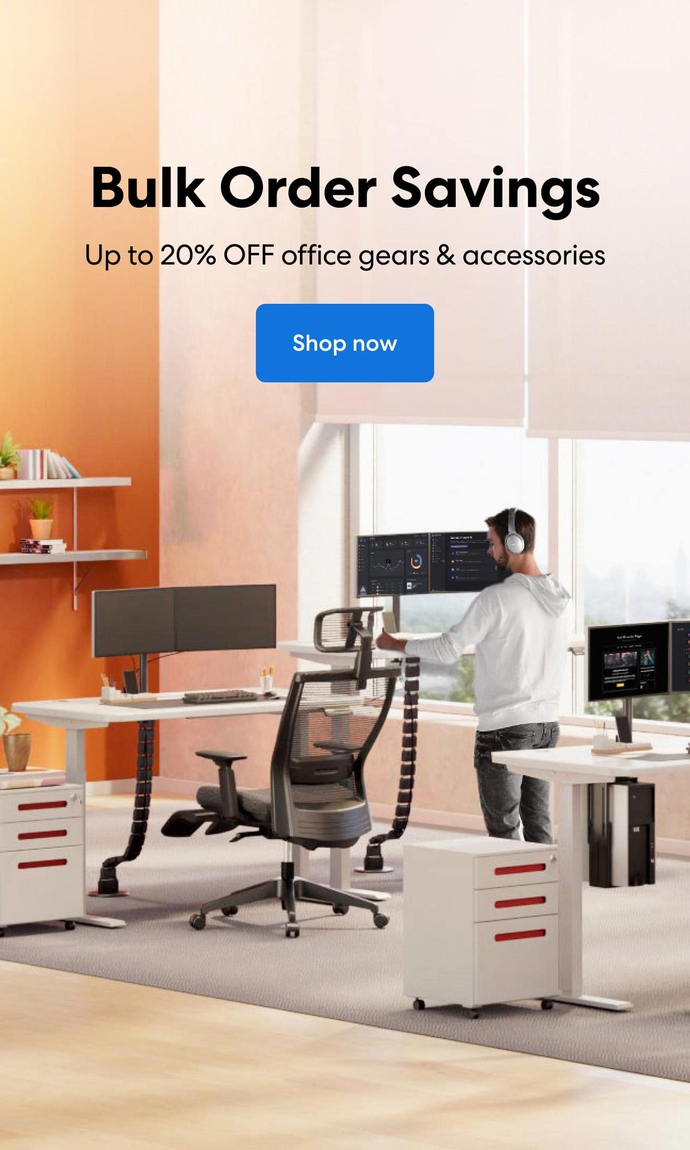 Subcribe newsletter and get $100 OFF.
Receive product updates, special offers, ergo tips, and inspiration form our team.