Smart Products
How to Assemble Kinn Chair with 3 Easy Steps
4,555 Views
Many standard office chairs make you think like you've been jammed into a painful economy seat on a cross-country flight, but premium office chairs promote you to first-class. They're built to maintain your body comfortably for the long journey.
Autonomous has been a well-known name in office furniture. Its adjustable standing desks have been popular in homes and offices. It has made a concerted effort to combine ergonomics, comfort, style, and design with its new Kinn Chair, commonly described as " the best ergonomic office chair" by the company builders.
With a unique fishbone layout and high-level TPE material, the Kinn Chair improves your sitting posture and enhances your back health and safety with excellent support. Brilliantly constructed and eco-friendly, the Kinn Chair offers equal convenience and support so that you can keep a good position during your working day.
Moreover, Autonomous also produces a range of related "intelligent office" tools and equipment. While the Kinn Chair is not motorized with memory settings like the Autonomous SmartDesk 2, the Kinn Chair has a way of fitting itself to the frame with a set of springs in the seat and a spine back.
The Kinn Chair is a unique combination of nature and nurture, designed to improve your spine. It comes in various color combinations and offers ergonomic comfort in any home or working environment.
This article helps you assemble Kinn Chair with three easy steps and provides you with additional analysis and the chair's key features.
Kinn Chair Overview
A comfortable chair is essential for those who work continuously for long hours. Here is the Kinn Chair, a soft and flexible chair that can adapt perfectly to the workspace.
The frameless design of the chair should offer greater freedom of movement and increased reach. It is made from natural materials and combined with modern technology, so you can feel comfortable while sitting on this chair.
The chair's unique, boundless backrest should provide better posture, which can activate the body's core and promote better well-being, compared to conventional office chairs, allowing you to work comfortably for hours without feeling any pain.
The lumbar support is modeled on magnetic fields, which help you maintain your balance while sitting. The design of the chair's anti-odor spring seat, made of TPE (thermoplastic elastomer), offers unparalleled comfort. It is stronger, lighter, and more durable than conventional foam or mesh seats.
The chair is built to meet your requirements. You can adjust the armrest, seating positions, and everything in between. Thus, you can customize the chair as you wish.
Packaging and Kinn Chair Assembly Instructions
The Kinn Chair arrives dismantled in a big cardboard box with its name written on the outside. If you are a professional craftsman, it should just take you about five to eight minutes to install all the pieces together.
You only need a screwdriver as an Allen wrench is already provided. The whole assembly process is easy and simple.
Once you open it, you should find the chair's separate parts neatly tucked away and ready to be constructed. The next step is to read the Kinn Chair assembly instructions. It's easy to follow and self-explanatory.
The first step is to attach the wheels to the base. The wheels snap into place, but you do have to push in with some power to get it to snap it into the bottom.
Then you place the gas pump into the base, too. The next step is to align the seat with the back. Then, using the provided hardware, you screw the two sections together. Then you place the entire assembly on the gas pump. You shouldn't have any problems putting the chair together as the whole Kinn Chair installation process is smooth.
Step 1
Flip the base upside down and insert the five casters into the base. Turn the base upright and insert the gas pump.
Step 2
Turn the seat upside down and place it on the edge of a stable surface. Align the back and insert and four Allen screws. Tighten them with the Allen wrench provided. Use a screwdriver to insert and tighten the four tapping screws.
Step 3
Attach the base to the chair and flip it back over. You can then sit comfortably and adjust it to your liking.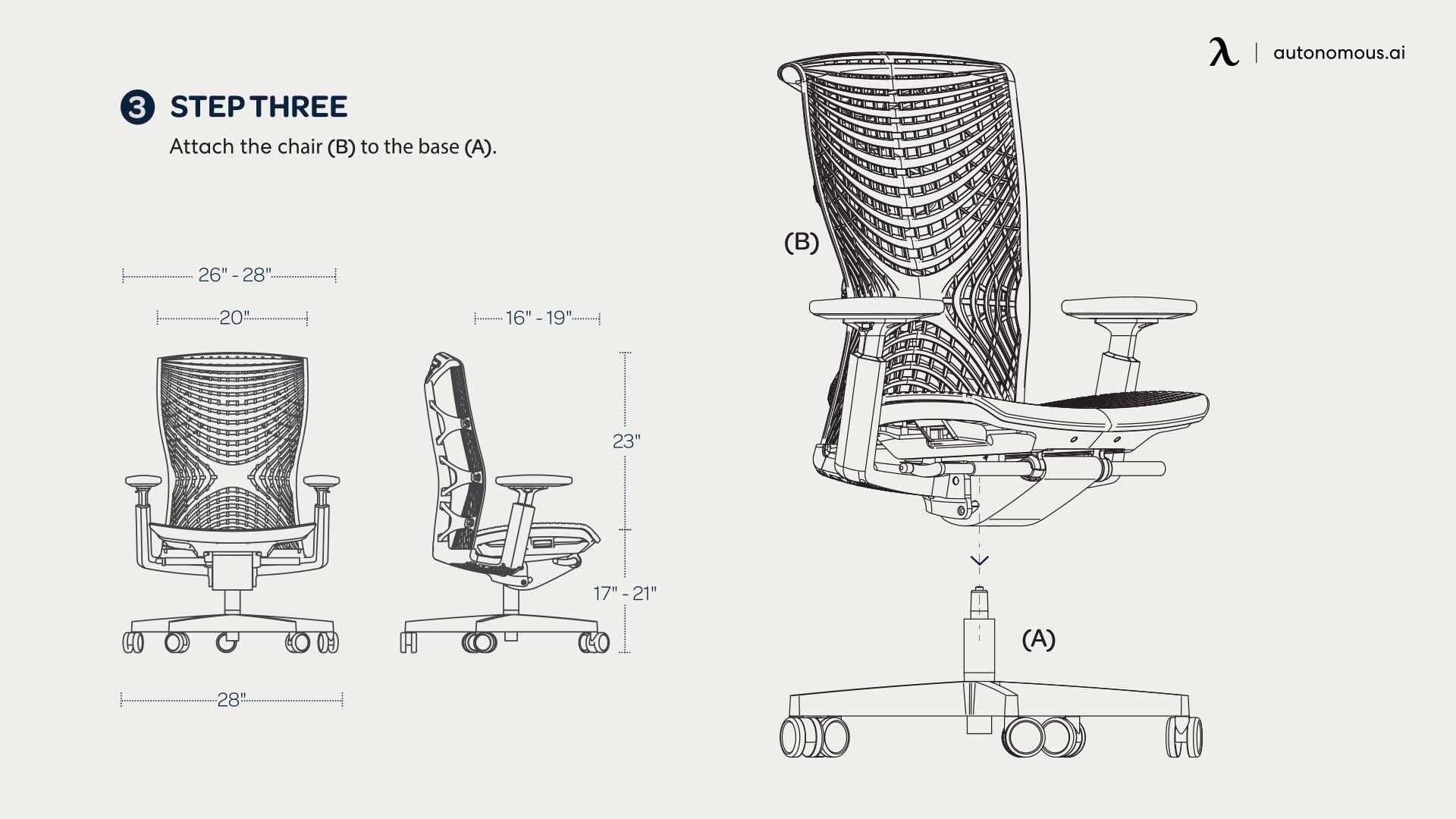 Are Kinn Chair Assembly Instructions Difficult?
Assembly Instructions
The assembly process is easy to follow
Excellent aesthetic and attractive design
Good adjustability
Suitable for long use
Long-lasting construction and materials
The seat is short
It lacks headrest
Plastic caster wheels
Key Features
The Kinn Chair highlights a special fishbone pattern and is constructed with superior TPE material. It's environmentally friendly and incredibly sturdy. Thanks to TPE, the Kinn chair can last for many years longer than conventional mesh and foam options.
From the springs in the seat to the chair's weight (35lbs) to its weight capacity (350lbs), all the components are produced for long periods of sitting comfortably.
Furthermore, the chair has a flexible armrest, back tilt angle and tension, and seat height. Once you find your perfect balance, you can then settle in and relax.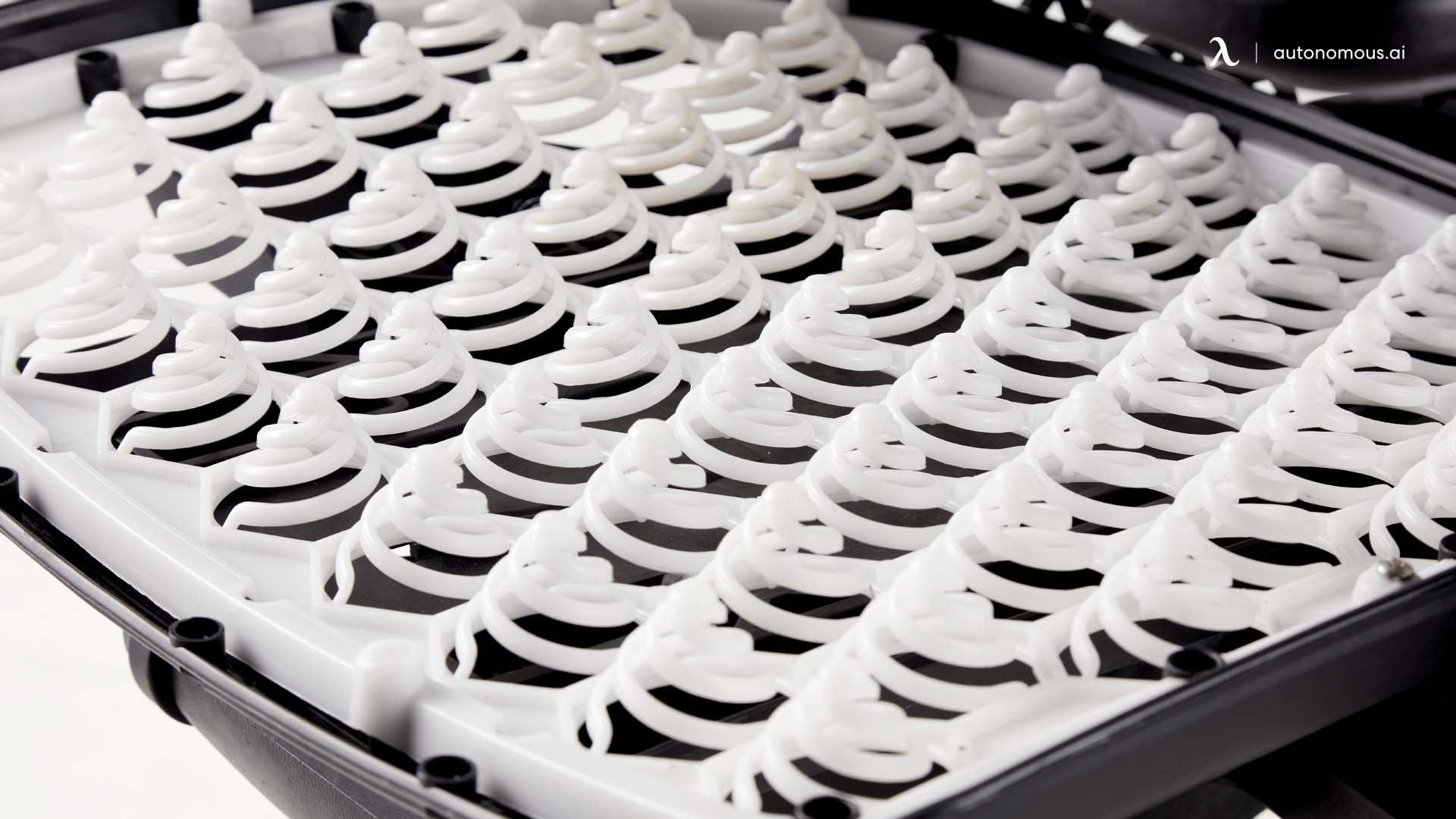 FAQs
Are Autonomous Chairs Good?
Indeed, Autonomous delivers excellent and premium ergonomic chairs for many uses. For instance, the Kinn Chair has passed the strict standards defined by the Association of the Business and Institutional Furniture Manufacturers (BIFMA).
Is the Kinn Chair Suitable for Sitting for Long Hours?
Indeed, Autonomous chairs are composed to give excellent lumbar support. The Kinn Chair has a frameless layout that enables it to adapt to your body shape.
Is the Kinn Chair Worth It?
The Kinn Chair is affordable and provides many advantages. It offers comfort and great posture and has been accredited for reliability and construction quality.
Final Thoughts
Learning how to assemble Kinn Chair is easy and straightforward. Enjoy complete comfort while working at your desk with the Autonomous Kinn Chair. From a design point of view, it looks like a human spine. This office offers you a full range of motion, support, freedom of movement, and balance. The Kinn Chair has the best value on the market and provides you with a five-year warranty. Get one soon.
Keep up with Autonomous news
Stay informed, stay inspired with our new blogs.
WRITTEN BYAutonomous
We build office products to help you work smarter.