In case you didn't know, choosing the right kind of standing desk can lead to increased productivity of your employees. Therefore, when in the market for a desk, you should check on the different qualities to ensure you get the right purchase. Most people working from an office or home are going for standing desks as compared to traditional desks due to its health benefits and increased productivity. Therefore, when choosing a corner standing desk, consider one that will match your lifestyle, laptop/desktop use and more importantly your height. Below we have compiled factors that will guide you on how to choose a corner standing desk that will increase productivity both for you and your employees.
1. Look at the Adjustability of Your Corner Standing Desk
Adjustability is the most significant quality of any standing desk. Nobody would wish to have a standing desk that is fixed permanently at one position due to the following reasons;
•First, the height may not be customized to meet your specific requirements, and thus it will not be as convenient like the one that you can adjust to your level.
•Secondly, you may want to adjust your standing desk anytime to meet your standing styles.
•Lastly, it is likely that different people will want to use the desk and so the ability to adjust it back to its original height is paramount. Desks that are not adjustable may appear cheaper, but in the long run, may have several limitations.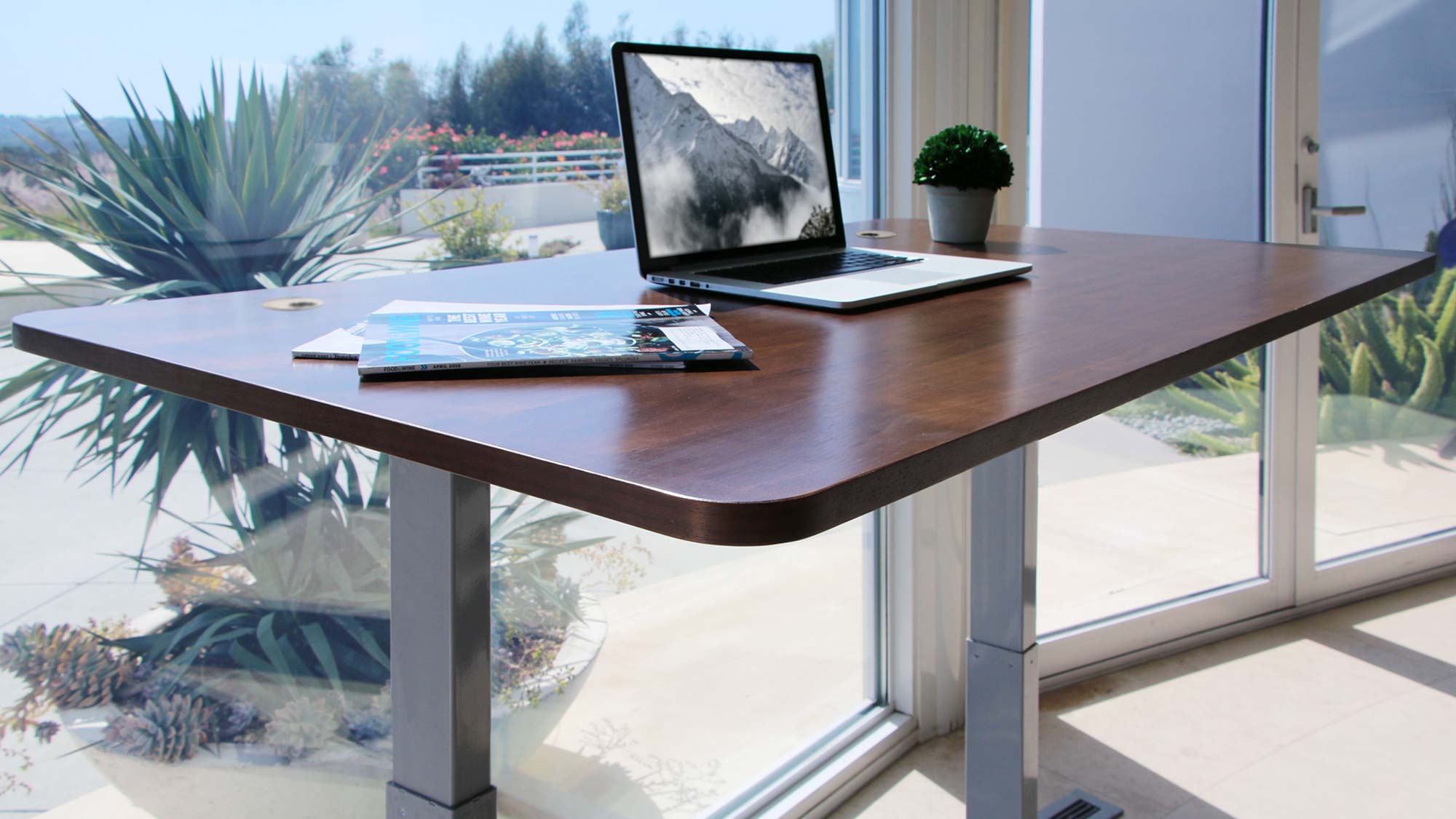 Autonomous Standing Desk SmartDesk 2 – Home Edition
2. Check on the Qualities of Material Used
Some standing desks appear a bit cheap. Ensure you choose a standing desk made from high-quality materials that provide a winning, professional appearance. Some high-quality desks are made from real bamboo and aluminum, while others are made from metal. There are others that are made from a mix of metal and glass and have a great look too.
3. Consider the Level Surfaces
Many simple designs stand up desks are absolutely flat. Although they are dependable, it is important to have a design that has multi-level surfaces. This will provide good shelf space for various items and is beneficial to the company. The low and high segments have proved valuable when porting your desktop to a monitor from a laptop or when performing some technical issues as you deal with new incoming projects.
4. The Cable Design
There is nothing bad as having your cable fall on your standing desk and create hazards. Always look for a desk that has cable management options. Normally, a desk should have a simple hole to rout the cables. However, some desks will provide cable trays to keep the cables more manageable.
5. Consider the Height Memory
There are two versions of adjustable desks in the market; the hand-crank and the electrical versions. It is better to cost you more for an electric version because it has the following important features;
•Electric standing desks are fitted with a little LED keypad that enables you to save various height settings and is suitable when different people are using the desk with each person's preference.
•Electrical desks automatically sync height accurately from side to side to avoid getting unmatched surfaces.
6. The Desk Support
The desk support may appear like a minor factor but will definitely play an important role based on the purpose of your desk. Normally, most standing desks will support a range of 200-300 pounds which is adequate for the standard desktop, speakers and selected equipment. However, in a case where more professional work is involved, there are some more serious equipment like the keyboards, amps, large printers, etc. Ensure your desk can support any additional weight.
7. Standing Desk Mat
A mat is an important accessory for your corner standing desk. Always have a good standing mat for your desk in order to have both the healthy standing style and minimize new aches.
If you follow the tips above, you will not only have a corner standing desk that you so much love but also have maximum productivity in your workplace. A right standing desk will make your workers happier and ease the pain and inconveniences that come with using the wrong desk. Your employees will be able to concentrate on their work without distraction and at the end of the day, they will be able to cover a bigger part of the project
How to choose the best corner standing desk for maximum productivity