Workplace Inspiration
How to Choose the Perfect Work Pod for Your Work Setup?
2,032 Views
Are you struggling with the work from home routine? Remote workers have a hard time adjusting to this change in the workplace since they face difficulty maintaining a work-life balance. Work pods are a great addition to the hybrid work routine and serve multiple purposes. They are designed as private workplace design for a more focused work approach. Work pods help employees get undivided attention, become more focused, and have a good time concentrating on projects.
A study suggests that remote workers are often frustrated because of the disruption in their work-life balance. And especially for people who have started their business setup, they need a private space to concentrate fully and even connect with the clients. Work pods serve as a workable solution, especially for remote workers, and if you have been thinking of buying a work pod, you have come to the right place.
This article will be your work pod buying guide and walk you through the important factors to consider before buying a work pod for your home office setup.
How to Buy A Work Pod?
Unlike a chair or a table, a work pod is a huge investment. It is like buying a portable office that costs you a lot from your savings. However, certain factors make your choice easier and worthwhile. But considering the benefits of a work pod, there are several reasons why you should make this purchase as the next big improvement for your workplace.
Type of Work pod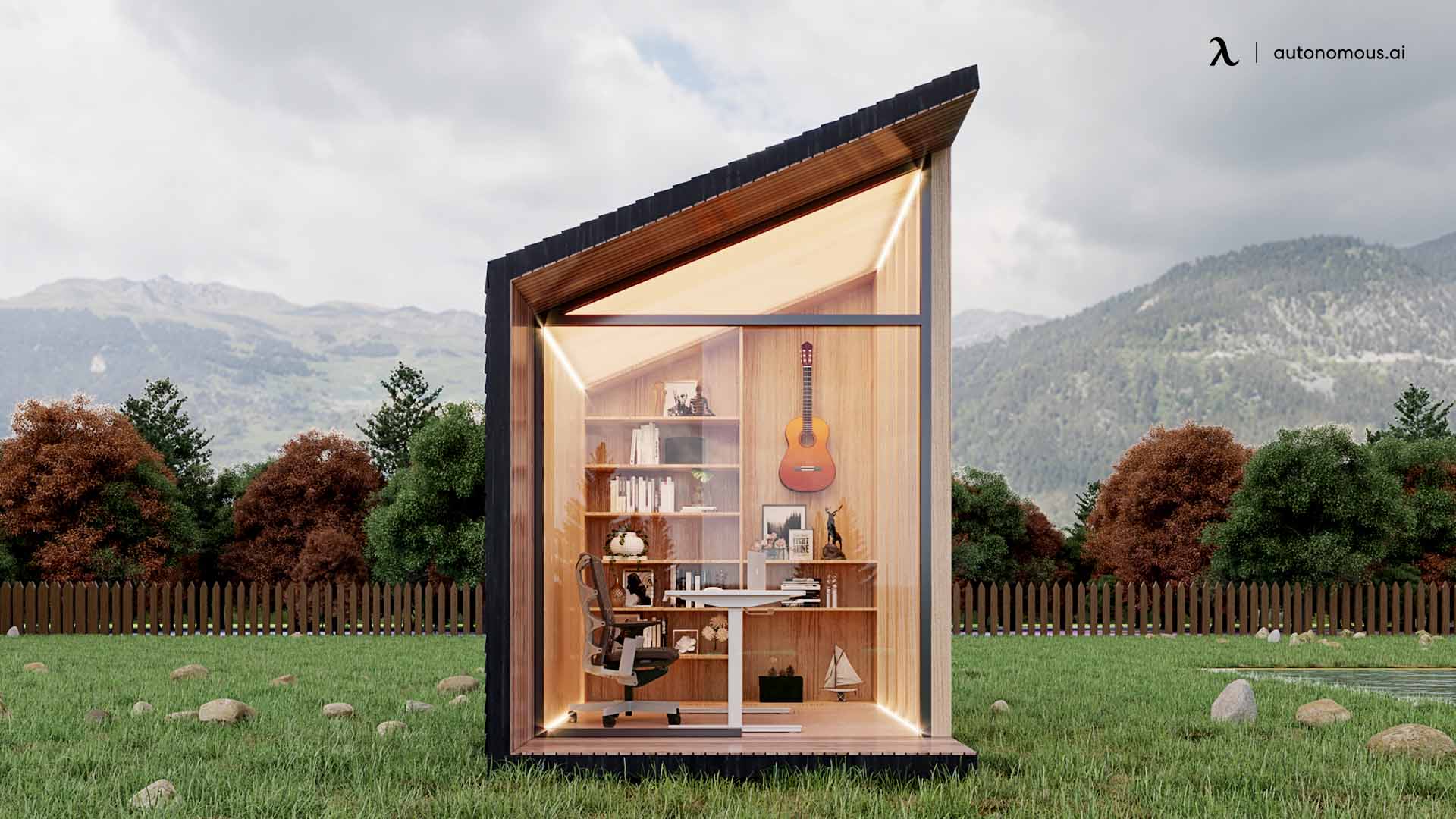 The type of work pod is the most important factor to consider. The type of work pod you choose depends on various factors, and it will also define the price you will have to pay. Here are some common types of work pods that are usually available in the market.
Interior
An interior work pod is made for workspaces that have a large number of people working. Interior work pods are an inexpensive way of partitioning a workplace into smooth separate cubicles or even rooms. Interior work pods are usually opaque, so the person working inside gets complete privacy. They are also soundproof so that the meetings can proceed within them without the rest of the people in the surroundings getting disturbed.
Outdoor
Outdoor work pods are very popular because of their multiple benefits. They are usually transparent to provide a clear view of the outdoor view. Outdoor work pods are made for places that have natural beauty or people who want to set up their home office in the backyard. Outdoor work pods are great for lifting the mood because they are closer to nature.
Equipped
An equipped work pod comes with all the accessories such as a desk, chair, computer, monitor arm, keyboard, and many other items. An equipped work pod costs a lot more than a naked work pod, but it is a complete setup for you to start the work.
Naked
Naked work pods are just empty boxes with no furniture or appliances added. Naked work pods are cheaper as compared to a fully equipped work pod. A naked work pod also offers the freedom to decorate the working space as you like.
Meeting Pods
There are many designs, sizes, and models to select from, whether you're searching for two-person pods, three to four-person pods, or more. Meeting pods are a fantastic way to improve the functioning of your workplace by offering an attractive location for meetings, brainstorming, or simply stepping away from your desk for an hour or two to change things up. Meeting pods are usually designed to create a great impression. Hence they are equipped with connectivity, comfortable seating, multiple power outlets, and peaceful lighting to make users feel that their work space is like an app.
Team Pods
One of the most appealing features of office pods is their ability to fit into any area. In addition, they are considerably more welcoming and comfortable than typical meeting pods. A growing number of companies are utilizing office pods to build attractive and effective team pods where employees are encouraged to collaborate, socialize, and meet.
Office Booths
Office booths, also known as office privacy work pods, are a great option for a private working space. These work pods are also known as phone booths because of their similarity in looks to a phone booth. You can work, connect, conduct calls and even have video conferences in privacy. Office booths provide a high level of privacy with minimum distraction to the employees.
Office booths also offer another advantage: they can be easily relocated to any place and make working practical.
Sound Proof
The soundproof feature, otherwise known as acoustic work pods, are wonderful quiet zones. Acoustic office pods are perfect for creating designated silent zones for meetings, interviews, training sessions, and conferences for your employees. The acoustic screen panels may be connected to make a single pod or expanded to include several office pods, as no two offices are alike. Acoustic work pods are made to the noise reduction level of up to 30 dB; hence they are made with sound-absorbing fabrics.
Price
Before buying a work pod, price must be carefully considered. The price of the work pod mainly depends on the features it offers and the size capacity. For example, opting for a work pod with soundproof cushioning, multiple outlets, and built-in lighting will add to the final cost of the pod. On the other hand, naked pods are much cheaper since they don't have any extra installations.
To Buy or Not to Buy an Office Pod?
Perhaps the most common reason one would consider buying an office pod is the increased focus and privacy. Privacy is a big requirement in a workplace, and people who are working on tough projects cannot compromise on creativity just because of few distractions in the surroundings.
Moreover, office pods are also scientifically proven to help neurodivergent employees. Although neurodiversity has always been an issue in the workplace, employers have only recently begun to accommodate individuals with varying neurological requirements.
Many persons with neurological abnormalities require calm environments to concentrate. Dyslexia, dyscalculia, ADHD, and autism are known to induce significant anxiety in big open areas. And office pods are the most inexpensive way to cater to the needs of people suffering from such issues.
Autonomous WorkPod would be a perfect option for you. Autonomous is well known for its scrupulous manufacturing process. Please have a look at our WorkPod terms and conditions over here to find out more details. Buying a work pod, you are going to set yourself up for success. While you are on the road, do not forget to enjoy the journey!
Subcribe newsletter and get $100 OFF.
Receive product updates, special offers, ergo tips, and inspiration form our team.
WRITTEN BYAutonomous
We build office products to help you work smarter.