Latest Updates
What to Expect and How to Prepare for Your First Day of College?

Autonomous
|
Jul 10, 2023
346 Views
Preparing for your first day of college is crucial because it's different from attending high school. You must prepare yourself for the challenges and opportunities that await you. 
In this article, we'll go over what you should expect on the first day of class at your new college. We'll also explore how it is different from your first day of school or university. 
Let's get started!
What to Expect on the First Day of School?
The environment at school is very different from what you would experience in college. If it's your first day of school, you might be feeling nervous. That's completely fine—after all, we are all humans. 
Compared to college, the first day of school is more relaxed. During the introductory class, the teachers will introduce themselves, and in most cases, they will allow the students to do the same. 
On the first day of school, students must take the time to familiarize themselves with the campus and the locations of the classrooms, libraries, student support centers, and other facilities. This will help them with punctuality and allow them to utilize the services offered by the educational institution.
If you're a parent reading this and have a child who is preparing for school, you may want to read our first day of school lunch ideas article. Having a nutritious meal during the day can increase productivity and ensure your children's well-being.
What to Expect on the First Day of College?
Your first day at college marks the beginning of a new chapter in your educational journey. Here, you'll encounter new challenges, opportunities, and experiences that will shape your future. 
After transitioning from school to college, many students are often laid-back, which can adversely affect their grades. This is because the level of education at this institution is a step above what you would learn in high school. 
We're not here to scare you but to guide you on how you should prepare for this phase in your life. On your first day at college, you should take the opportunity to explore the campus and locate important places. 
Visit the educational institution's website to learn more about the college and what it offers. This will help you get the most out of your time spent at the campus. 
Now that you're familiar with the campus, you need to prepare for the first day of class at the college. Depending on the number of students, you may feel overwhelmed, shy, or scared. That's perfectly normal. 
However, this is where you need to step out of your comfort zone and interact with others. The friends you make on your first day of college could end up being your companions for the next two years. Make sure you talk to your fellow students, learn more about them and their interests, and exchange contact details to stay in touch. 
As for the first day of class at the college, you need to take notes. Write down the teachers' expectations, the materials they require you to purchase, and other important details that may be useful down the road.
Also, pay attention to your lecturer's schedule, office timings, and how you can contact them. Full-time teachers are easy to track down if you require assistance. However, if your professor is teaching part-time, it can be difficult to reach out to them if you're unsure of their working hours. 
Some professors may prefer a lecture-style class, while others may incorporate group work, discussions, or hands-on activities. 
Embrace the diversity of teaching methods and adapt your learning strategies accordingly. Stay organized, take notes, and actively engage with the material to maximize your learning potential. 
Attending college is very different from going to school. There are clubs and organizations that actively carry out activities throughout the year to keep the students and faculty engaged.
Take the initiative to strike up conversations, join student clubs or organizations, and participate in campus activities to expand your social network. 
What to Expect on the First Day of Class at Your College?
Attending the first day of class at your college can be nerve-wracking. Although you must prepare yourself to face challenges, you should also be ready to seize opportunities and make a positive impression on others. That's a lot of things to do! 
Every class presents a unique environment. When you're attending the first day of class at your college, you should interact with others, as they might prove to be valuable resources in the coming days or months. 
Most professors will introduce themselves and cover the syllabus during the first day of college. They'll go over their expectations and how you can excel in the subject. It's important to pay attention, as the pointers shared by your teachers will assist you in the coming days. 
Depending on the subject, the first day of class at your college may involve icebreaker activities. This is a great way to connect with your peers and learn more about them. 
It's also important to understand that not all classes will be the same. Some professors prefer open discussions and require active student participation, while others may be more comfortable with a lecture-style format.
What You Need to Prepare Before Coming to College?
There are a few important things you need to prepare before attending your first day at college, some of which include the following:
Keep an Eye Out for Good Deals
Whether you're looking to buy a smart desk, study chair, or a home standing desk, keep an eye out for a back-to-school furniture sale. Students are often strapped for cash, and a good bargain can help them get the items they need without paying the original price. 
Organize Your Documents
You need to have all the important documents with you, such as your acceptance letter, student ID, health insurance information, and any financial aid or scholarship documents. 
These are essential for student registration on your first day, and you may require them later on during the semester. 
Be Financially Responsible
College is a time to have fun, but it's also crucial that you set yourself a budget and be financially responsible. You'll need your admission letter to open a bank account, which is a great way to manage your expenses. 
Keep some money aside every month for desk accessories, writing material, hygiene products, and other necessary items.
Find Accommodation
If you're going to be moving away from home, get in touch with the college administration to help you find accommodation. Make sure you read all the rules and regulations of the residence hall so that you can always adhere to them.
Pack Essentials
Making a checklist is the easiest way to know what you need to bring with you when you're moving to a college dorm. Bedding, toiletries, clothing, study materials, and any personal items are important in making you feel at home. 
You may want to invest in a standing desk or an ergonomic chair to ensure comfort during late-night study sessions in your college dorm room.
Review the Course Materials
You'll need certain textbooks and materials, which is why you should review the course schedule in advance. This will help you save money and time. 
Some courses may offer access to online resources, so make sure to familiarize yourself with them. 
Learn More About the Medical Provider
Every college provides its students with access to a medical provider or clinic. Learn more about it so that you know what to do in case of emergencies. 
Make Sure You Have a Cell Phone Plan
During your time at college, there will be a lot of communication between you, your colleagues, the faculty, the administration staff, and your family members. Do your research on a cell phone plan that fits your budget and needs.
Tips to Help You Make the Most Out of Your First Day of College
Here are some tips to make sure that your first day at college goes smoothly: 
Make Sure You Arrive Early
Arriving early will give you enough time to get familiar with the campus's layout and reach your class before the lecturer does. It will leave a positive first impression. 
Figure Out Where You Want to Sit
Since there is no pre-assigned seating, you will need to figure out where to sit. If you're one of those students who gets distracted easily, it's best to grab a seat in the front row. 
Bring Materials for Note-taking
On the first day, expect a syllabus review and important handouts. Keep them in a safe place and bring extra writing or digital tools for note-taking.
Make Sure You're Attentive
Although you may not be tested on your first day at college, professors use it to set expectations and get to know students. Make sure you're attentive and avoid distractions by ensuring that your phone is silent. 
Show Up
Don't underestimate the importance of the first day of college. Lecturers share valuable information about the course, and missing it could result in missed deadlines. Use this opportunity to understand the exam formats and class policies.
Dress Comfortably
Although some colleges do not have uniforms, you must adhere to their dress code. Read up on that, and wear something you're comfortable in. It will not only help to boost your confidence but also make a positive impression on others.
Introduce Yourself
On your first day of college, you may feel shy or nervous. Throw that out of the window and step forward to introduce yourself to your classmates and lecturers. 
Building connections early on can lead to study groups, networking opportunities, and lifelong friendships. 
Be Proactive
Active participation shows your interest and understanding of the subject. Don't be afraid to ask questions, discuss the topic, or contribute your ideas. 
What to Expect on the First Day of University?
Now that we've gone over what to expect on the first day of college, it makes sense also to cover university life. Compared to college, the challenges and opportunities are much different. 
Although attending a university is an exciting chapter in one's life, it's important to know that the class structure is much different. Some people may struggle at first, but if they're attentive during their first day, they'll know what to expect and how to tackle the obstacles. 
On the first day of university, you will have to understand what the professors expect of you and how you can achieve that without constant supervision. 
Remember, the lecturers teaching different subjects in the classrooms may also be working professionals with jobs in the corporate sector. They may not have the time to hold every student's hand and guide them, which is why they'll talk about the available resources on the first day of university that you can use to learn and excel. 
The first day of university can feel scary for many aspiring professionals. Take a deep breath and have your game face on, as you'll have the opportunity to connect with others and expand your social circle.
A university is also where you will be doing your thesis. This assignment will be the most important submission in your life. It will determine whether you graduate on time or spend another semester working on it. 
That said, your professors will always be available to provide guidance. It's best to note down their contact details on your first day of university so that you can reach out to them whenever you require assistance. 
Before we end this article, we'll go over one final piece of advice. You need to be ready for a high level of academic rigor, as every professor will have different expectations from their students. On your first day of university, you should understand what your lecturer requires from you and work towards it.
Final Thoughts
Attending college is a milestone in life that you should celebrate. Have fun, build new connections, and make the most of it. 
However, it's also important to focus on your studies as you need to meet certain requirements if you want to gain admission at a good university after two years. 
Make sure you read our back-to-school shopping guide or our article on back-to-school gift ideas if you're a parent with children who will be attending school, college, or university.
Video ads for product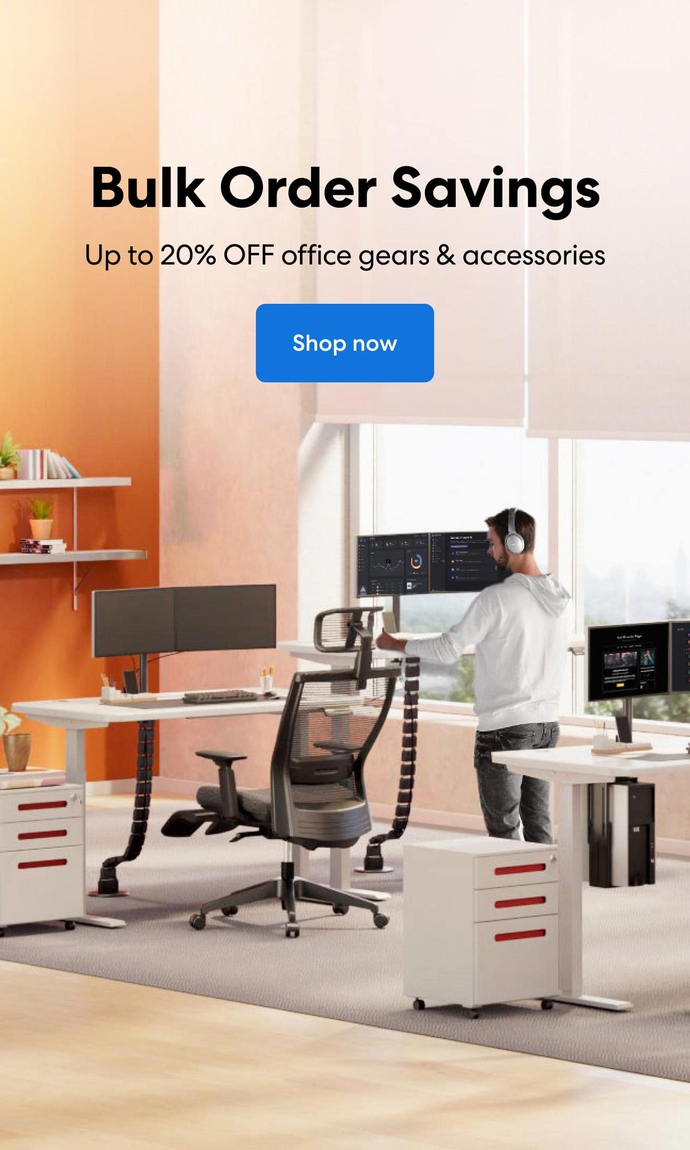 Subcribe newsletter and get $100 OFF.
Receive product updates, special offers, ergo tips, and inspiration form our team.