The pandemic disturbed the entire world of work initially when most businesses were rattling off, planning ways they could survive in these tough times. Although many companies have been thinking of parting ways with the traditional on-site office work and adopt the hybrid work model of famous companies, it was the pandemic that has brought the strategies of the famous companies on the front page. Upon evaluating these companies' hybrid work case study, we can say that companies like Facebook and Intel have brought some pivotal changes in their working systems, and smaller companies have a big opportunity to learn from them.
Facebook, Google, Intel, and many other big tech firms have decided to lay the foundations of an efficient hybrid work model. These companies believe that if the businesses adopt the changes effectively and make the required alterations in the way they are functioning today, chances are, they will become more efficient in the long run. Nevertheless, passing a judgment that this work model will surely let the businesses save some capital will not be right at this point.
Upon evaluating the case study of hybrid work models, we believe that you should first evaluate how hybrid work applies to a company's work model. It is because the hybrid work model requires a lot of planning prior to any execution, as in most cases, this will be a long-term workstyle. Most famous companies like Facebook anticipate that they will shift a large number of their team workers to remote work settings. As a business owner, you must be looking for greater details as to how hybrid remote work impacts the company work model, so to end your curiosity, let's have a look at this hybrid work case study. 
How Hybrid Work Applies to Company Work Model?
In hybrid work case study, it has two basic components, or you can say your workforce is divided into two portions. One is the online team that works remotely, and the other is the on-site team that is supposed to work by attending the office physically. Both these teams are to be trained in a way that your business runs smoothly and the overall productivity is not affected. The case study of the hybrid work model explains that a company's traditional work culture, where workers interact with each other physically, is the first thing that can get affected when you are shifting to a new work model.
If you are planning to adopt a hybrid work model in your business setting, you have to evaluate your decisions from various dimensions, and your worker's point of view is one of them. The company's work model should be transparent enough that the workers know what options they have at their disposal and what ways of working you can offer in your business setting.
Suppose you think of the hybrid work model's application in hybrid work case study. In that case, one considerable way to do this effectively is the office hoteling app that helps you smoothly divide and operate your online and on-site teams and design an apt hybrid remote work schedule.
The hybrid work model does not mean that you will have no way back to the physical workspaces; it is just that you will not have the traditional workplaces where every worker used to attend their office at a single HQ. Even in the pre-covid days, companies used to have many hubs, and that used to operate smaller tasks and then there was a centralized HQ that operated them all. The recent breakthrough, or in much better words, the major change that the hybrid work model has brought is the widespread use of telecommuting to run projects.
Even if we look at the hybrid work model of the famous companies, we notice that the workers are developing the idea that they attend office for few social gatherings or important events. Still, the work is mainly executed via online teams. This idea explains the most about how the need for a physical interaction persists, and workers need to see each other to build a better bond with their colleagues. Thus, you cannot eliminate a centralized physical workspace from your company's work model even if you plan to have a hybrid workforce. 
As we advance – What Do We Learn from the Famous Companies?
We went through the hybrid work case study of famous companies like Facebook, Google, Intel, Microsoft, and Molz. The gist of their hybrid work model is that they never centralize their choices with the motive of saving capital in the first place. Instead, workers' well-being is their priority. If you try to plan ahead and anticipate what matters in the long run, it is your workers' well-being and interest that matters the most.
A mentally healthy team can produce way better results than a mentally exhausted one. So, as a business owner, you can think of taking the time steps towards a successful business by taking notes from the hybrid work model of a famous company. One way of doing that can be by introducing the concept of meeting-free Fridays or shortening the meeting time to facilitate your workers.
When the workers get enough time for zoning out, they get to focus on their work better. This means, if you start working the famous company way, you can eliminate the presenteeism culture and filter out a more dedicated and productive team. The hybrid work model means a large number of workers will be working from home, so the chances of them having burnout are higher. Now, it is your responsibility to facilitate them in a way that they get enough social interactions with their co-workers and stay productive throughout these challenging times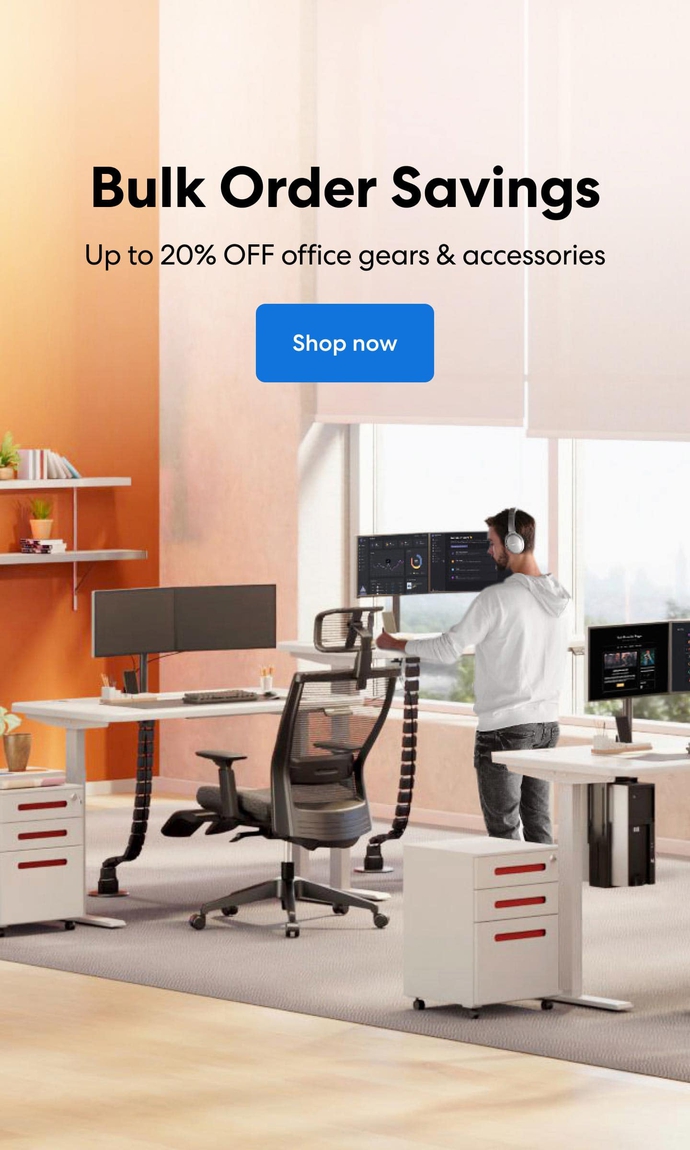 Subcribe newsletter and get $100 OFF.
Receive product updates, special offers, ergo tips, and inspiration form our team.