Workplace Inspiration
Vintage Office Design Ideas with Office Computer Desk with Hutch

Autonomous
|
Sep 24, 2021
1,992 Views
There are many types of office furniture, each one offering different features and benefits than the other. The variety of furniture allows diversity to be achieved in the workplace, which is an important factor in making all the employees feel comfortable and productive. Office computer desk with hutch is a common type of office work desk widely used in home office setups.
Computer office desks with drawers or office computer desks with storage have been in practice for a while now. Still, as we move towards modern workplaces, it is important to find out how each type of furniture benefits workplace health and efficiency. This article will cover some of the advantages and disadvantages of buying an office computer desk table with drawers and storage and enlist some top office computer desks with hutch.
Best Home Office Computer Desks with Hutch
1. Furinno Computer Desk
You can find this model a perfect fit for smaller to big apartments as the design is compact and space-friendly. With minimalism and extra storage kept in mind, this product offers a storage cabinet, side shelves, top shelf, and a keyboard tray. The attractive grey finish will also make you fall in love with this product, and you will enjoy the smoothness of the solid wood.
2. IKEA Linnmon Desk
Those looking for a sturdy desk with plenty of storage possibilities can go no further than IKEA. The IKEA Linnmon desk is available as a stand-alone piece or with one or two Alex drawer units below. If you want the most storage, a couple of drawer units at either end of the desk are the way to go.
There's plenty of space for your bits and pieces, paperwork and folders, or whatever else you need with three large drawers and two little drawers in each.
3. OneSpace Computer Desk
Who says you cannot get more storage with less space? The OneSpace Stanton Computer Desk is a tiny (and economical) option for your office if you're short on room. It has a surface supported by a black metal frame and is available in a variety of colors.
A slide-out keyboard is also included, as well as a bottom storage shelf. The desk is constructed of medium-density fiberboard, metal, and plastic, and it is an excellent value for anyone working in a small space.
4. Zipcode Hutch Desk
It's the perfect size for any office, and it has various features that make it ideal for storing a computer—did we mention it's also quite affordable? This desk is available in grey or brown, and it provides enough space for you to set up your computer and office accessories without taking up the entire room.
This office computer desk with storage has a single-door cabinet on one side, which is great for storing a computer tower, and three soft-close drawers on the other, including a file drawer at the bottom.
5. Raymour L-Shaped Desk
If you need additional workspace, L-shaped desks are great, and this Computer Desk features a sleek contemporary design with a huge desktop and enough storage. It's built of solid wood and measures a large amount of space. The L has a work area on one side and a bookcase on the other.
In addition to its multiple shelves, this computer desk contains a panel with USB ports and electrical outlets, which eliminates the difficulty of plugging in equipment.
We love this product for its thoughtful design.
To Buy or Not to Buy Office Computer Desk with Hutch
While a product may appeal to your eye, fall under your price range and meet all the criteria, there is still one strong factor at play; the value a piece of furniture will bring to your workplace. Office computer desks with hutch are large work desks that offer ample storage in the setting. Though by the looks of it, it might show that all your troubles of workplace setup have vanished but here are a few things to remember about such desks.
Extra Storage
This goes without saying since an office computer desk with hutch is all about storage. From gaming keyboard tray to shelves to keep your books organized, a side cabinet to align all the documents, and a separate tray to keep the cables clean and alive, you get a lot of extra storage options with this product. Of course, when you buy a desk with hutch, you won't be needing extra shelves or a filing cabinet to keep all the mess organized, but you do need a large space to accommodate the desk itself.
Professional Look
As remote work is getting more prevalent, we all miss how our workplace depicts professionalism and a working environment. Most of us have a hard time focusing on work because of the same reason. But with products like a desk with hutch you feel the closest to a professional workplace. This office computer desk with hutch will give your home office setting a look of a separate office on its own. Though it's large, it is counted as a complete package to qualify as a workstation.
Stylish
If you buy a plain desk with bare legs and a tabletop, it might save you a lot of space, but you cannot bring about style in such products. The only factors to play there are maybe colors and the surface finish. On the other hand, with a computer desk with hutch, there can be different styles such as over-the-top shelves, side shelves, lower cabinets, or even a place to keep a separate file cabinet.
Poor Ergonomics
For instance, an adjustable standing desk will help you achieve the desired height and alter between the sit-stand positions; the problem with a computer home office desk with side storage is usually a fixed desk. However, you cannot use these desks as a standing desks due to their big design and cabinets attached above or below. Thus you get a lack of options.
Not Space Friendly
Both pluses and minuses can be attributed to this indicator. For work and other activities, a tabletop that is too large will be exceedingly uncomfortable. You'll have to physically reach the stuff you want, get up, and go around the perimeter.
Budget
If you need to get more, you will be paying more. Such desks are large, and if they are made up of solid wood, no kidding, they will cost you a lot more than your safe budget. And when it comes to home office setup, we try our best to go and spend tiny.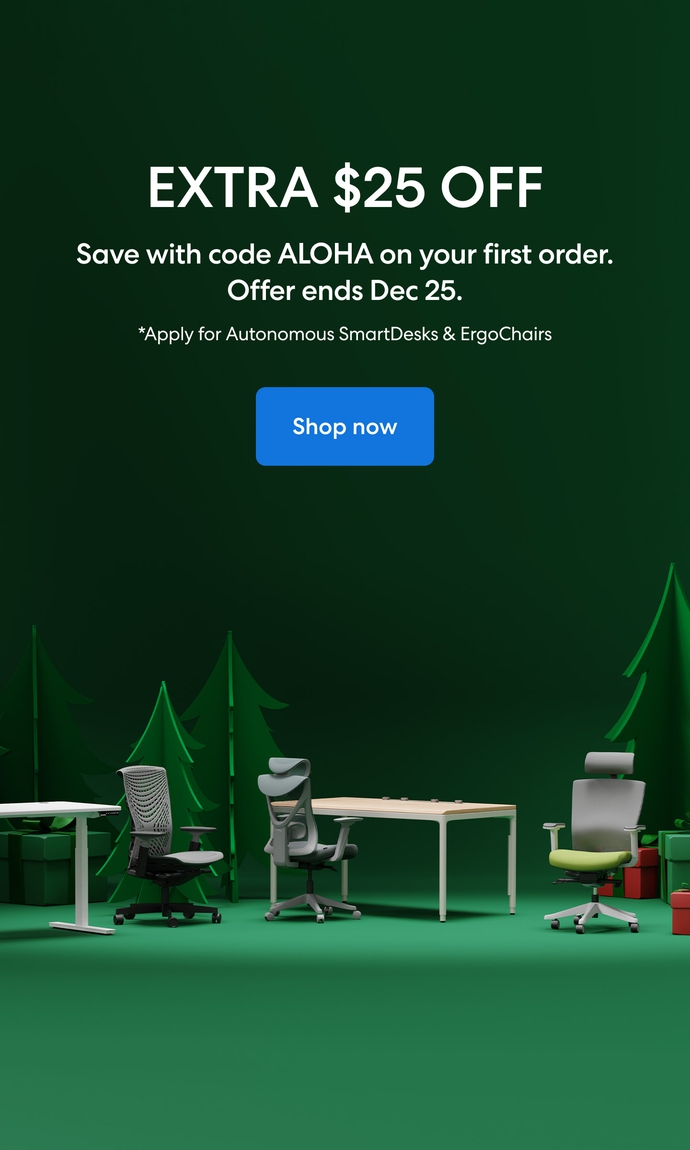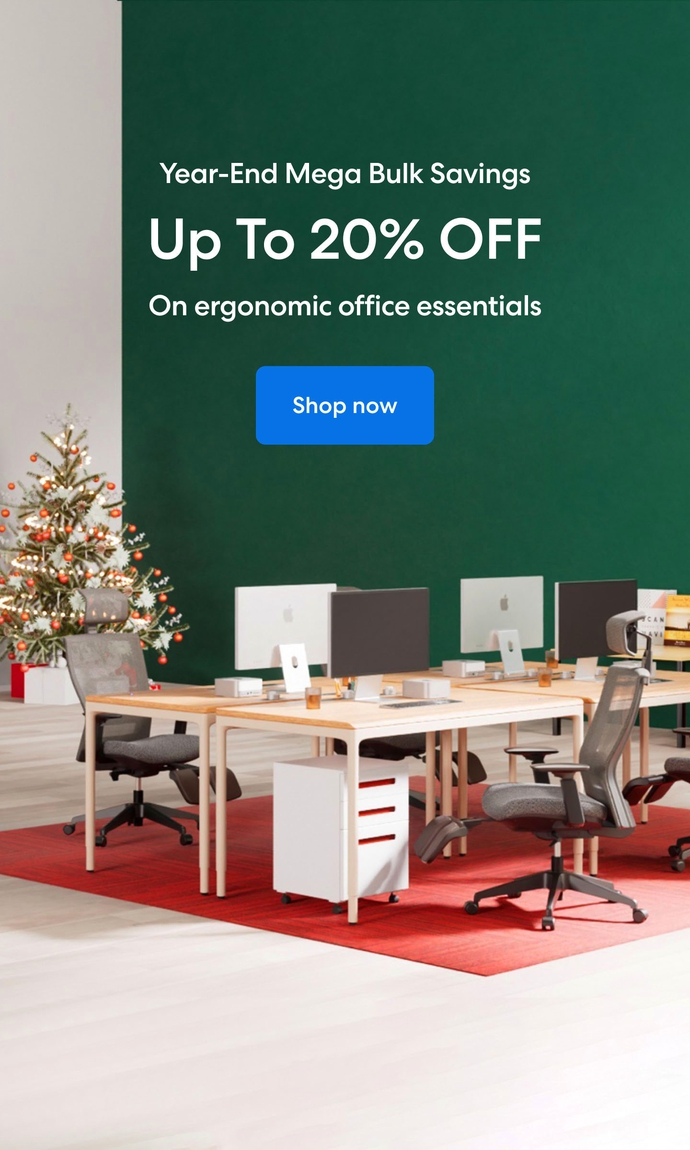 Subcribe newsletter and get $100 OFF.
Receive product updates, special offers, ergo tips, and inspiration form our team.