Like every remote worker, you would wish to have the best home office setup, don't you? It's a fact that our work environment greatly impacts our mood and productivity eventually, so setting it up wisely is quite vital. Choosing the perfect work from home lighting is among those little things that you need to take care of; that's why we believe it's worth discussing.
Some of you might not be aware, but the right lighting for work from home can do wonders. It can light up your mood from dull to lit and active, amazing, isn't it? But that's just not it, there's a lot more. We know that you would be intrigued to know all about your home office lighting in detail, so let's dive in deeper. 
Why Is Lighting for Work from Home Important?
Your productivity is mainly defined by the quality of lighting that you use in your home office. High-quality lighting with better adjustable features can help you stay more active and energetic at the workplace and eventually have higher morale.
Issues like optical strain and headache are common with people who do not heed their home office's lighting. You know that you cannot compromise over such things because a prolonged strain can result in optical impairment and even affect your health permanently. Therefore, proper and best lighting for working from home is the need of the hour for reducing eye strain.
All of this makes one thing pretty clear that proper lighting for the home office can help you have better mental and physical health. Achieving your daily targets would become an easy-peasy task for you. But the question that now arises is of how you would do all that, how you will get the perfect lighting and all for your home office.
The answer is pretty simple; continue reading as we have shared some of the most useful work from home lighting tips so that adopting your favorite office lighting ideas becomes easier for you and you create the best home office. 
Tips to Elevate Workspace Lighting
You need to take care of certain things while adding the lighting in your home office setup. If you consider them, building a productive home office won't be difficult. Simply take note of the following tips and get the best results. 
Use Natural Light
Always use natural light as your primary source of work from home lighting. Sunlight produces warm lighting known to improve your work environment, so choose a room with some windows to welcome natural light.
Nevertheless, make sure that you avoid any direct glare on your workstation. The best desk position for getting maximum light and avoiding overwhelming glare is the one where you either place your desk next to the window or you have the natural light right in front of your computer screen.
Placing your desk either north or south can also help you get the right amount of sunlight, as these positions help you avoid getting your work hindered by shadows throughout the day. 
Use a Desk Lamp
Tasks like computer work and paperwork are focus-intensive, so they require greater attention. That's why it is better to have a desk lamp for such tasks. In addition, a desk lamp helps you put your work from home lighting source exactly where you want. Thus, it helps you have a clearer view of any paperwork that you might be dealing with. 
Use a combination of Natural and Artificial Light
Basically, the first two tips lead us to this third most effective tip that you can take note of. A combination of natural and artificial work from home lighting provides you the best work experience. A high-quality desk lamp would serve as the best source of artificial lighting.
Always use a lamp as the best work from home lighting that comes with adjustable intensity and brightness, as that would help you adjust the lighting throughout the day. Coupling that with natural light would help you have a brighter and better office. 
Place Office Lights Indirectly
The direct glare of overhead lights is bad for your eyes, so always think of using such lights that diffuse in your surroundings and illuminate the entire workspace. A possible way to do that would be to use lampshades to scatter the light and have a brighter office without any undue glare. 
Stylize Your Office with Some Decorative Office Lighting
Having picture lights or accent lighting can help you improve the way your office looks. Such small additions make your office attractive and make those boring work hours exciting. Everyone would love to work in a visually appealing home office, no? 
All these above mentioned work from home lighting tips will help you plan a better home office. Going through them, you would have noticed that we talked about desk lamps too. Often people find it difficult to find the right desk lamp. We understand that very well; that's why we have shared the details of the best desk lamp for you below. 
Autonomous LED Desk Lamp
Buying the Autonomous LED Desk Lamp would be the best decision you can make. This lamp is equipped with all those high-tech features that you would wish for. having five different brightness adjustment levels,  adjustable intensities, and light angles, this lamp is one of the best desk lamps for the eyes. So, using a source of work from home lighting would be a good bet.
Video ads for product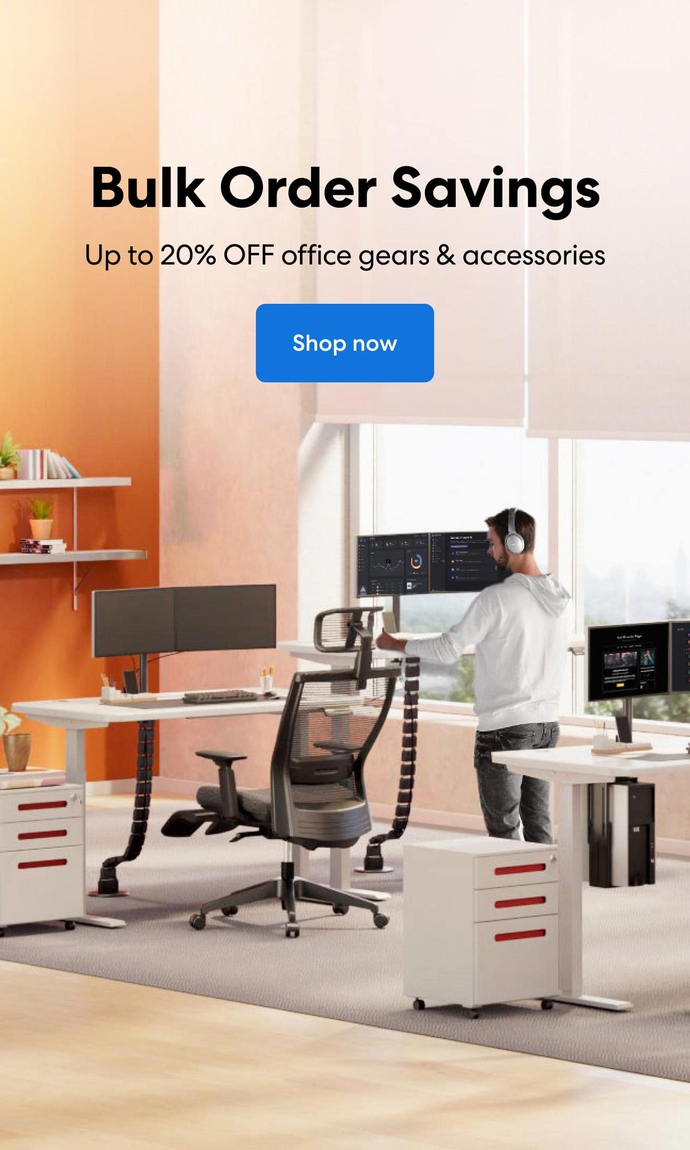 Subcribe newsletter and get $100 OFF.
Receive product updates, special offers, ergo tips, and inspiration form our team.