Latest Updates
Inspirational Personalized Gifts Ideas for the Home Office

Autonomous
|
Dec 17, 2021
1,528 Views
Picking the correct present for your household workplace or workstation might be difficult at times. The preceding creative home office gift ideas can do the task even if you're celebrating a colleague's new career, redesigning your workplace space, or hunting for a coworker's holiday gift. Everybody already adores these workplace accessories, ranging from Christmas stuffers to personal memories.
Presents increase people's perception of satisfaction no matter what the occasion. They're far more than gifts; they're opportunities to prove appreciation and make staff feel more valued. Especially in this era of working remotely, every employer should send work from home gifts to their employees so that they feel inspired and are motivated to work even harder.
List of 20 Personalized Gift Ideas for Home Offices
Small presents are more prevalent and thus encouraging to employees than larger ones, more valuable benefits that are easily missed. They can give a strong message to people that they are treasured and generate excitement in the workplace. A bouquet, wine, supper for two coupons, or chocolates are examples of such presents. We have listed below our favorite personalized at-home office gifts for employees working remotely:
1. Homemade Munch Bars
There's no such thing as too many refreshments, and this is particularly the case in the office. Baked snacks or energy bars are a healthier gift option that always demonstrates thoughtfulness and dedication. Peanut cream, grains, maple syrup, protein powder, white chocolate chips, and canola oil are what you need to create a small light snack to gift people.
2. Personalized Desk Calendar
A workplace calendar is an excellent opportunity to showcase several of your best memories while also serving as a desk accessory. It's especially helpful if you also have a lot of photo frames on your workstation since it can hold a lot of pictures.
3. Customized Notebooks
Employees worldwide frequently take notes in between sessions and then leave their notebooks in a meeting hall. Think about getting a customized notepad to ensure people rarely misplace it again, plus they are home office essentials nowadays.
4. Anti-Fatigue Cushion
If your friend uses a treadmill desk, make sure you get their home office upgrades with an anti-fatigue mat or cushion installed. It will keep their feet from becoming painful, improve their posture, and help them feel less tired throughout the day.
5. Business Cards
Most individuals have contact information cards, but they need to be updated with every new employee. As a result, they're the ideal home office gift for a new employee or acquaintance. Include a personalized business card holder with their initials as an extra gift.
6. Monthly Organizer
The easiest approach to stay organized frequently is to use a regular planner. You may personalize a monthly calendar with an array of choices so that you can design it your way. To stand off when you place it on your remote workstations, incorporate your name, images, or a favorite design.
7. Tabletop Painting Prints
Don't have enough wall space for painting and want to show off your favorite pictures? As a workplace present, consider a desktop framed poster. The sophisticated artistry not only looks fantastic in your home office setup, but this also fits comfortably on most desktop sizes.
8. Bottle of Champagne
The best economic home office gifts don't have to be related to business. If you know a teammate or supervisor who enjoys wine, consider offering them a package of their preferred brand.
9. Personalized Mouse
Purchasing a personalized mouse is sheer click-bait. Are you seeking a cordless mouse that won't be stolen by mistake? Your picture, initials, or cherished experiences can all be added to these. It is an amazing gift for home office.
10. Fleece Photographic Blanket
If the workplace is frequently too cool for your pleasure, keep a fuzzy photograph blanket at your workstation. They're also a wonderful personalized gift present idea for the office.
11. Mini Basketball Hoop
Having something to bounce thoughts off of will help you be more creative. Check out our assortment of personalized small basketball hoops to bring this entertaining activity to your office for a wonderful way to burn off steam.
12. Gift a Nice Lotion
Chilly, drying office surroundings and desktop labor can cause dry skin to develop quickly. Fortunately, hand moisturizers can address the problem right away. A premium lotion is an ideal gift for wintry holidays or extremely dry conditions. 
13. Photo Mug
Every employee working deserves their mug to help them get through a day of coffee consumption. Make a terrific thing for a home office by adding a coworker's name to these photo mugs, or make a nice workplace pencil holder by adding your favorite photos.
14. Customized Key Chain
Be it for their car, apartment, motorcycle, or lockers, almost everyone has keys. These one-of-a-kind personalized key chains will add character to your keys.
15. Fabric Tote Bag
Carry your tablet, notes, pens, organizer, and other office necessities in style with a jute tote bag. You may readily personalize these tote handbags to provide unique gifts for colleagues and friends.
16. Plants with Succulent Leaves
Succulents are a wonderful addition to any computer desk for an out-of-the-box decorate desk idea. They're simple to look after, can flourish in an office setting, and liven up your workspace! Contemplate delivering succulents packaged in bows to a teammate, supervisor, or colleague as a thoughtful home office gift idea.
17. Customized Comment Notes
These are available in several shapes and customizing possibilities. For a fresh colleague's token of gratitude or workplace holiday surprise, pair it with a new batch of office equipment.
18. Flowers Basket
Everyone likes blossoms, and they're a great way to refresh your workspace. They also contribute to the pleasant odor of the office. Grab a bouquet and a jar from your neighborhood florists.
19. Customized Mouse Pad
Here is another good idea of home office gifts for your consideration. Changing your computer mouse pad is a great way to freshen up the area near your desktop. You may keep your treasured memories close to you all day long with personalized mouse pads. The customizable mouse pads are also simple to clean.
20. External Storage Drive
Nothing could be more devastating than losing their data for those who work online. Though some people store their data on the cloud, a manual desktop backup is a must plus. It is a work-from-home essential today. Get them a hard drive and get in the habit of backing up their device once a week.
Sum Up
Here all about the ideal home office gifts ideas for your consideration when purchasing something for your remote employees and coworkers. You now just need to pick the most interesting idea and go shopping!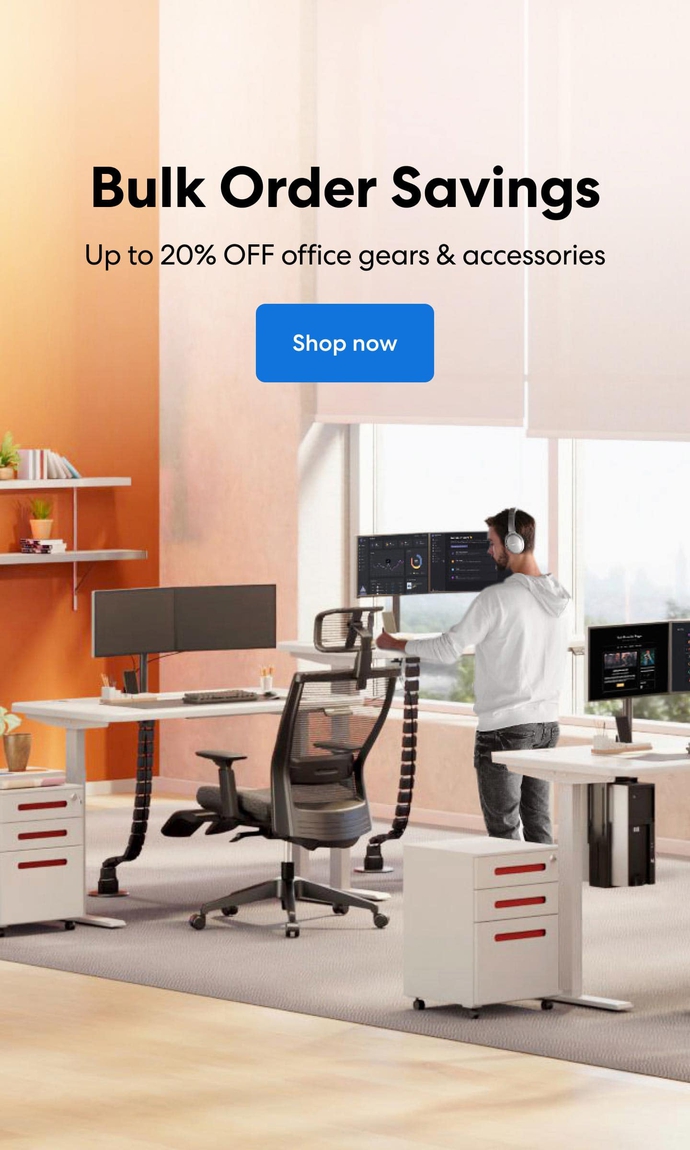 Subcribe newsletter and get $100 OFF.
Receive product updates, special offers, ergo tips, and inspiration form our team.