Workplace Inspiration
Interesting Under Desk Organizer Ideas to Organize Your Workspace

Autonomous
|
Jun 13, 2022
1,444 Views
Office work and the urge to complete all the deadlines come with pressure and frustration. Not having a clean desk where you can find any of your essential supplies shouldn't be one of the issues. Workplace clutter is a huge enemy of productivity, and a cluttered desk can seriously impact your performance at work. Employees who work in a cluttered environment can also suffer from mental blocks and take longer hours to complete their work. It also mentally drains a person and blocks their urge to think outside the box.
The need to have a proper storage option and following some under desk organizer ideas becomes even more important. From a solution to store your important documents to a solution that helps you prevent the cable mess, here we are listing the best home office stationery items and ideas that will improve your office look and performance. You can also use the Autonomous employee purchase program to purchase the best office supplies and get your hands on ergonomic office supplies with the best discounts.
Cable Organizer
An under desk cable organizer is the most viable and safe solution to have cables in your workplace. Since an office setup comes with many wires, cables, and gadgets connected to the power socket, you need a feasible solution that doesn't give rise to shock or might cause serious problems. Not having a proper solution to set your cables in a workplace also gives rise to clutter, and tangled wires can damage your expensive gadgets and be a hazard to your safety.
Hence, a desk power outlet that allows you to plug in multiple devices is a good solution. It keeps all the plugs parallel to each other, and you won't struggle to find the right cable when needed. It is also useful for desk setups where there is not enough supply of power outlets, and you might need more than a single device to plug in.
File Organizer
If you are a teacher who works from home or an accountant who is busted with tons of files, then a filing cabinet is all you need. It is a simple solution that doesn't ask you to clear up space on your desk nor require any wall space to install the shelves. Still, a filing cabinet is a simple under desk file organizer solution for effective and ergonomic file assortment.
This ergonomic file from autonomous is a spacious two drawer file with a spacious space inside. When needed, you can use this cabinet and slide it under the desk when done. Because it has wheels on the base, it is a useful solution for people who have compact work desks but need storage space. It is made up of metal, so it is a sturdy product to last you for years to come as well.
CPU Mount
This is another under desk organizer idea for you. If you use a traditional PC setup with multi-screen monitors, there is only so much your desk can bear. Since the clutter on the desk is to be avoided at all costs, a CPU could be the biggest space wasted. Hence, a CPU under desk mount is a simple solution that works for every desk. This desk mount can be clamped under any desk and support up to 22 pounds.
It is an adjustable frame with a full swivel feature. The mount also has a security lock to keep your device safe and prevent it from falling. Unlike many desk accessories, this one comes with a surprising 10-year warranty, so you place your money for all the right reasons.
Keyboard and Mouse Tray

The problem with your keyboard and mouse on the desk is that you get limited space to move your mouse. Secondly, repeated use can develop many issues such as repetitive strain injury or carpal tunnel syndrome for the user. A clamp-on adjustable keyboard and mouse tray helps you enjoy an ergonomic keyboard placement and provides you free space on your desk.
It places your elbows and arms right to the screen, and you can easily install this mount underneath any desk. The push and pull action of the plate is an ergonomic way to slide the keyboard under the desk; hence a way to keep it hidden away, keep your desk clean, and prevent it from dirt or dust.
Under Desk Mount
This is one of the popular under desk organizer ideas. This under desk hanging organizer by mount helps you keep some of your gadgets, such as a CPU or printer, underneath the desk without touching them to the floor. The under desk computer tower mount is wall mountable for people who do not have space under the desk. It has a swivel ability of 360 degrees and a weight capacity of 22 pounds. The desk mount saves space by enhancing your storage options easily.
Take a Pin Board
Your post-it often falls from the desk, and your notes are never found when needed. That is the problem with having tiny items on your desk; they take up space, but they are also very difficult to find when needed.
Even while digital calendars and alerts are quite useful, nothing beats a visual reminder of important events, plans, and meetings to keep you feeling on top of things. A pinboard positioned above your desk area will help you stay organized and may also be utilized to store photos, paint charts, and postcards that might otherwise clutter your desk.
Under Desk Baskets
One of the best and most cost-effective under desk storage ideas is keeping some tiny baskets under the desk. You can use these baskets to store your chargers, gadgets, notes, and many other accessories. You can get these baskets in matching sets or even purchase different colors to get variations. And the best part? When your mood for the home office organization ideas changes, the baskets can be used for anything else.
Monitor Mount
Organizing a desktop can often be as simple as mounting your computer screen to the wall to achieve a clean, compact space if you operate on two or more monitors.
Choose a monitor arm or adjustable mounting brackets that can be pushed out of the way when not in use and adjusted to the ideal height for ergonomic comfort. Look for four screw holes in the back of your monitor that will fit universal wall brackets to see if it's appropriate for wall mounting.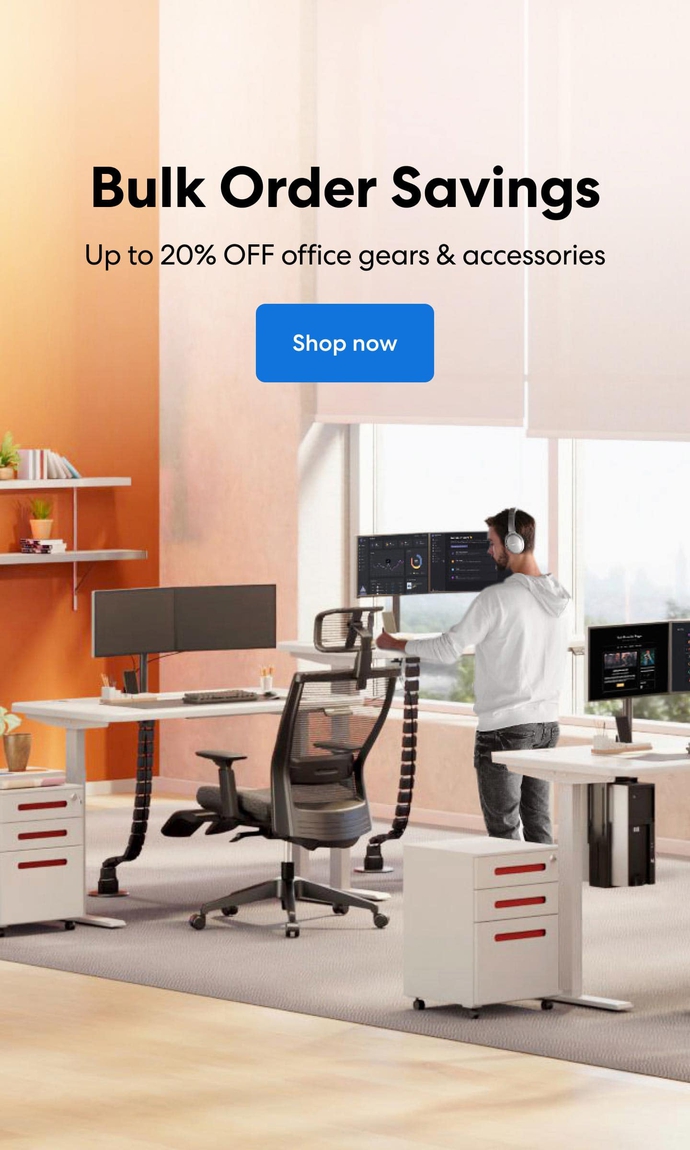 Subcribe newsletter and get $100 OFF.
Receive product updates, special offers, ergo tips, and inspiration form our team.